Places to visit in Manali
Top 15 Places to visit in Manali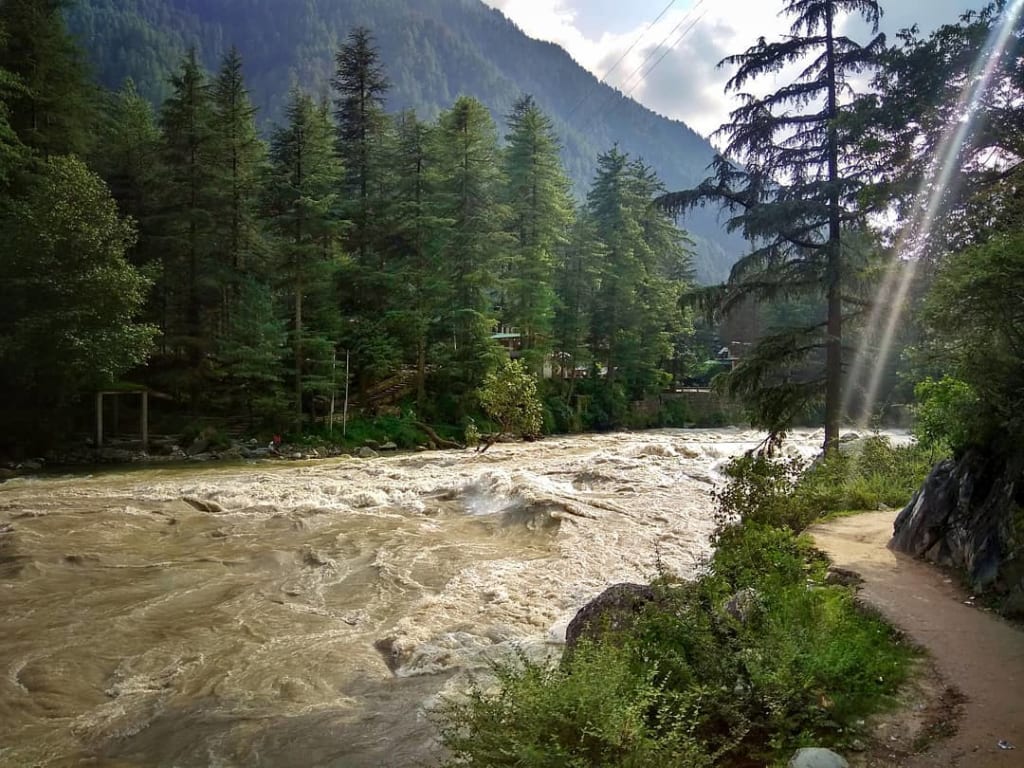 Kullu Manali
Top 15 Places to visit in Manali
Manali is a famous tourist attraction and small town located in northern state Himachal Pradesh of India. The small town also has its cultural value. Manu temple, Hidimba Devi temple are some old temples in town. Manali is located near the Beas river and has a lot to offer for tourists. Manali also offers a lot of adventure sports like trekking, paragliding, skiing, camping and many more. The small town is located at an altitude of 2050m. The place also faces Heavy snowfall during winter and also in summer. So if you are thinking of planning a trip with family or friends and alone, don't think too much and plan a trip to Manali.
Tour plan. While thinking about the trip the first thing that comes to mind is the cost. So the cost of the trip is not too much. The cost of the trip is 6000Rs onwards. Cost of the trip depends upon how many days you stay there and how costly the hotel you book is. Manali is connected to other cities by road, So you can book by govt and private bus from Delhi and Chandigarh.
Places to visit in Manali.
1. Solang Valley. is a famous tourist attraction in Manali. The small valley is located at an altitude of 2560m. The place is located in between Beas river and Solang village. The small place is famous for adventure activities like cable car ride, paragliding, skiing yak ride and many more. This place has a lot to offer you from adventure sports to trail car ride and mountain views. The small valley is 4km up from the city centre.
2. Rohtang pass. This place is 51km up from the city centre. Rohtang pass is very famous for its valley views and charming landscape. This place remains closed during winters. The famous place has become the favourite of Bollywood film directors. Many blockbusters like "Yeh Jawaani hai Deewani" and "Jab We Met" have been shot down here.
3. Hidimba Devi temple. is a famous temple in Manali and has its historical and cultural valley. This temple is located near the city centre.
The temple is dedicated to Hidimba devi, wife of Bheem from "Mahabharat". Hidimba devi lives here with her brother Hidimb who was killed by Bheem. Navratri is the famous festival celebrated here.
4. Old Manali. is 2km from New Manali and is a small hippie village. This village is very different from Manali. The place has old structured houses and a number of cafes like Cafe crawling, cafe 1947, Born free, evergreen and many others. You can also visit the village and meet the villages. The place has beautiful photographic views and valley views.
5. Manu temple. The temple is dedicated to Saga Manu who is said to be the creator of the world and writer of "manusmriti". The place is a famous tourist attraction in manali, is 3km from manali.It is believed that saga Manu has meditated here. It is the only temple dedicated to "saga Manu".
6. Vashisht Temple Manali. Vashist is a small village 3km from Manali. The small village is famous for its hot water spring and Vashist temple. Vashist also hosts a number of temples that are dedicated to Saint Vashist and Lord Rama. It is believed that hot water springs can cure skin diseases.
7. Van vihar Manali. is a small park located near the city centre is famous among visitors and also locals. The place has a small pond and covered with deodar trees, boating is also available. The place is a small picnic spot and chilling place, where you can have a walk in the evening.
8. Museum of Himachal culture and art. Museum has rich Himachali heritage. Museums provide a small inlight in Himachal folk. Museum has things of the daily life of locals like ancient pots, pans, clothing, architecture, coins, royal jewelry,footwear, musical instruments etc.
9. Nagger Village. is a small village located near Manali at an altitude of 1800m. It has historic value as the capital of Kullu kingdom in Ancient time. Naggar Castle is a famous tourist attraction in Nagger which was built 500 years ago by Raja Sidh singh. The castle was made by earthquake-proof-technique as it survived the earthquake in 1905.
10. Jogni waterfall. is a small trek site in Manali which is 3km from Vashist temple and 8km from Manali. The small waterfall is 150 feet long and has a small pond made of water. Waterfall is located near Jogni mata temple. The small trek goes through the apple orchards, deodar trees and small water streams.
11. Gulaba. gulaba is a small village located 27km from Manali in Pir Panjal range on Leh- Manali highway. This place is the starting point of the Brigu lake trek and has picturesque views and flora.
12. Kothi village. is a small village located on the foothill of Rohtang valley at an altitude of 2500m. The place is famous among writers, poets, directors as the place is very close to mother nature. If you are trekking to Rohtang pass you can camp here.
13. Mall Road Manali. Mall road Manali is the main market of Manali has a number of shops of local handicrafts, wooden products, pottery and cafes. The mall road is the most crowded place in Manali, So i advise you to visit mall road in evening.
14. Trekking sites near Manali. Brigu lake trek, Deo Tibba trek, Hampta pass, Brigu lake trek, Beas kund trek, Rohtang pass trek, Bara Bhangal trek, Chandratal lake trek, Jogni fall trek are famous among visitors for trekking and camping.
15. Other places in Manali. Manali Club House, Buddist temple, Gadhan Thekchhokling Gompa Monastery, Siyali Mahadev temple, Rahalla falls, Jana falls, Jagatsukh village, Gauri Shanker temple, Arjun Gofa, Manali Sanctuary, Cafes, Gayatri temple are other tourist attractions near Manali.
So this is the end of this blog, I think this will help you for your next trip to Manali.