Peace in the Hectic World
Rocking It!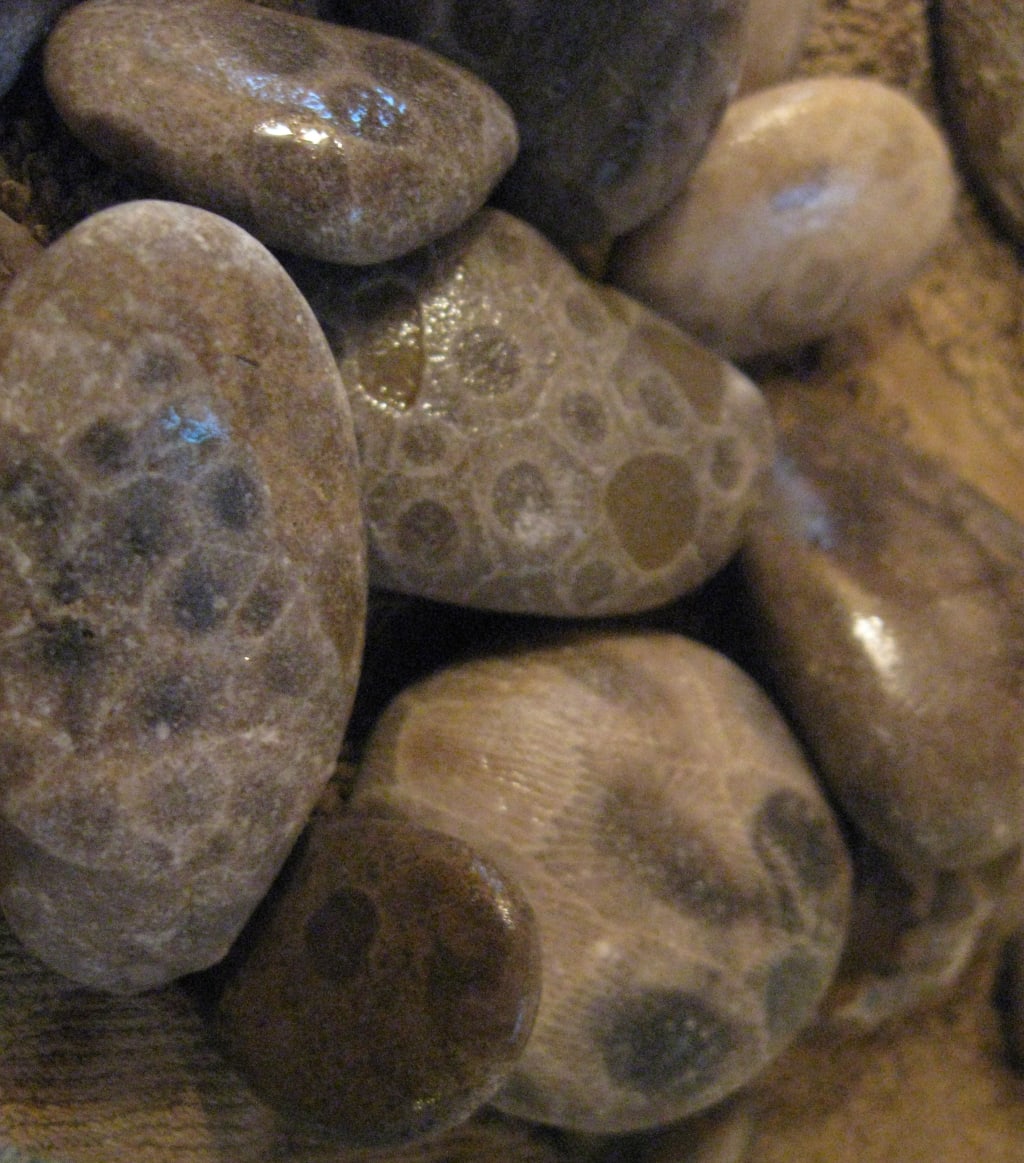 An assortment of Michigan's Petoskey stones
A hectic, busy week of work and responsibilities... bills to pay, family to take care of and what seems like a million things to do. I always thought as I got older and my boys grew into adulthood that my days would slow down and I would have more time. It seems, however, that my days have just gotten busier! My small business has, over the years, changed and grown from the tiny woodshop it started out as into a adding a greenhouse for several years (now closed) and a few years ago adding custom jewelry to the line up. I now focus almost exclusively on handmade custom stone jewelry, which is why I am writing this story...
Hectic and busy days working part time, taking care of a home and going to shows and markets with my wares makes for a need to decompress and find a way to relax. With four grandchildren that I love to spend time with, we began making trips to my favorite Lake Michigan beaches a couple of times each summer to spend a day simply walking the shores looking for pretty stones and enjoying the sun, water and each other. Many times, the only noise we hear over the sound of the waves will be one of us calling to the others to come and see some spectacular find. Even my youngest grandson, now just three, loves the hunt. At the end of a few hours all of us are satisfied with our finds of natural beauty and we are all calm and renewed in spirit and soul by the peace of the water and warmth of the sand beneath our feet. We're always reluctant to leave, but we know we will return again to find that peace.
Once we go home, we relive our joys of the hunt by sorting through our finds, sharing the treasures with each other and admiring each beautiful and unique stone. Some are put in a pile to go into each grandchild's flower bed rock garden in grandma's yard (now four different rock gardens, one for each grandchild). The best and prettiest, most unique stones are put into containers to go out to the "rock shop"... the magical place where rocks are transformed into pieces of art from nature. The jewelry made from the polished stones sells at local craft shows and markets and is loved because it holds the natural beauty of our local stones, enhanced only by polishing to a bright shine and suspended from chains to make wearable art. My oldest grandchildren are following my footsteps in the art of creating these pieces of art.
Some days I will simply sit in my rock shop and look at my Petoskey stones, run my hands over the stones and let my mind wander back over the hours spent on the beaches walking in the sun and warm sand, waves washing over my feet. It's my way of relaxing and meditating in a hectic world and yes, my stones do speak to me. I come away with a renewed feeling of energy and peace. Find your beach and your pretty stones... peace awaits you as well.
humanity
About the author
Mom, grandma, avid rock picker and lapidarist/ jewelry maker. My life has taken many twists and turns that have led me down paths I never thought I would walk and the experiences have made me both stronger and more vulnerable...