"Paradise" - A Place or State of Pure Happiness!
How & Why Costa Rica tops the list. .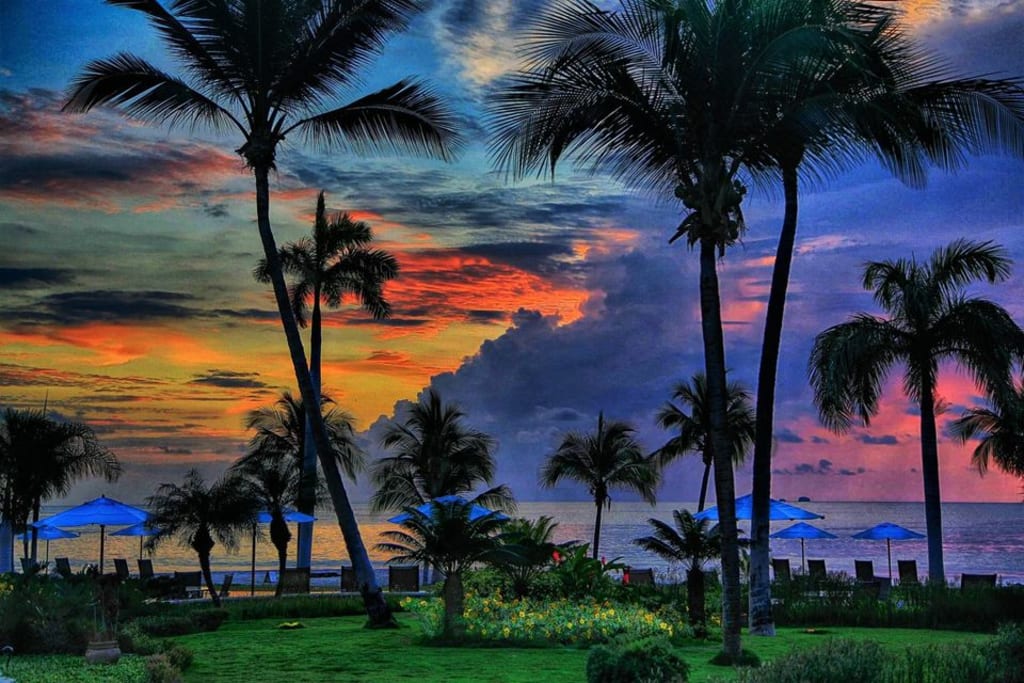 (pair - a - dice): a place or state of pure happiness. A feeling of perfect joy, where everything is what you would like it to be forever. .
When you think about it, there are so many places which one could visit around the world that could indeed be categorized under the word, "paradise". What a selection we have. . Jamaica, the Bahamas, St. Thomas, Aruba, Bora Bora, Fiji, Hawaii. . the list goes on and on. And it would be safe to say that some of these destinations mentioned may have an initial "WOW" factor many times above that of Costa Rica. I would submit to you that for long-term living and enjoyment, Costa Rica remains Number 1 in my book if only because I have had time to experience so much of this wonderful paradise. It would indeed be hard for me to compare my country fairly with another.
With all of that said, I guarantee you that, if done right, your first visit to Costa Rica will indeed make you want to return again and again. Many of my friends who have "done it right", have ended up living here.
Costa Rica is a very biodiverse country. Hundreds of species of butterflies, lots of monkeys swinging above in the jungle canopy. . whales & dolphins, huge crocodiles, tropical birds sporting vibrant colors you never knew existed. The list goes on and on. And, just when you think that you have seen it all. . experienced all that is here, you discover something else about which you never knew existed. So many more adventures just around the corner. Over and over again, one is blessed with surprises that are simply fascinating!
Dozens of volcanoes are at the ready to be explored. Beaches on both coasts, each more beautiful than the one you just visited and each with its own special attractions. . Fruits that scream with juiciness & flavor. Talk about ripened on the vine or on the tree. No middleman involved. Epic vistas around every corner, waiting to be enjoyed. Ocean views, sunrises & sunsets to die for. . nature showing its amazing graces everywhere you look! At times, it is just totally overwhelming. And, when is the last time you actually saw stars shining in the sky? Those stars are still up there in all their glory. If you now live in a big city, with all of the lights, I know it's been years since you've enjoyed a shooting star. a full moon strutting its stuff. .
Put Costa Rica on your bucket list. Costa Rica may be the place that you will finally call "home" and perhaps these short observations that I am sharing with you at this time will be that little 'push' you need to get the ball rolling! One thing may stand out. . jump up and grab you.
My stories are short and meaningful. I will try hard to make you think about becoming interested enough to expand your thoughts into actions that perhaps will completely change a life or two!
With that in mind, I have put together some ideas that popped up in my head and now I would like to share them with you. Stick with me and I will promise to paint a picture for you that will be very hard to dismiss. We all need something to look forward to in life. If, after you read a few of these tales, you become an interested party in the possibility of finding happiness in another country, then I have done my job! You will see that I am going to try my hardest to do so. I challenge you to come back and learn more about one of the HAPPIEST COUNTRIES on the planet. There has to be a reason for this award, this recognition. When you know what I know, you will be hooked!
There are hundreds of stories and if we would present them to you all at once, your head would indeed explode. So, we decided to portion them out throughout the week. Reading these words and absorbing the intentional thoughts behind the words is like enjoying a finely-blended whiskey. Without the hangover. . less is more and if it sneaks up on you just a little, then so be it!
Pour yourself a cup of hot coffee and return every other day or so. I promised to work hard to get you very interested in Costa Rica and all she has to offer you and your family. I really don't think that I'll ever run out of stories to share. Take the journey with me. I don't know everything about Costa Rica, but what I do know, I plan to spread the word in this particular venue!
My father once said, "The key to a happy life is to ALWAYS have something to look forward to". How true that is. The anticipation is many times as satisfying as the prize itself! So, if you're lacking in this department, give THIS a try and see if it's just what the doctor ordered! And, if it turns out that it is, then I have done my job!
Pura Vida!
You're invited to visit our websites at www.costaricagoodnewsreport.com & www.costaricaimmigrationandmovingexperts.com
Also, please enjoy our over 1,750 episodes of our "Costa Rica Pura Vida Lifestyle Podcast Series". We are found on all major podcast venues, including iHeartRADIO, Spotify, Apple Podcasts, Google Podcasts, Radio FM, Anchor and many more. Here's our link: www.anchor.fm/costa-rica-pura-vida
About the Creator
Costa Rica is a magical place. Since November, 2002, when I first visited this country, I have been in love with the people, the culture, its biodiversity, the food. . everything about it makes me happy! Now I share my excitement with you!
Reader insights
Be the first to share your insights about this piece.
Add your insights