Changing One's Life & Crossing Over to the "Pura Vida" Lifestyle
It could very easily happen to you. .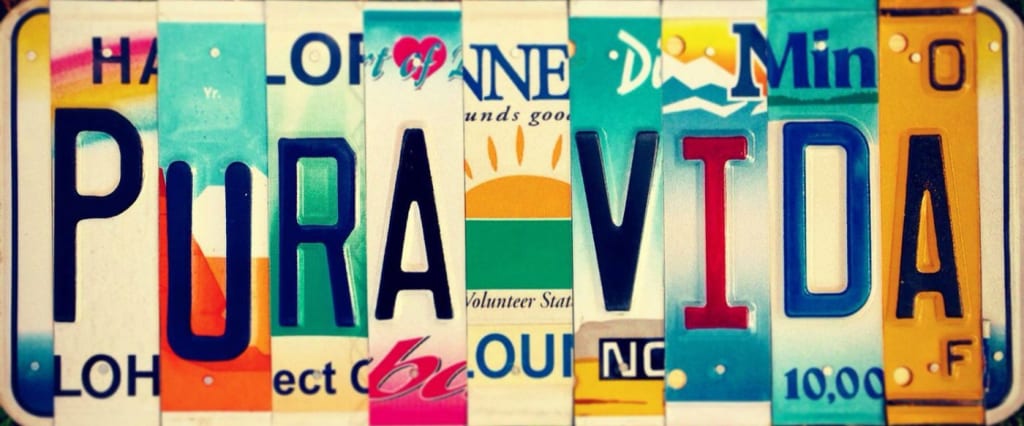 Sitting here pre-dawn. . early Monday morn. . a time that all should experience. . that oh-so-pleasant aroma of Costa Rican coffee being brought to life for me to enjoy. . a wonderful time of day. And a time I look forward to so much. . each and every day. . not just Mondays! Being here in Costa Rica surely does make that coffee taste so much better than what it used to!
​Having coffee on the menu is a must. . coffee that has been grown not more than 50 miles away from where I sit. The freshest of the fresh. . there's something satisfying about that. . We can't be too perfect in our lives, but we can prepare a PERFECT cup of coffee. And there is gratification associated with that. . And coffee does not really have to be fancy. At times, in this day and age, we lace our morning brew with soy milk, almond cream, salted caramel, whipped cream and so many other strange additions. Where did all of this come from? Can you imagine a cowboy drinking a latte? Let's keep it simple here in paradise and perhaps learn to enjoy it simply hot and black!
​Again I find myself going back over 16 years ago, when I first arrived. The anticipation of a new life, new adventures, creating friends out of complete strangers. There is something magical about changing one's life totally. The exciting feeling of getting out of your comfort zone and leaving what you know as 'daily life' behind. Lots of memories from so many successful years in that other land. But, I wouldn't change my decision to move to Costa Rica. With all of its problems and uncertainties. . with lots of fodder for my occasional rants and with a sometimes-unpleasant need for a huge amount of patience, Costa Rica has proven to me and to many others that it was indeed worth the trip! All it took was one visit here before I decided to make it our home. It may happen to you as well. Many of my friends have visited me and before I knew it, became enchanted with our offerings. It may be as simple as a sunrise, a sunset. . a smile from a tico or tica, or a plate of gallo pinto. . whatever it took for those particular people, it seemed to pull them in. Now, many are my neighbors and they are enjoying the life here in paradise! And it is indeed a great feeling knowing that I am responsible for changing someone's life for the better! What tops that? What a gift to give someone. .
We cannot be sure of our decisions. . our choice of paths that we navigate every moment just boggles the mind. All I can suggest to you is once committed, plow forward with strength and determination and NEVER forget to stop multiple times per day to experience, study and learn from what is given to you. And as we grow older, each decision seems to weigh more heavily on our pathway towards the next day. It is strange and complicated at times, but when the next sunrise shows itself and we somehow know that we did the right thing, it feels amazing. And then, to back our simple successes up with another, and then another, we know that this "Pura Vida" lifestyle surely had something to do with it!
Finding out what is important to oneself is a monumental task. We spend so much of our time buying things that are supposed to make us feel wonderful and fulfilled. When one first boasts, "Pura Vida", they take an oath. This is a promise to themselves that their lives are now more simple. Glory and happiness are not measured by how many toys you have with which to play or what kind of car is parked in your driveway. The big-screen television and the expensive headphones are not an issue anymore. More important things move to the forefront. Planting your own garden and growing veggies that can be used in your meals. . Inviting your neighbors over to enjoy the bounty. Your food tastes better. . it is appreciated more because YOU GREW IT! Additionally, all of the things that you needed to get done TODAY can usually be put off until TOMORROW without a feeling of guilt! That is so important in this new Pura Vida situation. And, of course, spending time in nature, AWAY from others, becoming ONE with your surroundings and knowing that this is what it's all about. There are times when I am walking in the jungle, miles away from everyone else, hearing the sounds of the monkeys, the toucans, the frogs and insects. . it brings me alive again. All of my senses are on alert. The smells of this morning's rain and the heaviness of the air. . all signs that I HAVE FINALLY ARRIVED!
Take this coming week and learn more about the "Pura Vida" lifestyle. It could definitely draw you in with such force that it will be very difficult to ignore. . Spend some time on the internet and see what part of the country suits your lifestyle the most and then dig deep into gathering information. Perhaps schedule your trip to paradise and give it a test drive! You may just like how it feels to you. I really hope it changes your life. .
You're invited to visit our websites at www.costaricagoodnewsreport.com & www.costaricaimmigrationandmovingexperts.com
Also, please enjoy our over 2,000 episodes of our "Costa Rica Pura Vida Lifestyle Podcast Series". We are found on all major podcast venues, including iHeartRADIO, Spotify, Apple Podcasts, Google Podcasts, Radio FM, Anchor and many more. Here's our link: www.anchor.fm/costa-rica-pura-vida
About the Creator
Costa Rica is a magical place. Since November, 2002, when I first visited this country, I have been in love with the people, the culture, its biodiversity, the food. . everything about it makes me happy! Now I share my excitement with you!
Reader insights
Be the first to share your insights about this piece.
Add your insights