Pack your Bags and Let your Feet Travel Across the UK with Cheap Train Tickets
Traveling by train is an excellent way to explore the United Kingdom, and there are many options for cheap train tickets to make your journey more affordable.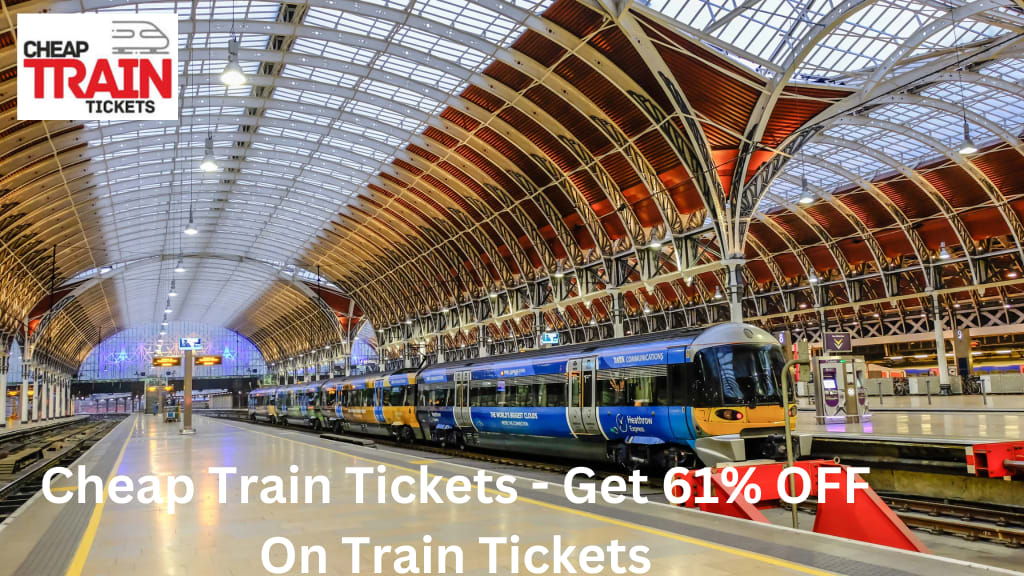 Are you looking for an affordable and convenient way to explore the beauty and diversity of the United Kingdom? Look no further than the UK's extensive rail network. With cheap train tickets and a well-developed infrastructure, traveling by train in the UK is an excellent option for budget-conscious travelers who want to see as much of the country as possible. In this article, we'll explore how to find the best deals on train tickets, highlight some of the most popular destinations to visit by train, and offer tips to ensure a smooth and enjoyable travel experience. So, pack your bags, leave the car behind, and let's discover the UK's incredible scenery, history, and culture on foot, with the help of cheap train tickets.
How to find cheap train tickets in the UK
Here are some tips on how to find cheapest train tickets in the UK:
Book in advance: Train tickets in the UK are typically released 12 weeks before the date of travel, and prices can rise significantly as the departure date approaches. By booking well in advance, you may be able to secure a cheaper fare.
Be flexible with your travel dates: Train fares can vary depending on the day and time of travel. Consider travelling during off-peak times, such as weekdays outside of rush hour, to save money.
Use a railcard: Railcards offer discounts on train travel, and there are a variety of different types available, such as the 16-25 Railcard, the Family & Friends Railcard, and the Senior Railcard. If you are eligible for a railcard, it could save you a significant amount of money.
Check for promotions and special offers: Train companies often run promotions and special offers, such as discounted advance tickets, 2-for-1 deals, and off-peak discounts. Check the websites of train companies and ticket sellers regularly to stay up-to-date with the latest offers.
Split your tickets: Splitting your train journey into separate tickets can sometimes be cheaper than buying a single ticket for the entire journey. This involves buying multiple tickets for different parts of the journey and may require you to change trains, but it can be a way to save money.
Use a ticket comparison site: There are several ticket comparison sites available like Trainline that can help you find the cheapest train tickets for your journey. These sites allow you to compare prices across different train companies and ticket types, making it easier to find the best deal.
Best places to visit in the UK by train
Here are some of the best places to visit in the UK by train:
Edinburgh: Scotland's capital city is a must-visit destination, with its stunning architecture, rich history, and vibrant cultural scene. Trains from London to Edinburgh, with journey times taking around 4-5 hours.
Bath: This picturesque city in southwest England is known for its beautiful Georgian architecture, natural hot springs, and ancient Roman Baths. Bath is easily accessible by train from London, with a journey time of around 1.5-2 hours.
Lake District: This scenic region in northwest England is known for its stunning mountain landscapes, tranquil lakes, and charming villages. The Lake District is well-connected by train, with regular services running from London and other major cities.
York: This historic city in northern England boasts a wealth of ancient architecture, including its iconic Gothic cathedral and well-preserved medieval walls. Trains from London to York take around 2 hours.
Cornwall: This picturesque coastal region in southwest England is known for its rugged coastline, golden beaches, and charming fishing villages. Cornwall is accessible by train from London, with services running to several major towns and cities.
Cardiff: The Welsh capital city is a lively and dynamic destination, with a rich cultural heritage and a bustling food and drink scene. Trains from London to Cardiff take around 2 hours.
Liverpool: This vibrant city in northwest England is famous for its musical heritage, with the Beatles and other legendary acts hailing from the area. Liverpool is accessible by train from London, with journey times taking around 2 hours.
Tips for a smooth train travel experience in the UK
Train travel is a popular and efficient way to get around the UK, whether you're commuting to work or exploring the country. To ensure a smooth and stress-free journey, there are several things you can do to prepare in advance. In this response, I will provide tips for a smooth train travel experience in the UK, from planning ahead and packing light to being prepared for security checks and knowing your rights as a passenger.
Plan ahead: Make sure you research your train journey in advance and plan your travel route, schedule, and tickets. Consider factors such as peak times, rush hour, and engineering works, which can impact your journey time and schedule.
Arrive early: Arriving at the train station early will give you enough time to collect your tickets, locate your platform, and find your seat. You may also want to factor in time for security checks, particularly if you are traveling with luggage.
Check luggage restrictions: Different train operators may have varying luggage restrictions, so make sure you check these in advance. In general, it's best to travel light and avoid bringing large or heavy bags, which can be difficult to maneuver on and off trains.
Consider seating options: Many train companies in the UK offer different seating options, such as standard class, first-class, or quiet zones. Consider your travel needs and preferences when booking your ticket, and make sure you select a suitable seating option.
Follow train etiquette: To ensure a smooth and pleasant train journey, it's important to follow common train etiquette. This includes keeping the noise level down, avoiding eating smelly or messy foods, and respecting other passengers' personal space.
Stay connected: Many trains in the UK offer Wi-Fi, charging points, and other amenities, so make sure you take advantage of these to stay connected and entertained during your journey.
Be prepared for delays: While train travel in the UK is generally reliable, delays can occur due to factors such as weather, track maintenance, or incidents on the line. Make sure you have contingency plans in case of delays, such as alternative travel arrangements or accommodation.
train travel is an excellent way to explore the UK, offering a comfortable, convenient, and affordable means of transportation to some of the country's most stunning destinations. With a well-connected rail network, modern trains, and a range of ticket options, travelers can enjoy a smooth and stress-free journey across the length and breadth of the country.
Whether you're looking to explore vibrant cities like Edinburgh, Bath, and Liverpool, or soak up the natural beauty of the Lake District or Cornwall, train travel in the UK offers a fantastic way to discover some of the most amazing sights and experiences the country has to offer.
By following our tips for finding cheap train tickets, planning your journey, and making the most of your train travel experience, you can ensure a smooth and enjoyable journey across the UK. So pack your bags, book your tickets, and let your feet take you on a journey you'll never forget.
About the Creator
My name is Oliver Williams from London. I am working with cheap train tickets from last 5 years. I write informative articles & blogs on many topics like Travel, fashion, health and beauty and many more.
Reader insights
Be the first to share your insights about this piece.
Add your insights