One of London's Best Kept Secrets
A Shepherd Market without Sheep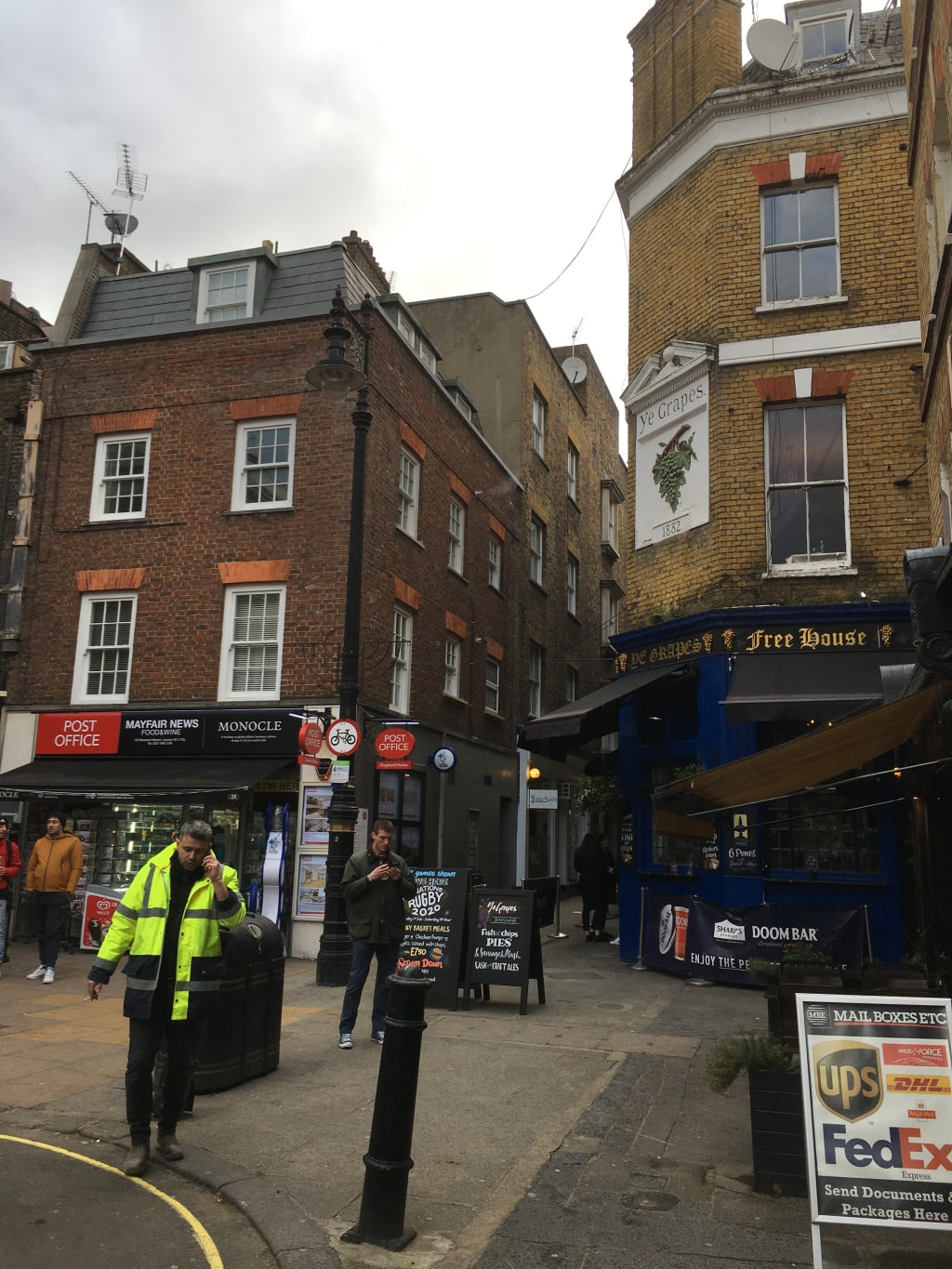 My first visit to Shepherd Market took place in the mid 1970's purely by accident. Our family had gone to London from the countryside to enjoy a celebratory breakfast at one of the smart hotels along Park Lane. Eggs Benedict, smoked salmon, bacon, eggs, mushrooms, toast, coffee, fresh linen and family all combined to make a meal to remember.
After breakfast we went for a walk along Park Lane, past more smart hotels and high-end car showrooms. We ventured away from the hustle of the main road and ventured into some side streets. That was when we stumbled into Shepherd Market. An enclave of narrow lanes and streets which were lined with small interesting shops, cafes, restaurants and pubs. I cannot remember any specific details of what the shops sold or the names of the eateries. Just a memory of finding a secret place that was part of a family moment.
My Mum's lasting impression of the area was somewhat different. For her it was "very friendly as all of the very glamorous looking ladies said good morning to us and on a Sunday morning". They were especially friendly to my older brothers and Dad.
The area was designed by Edward Shepherd, hence the name, and developed between 1735 and 1746. His concept was to have butchers and other shops on the ground floors and the upper floors would be dedicated to song and dance. This focus of purpose led to the area gaining notoriety for being louche and sybaritic.
During the late 17th and early 18th centuries a writer named Ned Ward wrote a series of articles in The London Spy from the perspective of an "innocent country gentleman" finding his way and witnessing life in different parts of London, including Shepherd Market about which he had the following to say:
"In all the multitude that I have ever beheld, I never in my life saw such a number of lazy rascals, and so hateful a throng of beggarly, sluttish strumpets, who were a scandal to creation".
A couple of years ago I had the job of clearing out my parents' home. Among the numerous books was "The Londoner's England". I was about to put it in the charity box when I hesitated and started to flick through the pages. There on page thirty-eight was an article about the Shepherd Market and facing it on page thirty-nine a water colour painted by Charles Ginner. Memories of that Sunday breakfast nearly fifty years ago came alive again. The breakfast, sunshine and the walk afterwards. I decided to keep the book.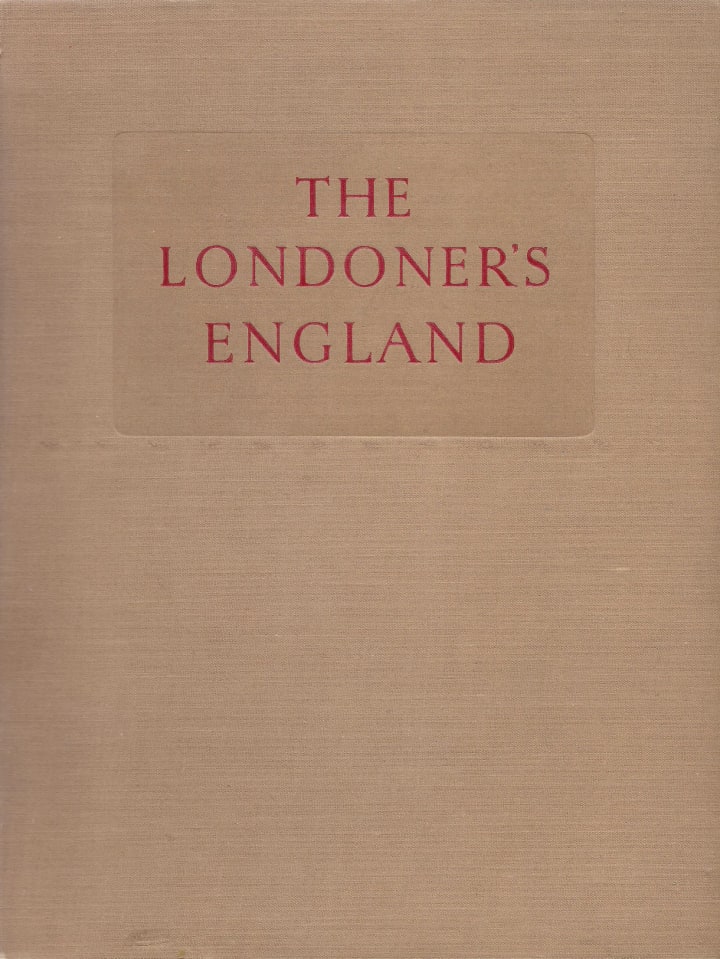 Ever since deciding to keep it "The Londoner's England" has become one of my favorites, especially at bed time. I quite often flick through it just before going to sleep wondering what the places frozen in pictures from nearly eighty years ago look like today. And, unsurprisingly my favourite pages are thirty-eight and thirty-nine.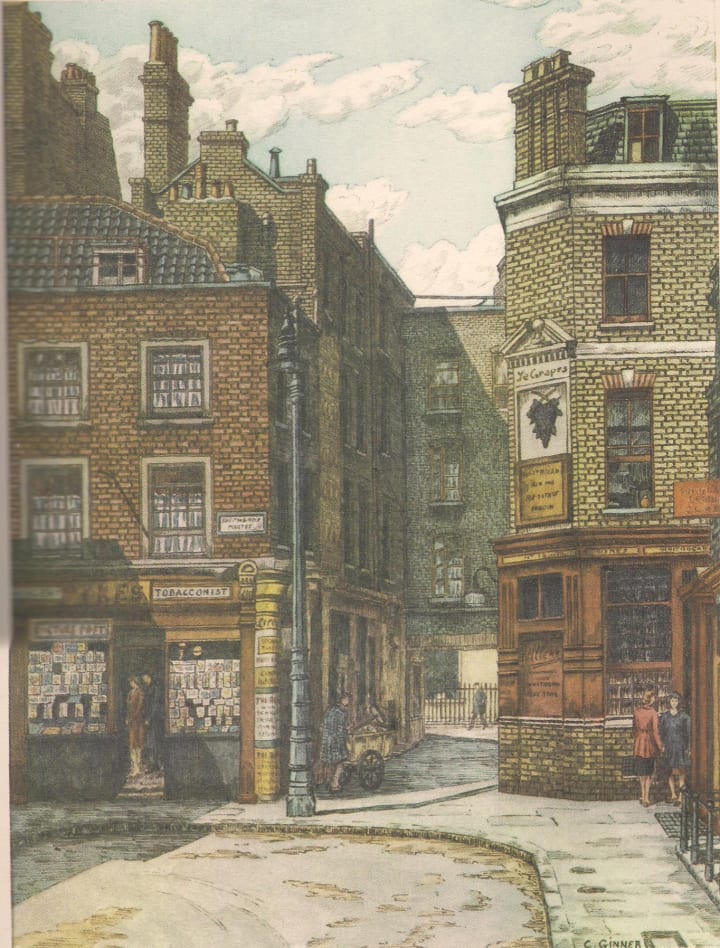 When I returned to Shepherd Market recently, I had copies of pages thirty-eight and thirty-nine from the book with me. I wanted to take a picture from as close to the spot where Ginner would have stood to make his first sketches for his water colour. Unfortunately, I couldn't as his view was from the middle of the road and the volume of traffic in the 1930's or 1940's was a lot less than it is in 2020. There was also a delivery van in front of Ye Grapes.
Oh well, in the interests of art I had to wait and where better than inside the pub.
There were no "lazy rascals" or "sluttish strumpets" outside. Just a couple of men self-isolating from the bar with cigarettes and their pints. Inside the bar was adorned with the flags of the "Six Nations".* There were a couple of wall mounted televisions to show the rugby and other sports on. Looking beyond those 21st century additions at the room there was an interior that in all probability had not been changed very much for over one hundred years. Dark wood wall paneling, frosted glass, stained glass, nooks and corners for customers looking for somewhere to have a discrete drink by them selves or in company, a wooden floor and an open fire giving off a deep heat that only real fires can do.
If "the bright young things" from Chris Arlen's book "The Green Hat" were able to return from wherever they were destined to spend they're after lives they would recognize the place instantly.
I was made very welcome at a bar offering a selection of draught European lagers and dark British beers. I asked for a pint of a dark beer called Doom Beer and it was served the only way a dark British beer should be; at room temperature. I explained to the assistant manager why I was in the pub and about the book as well. She referred to the era the book came from as the "naughty years" and asked for a copy of the relevant pages.
From where I was sitting next to the open fire, I could see the delivery van had not moved. There was no rush and a good pint should be given the honor of lasting at least fifteen minutes. A group of five people arrived and stood at the bar to order their drinks. At least one them had been a regular customer of Ye Grapes and had not been back for twenty years:
"It hasn't changed a bit".
At least that confirmed the pub had not changed for twenty years.
Shepherd Market is no bigger than three or four soccer pitches but in that small area, a unique enclave of small boutique shops, restaurants, cafes and pubs only yards from the traffic mad roads of Park Lane, Piccadilly and Oxford Street and a very short walk from Green Park underground station. An oasis of calm in the very heart of a busy city that anyone with at least half an hour to spare from their itinerary should go and see.
*Six Nations is an annual series of international rugby games between Ireland, Scotland, Wales, England, France and Italy and is sponsored by Guinness the brewery company.