Niagara Speedway Clifton Hill
Mario Kart Inspired Go-Carts in Niagara Falls Canada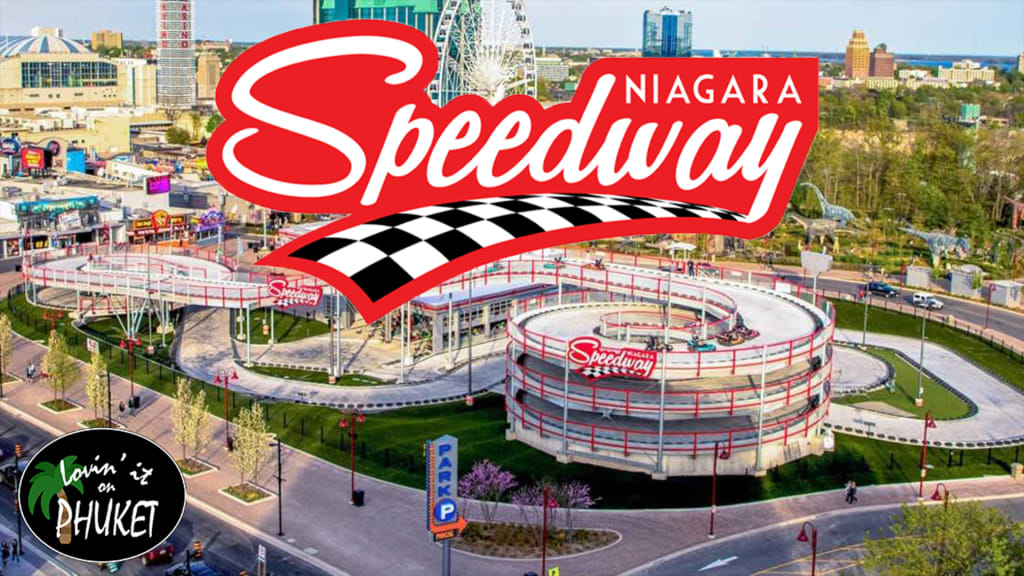 Ok I know what you're thinking. What does a race track in Niagara Falls Canada have to do with Phuket or Thailand? The name is Lovin' it on Phuket and Canada is literally on the other side of the world. Well I'm from Canada and I do spend time at home. When I am home I do stuff and things, I test my equipment and I drag my daughter Clair with me. If you think about it, I have some pretty good driving experiences to compare with the Niagara Speedway. So here's how it holds up compared to ripping around the west side of Phuket on a sports bike.
The Niagara Speed Way is a go-cart track located on Clifton Hill in Niagara Falls Canada. It is said to be inspired by Mario Kart and resemble the speedway track in the popular Nintendo franchise. That part I wasn't feeling, sure the track was cool but it was no more dangerous than driving through a parking garage in Toronto. Mario Kart after all is some crazy stuff. So before you load a bag full of turtle shells and grab some bombs to toss at other drivers, here are some of the things you should know.
The cars you drive can fit up to 2 people, a driver and a passenger. This was great I will admit because even though Clair is tall for her age, she is only 9 and she wasn't quite tall enough to drive herself. So she rode shotgun and I didn't have to be the bad guy saying she was too young to drive herself. Because the attraction is new, so are the cars. They ride pretty smooth, the paint is nice and fresh and they handle pretty good. I did notice the back end slides out a bit when you are going around corners at top speed but it was pretty difficult to over steer if you just feel the track out as you go.
The safety standards of course are Canadian so there are some rules you have to follow. No bumping, no crashing, basically no doing anything fun. If there is too much bumping they actually stop all the cars. I'll tell you a trick with that, because more often than not they stop you going up a hill. Hold the brake down immediately. Then when they turn the power back on, while holding down the brake floor the gas, then release the brake. This will at least stop you from rolling back.
For 20 dollars you get a couple laps, I managed to do them in about 8 minutes, including the time they cut the power. There is a real racing vibe when you hit the track but as I said there is no contact so you really need to know how to manage a cart around other drivers if you want to pass and progress.
Below is a full video of a race. It shows a bit of what waiting in line is like and then cuts to a race from start to finish. You can actually see where they cut the power to the cars and we have to sit on a hill. It should give you a real feel for what racing here is like.
So I know what you are thinking. Is it really worth 20 bucks to for 8 minutes around a miniature speedway style track in hot summer weather on Clifton Hill? Is it really worth waiting in line to come winding up a 3 level spiral elevated high enough to see the sights and attractions around the area just to fly down a hill into a sharp turn and then down through an underpass? The answer to all that is yes. It was worth it so much actually we went 3 or 4 times. We went before breakfast one day we liked it so much.
I highly recommend this attraction, it was a good bonding experience with my daughter and it was a lot of fun for me. It is much safer than the crazy driving I am used to and I was able to relax while at the same time scare the crap out of her at several points. Sure it's a little expensive but what isn't in Niagara Falls? Anywhere in the world you go to that is a tourist area they charge a lot for stuff, at least this attraction gives you what you pay for. High quality track, high quality cars, high quality excitement.
For more great videos and images from my travels check out the Lovin' it on Phuket YouTube Channel, Facebook Page and Instagram Account. If you are a blog writer you can find images available on Adobe Stock, Getty iStock and Shutterstock by following these links.
Happy travelling! There are more interesting articles to come. Thanks for reading and showing your support.