My First Solo Trip
The story of a 19-year-old landscape photographer with a solo mission to capture as many different scenes as possible in the least amount of time and with the least amount of money.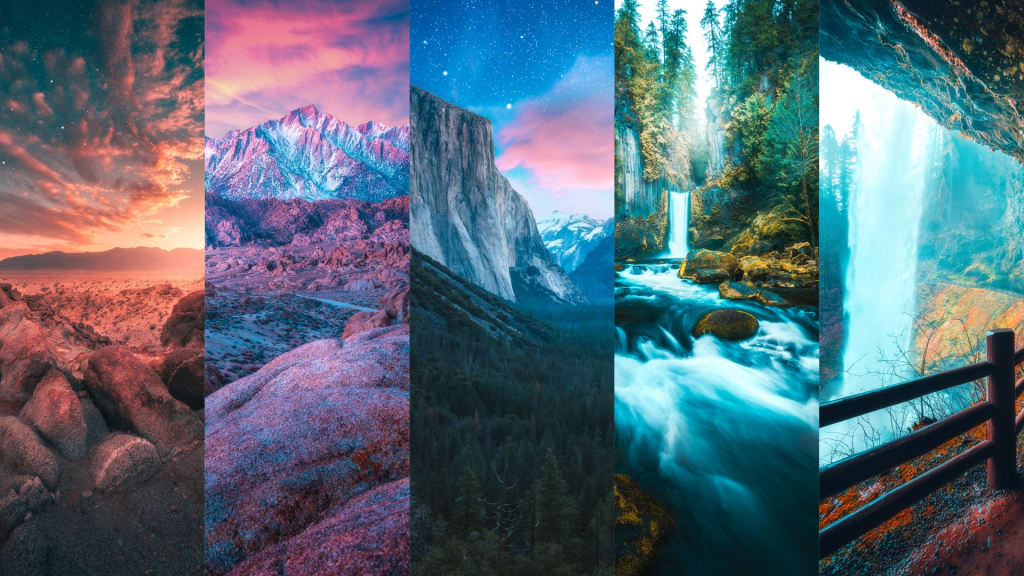 Early December 2019, my parents are getting ready to leave on a dirt biking trip with some friends in Southern California. My family had been planning this trip for months. But I wasn't invited. Not because they didn't want me there... I think... Rather, this was the first year I was without a dirt bike, as I had just recently sold it in exchange for a larger street-legal motorcycle. In addition to that, I no longer lived at home, so I wasn't always automatically included in trips with the family. Due to these factors, I was understandably told to sit this one out. Which was a tad disappointing for me...
In recent years, I had been down on two different occasions in the same place for the same reason; to rip around in the desert on dirt bikes. Each of those trips were just incredible. There's nothing quite like escaping the cold and nasty Winter weather in Canada and heading down South for a couple weeks to enjoy nice weather and motorcycles. I also love the change of scenery for landscape photography. Don't get me wrong, Canada is beautiful and the vast majority of my favorite images have been captured here. But seeing a landscape with no green and hardly any trees in it... There's just something so fascinating about that to me as a photographer. I really love capturing desert scenes.
10 days before they were scheduled to leave on their trip, I get a surprise text from my Mom saying that my Dad got a new dirt bike and still has his old one; so there is room for me to come and an extra bike if I want to ride. I replied back with no hesitation. "YES!" I was ready to send it. I had actually been considering doing a solo road trip through the States that Winter, and this was the perfect time to do just that. Also, had I known about this global pandemic that would be coming only a few months after I'd return from this trip, I would have been even more motivated to go. But fortunately, that Winter boredom was enough to make me pack my bags and vehicle and head off on this adventure.
I took a memory foam comforter from my bed and folded it twice on itself to make a skinny little bed for my Rav4. I took out the rear seats and shoved the front passenger seat all the way forward so that I could stretch out and lay properly without having to go diagonally. I was going to need all the room that I could get, so I tried to make the most of the limited space that I had. I also made some makeshift curtains to cover up my windows at night and some blacked out cardboard window cut-outs to block out any creeps from staring in when I'm sleeping. This was the first time I had ever done a solo trip and the first time I had ever car camped. But I was ready.
December 22nd arrives, and it's time for me to head south. My Mom and her friend were going to fly down. And my Father and his friend had already left a few days earlier with the van and all the dirt bikes.
I was scheduled to come down on the 23rd... Which was literally the next day. Yaa... I decided I would drive solo from British Columbia to the bottom of California in less than 48 hours. It seemed easily do-able on paper. But in reality, it was a bit more ambitious than I had imagined.
The first day, with the ferry taking up a lot of my time in the morning, I covered about 850km. Then I found a nice quiet rest area just outside of California and car camped there for the night. The second day, I drove a whopping 1450km in my car, covering pretty much the entirety of the length of California, until I arrived in my final location of Borrego Springs, CA. The first half of the day went well. But gradually, things just got more dreadful. I began to get more tired and eventually overtired as the day went on. And my neck was absolutely killing me near the end of the 14 hours of straight driving due to my very uncomfortable head rest. Like c'mon Toyota, why are your headrests so pointed forward in the second gen Rav4? I do not understand...
Anyway, I arrived in Borrego Springs. Had a great night's rest and proceeded to enjoy an unreal week of dirt biking. I was also able to catch some stunning desert sunsets and create some dreamy day-to-night blends from the photos I captured. Here was one of my favorites from the location we were riding: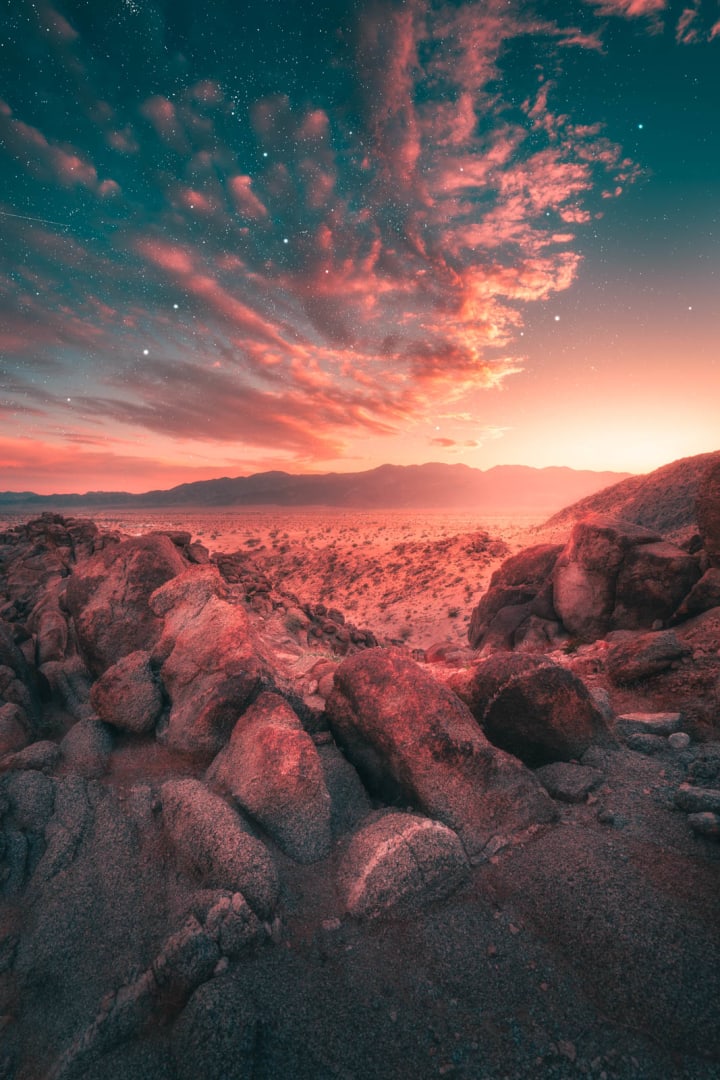 The trip was nothing short of amazing. We rode in a wide variety of different desert scenes such as the rocky landscape in the picture above and these incredible and massive dunes in Glamis.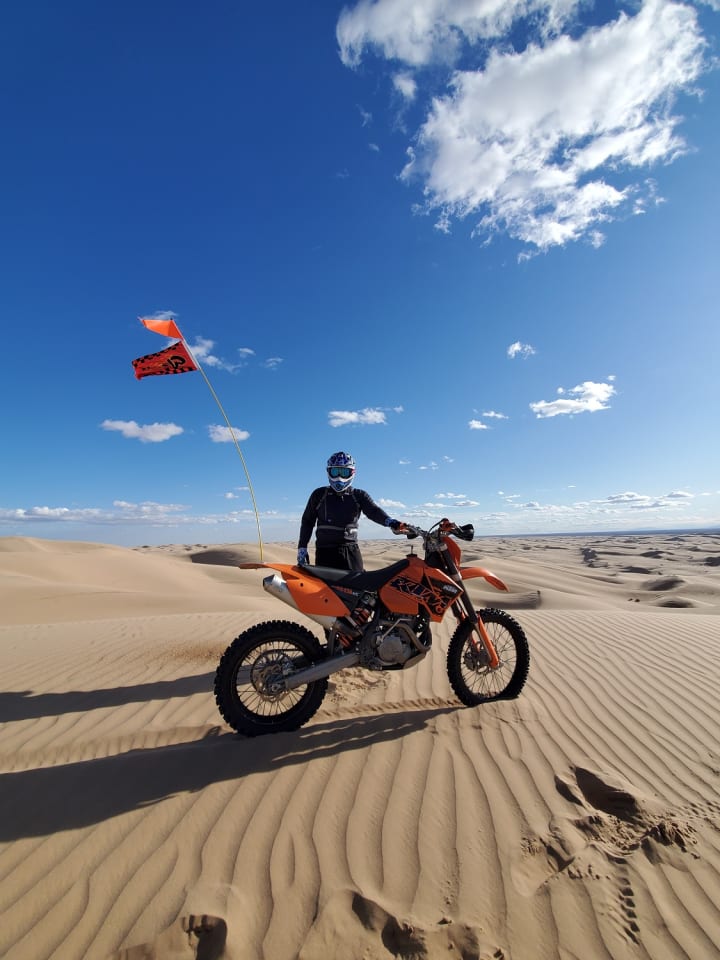 By the end of a week of non-stop riding, you can't help but feel impressively sore. When you're trying to go as fast as you reasonably can on bumpy terrain full of drops, jumps, turns, whoops, and more; your body is constantly moving. It's safe to say, that although I had an absolute blast ripping around on dirt bikes that whole week, I was happy to be done. And I was very glad that none of us had any injuries, despite the many spills we took during that week.
It was now time to embark on my 10-day solo trip detouring back through California, Oregon, and Washington. It was time that I got to 'work', I needed to go capture some inventory of some locations that I have been dying to visit ever since getting into photography in 2015. I had quite the itinerary, so I needed to jump on it now if I wanted to see everything.
I said goodbye to my parents and friends, and embarked on my adventure. This was the first time I would be travelling solo for such a long period of time. The first time that I would be all alone, with no one else there to help me in case something went wrong. The first time that I would be in charge of where I would sleep, what I would eat, and what I would see. It was a sort of freedom I had never had before, and I was so excited to see what would happen.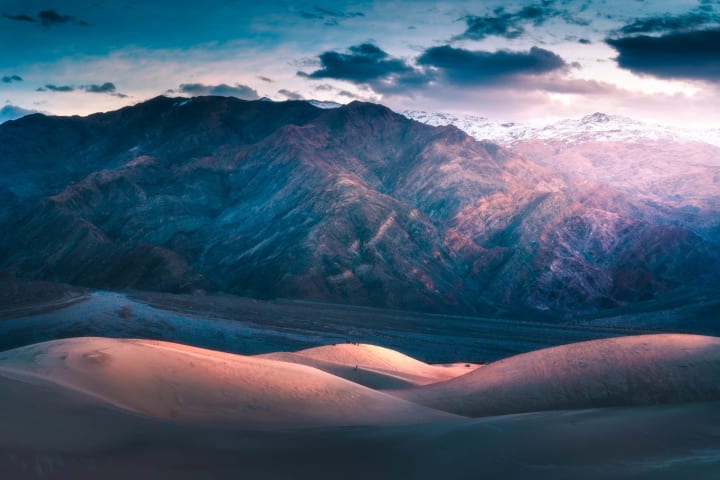 My first destination on my solo trip was Death Valley. This is a place I had ridden through on my street-legal motorcycle earlier that year on a trip with my Father to the Grand Canyon. But during that time, we were never able to stop and check out the sights, so I had always planned on returning, I just didn't know when. This trip was the perfect time to do so.
Death Valley was nothing short of amazing. You can read more about my experience here and the photographs I captured in my "Desert Dreams" story here on Vocal.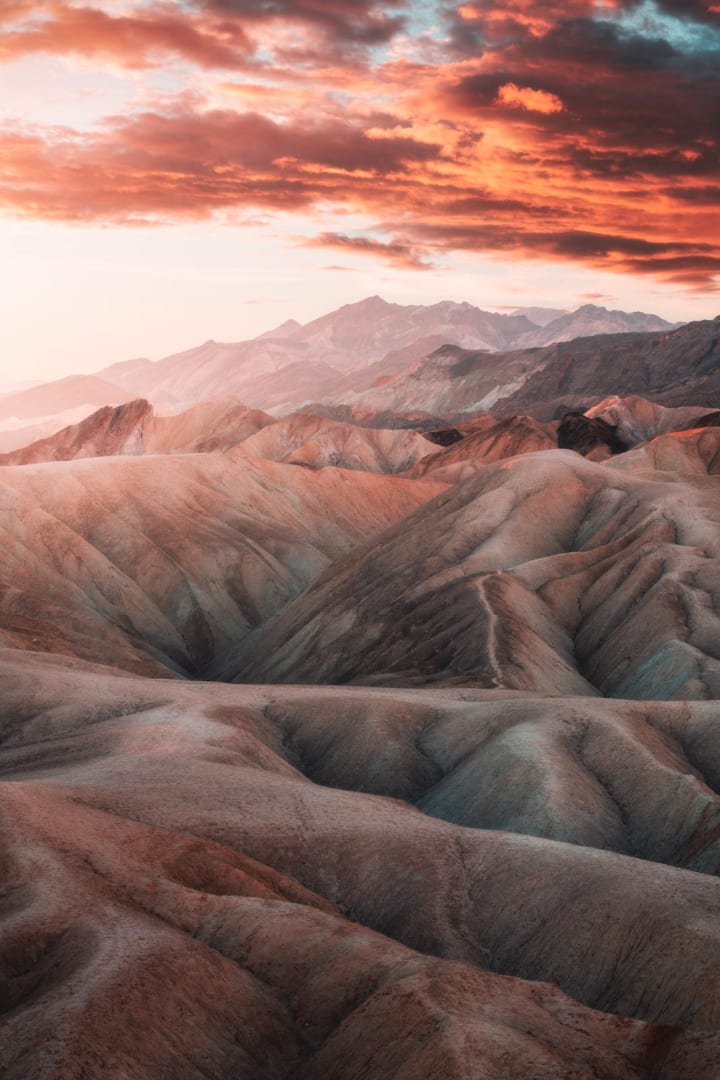 I could have spent a lot more time here, but I just had to get moving. I had so many more locations to visit and photograph, I didn't really have the time to stay in any specific location for longer than one night. So I enjoyed a solid evening and morning of shooting in this beautiful park, and embarked for my next location.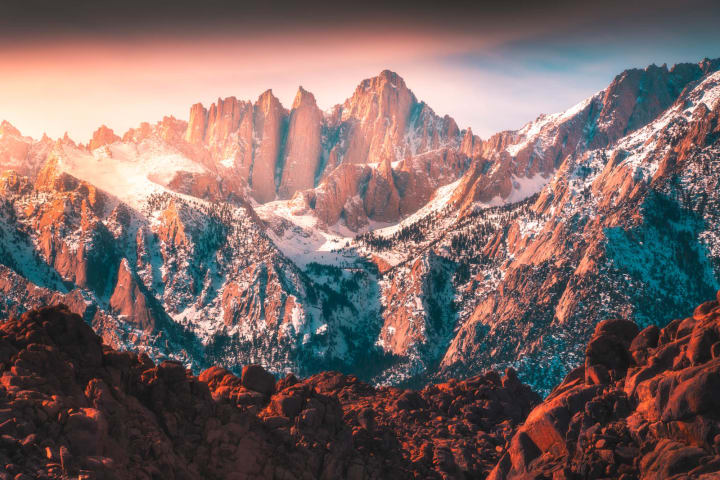 Fortunately, my next location to visit on my solo trip wasn't all too far away. I would be revisiting a location that I had just visited earlier that year during that Grand Canyon motorcycle trip. That location was Alabama Hills. This place is also just simply incredible.
Beautiful rocky desert landscapes and gorgeous snow capped Sierra mountains in the background. How can you not absolutely love this place? To top it all off, you're allowed to camp here for free. I don't normally talk much about this place on my Instagram page, so as to avoid adding to over-tourism. So consider yourself lucky to be hearing this from me here in this story...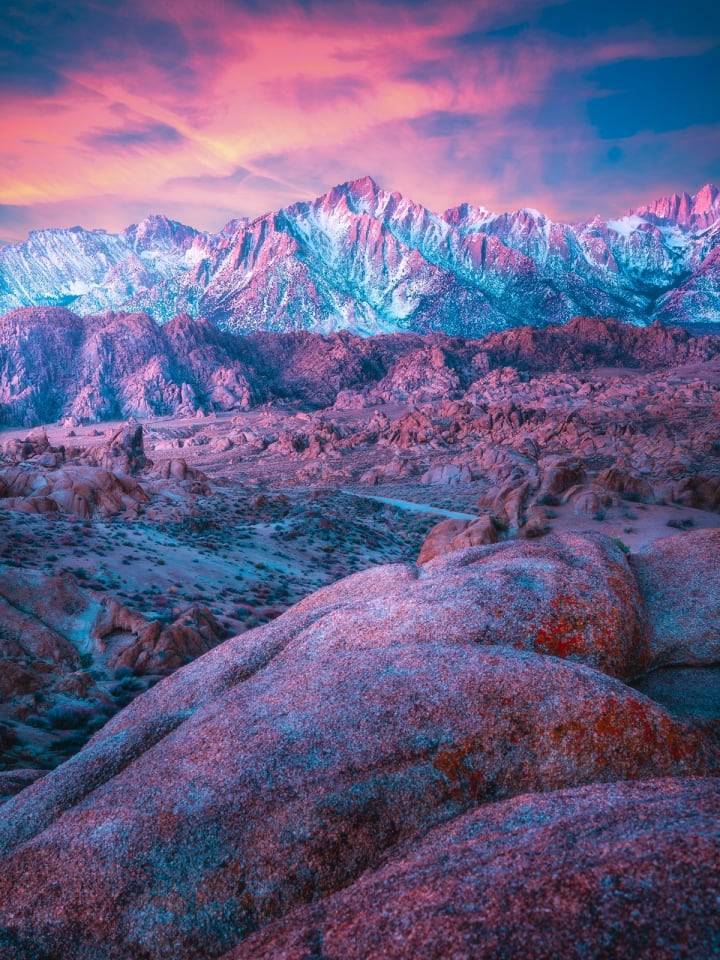 The next day I had a bit of a longer trip to do. I was planning on driving to Yosemite and camping inside the park for the night. But the usual route that would only take 4 hours of driving was closed due to snow closures. So I had to detour south around the Sierra Mountains and come up that way, which I think took more like 7 - 8 hours. It was no problem though, as long as I made it to the Yosemite Valley by sunset; I'd be set.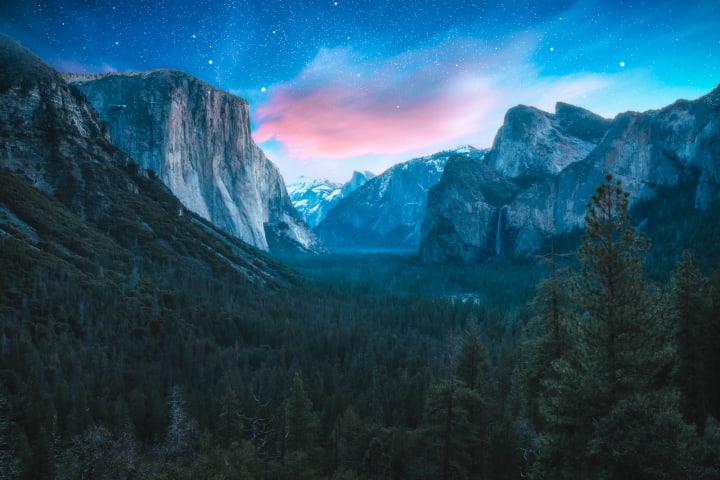 Yosemite is just simply gorgeous. It had been nearly 3 years since I had last visited the park. And I had never had an opportunity to actually stay within the park, so you could say I was pretty darn excited. I arrived in time for golden hour and had a great session of capturing photographs at numerous viewpoints within the park. Once I was satisfied with everything and the light had faded away, then it was time for me to find a place to camp for the night and ideally a place with a hot shower.
I drove over to the little town area within the park and was blown away by how busy it was. It was early January and yet it seemed to me like everything was booked up, at least for places I could car camp. The line-up to the showers was also ridiculously long and I just didn't have the patience to wait.
I used the little cell service I had there to search for campsites outside of the park and I managed to find one with vacancy. I left the park and drove 20 minutes to this campsite. It had hardly anyone else there, cost me $20, and had access to a nice hot shower. It was perfect. The next morning I left nice and early in order to catch sunrise in the valley. It was a gorgeous morning.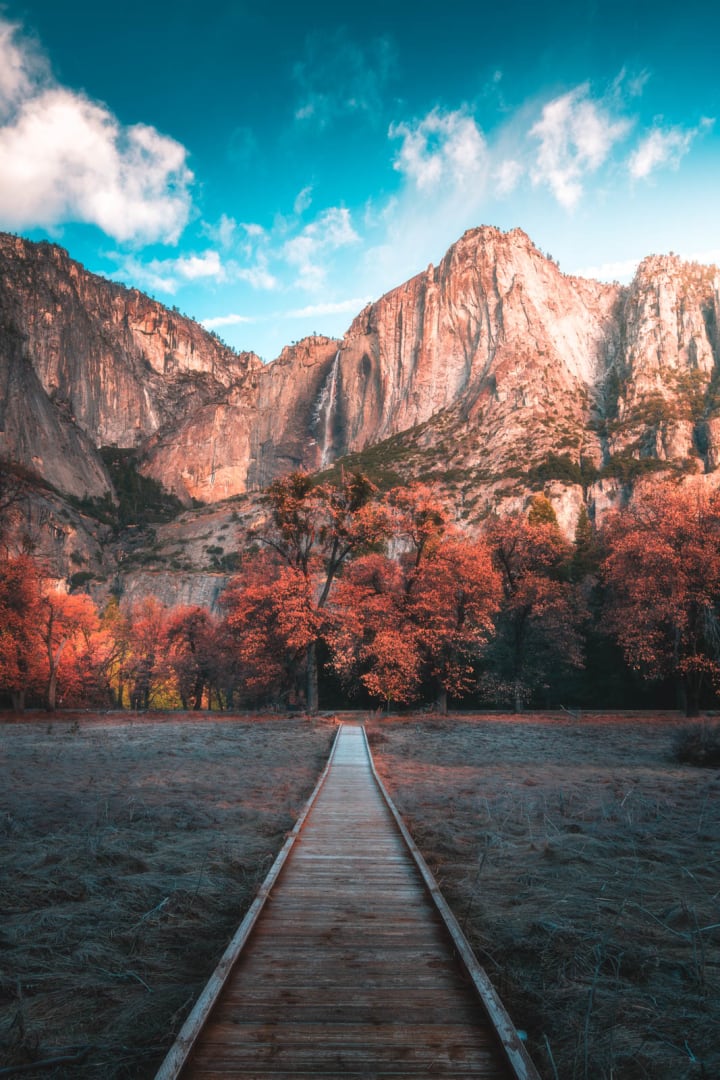 After shooting until my heart's content, I then embarked on the trip to my next destination. This one a little more urban than the rest: San Francisco. After about 5 hours of driving, I arrived in the city and immediately headed to the beach for sunset.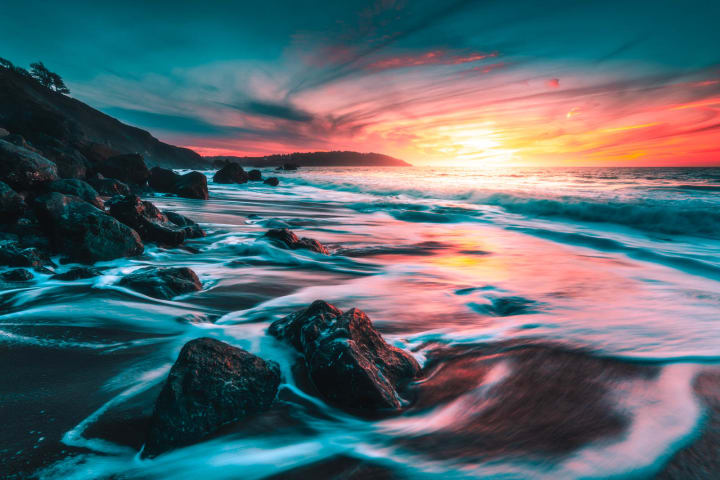 SF was gorgeous. The sunset conditions that evening were everything I could have hoped for. And the beautiful push and pull of the waves and tides were fantastic for seascape photography. Shooting along that beach was definitely one of my favorite shoots of the whole trip.
However, all good things must come to an end. And eventually the light faded away and it was getting dark. So I trudged up the hill and began making my way back to the car, in a constant state of paranoia that I was going to get mugged.
SF is a horrible place for photographers getting their gear stolen. 50 cars are broken into every single day here. And I know of many photographers who have lost all of their gear to muggers, even some of which who were held at gunpoint for their gear.
It's safe to say, I didn't feel all that safe. And this idea that I had, to try and camp at as many 'free sites' as I could along this trip did not work out well in SF. I ended up car camping at the rest area on the other end of the Golden Gate Bridge, because I wanted to shoot the bridge at sunrise the next morning. It was sketchy to say the least... You can read more about it in my "Car Camping in San Francisco" story here on Vocal.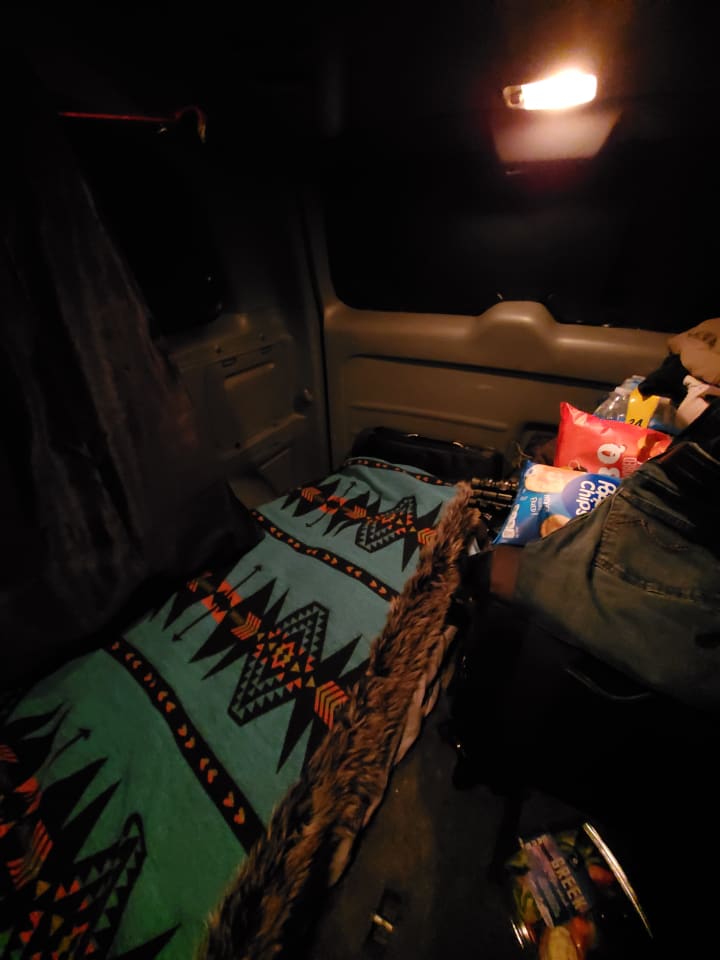 The next morning, I shot sunrise in SF and then happily booked it out of there. I started making my way up the coast and enjoyed the beautiful and relaxing atmosphere that coastal California had to offer.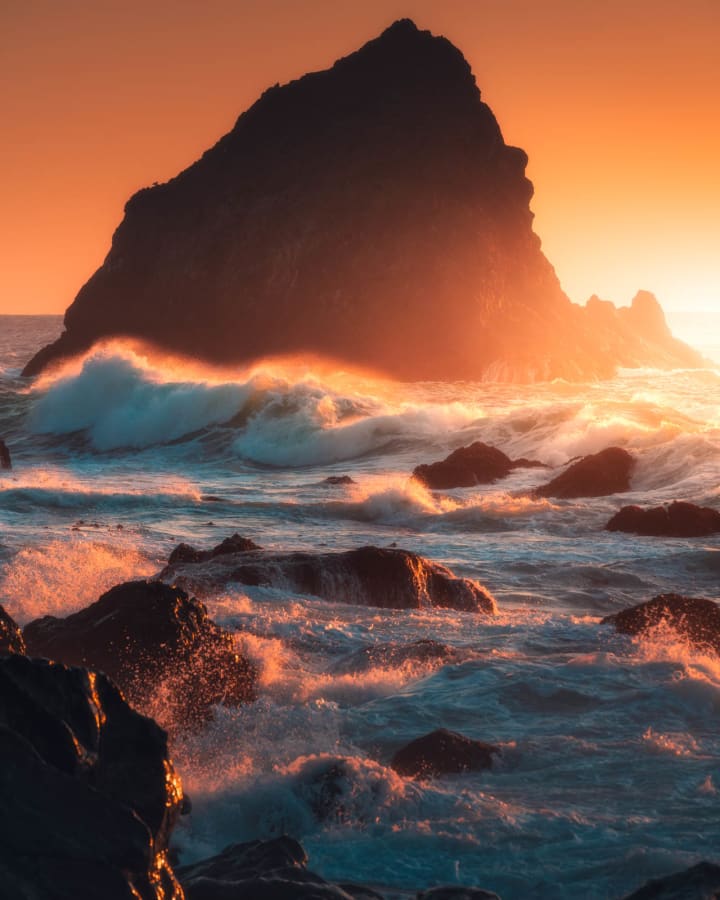 People were just so nice on the coast. I went from being scared of many of the people I met in SF to being excited every time I saw a new face. People on the coast were just so relaxed and happy to chat with me. Not gonna lie, it felt like I was in Canada again! I just loved the atmosphere and it really put me at ease, which was quite the relief after my experience in SF.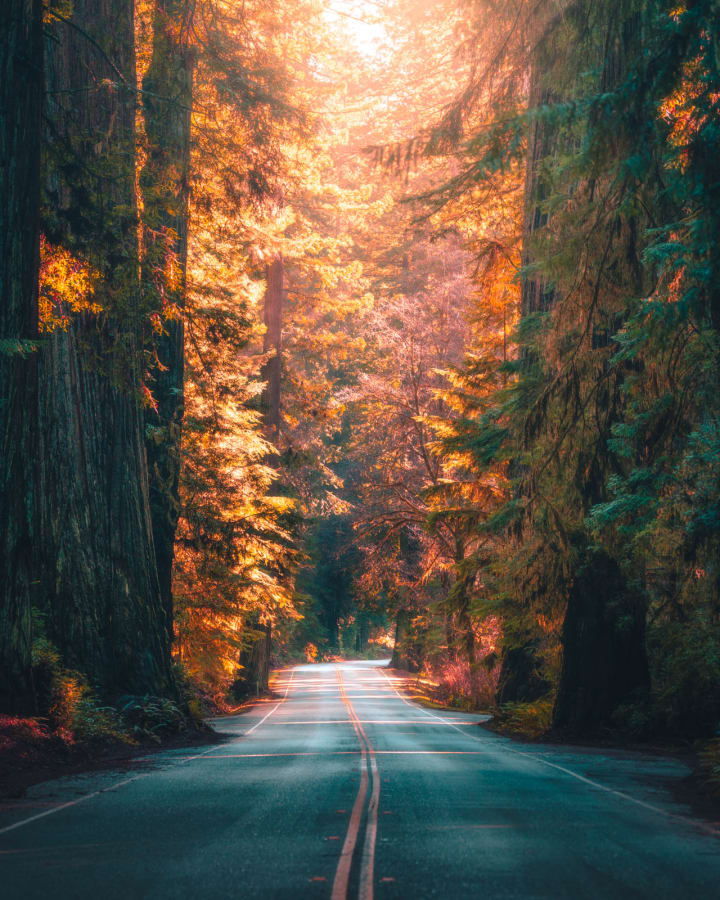 I continued my drive up the coast, visiting many beautiful locations along the way. One of my favorites was definitely the Redwoods. I felt like I was exploring on Endor... It was amazing!
I spent another night in California and then started making my way into Oregon. I was now on the hunt to capture as many waterfalls as I could within a few days.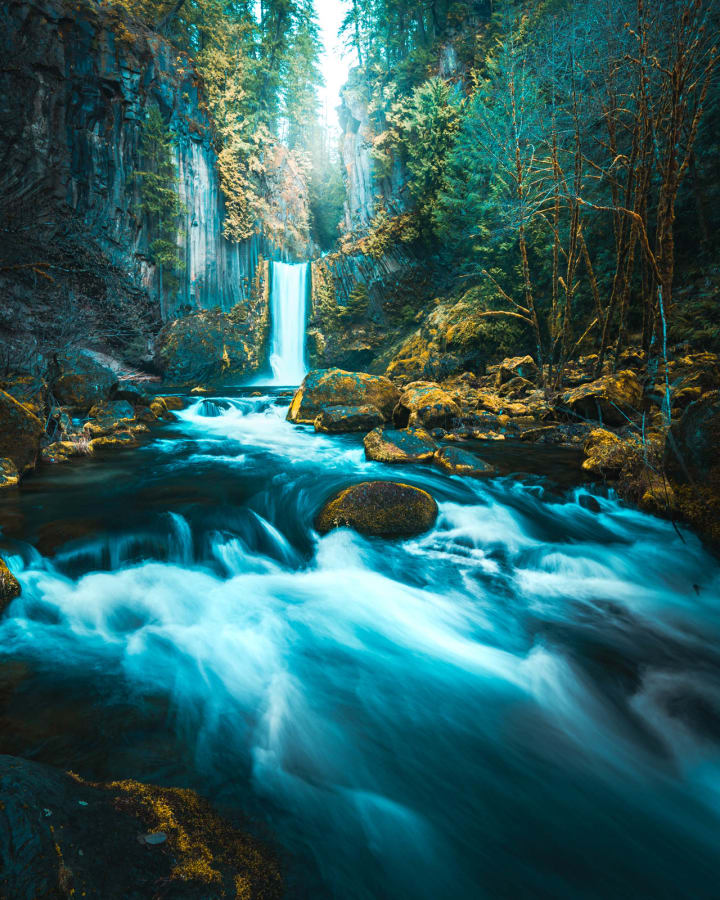 The first fall I went to was one I had been planning on going to for a very long time. It was everything I could want in a waterfall. A huge drop, a beautiful valley, and intricate rocky textures. Little did I know how sketchy and dangerous it would be just to make it to the base. And thus the reason I will not name the fall, so as not to encourage you to do the same as I did. If you know of this place and decide to visit, just be prepared if you try going to the bottom. All the influencers on IG who like to take photos here seem to forget to mention just how sketchy it really is...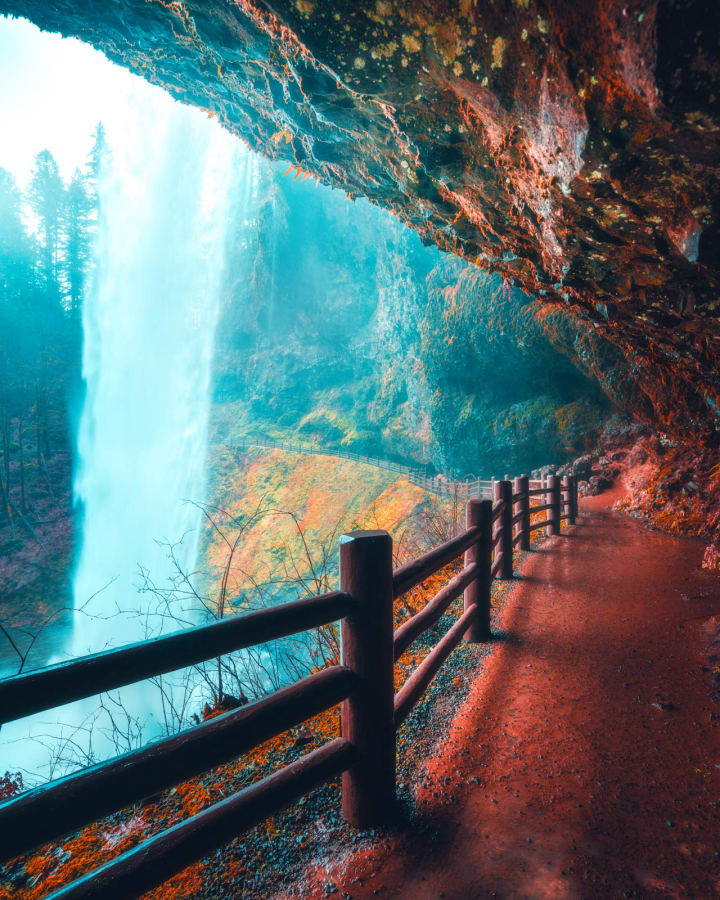 After a night spent at a rest stop in Oregon, I got some breakfast and headed to a park I have been excited to shoot for a while; Silver Falls State Park. This place is beautiful, and for only $5, you're allowed to park and explore for as long as you'd like. Some of the locations here really blew me away. Sitting in a massive cave behind a waterfall is just... Surreal. It's difficult to not be moved by such natural beauty as this.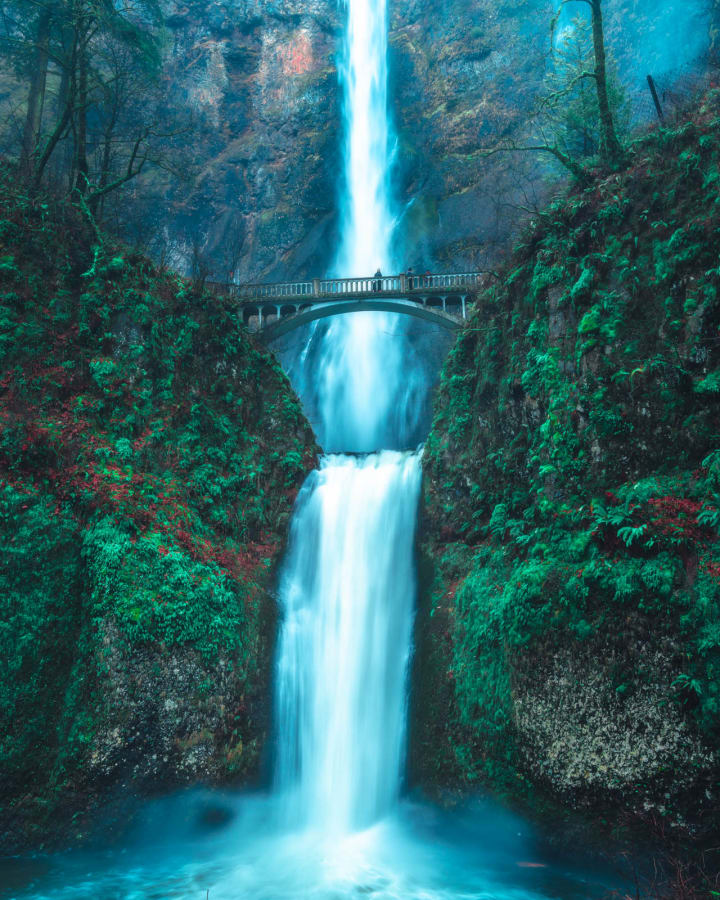 I had quite the list of waterfalls to shoot that day, and I ended up visiting all 6 of them. Multnomah Falls was definitely high on the list. Despite this place being so extremely popular, it is really such a unique location and one that I could not pass up. Especially since it's just off the highway!
Finally, after photographing waterfalls all day, I headed into Washington in search of another rest area to setup camp for the night. I was getting to the point of really not wanting to take photographs anymore after so many days of non-stop shooting and driving plus weeks of being away from home. So I figured I'd end the trip a day earlier and come home sooner than expected. But I had one last stop I needed to make before I did that.
I had always wanted to drive up to the top of Mt. Baker National Park and I finally had an opportunity to on this trip. I got really lucky with the weather and enjoyed some beautiful Winter conditions up there. It was just spectacular and such a complete change of scenery to what I had been capturing the whole trip. I am so glad that I decided to take the detour and venture up there.
After leaving the park, I crossed the border back into BC and hopped on the ferry back home to Vancouver Island. It was an amazing trip with the widest variety of scenery I had ever seen in such a short period of time. I was stoked with all of the photos I got. And I felt that there was a change in my mindset and perspective after being alone for so long and relying on only myself to make sure nothing bad happened. I think it was a really important trip not only for my photography but also for me as a person. It is one that I won't soon forget.
Reflecting on this trip and the photos I took during it really make me miss traveling. 2020 has been such a hectic year and honestly, who would have thought in the beginning that we'd face repeated lockdowns all over the world due to this virus? It's been crazy. And boy do I ever miss traveling because of it. But I sure can't wait until this is all over and we can get back to it again. Once we are allowed to again, I'm going somewhere... Far away. Mark my words.
Thanks for reading.
Instagram: @calibreus
Website: calibreus.co
Want to learn how to edit like me? Check out my tutorials here.
About the Creator
Hi! My name is Zach and I am a landscape and nature photographer from British Columbia, Canada. I look forward to sharing with you the behind-the-scenes of some of my adventures!
Website: calibreus.co
Instagram: @calibreus
Reader insights
Be the first to share your insights about this piece.
Add your insights