Monkey Cave and Temple
Hand Feed Monkeys?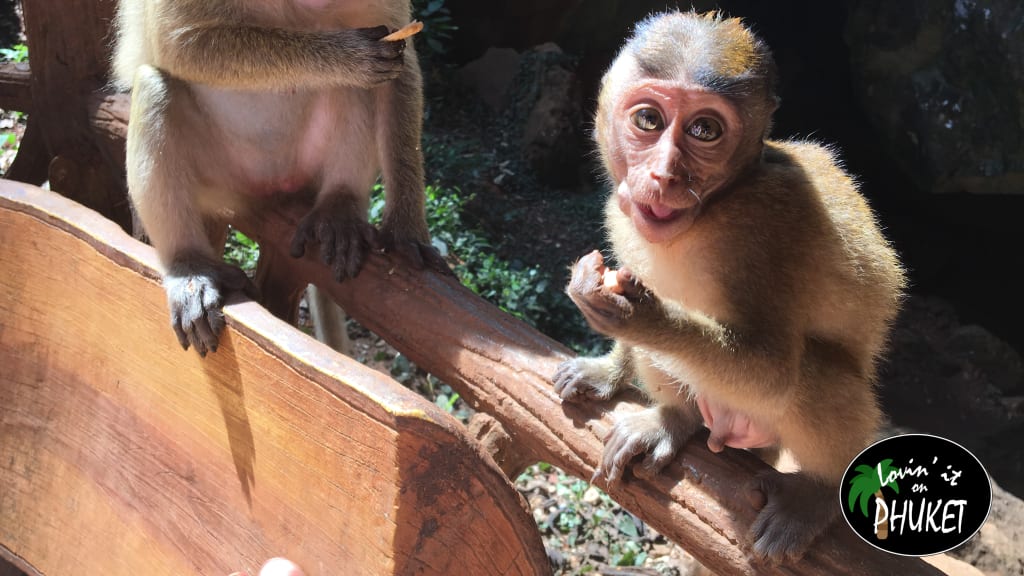 A Baby Monkey at the Monkey Cave / Photo Credit: Yaman Mutart
In Phang Nga just North of Phuket is a very interesting place. Here you can hand feed monkeys at your discretion and also tour a temple that is inside a large cave in a mountain side.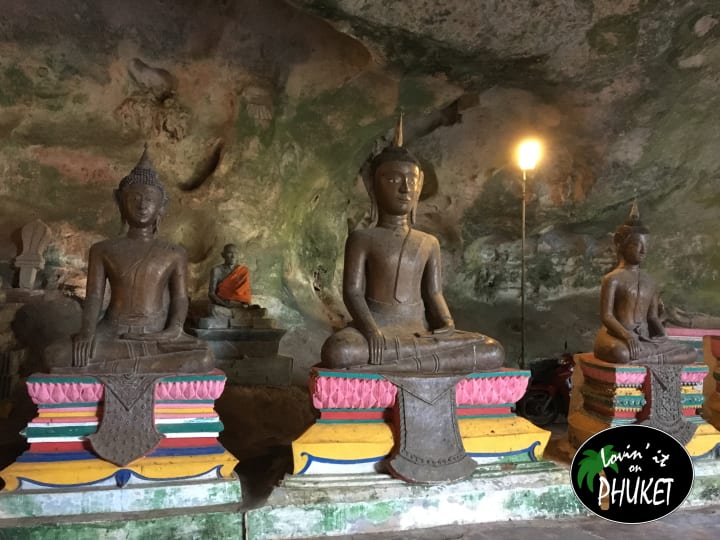 Monkey cave and the temple called Wat Suwan Khuha are probably one of the more interesting, non adrenaline activities I have taken part in while living in Phuket. Inside this large cave you will find statues of Buddha, areas where you can purchase food for monkeys and a large wooden stair case leading up to an opening in the mountain top. On this stair case you will see many many monkeys climbing around and playing. This is where things get interesting.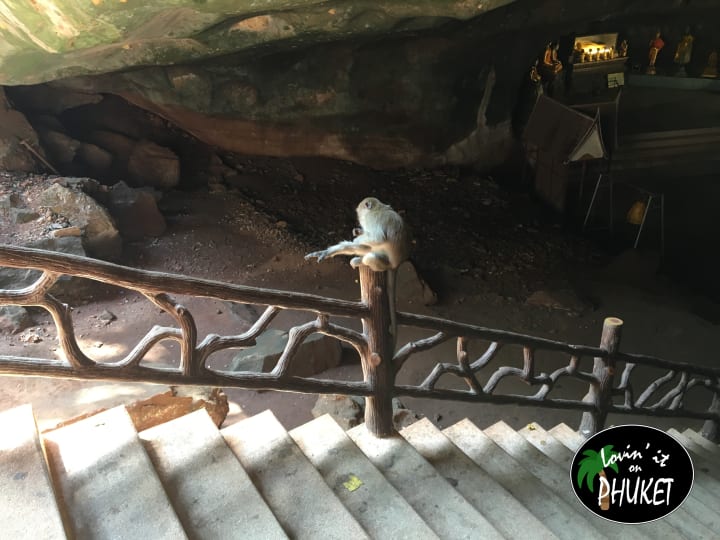 First off you should always be aware that monkeys are wild animals, they are a bit unpredictable and if they can do some crazy stuff. You should always use discretion when dealing with them and never corner one. Also try not to make direct eye contact, they tend to jump at a persons face when you stare them in the eye. Another thing to note is if one climbs on you, remain calm. Do not poke at it, do not push it. This is aggression and they may bite you in defense. The best thing to do if you are in the cave and one climbs up on you is to toss some food out for them and hopefully they will go after it.
As you can see in the video above, these monkeys are more or less used to being hand fed so it is a bit safer than trying to encounter them in an area like Monkey Hill View Point in Phuket but they are still wild animals. The baby in the video was unreal. In person it looked like it was a puppet or toy, it simply did not look like a real animal. That made it a more interesting experience. The monkeys are so used to people they actually reminded me of domesticated cats at times the way they would strut around and come over to us. However the monkeys did get aggressive at times trying to steal our peanuts and when we were feeding the baby a large male got a bit jealous. The jealous male kept his distance and I ended up tossing him some peanuts as well but eventually he chased away the baby and displayed his genitals to us as he sat there expecting to be fed more. Had this been somewhere that the monkeys were more wild it would have been more difficult to feed the baby at all and chances are the male would have attempted to take the peanuts from us instead of waiting his turn.
Another thing to note when feeding the monkeys is do not buy bananas outside to bring in. When you come in you will find that you are only allowed to feed the monkeys peanuts, which I assumed was because bananas are messy and can be thrown both before and after they are eaten. No one wants to be pelted with monkey poop or squished banana while trying to enjoy their holiday after all. If you would like to feed bananas to monkeys for whatever reason, maybe to get a classic monkey eating a banana photo, you can do this at Monkey Hill View Point. If you do decide to do this, keep in mind I warned you about feeding them soft fruits. I would advise against it.
I would recommend monkey cave to anyone who is interested in monkeys. It's not a must see and if it is included as part of a tour I wouldn't consider it to be an attraction that would outweigh something else or as a major activity. At the end of the day you just climb some stairs and see some monkeys. You can actually do this in many places in the area.
Uselful Links:
For great videos and images check out the Lovin' it on Phuket YouTube Channel, Facebook Page and Instagram Account. If you are a blog writer you can find images available on Adobe Stock, Getty iStock and Shutterstock by following these links.
Adobe Stock     
Happy travelling to Phuket and beyond! There are more interesting articles to come. Thanks for reading and showing your support.