Magic on the Madawaska
Hiking in the Canadian North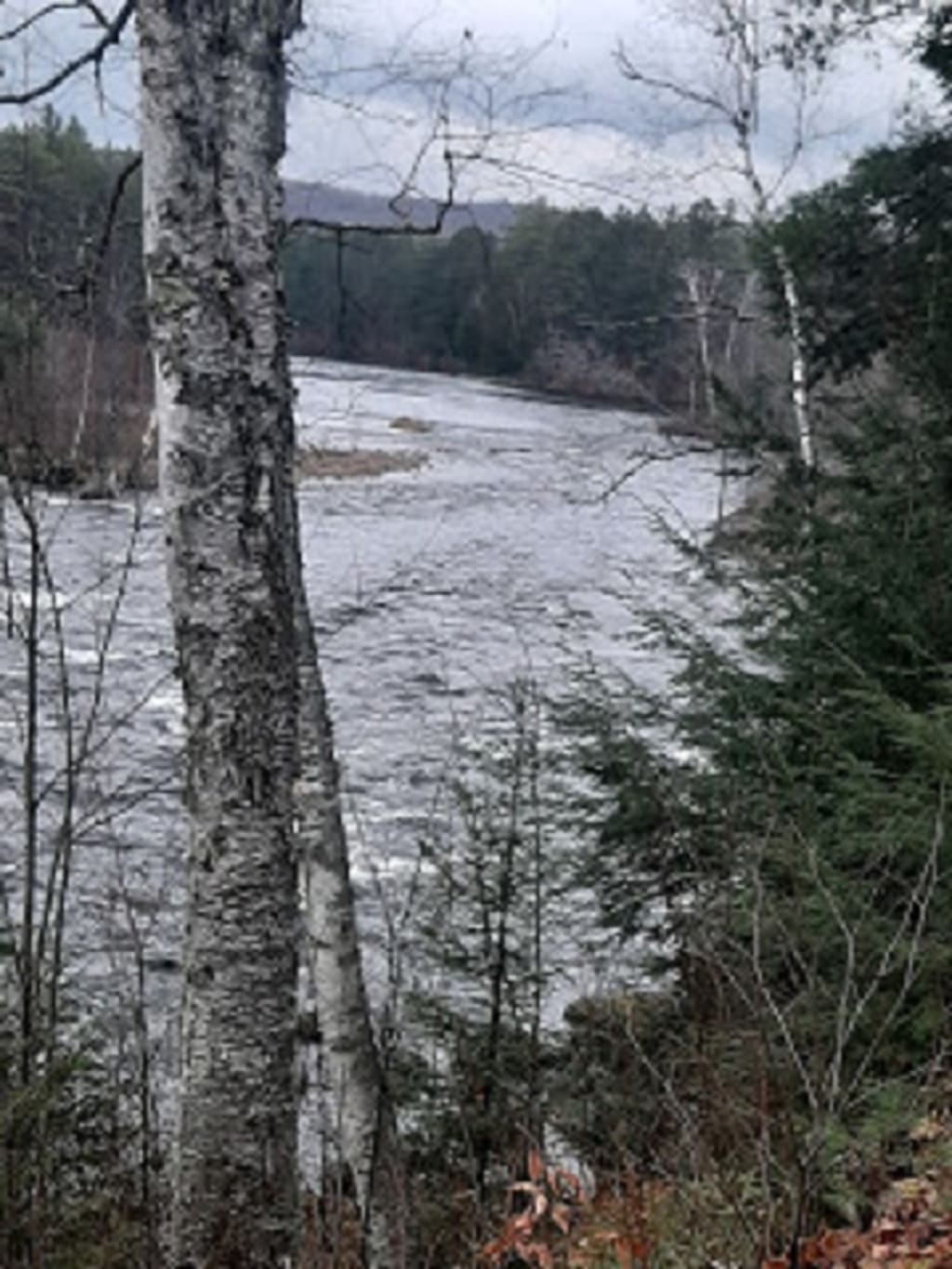 As I step off the trail, my boot presses down on a spongy 50-year-thick mat of decaying pine needles and blackened birch leaves. All I can smell are pine trees above and decay underfoot. It's crisp and clean and at the same time a bit moldy. This pine scent is something many companies have tried to bottle but have never quite duplicated.
We're in a second-growth forest of pine and birch trees straddling the Madawaska River southeast of Algonquin Park. The nearest community is Combermere, where Ontario's Highway 62 makes a sharp left before a 14-minute jaunt up to Barry's Bay, where the Madawaska River is narrow and gentle enough that they were able to put a vehicle bridge across it.
The river takes its name from the Matouweskarini, an Algonquian band. Starting from Source Lake in Algonquin Park, the Madawaska winds through 230 kilometres of the Canadian Shield, dropping 380 metres along the way, eventually emptying 8,470 square kilometres (roughly the size of Puerto Rico) into the Ottawa River at Arnprior.
It's the last Saturday in October 2020. Anna and I have finally escaped Toronto for our first overnight trip since January. Like most of the world, we have been clinging to home and a few trusted family and friends while the COVID-19 virus lays waste to so many people, their jobs and dreams.
The air temperature is hovering around minus-10 Celsius and we are, to say the least, invigorated by the crispness of the air and in awe of the silence of the forest. Never a fan of hot weather, our 12-old Lhasa Apso, Max, had spent most of the summer barely moving. But here in the cold and the wild he is instantly recharged, leading us through rocky steep paths without pause. Except when he smells danger. Then he stops -- sniffing the air and refusing to move forward. This part of Ontario has wolves and bears to contend with. Once the scent of danger had passed he rockets along the path once again. The only furry beasts we see are small red squirrels who angrily chatter at us after Max chases them up the nearest tree. He is deeply offended by their existence, at home and away. He's never caught one ever -- just a raccoon once and then he had no idea what to do with it once he chomped down on its neck. Lhasa Apsos's DNA doesn't produce massive teeth designed for ripping meat from its victims' bones -- just a pronounced underbite that isn't a threat to anything other than a packaged treat and a bowl of kibble.
The sun, far to the south at this time of year, is casting long shadows at 9 am. The white birch are bare of leaves and the pines stand over 70 feet tall, their needle-covered branches fanning out only at the top. With little brush covering the ground, we can see through the forest and out onto the river. Pockets of pine seedlings with soft needles, slightly fuzzy looking, are scattered in places where sunshine makes its way through year round.
The trail here is wide and easy to walk side-by-side. No need to watch for what rock or root might want to trip us up, and instead we can focus on the scenery. We follow it uphill to a clearing on a point where the river leaves behind its rapids, opening up into a wide, still expanse of water.
This being Crown land, it is possible to camp without fee or fear of harassment by property owners. Someone who must love the view as much as we do has their camp site in place, despite the cold. No one is here, just a tent for two with a tarp over it, a couple of camping chairs, a table and propane stove, everything neatly stacked up against each other. Behind the tent a big clear recycling bag bulges with empty beer cans. When we return the next day the camp is packed up and gone, the season over.
We stay on the trail till it veers away from the river, then pick our own way back to the water, edging our way along on a crest running 20 feet above the water. Up here I make out a faint animal trail running along the crest marked with scat every so often.
We spot a crude set of steps descending straight down the steep drop to the river. Someone has dug each step out of the soil and reinforced it with sawed planks or beams. Without a railing, I'd be more comfortable sliding down the embankment than trying to negotiate the steps. Down at the water's edge they've piled up stones to create a rough dock in the fast-moving current. The only human-made structure in this section of the Madawaska, it looks like it was meant to proclaim some sort of primal domination over the river more than to provide any practical benefit.
Weaving between trees and clumps of bushes, we take the path created by stealthy four-legged predators moving through their territory. Watching my step as we go, I instinctively look up every so often to quickly check for potential encounters.
The path descends, steep and well-worn, towards the rapids. Grabbing at tree trunks or planting feet against exposed rocks and roots eases the way. We imagine the river on warmer days filled with kayakers and canoeists trying to shoot the rapids -- or with rafts of adventure seekers screaming at the thrill of being tossed about like they were riding a wild bronco.
Now the path narrows. No longer wide and easy, it demands that we jump from rock to rock, then offers short stretches of smooth flat moss.
Max finds a quiet spot on the side of the river for a drink. He's particular about where this will happen. He looks for still water -- no waves -- the shore sloping gently into the water. He enters the water until it comes up to his head before he will drink. None of this lowering the head to the water level. As long as those conditions are met, he'll quench his thirst from ponds, rivers or lakes. Not the strictest quality control is involved, but who am I to understand the drinking habits of a dog.
Along this stretch of the river, It smells fishy. We don't see carcasses or live fish fighting their way upstream. So it's a puzzling odour for a fast-moving clean river that hasn't been ruined by agricultural runoff, industrial waste or human sewage.
Our eyes are continually drawn back to the rapids, the power of the water plummeting down through this narrow and rocky stretch of river. Dashing against rocks, carving out new channels, ripping out trees and hurtling their trunks downstream, the Madawaska here seems filled with fury -- trying to destroy anything that gets in its way, including the occasional human. James Smith Bangs died canoeing just south of Combermere in April 1867. They found his body but not the belt loaded with silver he was taking to the bank in Arnprior. Or Irena Michalska who drowned in 2019, also near Combermere.
But today, we only hug the river's edge and don't venture in. We've come to the trail's end, and it's time to return to the cottage to warm up, eat some soup and plan out our next hike.
Before heading back we pause. There is only the sound of the rapids, and it drowns out all conversation. It leaves us in awe of the power of the water and alone with our thoughts.