Journey to Israel's Civil Defence Front Line
To Sderot and Back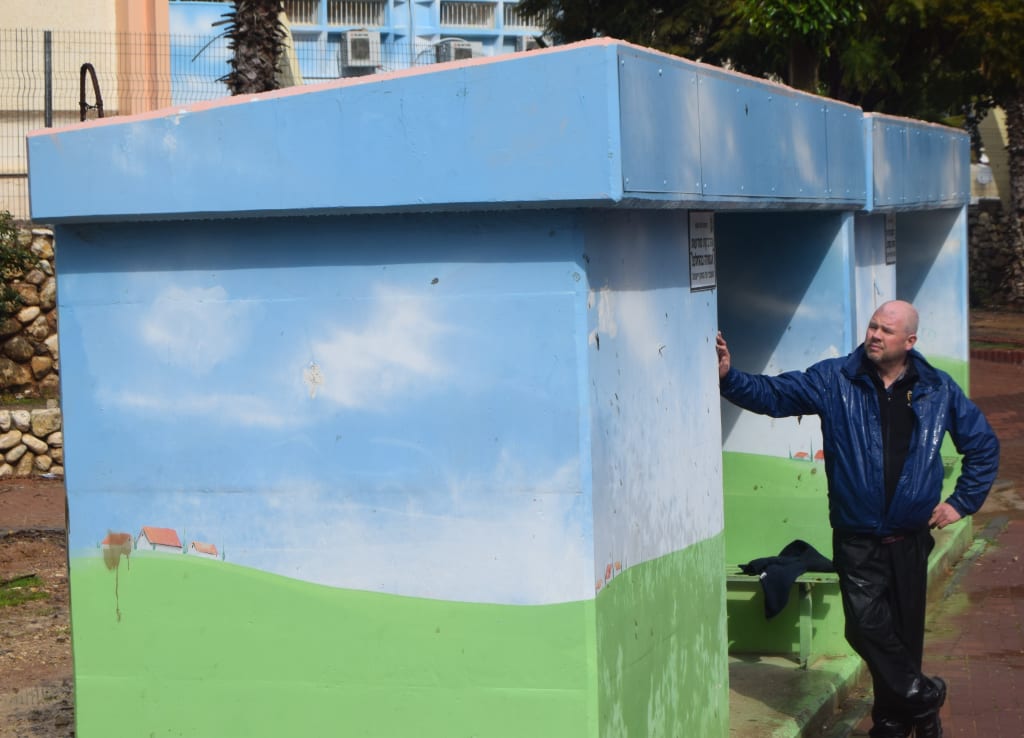 Child friendly bomb shelters
Travellers seldom select new towns. What attraction is to be found in the shadow of concrete boxes? It pays to make an exception, however, for it is here that people live with their stories, vitality, and living history. On a recent trip, I decided to visit Sderot, a 1950s new town that sits on the border of the Gaza strip, a town made notorious by incessant rocket attacks. It was hardly an onerous journey; a mere hour by train from Tel Aviv.
It rained that day, the way it does in Israel in winter, when brown skies suddenly open with thick, fast deluges, turning the ground into a variety of chocolatey shades. The train trundled south, passing dreary estates of concrete and breeze blocks, strips of carrier bags fluttering from fences. And then into the countryside, a landscape of orange groves and cypress trees. Glimpses of the tempestuous Mediterranean, grey and dangerous. With a slowing of brakes and whining of electric current, we arrived. This was Sderot, the most bombed place in Israel; a town where normality is a dream.
The station felt normal, as though one were in suburban Spain, and beyond was the boulevard of palm trees and spongey lawns that led into town. A shopping arcade sat to my right. Luckily, the rain held off and I walked. Houses of red roofs and white walls, small gardens—normal apart from the regularly paced bus stops that doubled as shelters, with concrete blast walls. I closed my eyes and tried to imagine how I would feel and what I would do if the alarms started, that hideous jingle of whooping and of disembodied voice shouting "Tzeva Adom, Tzeva Adom," or "Code Red." But it was quiet, just the rustle of wind in the palms. I soon reached the centre of town. I noticed it, the damage; a ruined awning, burned out and flapping, a small arcade of shops, chipped concrete, a drum-like siren on the roof of a bank.
I drank a coffee, eager for some heat. Baking smells enticed me, the sweet doughy aroma of the Middle East; cinnamon and cardamom, dates and coriander. Then I turned a corner and saw one of Sderot's few icons—a school covered with what was effectively a huge metal table. Bomb proof. A long shelter that was painted in bright, child-friendly colours. Inside, it smelt of piss and rubbish. A wide patch of open land where some children were playing, and on all sides, blocks of concrete municipal housing where washing lines fluttered with olive green army uniforms, filling the air with the intoxicating and evocative scent of washing powder. I was reminded of the early days of statehood, of black and white newsreels lauding the progress in housing, spoken in clipped, polished Hebrew. The living history of architecture and politics.
I wandered along a suburban road of villas. Birds sang, oranges hung from trees in gardens. A single house stood out, boarded up, clearly damaged. A meaty smell of lunch seeped from a nearby kitchen.
I saw few people as I wandered the town. The rain began again, vicious, soaking me. Some devout women struggled with shopping, others waited for the shared mini-bus to Ashkelon. So I said goodbye to Sderot and joined them, finding a seat at the back of the decrepit and fuggy bus where the brown, tape-streaked radio crackled with Mizrachi music. As we joined the main road and sped North, I looked at the high wall to my left. That was the Gaza Strip. I had been to Sderot, the most bombed town in Israel.