I Sailed Around the World!
An experience that carved out who I really am.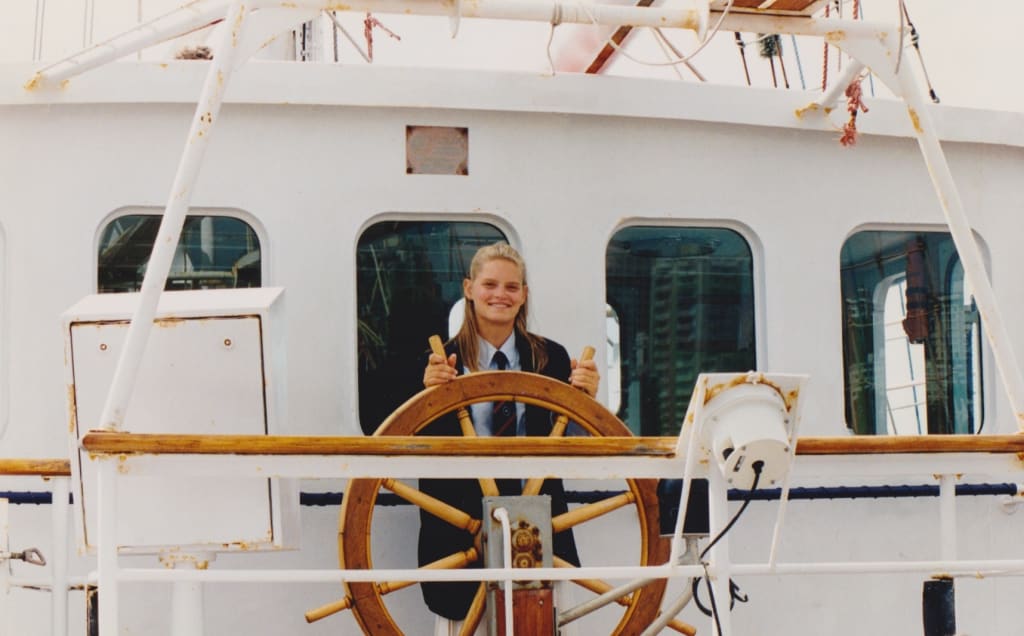 Day one on Concordia August 1994. Photo Credit: Author
You can't imagine how hard it is for me to say that.
I sailed around the world.
I did, I really did. Well, almost.
We sailed from Vancouver, BC on the Pacific Ocean, to Sydney, Nova Scotia, on the Atlantic Ocean, the long way. So we sailed around the world, except for the width of Canada. If that makes sense.
Why is it hard for me to say this?
Well, it's kind of complicated.
Let's just say that many people in my life have not been able to comprehend something as enormous as this, so I decided at some point to stop telling them. Somehow it made others uncomfortable.
And I just wanted to be 'normal' and fit in.
_______________
So yes, I sailed around the world! I was just 17. Well, I turned 18 on the trip, in Darwin, Australia. A good place to turn 18 as that was their drinking age. Never mind that drinking alcohol was strictly forbidden in the program. Of course, as teenagers do, we did it anyways.
The trip was with an outfit called Class Afloat. They are still operating if you want to view their website. (Prices were much less 28 years ago!)
I was taking part in their 10-year anniversary program in 1994/95, and to celebrate their milestone, they were going all the way around the world. The program never had done that before, and they only did it once after. Their usual route now is to circumnavigate an ocean or go around Europe for a semester, something like that. The program and destination change from year to year, and they still visit some fabulous ports of call. But none of those students can say that they sailed around the world like me and 52 other adults my age can.
It's hard to know where to start when telling my story of Class Afloat. I feel like I am still processing the experience, if you can imagine, 28 years later.
Let's Start With The Destinations
We left Vancouver, BC, Canada in August 1994. These are the ports of call along the route as best as I can remember them:
Hilo, Hawaii, USA
Majuro and Jaluit, Marshall Islands
Gizo, Solomon Islands
Darwin, Australia
Christmas Island, Indian Ocean
Bali, Indonesia
Cocos Islands, Indian Ocean
Chagos Islands, Indian Ocean
Seychelles, Indian Ocean
Mombassa, Kenya, Africa
Capetown, South Africa, Africa
Walvis Bay, Namibia, Africa
St. Helena, Atlantic Ocean
Belem, Brazil, South America
Natal, Brazil, South America
Cayenne, French Guiana
Georgetown, Guyana
Bridgetown, Barbados, Caribbean
St. Lucia, Caribbean
Basse-Terre, Guadeloupe, Caribbean
Charlestown, St. Kitts & Nevis, Caribbean
Saint Marteen/St. Martin, Caribbean
San Cristobal, Dominican Republic, Caribbean
Matthew Town, Bahamas, Caribbean
Norfolk, Virginia, USA
New York, New York, USA
Woods Hole, Massachusetts, USA
Boston, Massachusetts, USA
St. Johns, Newfoundland, Canada
Burin, Newfoundland, Canada
Sydney, Nova Scotia, Canada
So, in a nutshell, in 10 months we visited over 30 ports of call (I feel like I am forgetting one or two), 23 countries, and 4 continents. Not to mention, what felt like, a zillion island nations in between.
It was the trip of a lifetime! But it was also just the beginning for me.
About The Boat
We sailed on the S/V Concordia, a 188-foot (57m) steel-hulled tall ship (Barquentine) built in Poland. Sadly, this ship sank off the coast of Brazil in February of 2010. I did feel like a piece of myself went with it, a sad day for all of us 'floaties'. But thankfully the 64 students and crew that were on board all survived!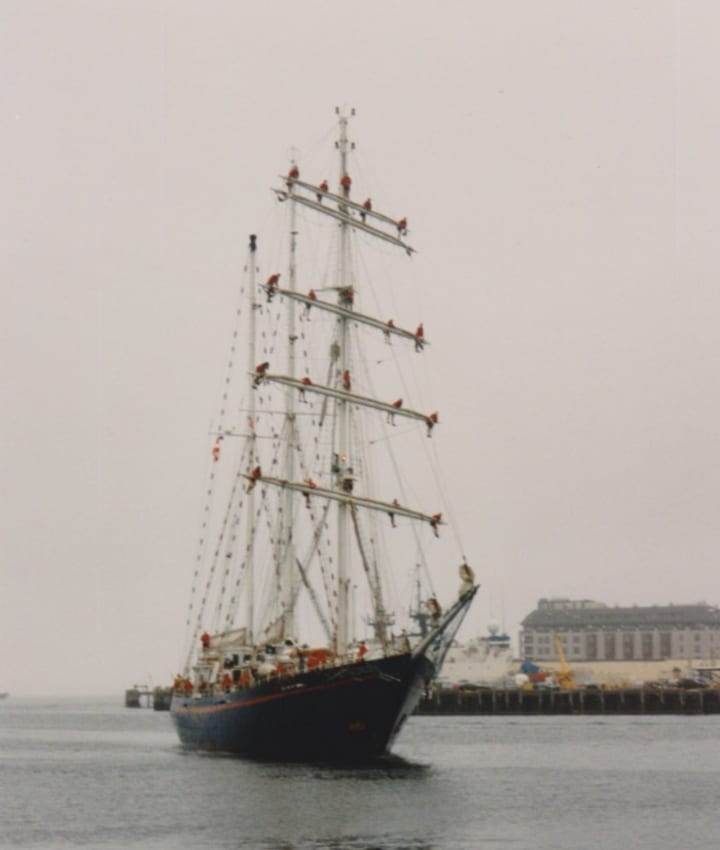 As it was a completely steel-hulled boat, we learned all the ins and outs of ship maintenance and worked tirelessly to keep the rust at bay.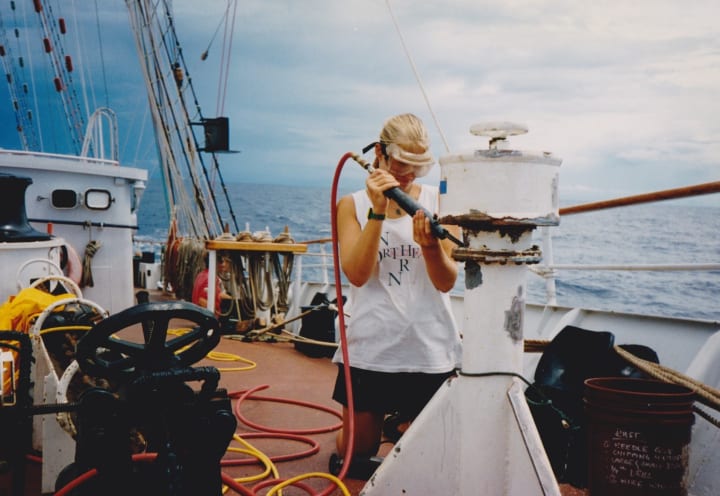 This ship came complete with all of the professional crew required to keep us safe. We had 2 engineers, a bosun, captain, first mate, second mate, doctor, cook, director, and a handful of teachers.
All of the sails were manual, meaning that we hauled them all up by ropes. This also meant that we had to learn 150 different lines and where they all went. As a girl from the mountains of inland Canada, with very little experience on boats, it was a steep learning curve.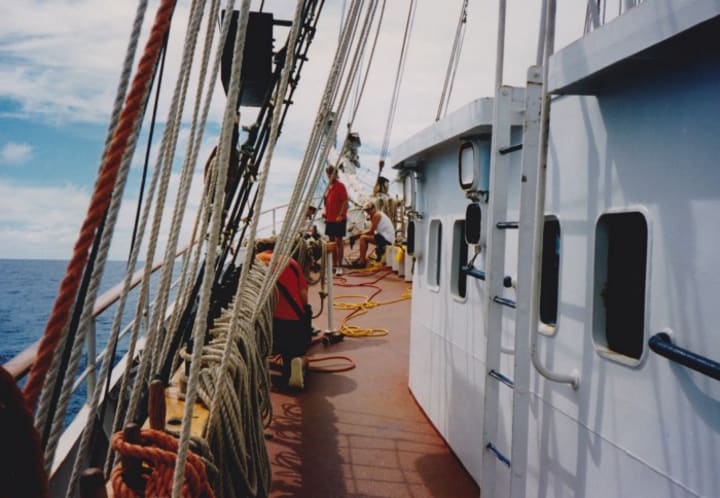 We became the ship's crew.
Despite the fact that this was an educational program and school was a primary focus, we were also the ship's crew.
At 7:00 am every day we would have "colors" at the bow of the ship. Here we would raise the flag and ring the bell, signifying the start to the new day. The director would also make any announcements that needed to be made.
After that, each watch group would head out to do the morning cleaning duties for an hour before breakfast was served. These cleaning duties were changed up every 2 weeks and included things like cleaning the classrooms and public toilets (or 'heads'), cleaning the hallway (passageway) outside the cabins, cleaning the mess hall (dining hall), etc.
As seen in the photos above, we also did 2 hours of 'day watch' which included ship maintenance jobs. Painting, rust busting, sanding, varnishing, fixing lines, repairing sails, you name it, we learned it. The day watch crew also was responsible for adjusting the sails if need be. However, if one of the big sails had to be raised or lowered, the Captain or Bosun would yell into a classroom or the mess hall for "more hands on deck!". We would have to leave what we were doing (bonus if we were in class!) and head out to haul on the lines.
Raising the main sail would take 20 or more of us on one line pulling with all of our might. The bosun would yell "2, 6, HEAVE!" and we would all yank on the line. I will admit that memorizing the lines was never one of my strong suits. I would just follow the ones that knew where they were going, then do what I was told.
To be able to climb aloft we had to pass a physical fitness test. Although we would be clipped in at all times by a harness, we also had to be able to pull ourselves up if we were found dangling. So we had to prove that we could do 10 pushups and 3 pullups before we were allowed to 'fly high' as we called it.
I am very proud to say that I was the first female on the ship that was allowed to climb aloft, and I wasted no time in climbing as high up as I could at the first opportunity.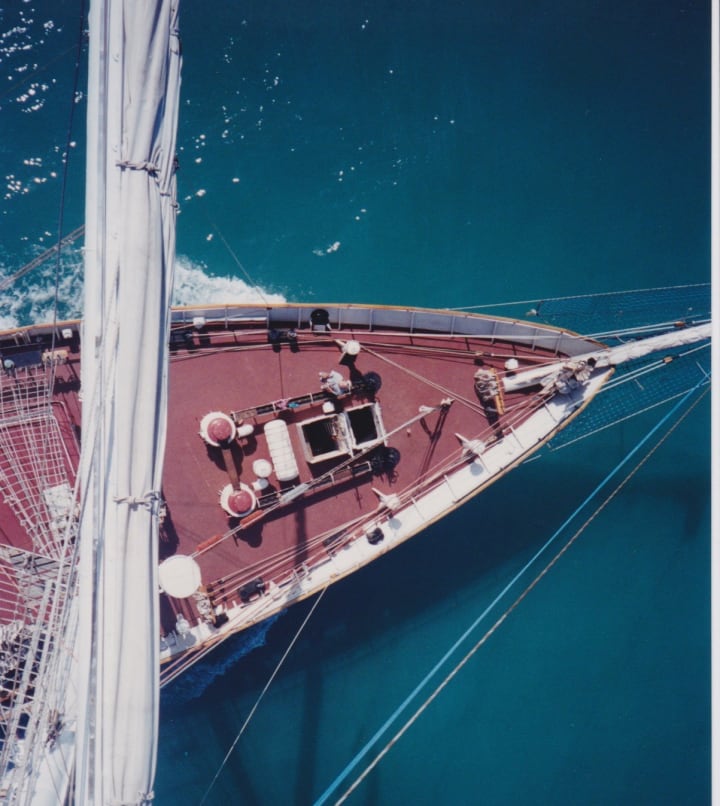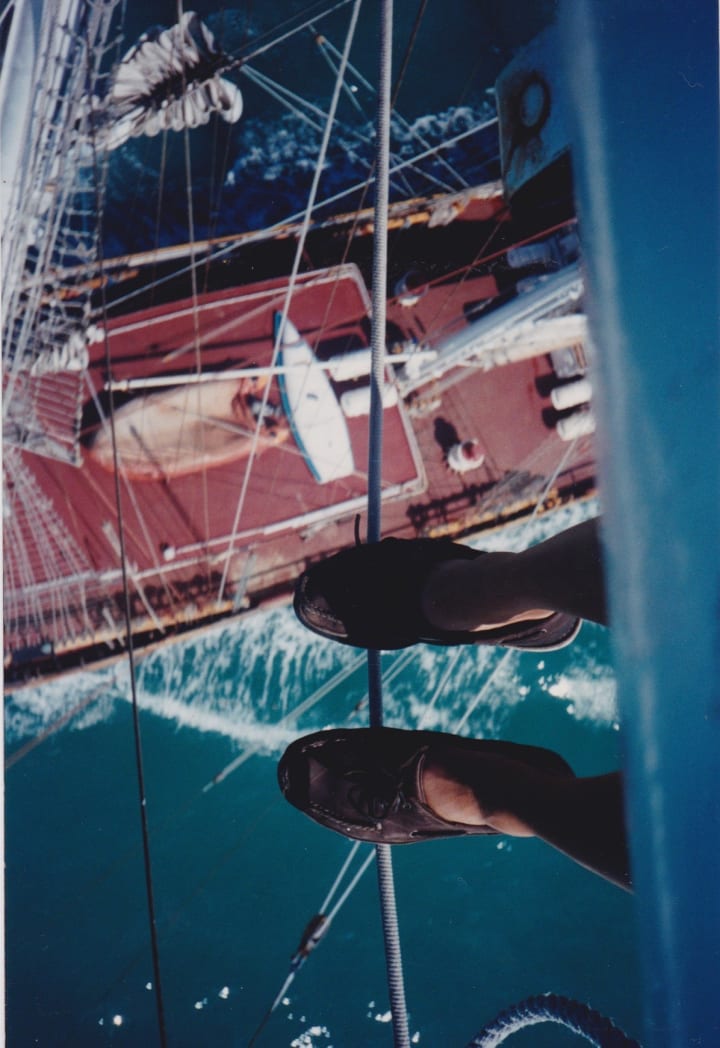 We also did galley duty on a rotation. This would mean that the cook would direct a crew of us to prep the food, cook the meals, serve them, then do the dishes afterward, for a whole day.
Doing the dishes by hand for 65 people is no joke!
Nighttime brought night watch. We would also do 2 hours of night watch, the hours of which also rotated every couple of weeks. Some weeks it would be 8–10 pm, others it would be 2–4 am. Getting woken up in a storm in the middle of the night was never enjoyable, but it was a necessary part of life at sea.
During night watch there were always 2 people on the bridge with the captain, second mate, or first mate, keeping a watch out for other ships. We split this duty up among the group of 8. The rest of the watch group was free to work on homework or whatever they wanted in the mess hall. We were all supposed to be awake and alert in case we needed to do any quick sail maneuvers.
Standing on the bridge at night, with a smooth sea and nothing but darkness and stars for miles, was an experience in itself. I would do anything to transport myself back to some of those moments. It was also interesting being on there during a storm. I remember one time looking to my left and a black wall of water that must have been 10–13m (30–40ft) high, was rolling our way. Of course, we glided over it, tipping and swaying as boats do.
But I won't say that it wasn't freaky!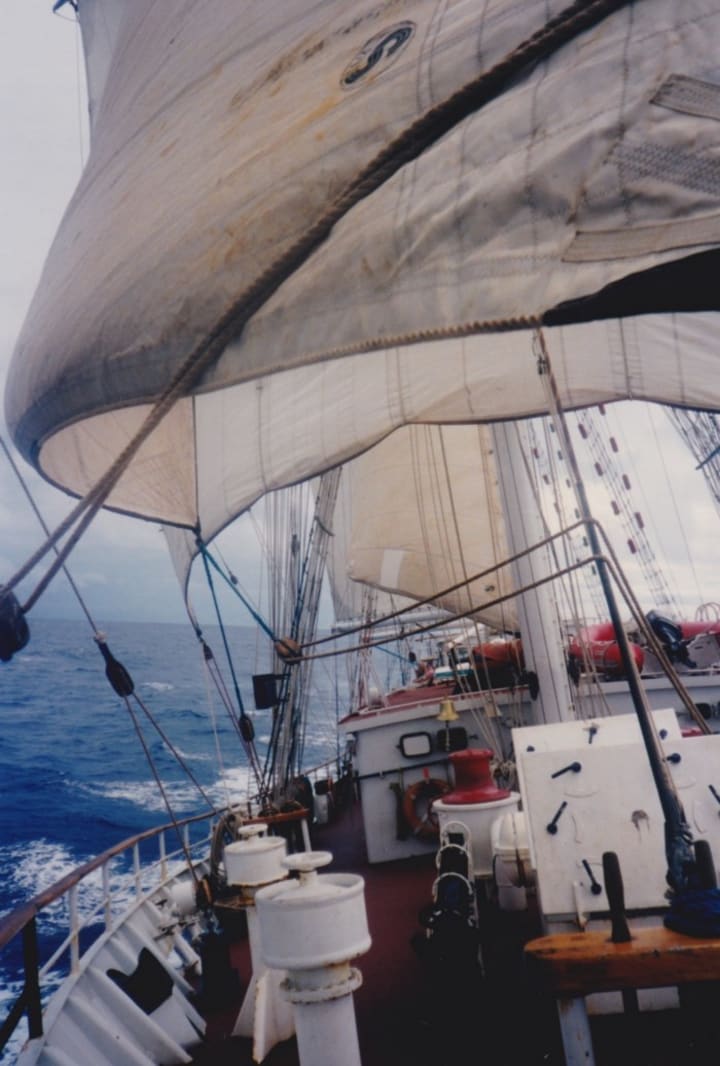 School Classes
Of course, beyond all of this, we also did classes while on board the ship. Class schedules would depend on the student, and what they were taking, but we generally did 4–6 hours of classes each day at sea.
I can't tell you how tired we all were and how many of us would fall asleep in class. With night watch, galley duty, and all the other things we did, classes were really hard to focus on. Not to mention we were usually heeled over on one side or the other, so it was very difficult for the teacher to stand at the front of the class and teach! More than once we saw them get launched across the classroom, chalk in hand!
When we would get to shore, we didn't have classes. Then, our learning was focused on the places we were visiting. Of course, we did deep dives into the industries, history, and geography of those places. We also would study some of the creatures that lived at the shore and learn about plants and animals that were unique to the areas. Cultural studies, of course, were heavily integrated into our learning and those classes were mandatory.
Land Excursions
Land excursions varied from place to place. Sometimes we would find ourselves in port only for a day or two, other times we had more time. Two long land excursions stand out to me.
The first is Bali. We spent 2 weeks in Bali in 1994. Back then, many of the streets of Ubud were dirt and the island had barely even learned what tourism was. We witnessed the true Balinese culture in its raw form, and let me tell you, there was nothing more beautiful.
The second long excursion was our multi-day safari in Kenya, Africa. We traveled from Mombassa to Nairobi via safari vehicles. We had seven of the pop-top buses that carried us, goofy kids, across the savannah of Africa. I'm pretty sure that none of us really realized how fortunate we were to be experiencing that! Here I am now in Africa, and I just wish I had the money to do something so extravagant! Again, these were days long ago when prices were cheaper and there wasn't the tourism that there is these days (well pre-covid at least).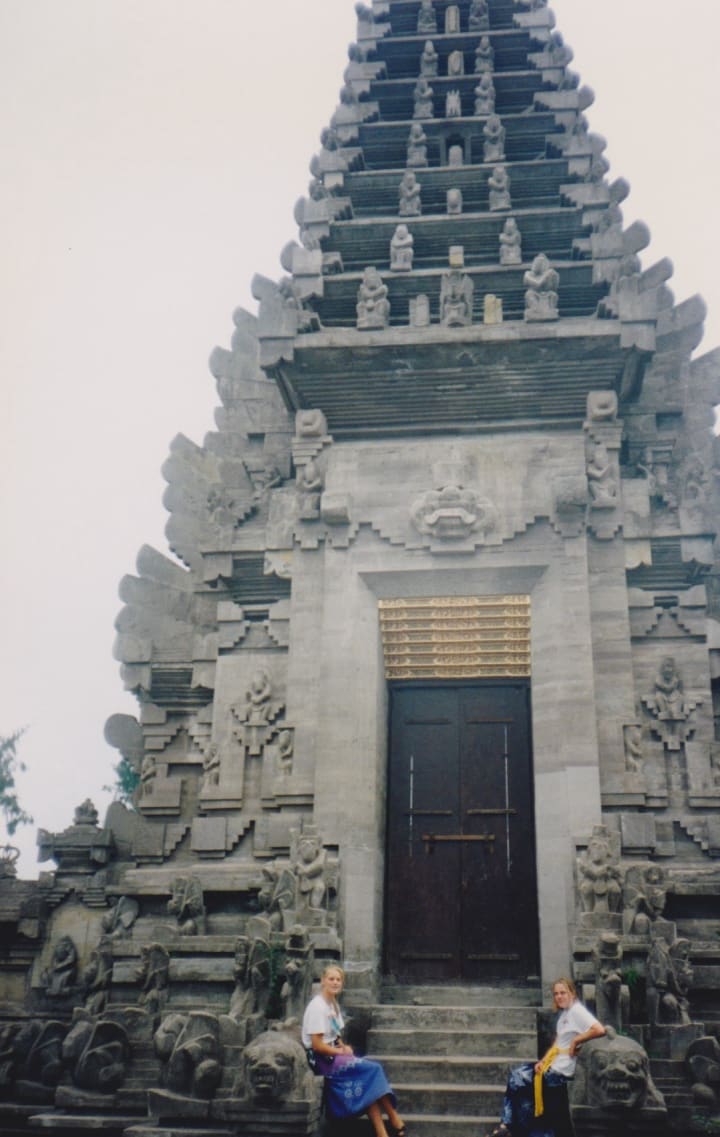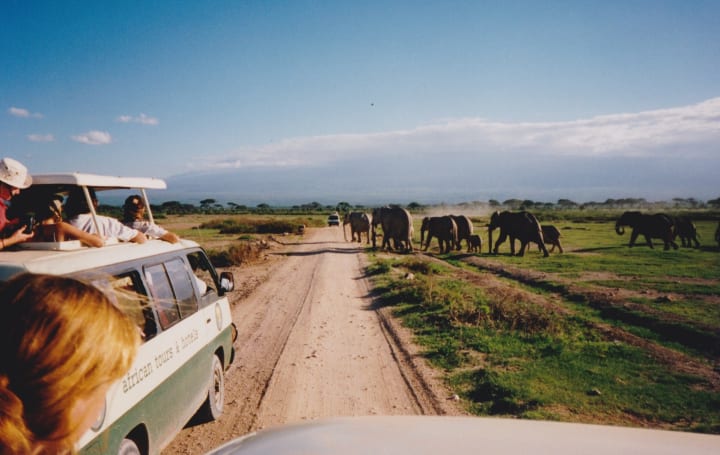 Friendships
Class Afloat was my first experience of making new friends outside of my small hometown in Canada. Before going, it was actually one of my biggest fears. I was worried that I wouldn't make friends.
Well, I could never have predicted that those fifty-some other students would become more than friends to me, they would be more like family. When you live in close quarters with people like we did, you are forced to look past differences and find ways to co-exist. We developed a tolerance for others and an understanding that we are all different, at a very young age. Not to mention that we were constantly learning about new cultures and different ways of doing things.
Our minds were opened up to the world in a very big way.
We also leaned on each other for support, and as teenagers, we all needed it. We were all growing and changing in huge ways, together.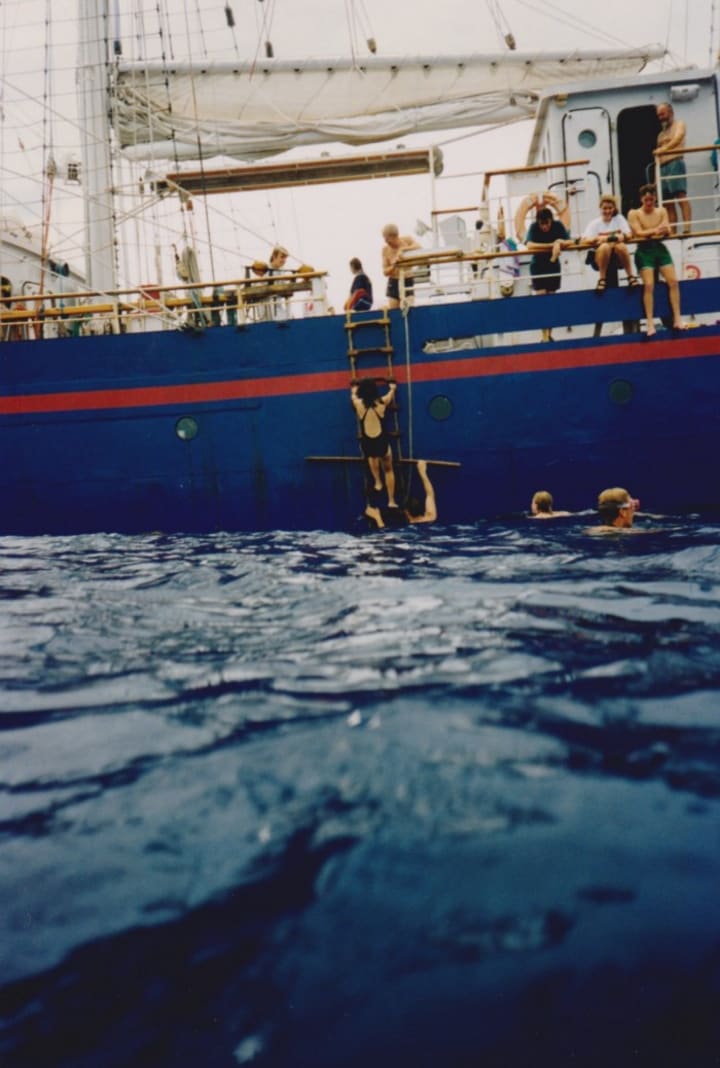 Keeping in touch with my fellow floaties
Most of the students on the ship were Candian with a handful from the US, and one or 2 from overseas. So it has been relatively easy to keep in touch and have reunions. We have had a couple of reunions, usually in Eastern Canada, and had plans for the 25th reunion in 2020 in Montreal. Of course, with covid came a Zoom reunion that I was able to attend from Morocco.
It had been 10 years since many of us had been 'face to face' (as close as you can on zoom), but there was a familiarity with each other that I can't explain. I think, no matter what, we all really know each other on a very basic level. You can't pretend to be somebody that you are not when you are living in such tight quarters as we did.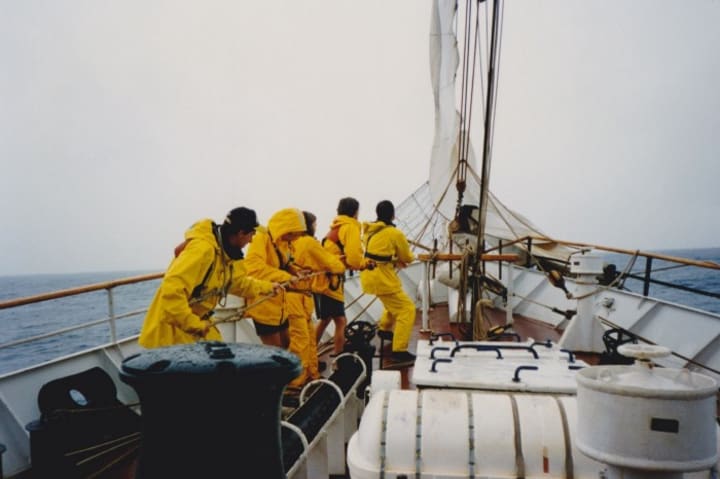 One thing that we got to discussing at the reunion is how lost many of us felt after the trip. Having had such a major life event at such a young age, many of us found it difficult to figure out what to do next. Not only that, we all went back home and to our separate corners, having nobody around to relate to.
Nobody else could ever understand what I had just been through, and trying to fit back in with my old friends and my old life was very difficult. I hate to say that it was nice to hear that others experienced the same thing, but it did help me feel not so alone in those feelings.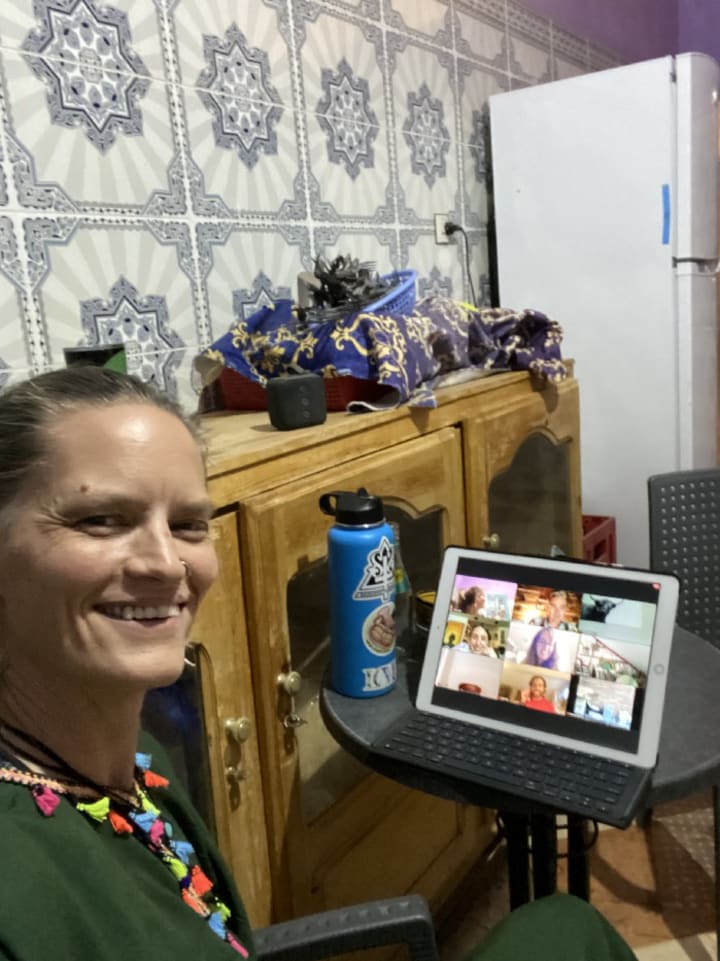 But I think this is part of why I stopped talking about it. I just felt like it was easier if people could get to know me at face value, not because of some crazy trip I went on as a teenager.
But, of course, It took me 20 years to realize that a large part of who I am is because of this trip, and by trying to shove it down, and not keep it with me, I can see now that I lost a part of myself along the way. I do believe that bringing these memories back to the surface and starting to tell my story again, brought me back to the realization that all I really want to do in this life, is travel.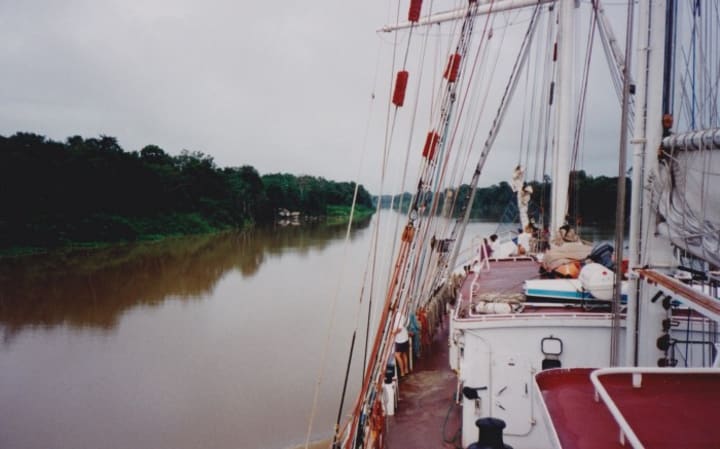 Takeaways 28 years later.
Trying to describe this experience using mere words is impossible. I still am having a hard time quantifying how this trip morphed me and changed me into the person that I am today. It is, however, no surprise that Class Afloat opened my eyes up to the world in ways that most could only dream of. Many would feel like with a trip like this, they had seen and done enough. But for me, it was just an opening of the curtain. Like I was peeking out at the world and realizing just how much was out there.
Class Afloat taught me that different people live in many different ways around the world. Nothing anyone is doing is 'right' or 'wrong', it is just what it is. Each group of people survives as best as they can given the parameters that they find themselves living in. It taught me that we all mostly just need food, shelter, and water to survive, and with those 3 basic things, we have the ability to be happy.
I am so grateful to have had the opportunity to do a program like Class Afloat. Of course, I credit my parents for having the foresight and vision to send me on a program such as this. It was my Dad's dream as a child to sail around the world, and I think he really enjoyed living vicariously through me. Sending your child to fulfill your dream, is just second best to doing it yourself, I suppose. (Thanks Dad!)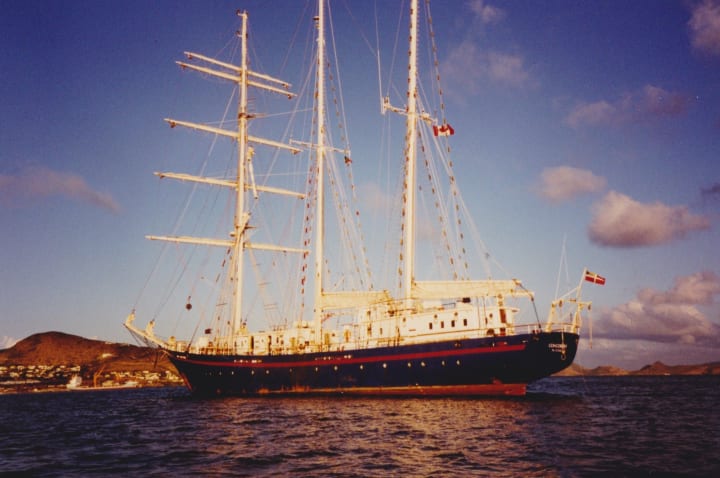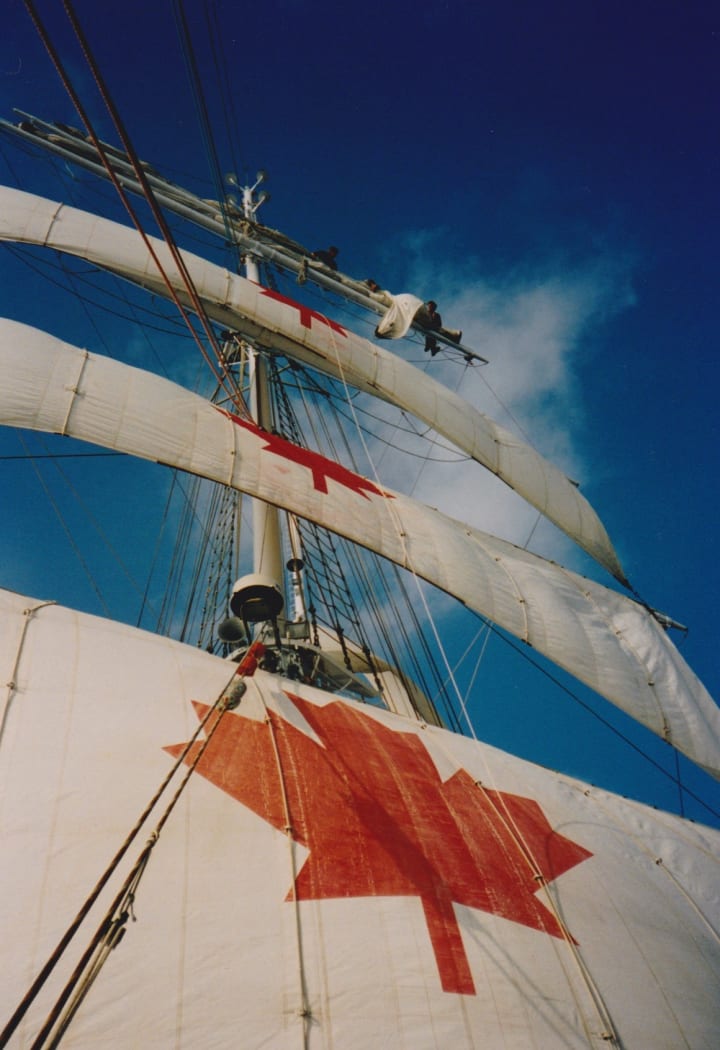 Memories
I'm happy to say that I did keep a pretty detailed journal, well several of them, of the entire trip. So, one day, who knows, the stories may come out in a more detailed fashion. I read through some of them when I was in Canada last (they are stored at my parents) and had a good chuckle. In fact, it is interesting to note that it was during Class Afloat that my journalism teacher suggested that I explore creative writing as a possible future career, the first teacher to ever say that. I never did heed his advice, but now, here I am, finally getting down to doing some writing.
As I think back on this trip with fondness, many of the specific memories have now faded away. But I will never forget the overall experience that it provided me with, and for that, I am eternally grateful.
Thanks for reading my NUMBER ONE experience with water! I can't imagine that I will ever find another to top it, but one never knows where this life may take me.
Happy travels to you all!
xo Jill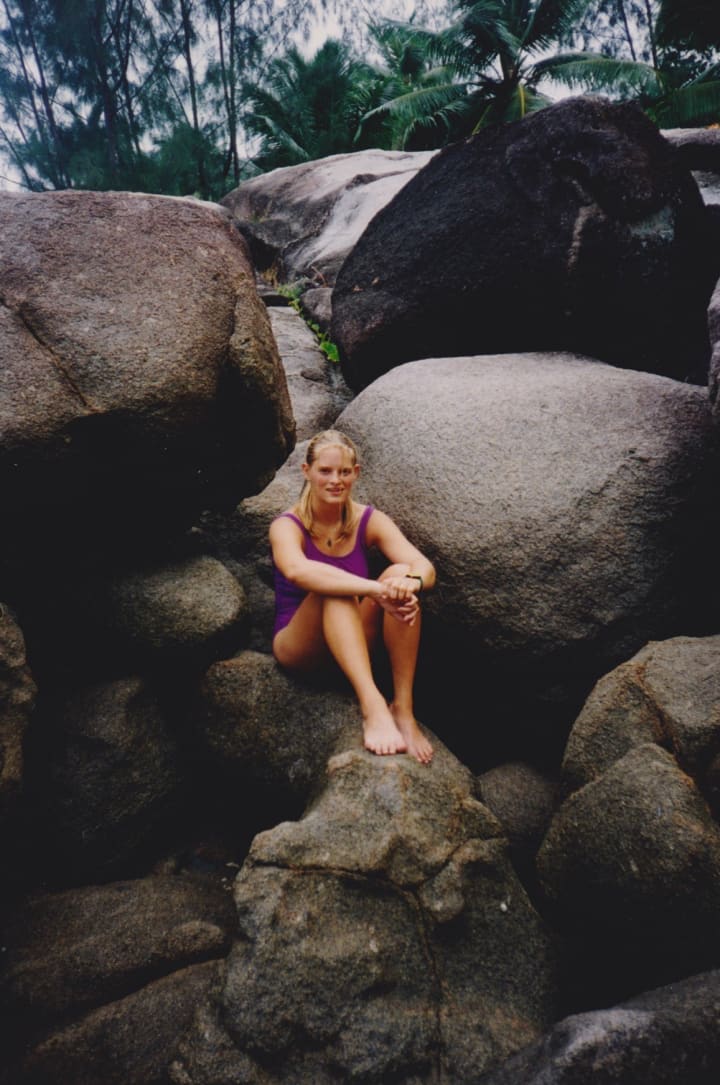 Hi there, we are 2 Canadians, Jill and Chris from Artistic Voyages. We have been nomadic since 2017 living in numerous different countries, and experiencing the life and diversity of our planet on the ground and firsthand.
We paint FREE murals in exchange for accommodation. Tip us on Ko-fi!
Join our adventure by hitting the links below!
Website | Instagram | Facebook | Twitter | Patreon| YouTube | Medium
About the Creator
Hi there, we are Jill and Chris from Artistic Voyages! We sold all of our possessions in 2017 and have been traveling ever since. We paint murals as we travel, and aim to spread love through our art. We have now been in Africa for 2+ years!
Reader insights
Be the first to share your insights about this piece.
Add your insights