How to Travel Light and Stay Within That Dreaded 7kg!
Top 10 tips for saving money by travelling light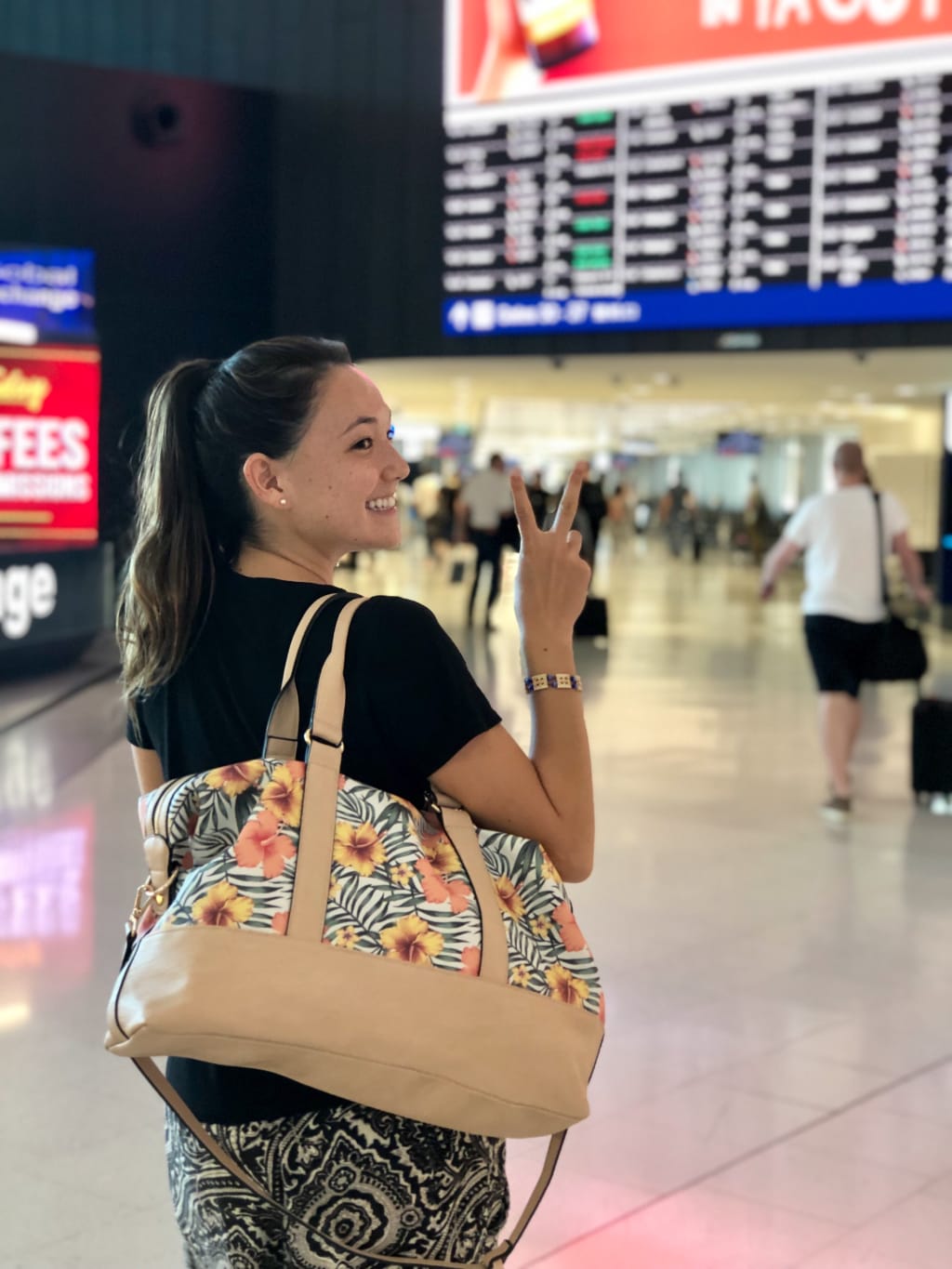 In a country where 70c can buy you a Vietnamese pork baguette, or $1.50 can buy you five rice paper rolls, $20 can go a long way in Vietnam, so you definitely don't want to be wasting it on last minute check-in luggage when you can just follow these 10 simple and handy tips.
1. Layer up:
And I mean pants upon shorts upon shorts upon shorts! When we arrived at Ho Chi Minh City International airport, I wore three pairs of shorts and a pair of those loose elephant pants to fit on top of all the shorts. That way you can stuff all your toiletries into ALL of your shorts' pockets. Deodorant and tampons in one pocket, facial wash and suncream in another! Do the same with tops. I wore a singlet under my t-shirt, under a flannel with my jumper around my waist. The flannel is a great idea as it has a pocket on either side for a pair of socks in each! #ogreshavelayers
2. Minimise toiletry bottles:
Any face creams, left-over sun creams or body lotions almost finished? Lather on the remains and chuck the bottles. You'd be surprised at how much some of those tubs weigh (especially the glass Olay bottles). An even better idea is to travel with reusable, mini containers that you can fill up with shampoo and conditioner at home. This not only reduces plastic wastage, but they're lightweight and can be emptied and reused multiple times. Chuck soaps. You can always get cheap, new ones at your destination. Most of the time, hotels or resorts will provide body lotion, soap, shampoo and conditioner anyway! #freeshampoo
3. Stay shady:
Wear your sunglasses and fill the glasses case with mini perfume bottles and your mini, reusable shampoo container. Don't bring full perfume bottles (again glass weighs too much). If you really need to smell that good on vacay then bring along a mini travel bottle or spray all the samples on at the airport's Victoria's secret or Myer... there's always plenty of time to waste in the perfume section! #smellsliketeenspirit
4. Show me the money!
Carry your wallet, passport and phone in your hand when you go to the counter. Wallets weigh a lot, especially if you have leftover coins. You need these items to show your passports and boarding passes, so they won't ask you to put them in your bag during the weighing part. #passionpassport
5. Hungry? Bring a feast!
Apparently, they aren't allowed to take your food away from you so I suggest carrying that too. That way you can bring as many snacks as you like, as long as you keep them all together in a separate carry bag. #breakfastlikeaking
6. Make-up or make-down?
Throw away your eye shadow palette (name a girl who only owns one...). You never bring your best palette overseas anyway and you'll always have another at home. Almost empty mascara bottle? Throw it girl! It's probably crumbly by now and there's an excuse to go make-up shopping, right? #smokybrows
7. Itchy feet?
Do you really need to bring 5 pairs of shoes? Most of the time all you need is a pair of casual shoes. If you're a runner like me and can't go anywhere without your sneakers, being them along, but most of the time your sneakers can be used as casual shoes too (most trips involve a lot of walking whether you intend to or not as getting lost is guaranteed). If you're going on a beach vacation and flip flops are a requirement, but you also want to have a few fancy cocktails by the beachside restaurant, why not bring a cute pair of sandals that can go with a dress but also pass as flip flops? #twobirdsonestone. Always wear your heaviest pair of shoes on the plane!
8. Sweaty toes & hat hair:
Wear three pairs of socks on your feet. Last time I travelled, I wore a hat under my mum's hat so that she could wear two more hats... don't ask why she brought so many hats, you only need one! #hatobsession
9. Princess or traveller?
You seriously don't need that diamond necklace and pearl bracelet for the ultimate sunset #instapicoftheday. If you're like me and feel bare without your bangles then wear one on each wrist and a pair of stud earrings. The little, silver diamond earrings go with literally anything, dressed up or down, real or fake! Wear all your jewellery on the plane... that way it won't get lost or stolen. #tooglamtogiveadamn
10. Hide it:
A final tip that sometimes works, not always, is to hide your second backpack on the floor in front of the counter when you go to check-in. Half the time they don't even see that you have more than one carry on bag and will end up weighing just one. Since it's supposed to be a combined total weight of 7kg for two bags, try to hide your smallest bag (and pack more items into the one you don't weigh!) #sneakytraveller
Yeah, you might be a little sweaty and uncomfortable for 20 minutes, but as soon as you're past the check-in counter, strip your layers down and stuff them in your bag!
Ask yourself: Would you rather look a little silly and overweight for 10 minutes or pay that painful $20, $50 or even $100 (which my friend paid to take those extra items that certainly weren't worth that much)?
Although some airlines are stricter than others, you will find that half the time they don't even bother weighing your bags. After spending half an hour layering up, we found that Vietnam airlines didn't even bother weighing our carry on luggage. However, Jetstar tend to be super strict on the 7kg limit across both carry on bags (always take a backpack along with your carry-on mini suitcase). #budgettravel
Of course, it's easier to travel light on an island escape when all you need is your bikini and snorkel, compared to a hiking adventure in the Rocky Mountains in Winter when you simply cannot travel without your thermals, hiking boots, ski jacket, coat, gloves and scarf! However, follow these steps and you'll be a professional budget traveller, saving that money for the cocktails instead! #profesh
Distracting staff with your silly outfit will take attention away from your layers!