How I Occupied Myself on a 21-hour Layover in Istanbul Airport
Twenty-one hours in an airport? Are you kidding me?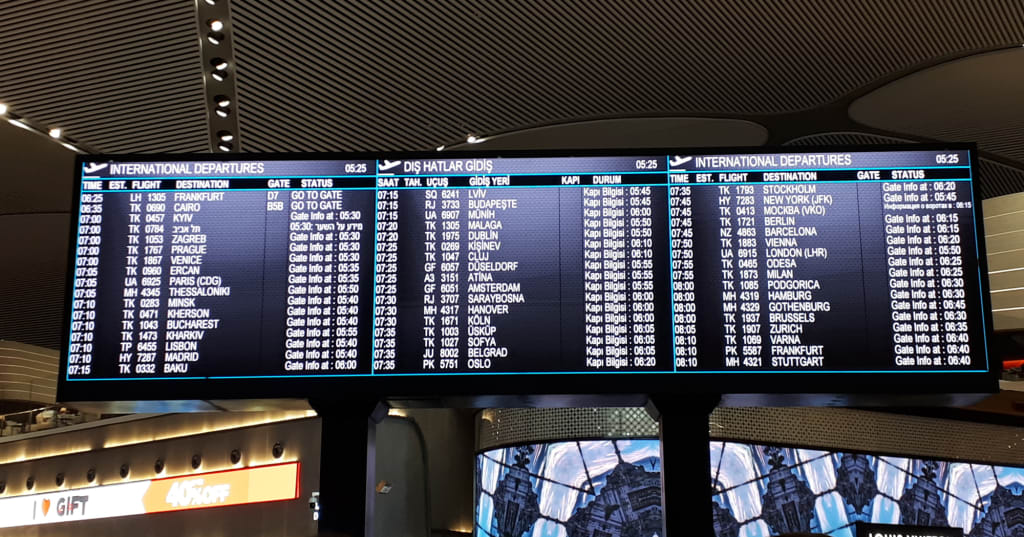 The departure board at Istanbul International Airport. Photo by author.
"I could never do it!" was the response I heard the most when recounting my tale.

"You'll be surprised what you're capable of when you have no other choice," is my usual reply.
And that's the truth, I had no choice. In July 2021, I was travelling from Cape Town, South Africa to Cancún, Mexico, after seven months of visiting my parents. I was flying Turkish Airlines as it was the cheapest option that didn't re-route me through the US, and twenty-one hours was the closest connection that the airline had between the two destinations.
If this had happened any time other than in a global pandemic, it wouldn't have been a problem at all. I have good friends in Istanbul and finding a place to crash for a few hours would have been pretty easy. Unfortunately, we were in the middle of the Covid-19 pandemic and entering countries was very tricky. To add insult to injury I was flying from South Africa which had become the global "bad boy" for the virus, and even Turkey, which had had relatively relaxed restrictions to this point, was not allowing people flying from South Africa to enter the country.
What did this mean for me? It meant that I needed to figure out what to do with twenty-one hours. Thankfully, I flew into one of the best airports in the world for this type of marathon stint.
After my 10-hour overnight flight, I landed in Istanbul and made my way through the International Transfer checkpoint. I was amazed by the number of people in the terminal after the relative tumbleweeds rolling through Cape Town International the night before. Travellers were checking boards, shopping, and rolling carry-ons across the shiny tiled floors as they looked for places to eat, drink, or sit. There was a gentle hum that I had sorely missed during my pandemic travels. Masks were still mandatory and I ended up wearing one (changed every 12 hours) for the almost sixty hours that it took to travel from South Africa to Mexico.
Anyone who knows me even moderately well will not be surprised by my next statement. It was 6 am and the first thing I did was find the Starbucks and sit down for a tall almond milk latte. I logged into the Wi-Fi I had purchased for the duration I was going to spend in the airport (about CA $4.30 for 24 hours), and happily sipped my latte whilst checking on what my world had been up to during my time above the clouds.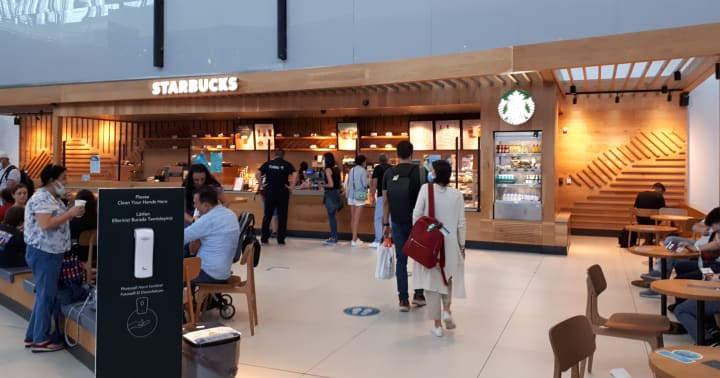 I had done some due diligence before arriving at Istanbul airport and one of my Turkish friends had called the airport to clarify a few things that weren't too clear on the website. I knew that there was a (very expensive) hotel available within the transit terminal should I wish to sell a kidney to get some sleep. I also knew that there were sleep pods available for €6–9 an hour, depending on time of day, so there was a reprieve from fatigue should I need it. By the time I really needed it, though, it was almost time to board and I was proud of my record stint of staying awake.
In preparation, I had also loaded my laptop and phone with a TV series, some sitcoms, and had a bunch of YouTube videos queued up for my viewing pleasure.
So, what did I do?
I wandered from one side of the airport to the other to stretch my legs, I had something to eat, I lay down on the floor or in a lounger and watched videos or spent time online until my laptop battery was almost dead, then got up and walked to the other end of the airport to plug it in to recharge. There were outlets in numerous places but this forced me to get up and move between bouts of staring at a screen.
Rinse and repeat! I continued this pattern for the majority of my time in the airport.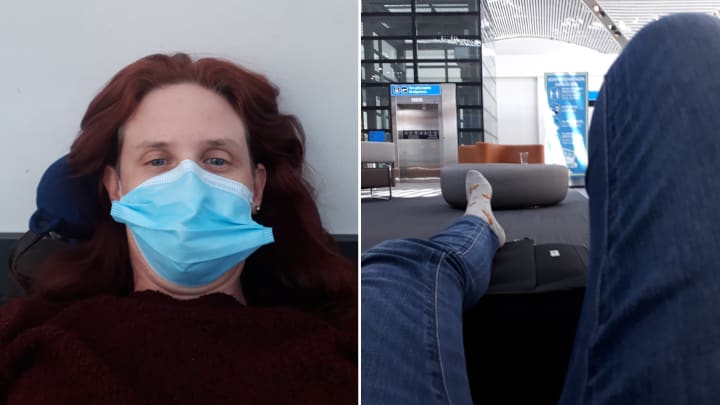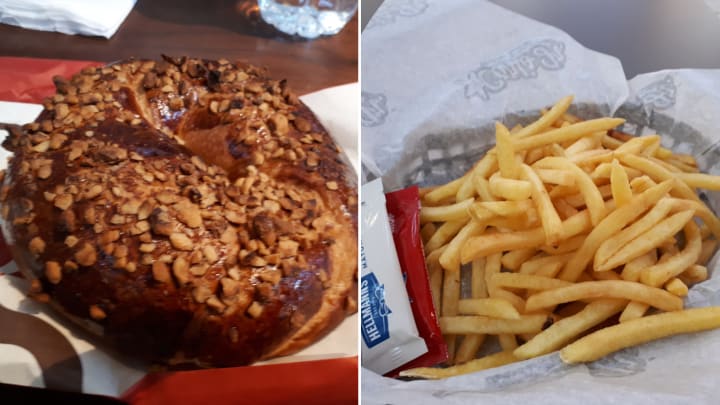 If I was going to get stuck anywhere for twenty-one hours, Istanbul airport was a great place to be. The variety in restaurants and bars was great. There are plenty of spots to relax, lounge chairs surrounded by plants in a pocket of the airport that is quiet, sleep pods where your luggage can be safety tucked underneath the mattress as you sleep, plus a USB charging port and "wake up service." The airport offers free internet for the first hour by putting your passport number into the Wi-Fi kiosks, after which you need to buy more. Even in my "travelling on a dime" mentality, CA $4.30 is pretty cheap for a whole day.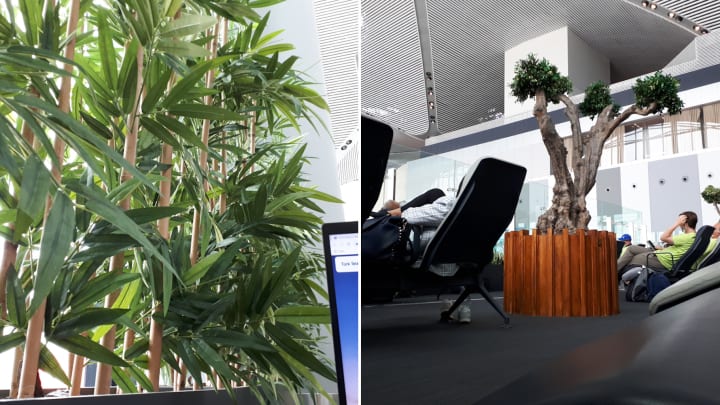 There are escalators and elevators to move between floors, departure boards everywhere to check on your flight status, and lots of room to walk. For those who wish to do some shopping, you have multiple options, albeit at airport prices.
There are luggage lockers, lounges for those with a few extra dollars to spare, TV watching zones, smoking areas, and a youth lounge. Although I didn't notice the following services whilst I was there, the Istanbul airport has listed the following services as well: a spa, shower facilities, a hairdresser, shoe shine, and a dry cleaner,plus a new non-smoking "fresh air terrace."
Basically everything but a partridge in a pear tree!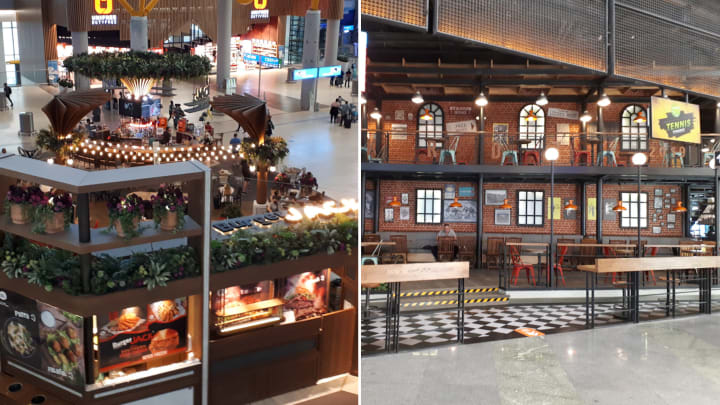 All-in-all a great place to spend twenty-one hours — but only if you have to!
About the Creator
Writer, teacher, and current digital nomad. I have lived in seven countries around the world, five of them with a cat. At forty-nine, my life has become a series of visas whilst trying to find a place to settle and grow roots again.
Reader insights
Be the first to share your insights about this piece.
Add your insights