Fun Things To Do With Family In Port Stephens 2023
Come explore the natural beauty and laid-back charm of Port Stephens with these fun family-friendly activities.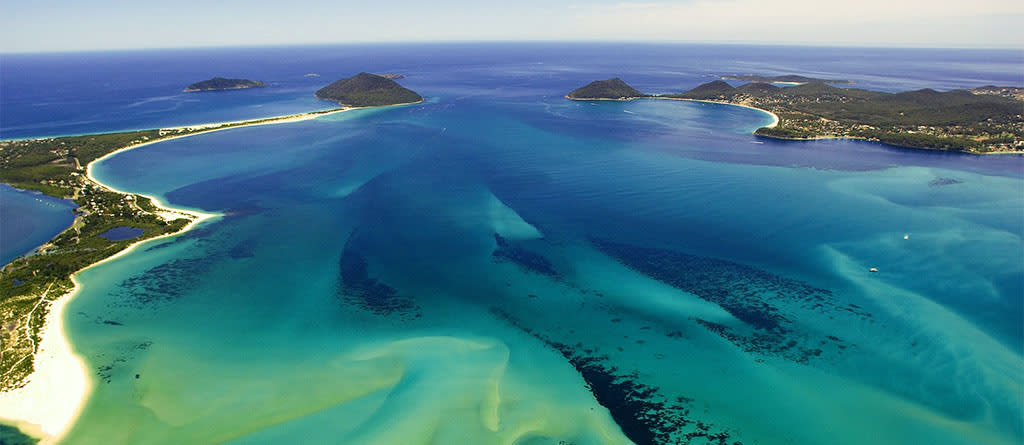 From its sparkling waters, golden sandy beaches and untouched national parks, to its diverse wildlife, adventure activities and bustling towns, there's something always going on in the coastal holiday destination, Port Stephens.
For those looking for an adventure, the Tomaree National Park offers a range of activities such as hiking, mountain biking, and even abseiling. And if that's not enough, the renowned Nelson Bay area offers a variety of shopping, dining, and entertainment opportunities that provide fun for all ages. So, come and explore all that Port Stephens has to offer and make some unforgettable memories with your family.
When it comes to fun things to do in Port Stephens, the possibilities are truly endless! Here are some of the top activities to enjoy in Port Stephens:
Spot a dolphin!
Taking into account that Port Stephens is home to more than 80 bottlenose dolphins, it is pretty much easy to spot one during your time here. But how about getting a closer look at these playful and intelligent swimmers in their natural habitat? Port Stephens dolphin cruise offers you the ultimate opportunity to enjoy a close encounter with the dolphins, as they swim close to your boats and show off their acrobatic skills!
Some of these dolphin watching experiences in Port Stephens also offer additional activities like swimming and boom-net riding, allowing you explore the waters in a more immersive way.
On the waters
Port Stephens is renowned for its incredible water activities, from surfing to swimming, snorkelling, kayaking, and more. With its crystal clear waters and incredible marine life, you can spend hours exploring the ocean. If you're looking for an even more thrilling experience, you can also check out some of the area's popular jet ski and boat hire companies.
Fingal Bay is one of the go-to destinations for people looking to catch a wave, or just catch an early sunrise, or for a relaxing weekend drink overlooking the vast ocean.
Scenic experiences
Port Stephens is a paradise for sightseers. Take a short drive to the Tomaree National Park to explore the incredible rock formations, or take a stroll along the stunning Nelson Bay Marina. The sand dunes in the Worimi Conservation Land is an adventure playground offering an exciting array of activities including horse riding, camel riding, sandboarding and 4WD experiences.
Other must-see attractions in the region include the historic Anna Bay Lighthouse, the vibrant Fly Point Park, and the beautiful Fingal Bay.
Meet the wild
If you're looking for an exciting wildlife experience, then Port Stephens is the place to be! From whale watching to seal spotting and koala spotting, there are plenty of opportunities to get up close and personal with the region's unique wildlife.
The little ones will surely love the idea of petting sharks and rays at the Irukandji Shark and Ray Encounters, or even the charming koalas at the Koala Sanctuary .
Sate your appetite
The food scene in Port Stephens is just as vibrant and diverse as the region's landscapes and wildlife. From seafood restaurants to beachside cafes, there's something to satisfy every palate. You'll find plenty of options to choose from, including the popular Shoal Bay Country Club and the family-friendly Oyster Shed. With easy access to the Pacific, you can find a lot of fresh seafood here, which you can enjoy grilled, fried or baked!
Conclusion
There is absolutely no shortage of fun things to do in Port Stephens. Whether you're looking for an adrenaline-filled adventure or a leisurely sightseeing tour, you can find it all in this stunning coastal region. So gather the whole family and get ready to discover all the amazing things about Port Stephens!
Reader insights
Be the first to share your insights about this piece.
Add your insights