Four Days in Rhodes, Greece: What We Saw In Our Struggling Hire Car
It's not about the destination, it's about the journey—but we only said that because we were worried the car wouldn't get us there.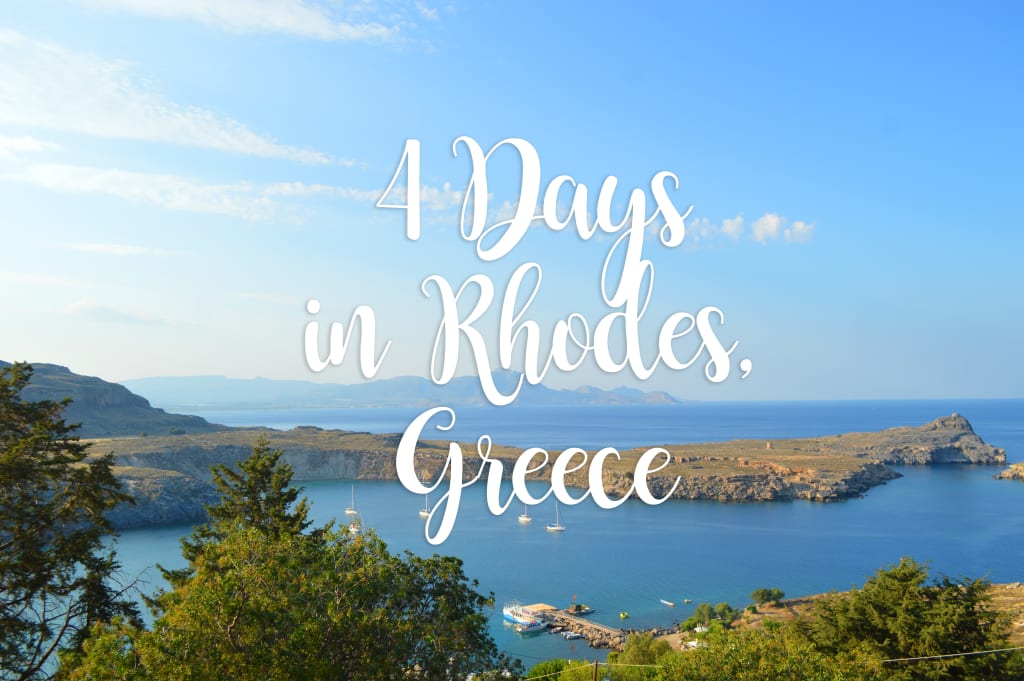 What an amazing place—so many beautiful and colorful flowers! But be careful, the ice cream is so delicious you may go over your budget (I recommend the strawberry one). My boyfriend Tom and I spent four days in Rhodes at the beginning of our two-week adventure! We got a nice cheap flight for £84 from Liverpool to Rhodes main airport. Normally the flights are more, but we travelled a bit to John Lennon airport to get the cheaper price.
On Our Flight to Rhodes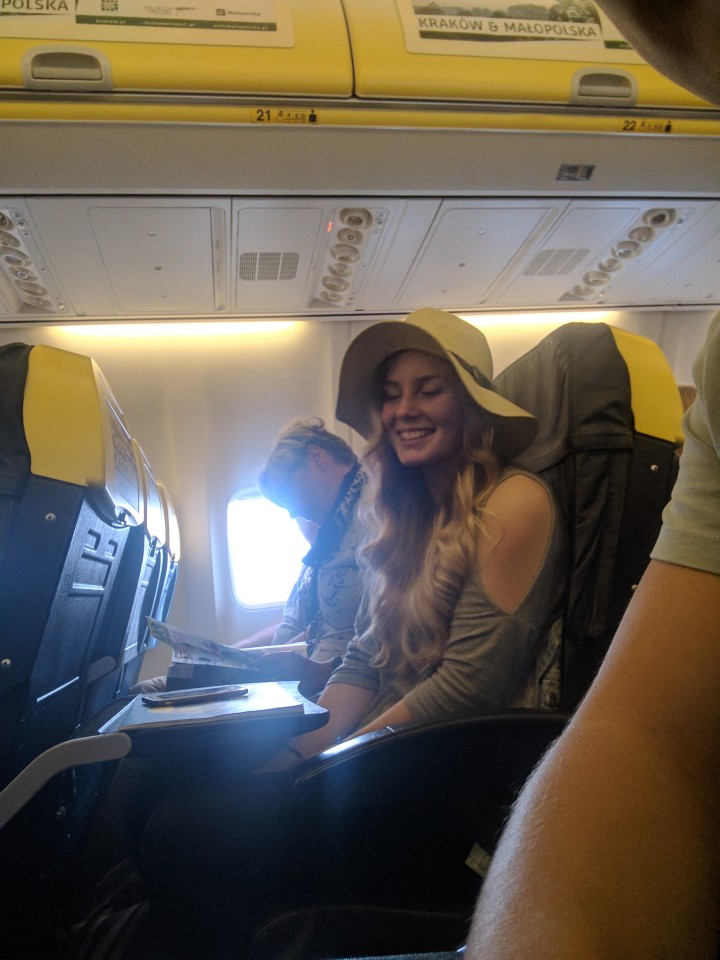 After a four-and-a-half hour flight, we landed in the very hot June sun in Rhodes. The first thing to on our schedule was to pick up the car and head to our hotel, which was beautiful!
View From Our Room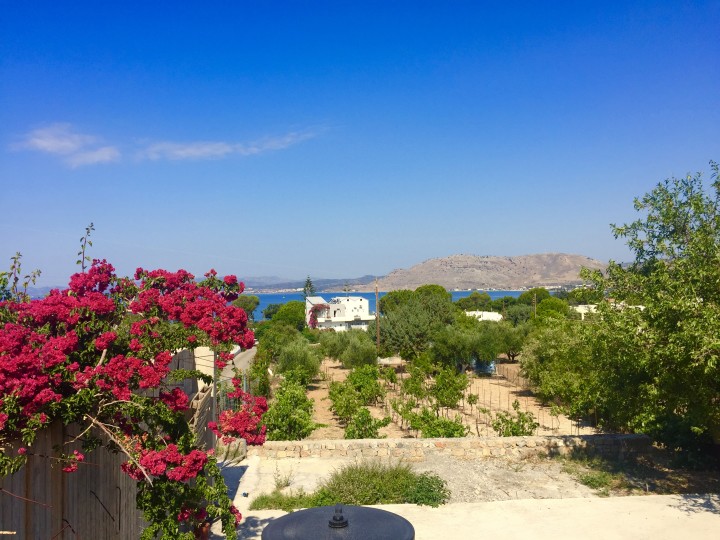 Arriving in the evening, we didn't get to see this spectacular view—so when we woke up the following morning, we were very happy. For such a low price we were not expecting much, but it was lovely staying at George Beach Studios!
The first thing we did in the morning was grab some breakfast and head to the beach for a morning stroll. Clear blue waters bounced sunlight in all directions... And bloody blinded us. The sunglasses hardly left my face this holiday, but I don't mind. Our second journey in the car was to Faliraki Water Park, which is awesome! There are plenty of small and big slides, there is also quite a large children's area, which if I was a child again I would have loved—well, would have loved it now to be fair. The park was pretty dead and I'm guessing it's because we went during the week and got there early at €22 for entry! That's a steal in my book. We spent hours here and God, were we tired. We would run from each slide because the floor was so hot, I saw people walking around in their socks and wished I had done that. Good idea not to wear jewelry when you come here, because when you stand in the sun it can get very hot on your skin and they also ask you to take off necklaces before going down the big slides. We found an engagement ring by the water, so it's a good idea to just leave valuable in your bag or in the lockers. Scroll down to the bottom of the page to see a few videos of the slides at the park!
After the water park we headed back to the hotel and got cleaned up. We were ready to go into Lindos town.
Lindos Town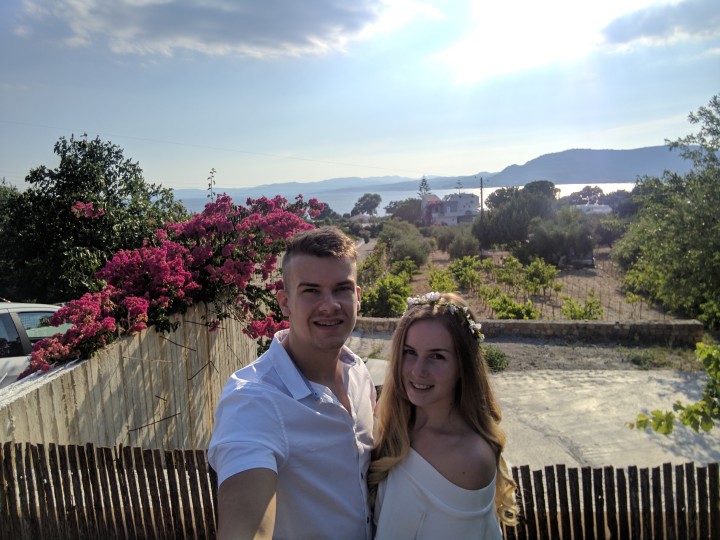 All the small white buildings trail the side of a hill right by the clear sea. The buildings are small and close together, but it all looks architecturally amazing. Everywhere you walk, there are pebbles on the floor as they have used millions to make the paths. I can't imagine the amount of time they spent working on these.
Lindos Castle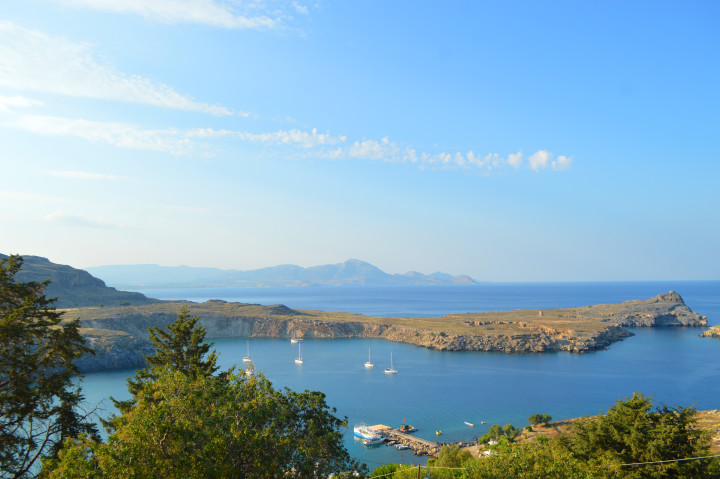 We walked around the town enjoying every little thing about it, then headed to a castle that over looks the town. The walk isn't challenging, but you can stop now-and-then to look at the view as you climb higher over the town. Surprisingly there weren't many people there but the view from the top was amazing! Blue seas for miles and the mountains behind us. We had a sit-down and just relaxed before going to get our dinner. I advise coming here with a packed lunch and just sitting on the wall looking over the sea while digging into your own food. I wish I had done that even though the dinner we had that night was lovely!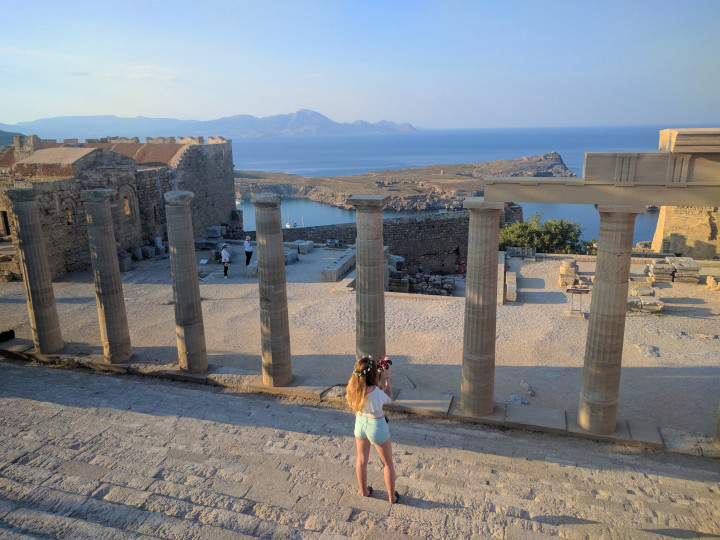 Second Day
On the second day, we headed to Rhodes main town. We parked up and spent ages trying to get some change to pay for the parking. There was a slot for a card but we really didn't trust that from the state of the machine, it looked as rough as someone that would mug us. We ran for ice cream, which we seem to do a lot in excitement, but this time it was to get change (just an excuse, right?). With two ice creams in my hand slowly melting onto my skin, making it sticky, Tom ran to a shop to gather change, then we finally paid for parking... But not for as long as we needed. Walking along the bay we knew a boat tour was needed to see Rhodes from a different perspective and to see the many fishes. We found a boat called the yellow submarine, which looked like a normal boat, but it actually had a glass bottom! So we could go down and watch the fish show. We were taken on an hour trip where we got to see a lot of Rhodes above water, then we headed into the glass section to watch the fish. It was lovely seeing the clear water as we moved through it, but it was even better when we stopped for the diving and fish show. As the diver struggled to get a crab out of its home, many different types of fish swam past the window—it was a great experience. It was also good that the diver would get the fish as close as possible to us as he led them around the boat with food. But don't be fooled; when you talk to the owner of the boat he says, and I quote, "the diver talks to the fishes, he asks them to dance with him." They didn't really dance, they just followed. I follow waiters at restaurants—not because they did some weird voodoo, but because they have food.
Diver 'Dancing' With the Fish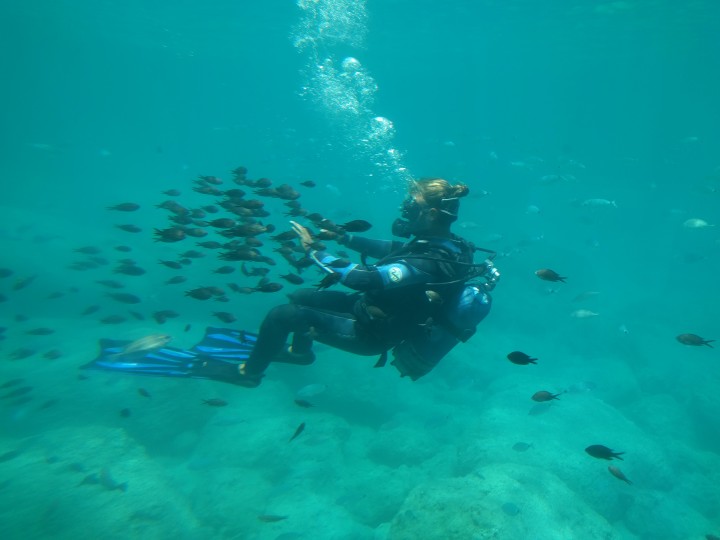 After the boat tour we stumbled off back onto land and had a sit down, because I was going to throw-up if we didn't. I have never been good with boats and I'm not sure why I thought I would be okay with one with a transparent bottom. Next up on our list was walking around Rhodes old town. The buildings were dainty and cute; this was my sort of place because of its cosy, traditional feel. We had food at a place that the waiters didn't pester us to eat at. You will find that you will have waiters coming over to you non-stop trying to sell the menu. "Our menu is the best in Rhodes... Our fish fresh from the sea." I, for one, can't cope with it because I feel very awkward. If you like to have a chat with locals—not about their restaurants—then talk away, as they are very friendly people and will help you with anything. That is also a great thing about Rhodes: you can ask any questions about their culture and some stories are really interesting. We stayed here until it went dark and then headed back to the hotel to have some local Rhodes noodles... *cough* they're not amazing *cough.*
Day Three: Seas Meet and Castle of Monolithos
Day three was the day I was looking forward to the most. On this day we got up nice and early and headed to the place where the seas meet at the south-westerly point of the island. My expectations of this destination were very high; I had been telling Tom about it for weeks non-stop. I loved this place when I went to Rhodes with my family. Although, when I got there, I was a bit upset by how much litter there was. We parked up on a hill just before reaching the sea.
Seas Meet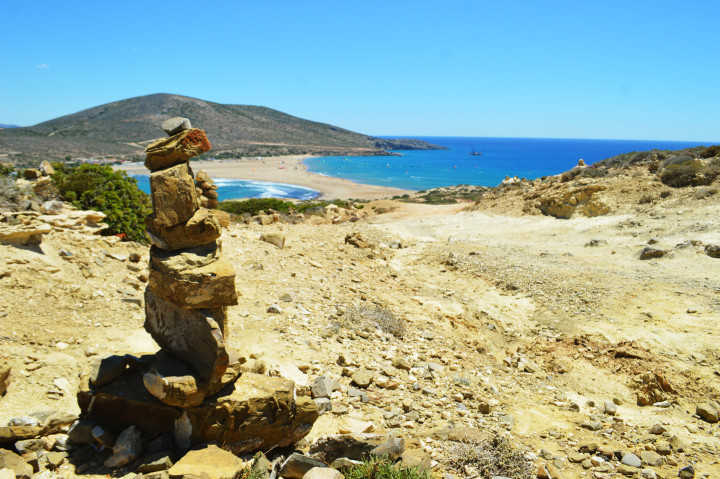 We walked across the beach towards the hill on the other side and found loads of roads piled on top of each other—there was so many. It was as though we walked onto an alien planet and that's just how rocks looked. Like many others, we made our very own Pointless Rock Pile! From there, we followed a track just passed it and followed that for a bit. We were heading downhill to a little beach that we had no idea was there.
Tiny Beautiful Beach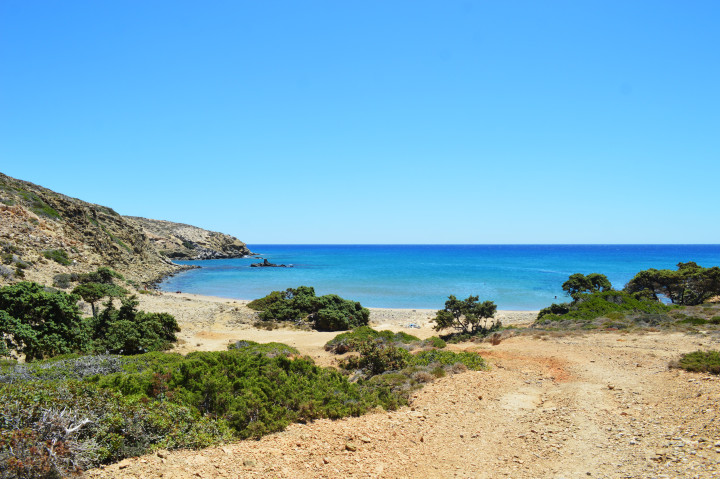 This was our view when heading down our secret beach! We couldn't see a soul, we were so excited to have a private beach! But then we headed down and saw around five people, but hey, that beats the hundreds on the other beaches!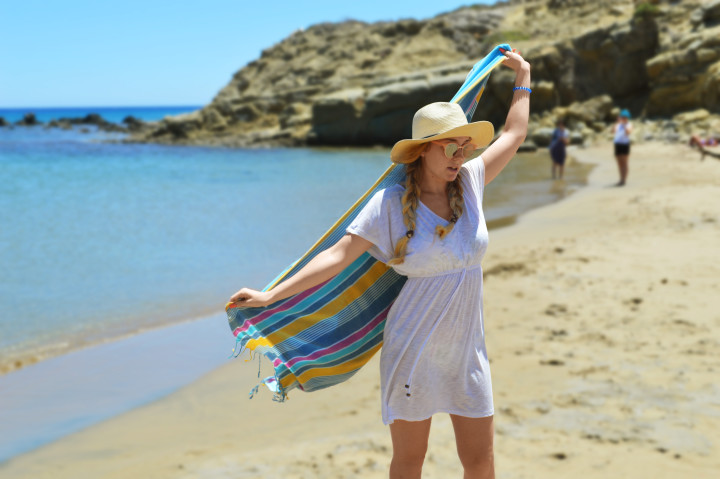 It was tiny and so quiet as hills blocked out the noise around us. I would love to go back here now, just thinking about it. After going into the sea for a short, very cold swim, we both had a little nap on the beach. It was that peaceful. I was very sad to leave it, when we did eventually go.
Nextstop! Castle of Monolithos was the most surprising stop on this entire trip. I didn't really know what to expect as I had seen pictures from afar and not actually at the top of it. On the drive to the Castle of Monolithos, you are going to want to pull over and take pictures and take in the breathtaking view! It was absolutely amazing. Unfortunately, my camera did not capture what my eyes saw. Wish my camera had 20-20 vision, like me.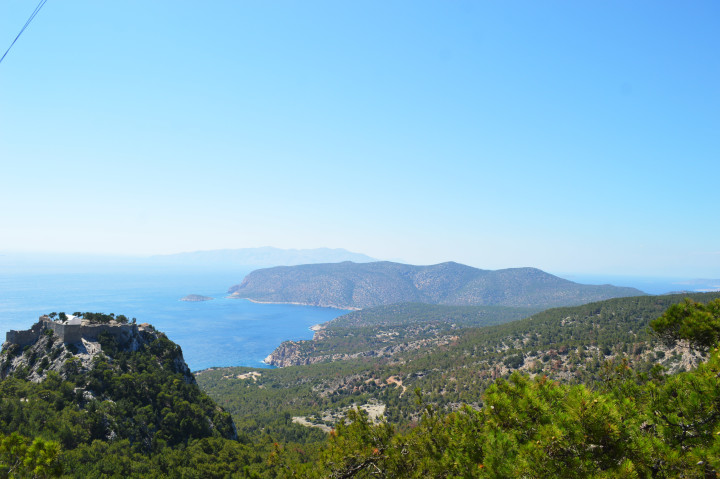 We started the climb up the stone steps that twisted as it turned up toward the top. I wore flip-flops up here, and trust me, it's not a good idea. I tripped many times as it was not a flat surface. Once at the top, the view became even more amazing and there were quirky little things dotted around, like little windows and bendy trees. There were three churches on top of the hill, one new one, an old one and an even older one—all a similar shape. The older ones are very close to the edge, but they look amazing once you step foot in them.
Standing in the Old Church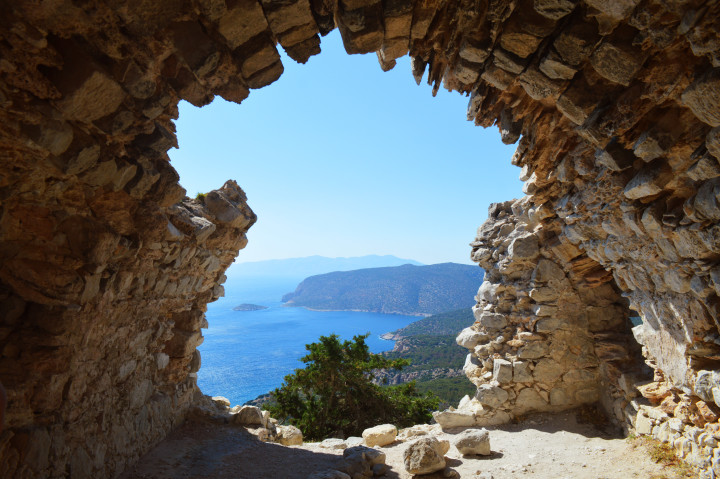 There were quite a few people in there taking pictures, so make sure to pick the right moment to get an awesome shot! And if you ask nicely someone will take a picture of you in there while sitting on the rocks, like we did. Thank you to the nice man who took our picture and didn't run away with the camera! Here are some pictures from the Castle of Monolithos before going up (and us just goofing around at the top). You have to take at least a few silly pictures in life. I'm just not posting the one where I have a million chins...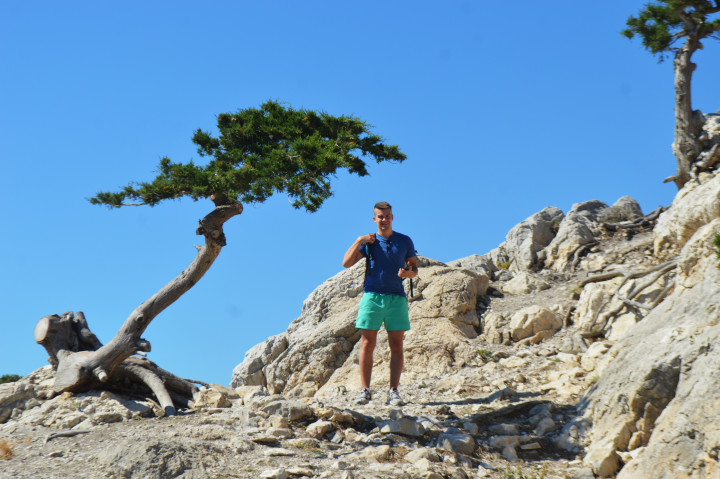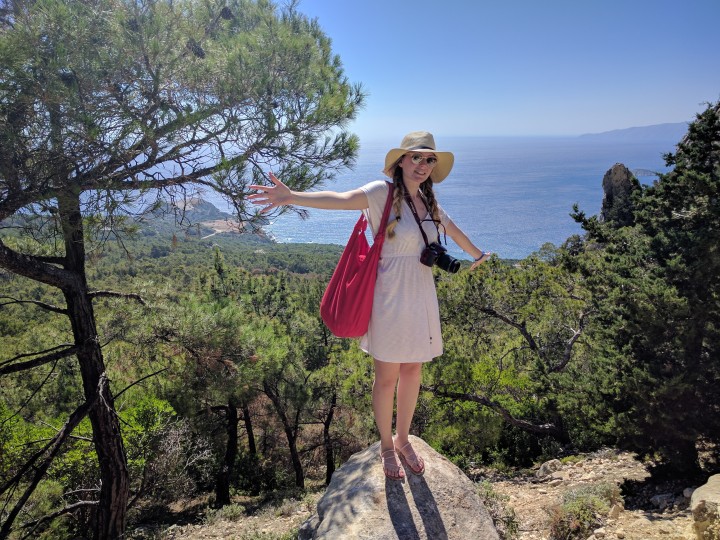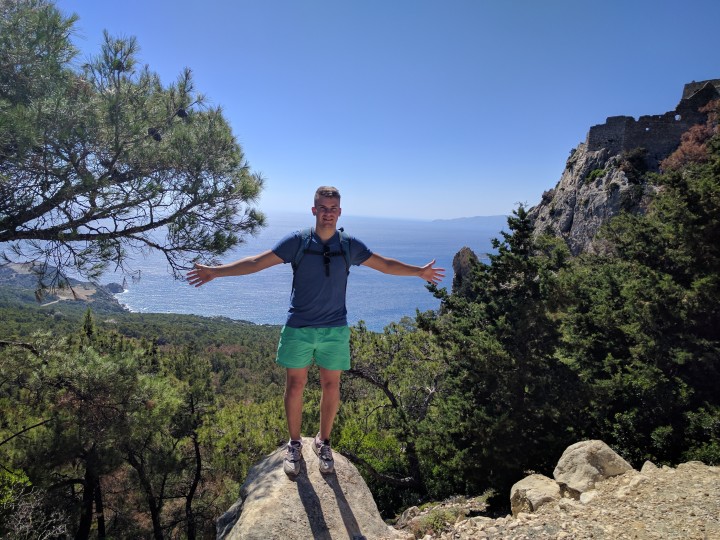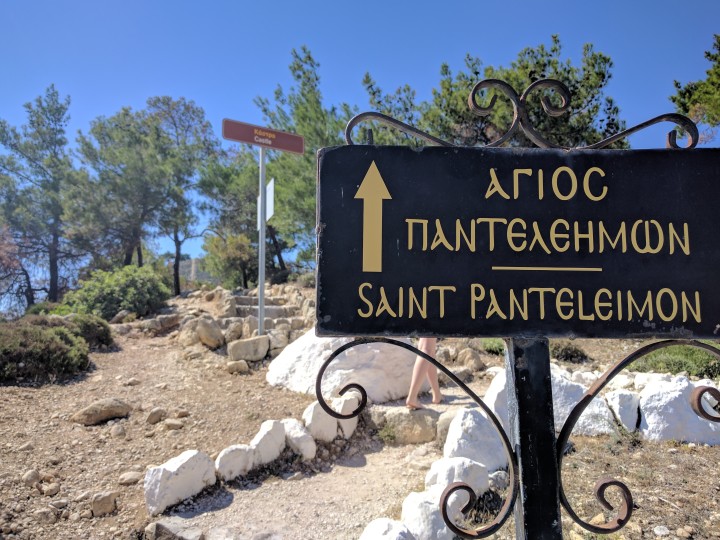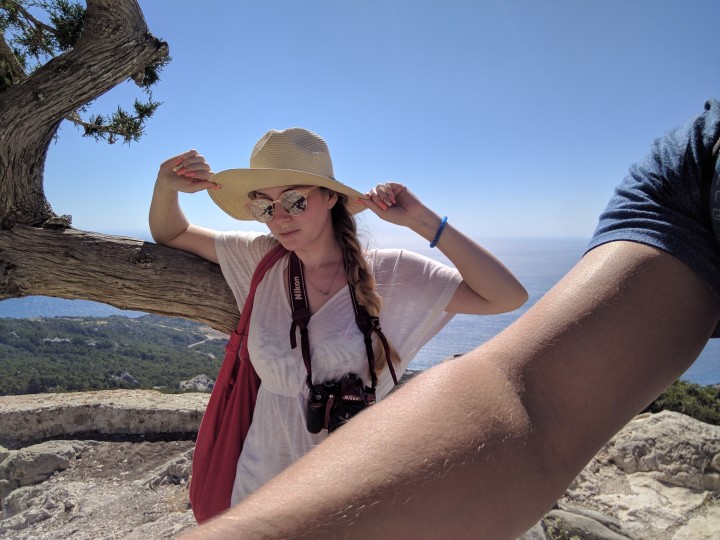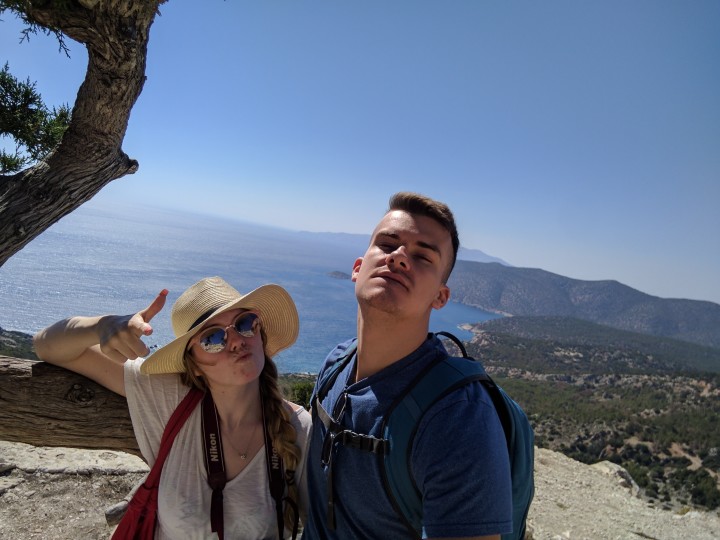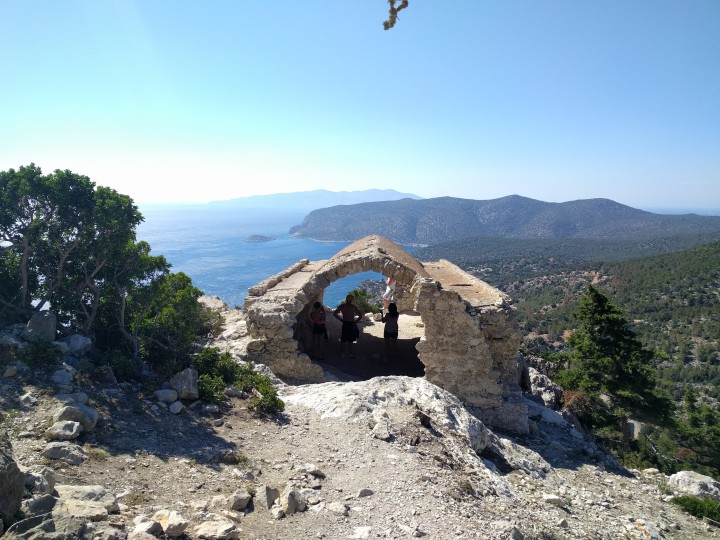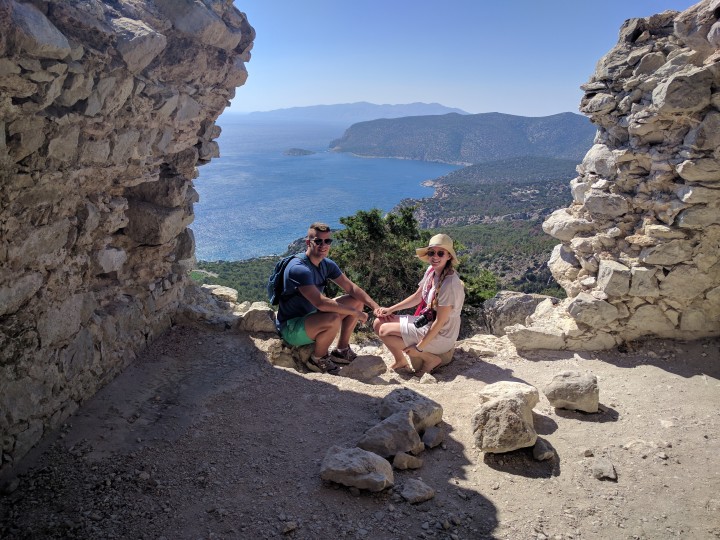 Last Day Off to Athens
The last day we didn't have much time to do anything. We just packed up all our things, said a sad goodbye to our hotel and the owner. The owner replied with "have a nice flight," then we walked down to the beach for a last goodbye before heading to the airport. We had to drop the car off before going to the airport. It was just outside, so they were going to take us to our terminal after the car had the all-clear. When we got there, no one was in the office so I rang the number they gave me and the phone in the office rang. I was not happy, but ten minutes went by and a woman showed up to take us to the airport. I laughed about the phone calling in the office afterwards. Then we jetted off to an amazing few days in Athens!
couples travel

Claire Finch
Seen as many places as possible this year, BUT! soon to go travelling in the next few months! Excited is an understatement. I will be going on the incredible journey with my boyfriend, Tom.
See all posts by Claire Finch →