Eyes of a traveler
Beijing in May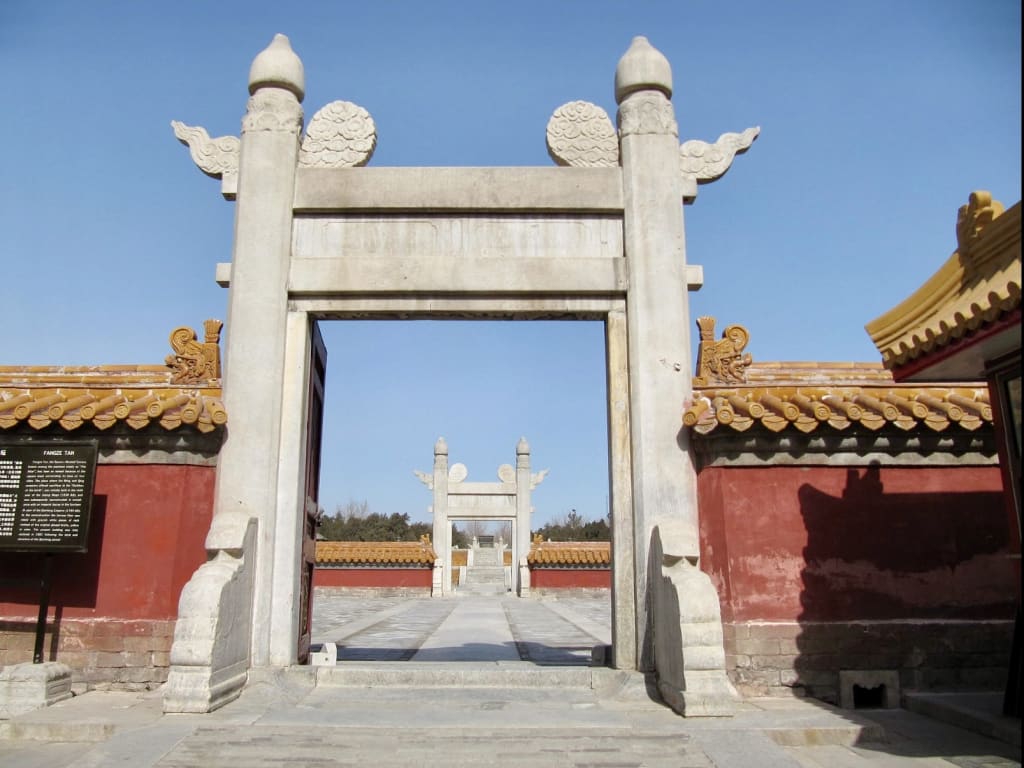 stairway to the alter of the temple of earth
The tiny iris are blooming and so are the roses. My gardener's brain thinks that is odd. When I arrived in February there was no color but drab brown and grey in the trees, grass, bushes...all very dormant and colorless. It was cold and dry. My skin immediately told me I was no longer in the rainy PNW and rebelled. Now there are bright purple iris and red and pink roses along the roadside, the trees are filling out and the grass is turning green. It is an unreal transformation.
We had a really dramatic storm with thunder and lightening and heavy rain. I sat at my window and watched, delighted with the show. Afterward the air was sweet and clear. I've been told that the summer is the rainy season, so I hope to see a few more spectacular storms in the next few months.
I've had to shop for clothes for myself, and that has been an adventure. If you happen to be a person who doesn't wear sizes that are standard here, you have to be determined, keep your body measurements handy, and hope that the thing you ordered actually fits when it arrives. It's also funny when you translate the descriptions and you find "For fat ladies" in the title. Ha! I have succeeded in finding some linen pants and shirts, and that should see me through the soon to be humid heat.
In Hogsmeade, where I work, it's always winter. There's snow on the rooftops and the inhabitants of Hogsmeade dress for the season. I wear a lot of layers and a hat, and I think I better find some electrolyte drinks for myself to make it through the coming summer months. They warned us about the extreme heat and cold, and I'm trying to get ready for the heat.
Today I ventured out and walked to the nearby town to a coffee shop that makes passionfruit tea. I expected tea with a flavoring but got a muddled drink of fresh passion fruit, lime and tea. That was a life changing glass of tea, let me tell you. The shop has a resident mini poodle named chocolate, (Qiǎokèlì) and he very kindly sat on my lap, and then lay down for a rest while I enjoyed the tea and the jazz that was softly playing. Walking back, I decided to try one of the rental bikes that are everywhere. They are all one speed bikes, which is good. I got on and laughed at how absolutely wobbly the steering was. It might have been me...do all bikes feel that unstable after too many years of not riding? I didn't brave another bike to see if it might be different, but will another day, when I'm prepared to wibble wobble along until I remember how to balance. I was laughing out loud, which was probably a funny sight for the people I passed.
The Universal Beijing Resort has been open for 3 years, but Covid made it a very strange couple of years, and this is really the first year that it's been fully open. No more daily Covid tests, no long quarantines, and the ability to travel around the country is such an extreme difference from just six months ago that the May day holiday brought a lot of people to the resort and it was fun to watch. I have to say how impressed I am with the people who work here that braved those two challenging years. I mean it.
Tomorrow I'm going to go see the Temple of Earth, also known as the Fangze Temple, which was built in 1530.
"The layout of the temple is totally in accordance with Chinese traditional beliefs such as the "Heaven is round and the earth is square". At present, there stands the Fangze Temple, Huangdi Hall, Animal Hall, Food Hall and God Hall in the Temple of Earth. Reportedly, there are 116 different kinds of plants in the Temple of Earth Park, which occupies an area of 114,000 square meters. The urban green coverage rate accounts for 72%. There are 168 ancient trees with over one hundred years and more than 80 trees with more than 300 years." Quote from Chinahighlights.com.
I am looking forward to the ancient trees.
About the Creator
I am a singer, a story teller on stage and in print, and a lover of family and nature.
Reader insights
Be the first to share your insights about this piece.
Add your insights