Exploring Antalya: a less touristy part of Turkey
Culture, food, scenery and FUN!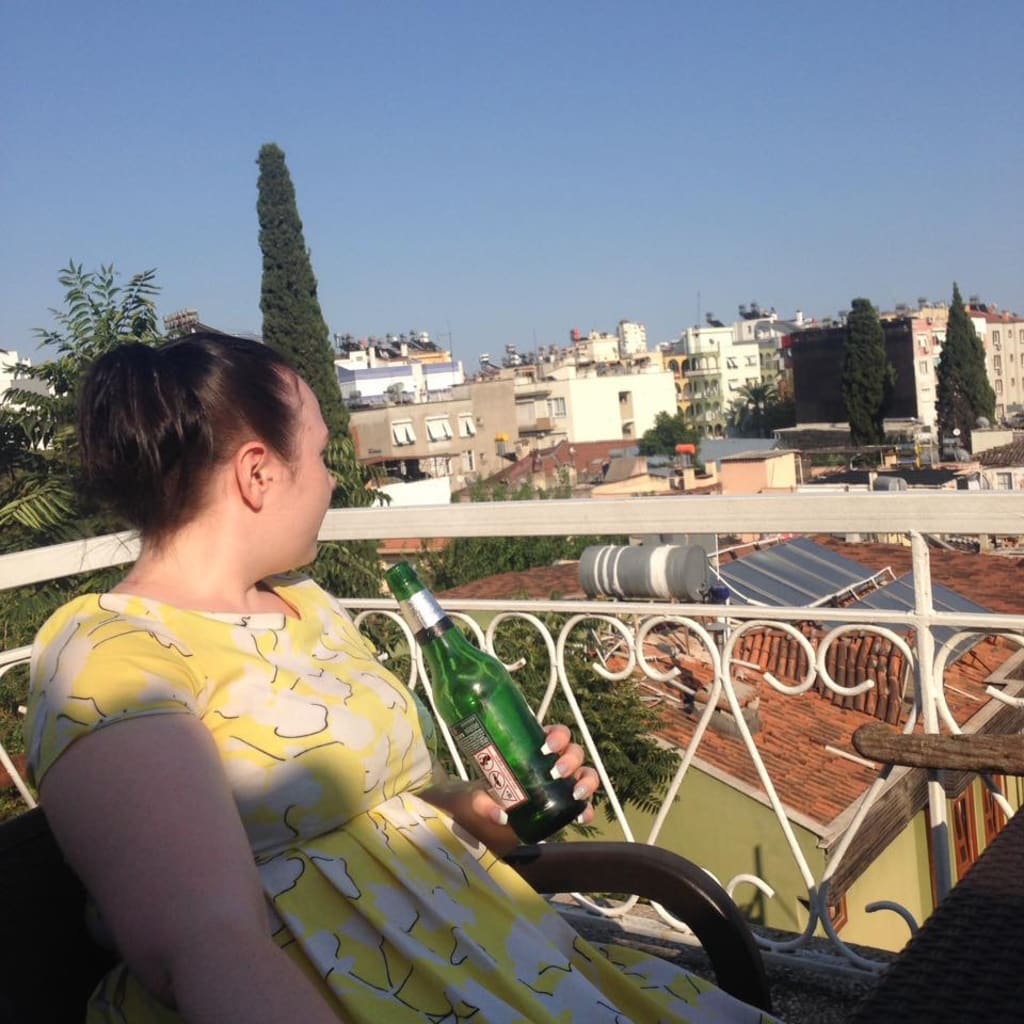 Hello from Turkey! It occurred to me that I'm 1 week into my 2 week adventure here in Antalya, so I thought I'd take this opportunity to update you on what me and Graydon have been up to so far in this amazing place.
Tourism
Since arriving here we've realised that Antalya doesn't seem to be a massively popular tourist destination for the English, however there do seem to be quite a few Russians and it appears people from other parts of Turkey come here too.
That being said, many staff in shops and restaurants know enough English to get by, but we Googled the basics in Turkish before we got here and now we've plucked up the courage to speak some Turkish. The locals seem to really appreciate it!
Prices
Our hotel only cost us £220 for two weeks and although small, it is clean, comfortable and the staff are so friendly. Can't go wrong with that! The exchange rate is really good at the moment, meaning you get 6 Turkish Lira to the British Pound. We're also in cat heaven right now – not only is Turkey crawling with cats, but our hotel has a cat and a kitten, both of which have spent some time in our room.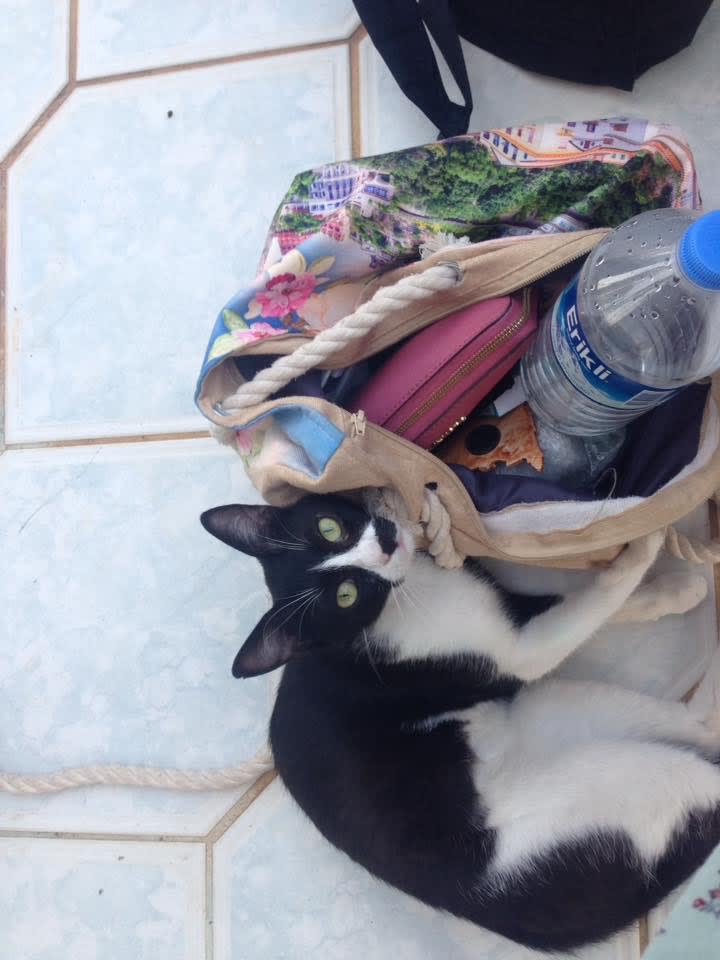 So let's get to what we've been up to so far. Being here for two weeks we're able to get a nice balance between chill days and action packed days. When we first arrived we spent a few days getting to know the local area which we instantly fell in love with.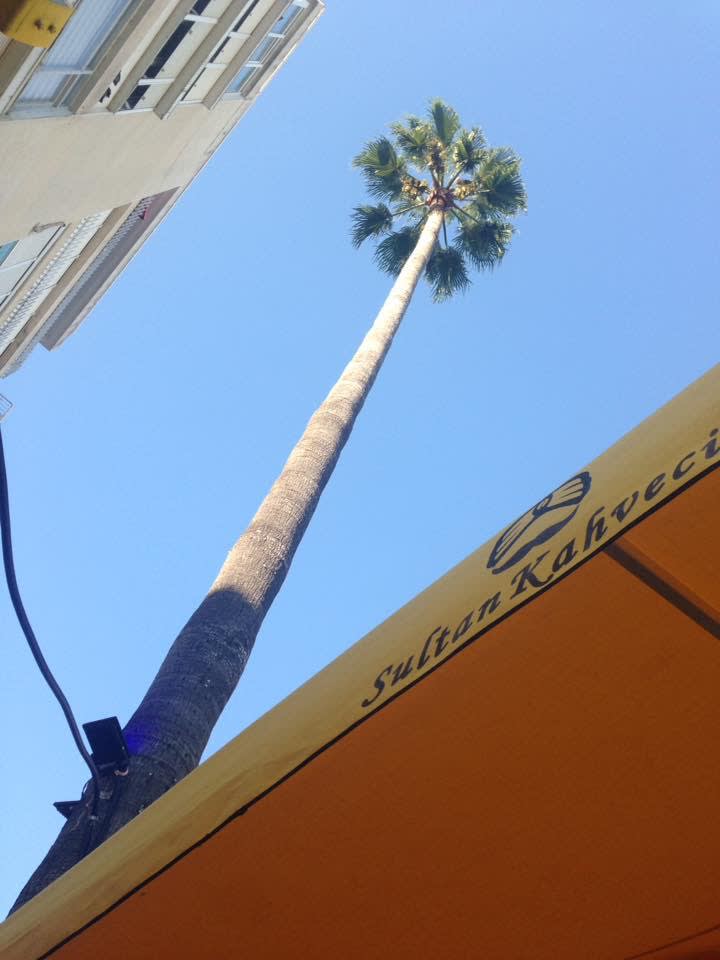 Beaches and Trams
There are two beaches near our hotel which is in the city centre, near the old town (which is known as Kaleiçi). One beach, Mermerli, you have to pay 17 Lira each to access as it belongs to a restaurant. However personally it's my favourite beach as it's easy to get to, got stunning views and the swimming area is in a sort of cove which makes it feel safer to swim in.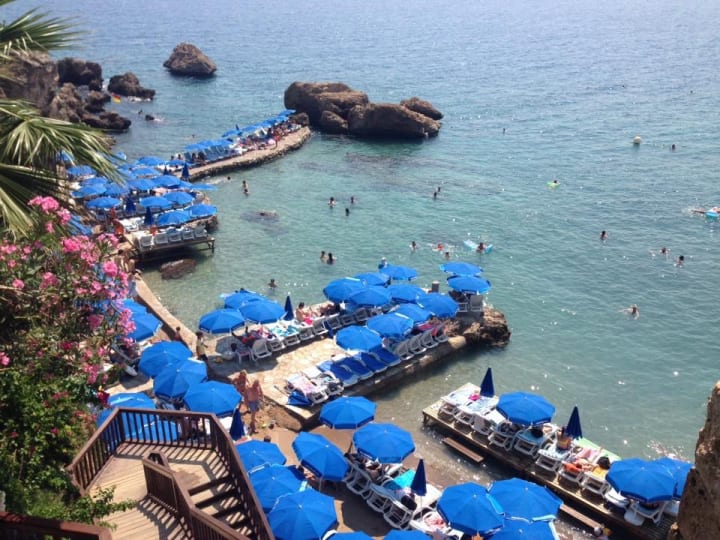 Konyaalti Beach is a little further out, meaning we have get get a tram which is only a short journey, but was incredibly confusing to get our heads around! We couldn't find any information online about where to buy tickets from, and although our hotel owners tried their best to help the language barrier made it too hard to understand their advice.
In the end we asked a lovely guy from the travel agents where we had just booked a trip. He explained to us how you need to buy tickets before getting onto the tram from a stand, shop or machine (which are seemingly randomly placed around Antalya)! The booth we bought our tickets from was on the corner where the old and new trams meet, and you need to purchase a small card called 'AntalyaKart'.
In the end it cost us 12 Lira for both of us to get to and from Konyaalti Beach which is at the end of the Nostalgic line. There are two lines in Antalya, the New and Old/Nostalgic line.
Konyaalti Beach is nice enough and free to access unless you want to hire a sunbed, but it's very pebbly and we happened to go on a day where the sea was very choppy and as I said, I felt more comfortable swimming at the other beach. But a lovely day trip at that!
Turkish Baths
When me and Graydon travel one of our favourite things is experiencing different cultures. Turkey is fulfilling our expectations of providing this cultural enrichment. Booking us into a traditional Turkish baths called Sefa Hamam in the old town, we both felt a little nervous about what to expect.
However our fears disappeared when we walked into a well preserved, 600 year old building and entered the steam room where we could relax and use the basins to wash. (There were massage treatments on offer for more money but we kept it at 40 Lira each for just the baths).
After our relaxation time we were wrapped in towels by the staff and provided with apple tea and fruit. An all round refreshing experience!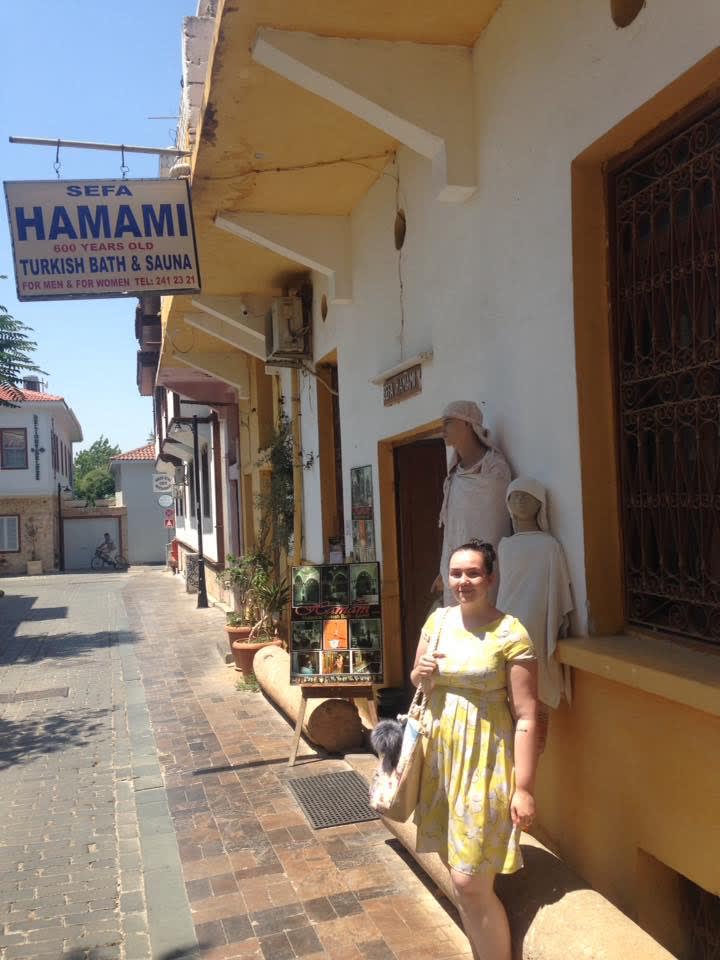 Mosque and Carpet Buying!
We had been wanting to visit a Mosque as neither of us have been in one before, so we thought Turkey would be the perfect place. Hearing the call to prayer five times a day is really quite special. However we weren't sure if the Mosques here were too keen on tourists coming in for a snoop around. So of course we couldn't believe our luck when we got offered to be shown round one for free as we were passing!
I covered my head and we were able to take pictures and enjoy the beauty inside (check my Instagram later for photos as they're all on my camera, not my phone!) and the man explained some information about Islam to us.
Afterwards we had to awkwardly rush out as a wedding party arrived, and we were offered fruit tea which we initially thought was lovely, but should have realised where it was leading…
Basically we ended up coming away with two small carpets which are a lovely traditional souvenir to take away from Turkey. But although we love getting the true cultural experience, be aware that if someone is nice to you it is probably to try to make you buy something – and when they're being so friendly it' hard to say no, right? Nevertheless we're pretty happy with our purchase of carpets and our earlier purchase of some sort of green tea which we ended up with after mistakenly entering a Bazaar!
Boat Trip
One of the highlights of this week has been a boat trip we booked through a company called 'Nirvana Travel' located in the old town. Without going into too much detail, the day consisted of a male belly dancer, banging tunes, a massive foam party and jumping off a pirate ship named 'Captain Jack' (sporting a sculpture of Jack Sparrow's face) into the sea at three different gorgeous locations. Not a bad way to spend a Monday if you ask me.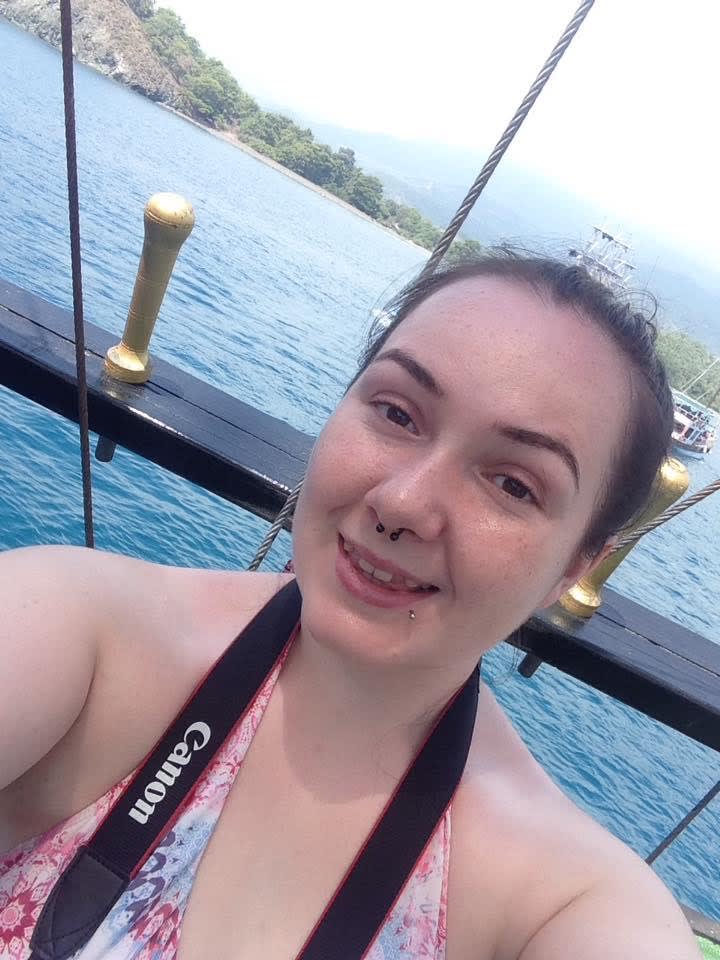 Jeep Safari
Just when we thought we couldn't beat the boat trip, we discovered the Jeep safari run by the same company (although Graydon likes to point out they weren't in fact Jeeps but Land Rover Defenders).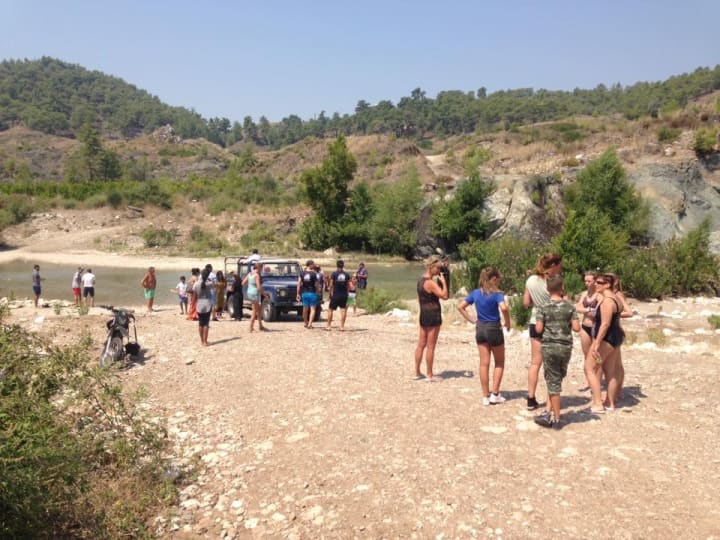 Anyway, standing up in this vehicle while it went hurtling through off-road terrain up in the beautiful Turkish mountains was undoubtedly one of the best experiences of my life.
Not the mention the stop at a traditional Turkish mountain house where the owners provide us with Turkish tea. Or the lunch stop where we ate fresh fish with the most delicious homemade chips. Or the stop to swim in a sparkling blue river. Or the fact the staff were so into giving everyone a good time which involved drenching us with water throughout the whole trip!
I came away covered in mud, bruises, drenched through and with my outfit ripped – but with some of my best memories to date.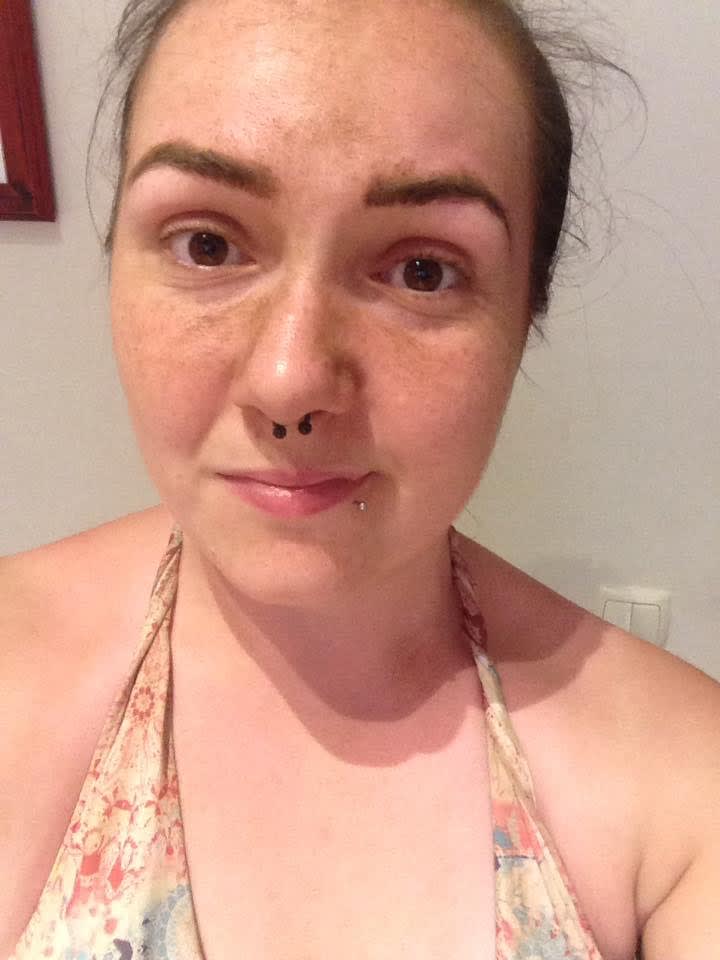 In conclusion…
So far Antalya is turning out to be even more amazing than I expected. I can't wait to see what this next week holds and I'll update you on this later! But if anyone who has visited Antalya has any tips or good things to do here please let me know in the comments. Hopefully this post will give you some helpful tips if you visit Antalya in the future (which I highly recommend you do)!
Jennie xx