Dr Lachlan Soper Shares a Family Bike Ride From Kirribilli to Cabarita
Dr Lachlan Soper and his family went cycling through Kirribilli, Barangaroo, Darling Harbour, Pyrmont, Balmain, Birchgrove, Rozelle, Lilyfield, Leichhardt, Drummoyne, Hen and Chicken, and Canada Bay!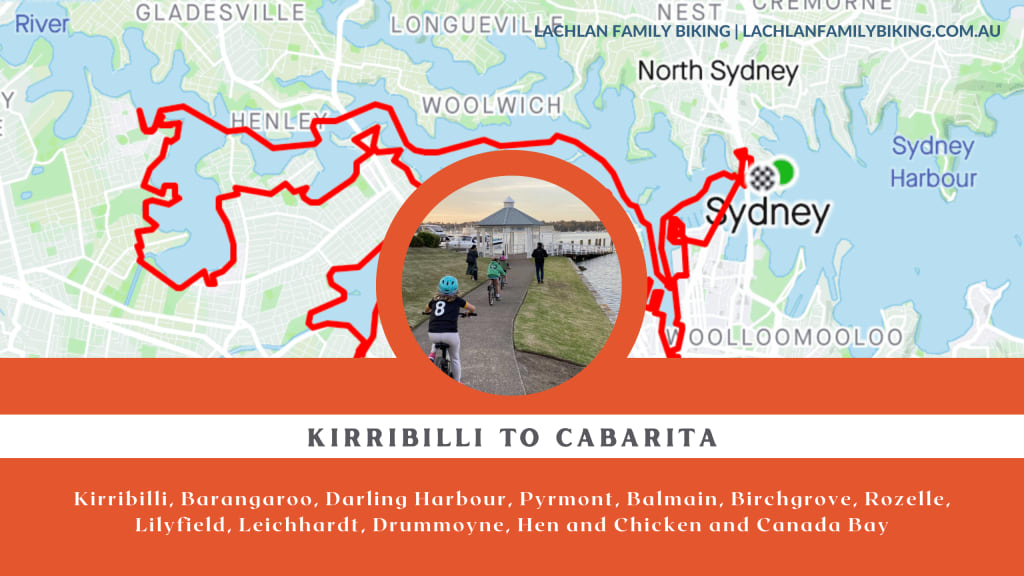 https://lachlansoperfamilybiking.com.au/project/kirribilli-to-cabarita/
Score: 8.25 / 10
(7.5 / 10 if you take the shorter route and skip Bar Italia pizza and gelato – yes, we love our Italian food!).
This ride is again a beautiful ride around Sydney Harbour and inner Parramatta River, with particularly spectacular views crossing the Bridge and to the Bridge from Pyrmont.
Option to increase the score 9/10: Hop off the ferry at Cockatoo Island and go exploring.

NOTABLE SITES, CAFÉS, AND PLAYGROUNDS ALONG THE WAY:
We like to start at Kirribilli House (the Sydney residence of the Prime Minister of Australia) and see if we can spot ScoMo (the current Prime Minister, Scott Morrison) if he's home. Kirribilli and Admiralty Houses are both beautiful and historic.
We then ride over the Harbour Bridge on the West side with great views of the Harbour, Barrangaroo and Luna Park. Descending from Sydney Observatory, down to Barangaroo and do a loop of the top and lower gardens. There is a spectacular view of the Harbour Bridge as you descend from the top of Barangaroo.
Ride slowly along the waterfront at Cockle Bay and to the Southernmost part of Darling Harbour where you reach Tumbalong Park Playground, which is a large playground with lots of climbing equipment, swings and slippery dips, it is well shaded too. There is water play, so beware, the kids could get wet! There are good toilets and also take away outlets right next to it should you wish to purchase some food. Don't simply stop at the playground, it's lots of fun with kids to ride around this general open space and zig-zag in and out of the little trees and pylons.
Continue along the West side of Darling Harbour (note you are required to walk your bike for the 50m section outside the Australian National Maritime Museum) and around the 3 wharves – past tall ship James Craig, around Balaarat Park and Jones Bay Wharf to Pirama Park. We stop and sit on the North East corner and have a snack with one of the best views of the Sydney Harbour Bridge. Continue around the pick a planks to the playground which is good.
Riding through Jackson's Landing and over the Anzac Bridge, we occasionally take a detour to go around Jubilee Park, but it is a bit of a detour and perhaps part of another, shorter ride, as mentioned on the ride to Sydney Park page.
The riding through Balmain is a bit of hard-yakka for the kids, but point out the historical old houses. Kids can appreciate architecture more than you think.
Drop down from Balmain into Mort Street Park playground (which is next to Balmain wharf). It is a good, but not substantial, playground.
When you leave, look out for glass on the timber, which I have seen from time to time on this ride, you don't want a flat.
Birchgrove gets a little tricky in terms of direction, so it's good to keep a close eye on the route through here. There are some stairs to ascend up Ballast Point Park, so be prepared to help your kids up them. The next playground is at Elkington Park Birchgrove, it's simple, but also usually quiet and nice to stop at after some punchy little hills. After you leave this playground, the descent down to the shoreline is the steepest descent you'll do in almost all of these rides, it's short, but obviously make sure everyone's brakes are in good working order and take it slowly. This gets you to the Iron Cove Bridge. The options are to take the longer route and get some well-earned gelato and pizza in Leichhardt or go over the Iron Cove Bridge and take any of the ferry stops mentioned in the "star rating" above.
Follow the bike path under the Iron Cove Bridge, and then follow it South West along the Bay Run. You go past Leichhardt Park Playground. There's a small playground there and public toilets, but you aren't far from Bar Italia. Continue on the Bay Run underneath A4 CityWest Link Rd along the Hawthorne Canal Shared Path. You then come across the Richard Murden Reserve Playground where there also public toilets, but you're nearly at your meal break, so encourage the kids to stop there on the way back. Cross the road at Hawthorne Station and ride up Allen St in the bike lane, it's sufficiently quiet that I'm content riding in the bike lane with my kids.
Stop in at Bar Italia on Norton St. Your kids will forever remember this ride for the great pizza and awesome gelato that they had in the middle of it!
Then retracing your steps stop off at Richard Murden Reserve Playground to work off a bit of your lunch. Rather than crossing the bridge across the canal again, go under the A4 on the other side of the canal and enjoy the Bay Run on your bikes. Again, great scenery. Either complete the Bay Run all the way around to Birkenhead Point and go up St Georges Crescent and around to Taplin Park (the flatter, but longer route), or up and over the hill at around Thompson St.
Use the routes function on the map for the next section, which is tricky, but Hen and Chicken Bay, Cabarita and Breakfast Point are beautiful, particularly in the last couple of hours of the day as the sun is setting.
My kids love to play in Cabarita Park before we catch the ferry back to Milson's Point. A ferry ride is a great way to finish the bike ride. The bikes get stowed on the front of the ferry and it's a great chance to have some final snacks, enjoy the Parramatta River opening up into the Sydney Harbour and reminisce the best parts of the day. The ferry goes to Barangaroo and then you need to change to the ferry to Milson's Point, Luna Park to then ride under the Harbour Bridge to where you parked your car in Kirribilli.
This is a cracking day out for the family. Great adventures and life-long memories.
PARKING & TOILETS
We usually park on Carabella St or Kirribilli Ave in Kirribilli. If you are doing this on a weekday, note that there are parking limits. We like to start here as Kirribilli House and Admiralty House are both interesting to start at, and also, with a 24/7 Federal Police station there (although they don't deal with local breakins and petty crime) the car is in quite a safe area.
There are good public toilets at:
"The Cutaway" Barangaroo
Tumbalong Park Playground Darling Harbour
And adequate public toilets at:
Pirama Park Pyrmont
Richard Murden Reserve Haberfield
Birkenhead Point Outlet Centre
Cabarita Park
About the Creator
Dr Lachlan Soper, based in Mosman, Sydney, Australia, is a General Practitioner at Avenue Road Medical Practice. Lachlan Soper is a caring general practitioner to his patients, a committed cyclist, and a father to his three children.
Reader insights
Be the first to share your insights about this piece.
Add your insights