Christmas In Mexico
Pt. 2 Cabo San Lucas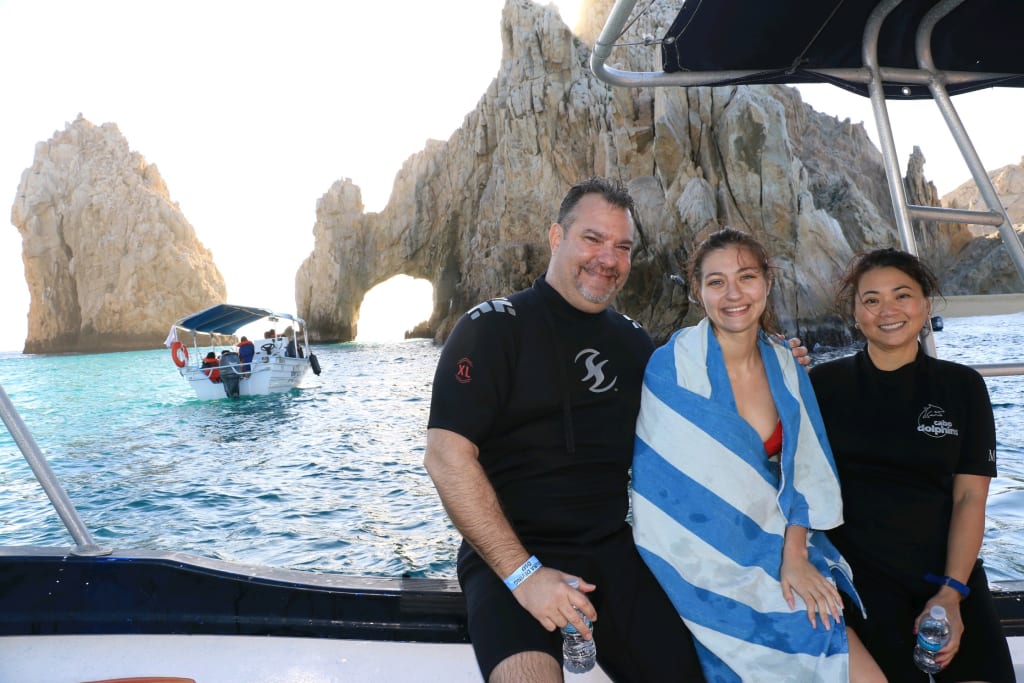 Stop #1 cabo San Lucas! We docked in Cabo on the 23rd. The deal with going from boat to shore in Cabo is that the day before you have to pick up a "boarding pass" with a group number, thats your number to debark. Because we couldn't pull right up to shore we had to take smaller boats to the pier. My siblings and I didn't manage to get off the ship until around 10:30, upon hitting the shore my sibling immediately hit Senor Frogs, the famous Mexican tourist destination. Having been to Cabo before (and having done my partying) I decided to have a short wait on the pier for my parents until our excursion. They had gone on a boat ride to see the sites with my grandparents and cousins earlier that morning, they were going straight from their first excursion to our second one, scuba diving.
Though my parents have their PADI cards we had to take the single tank, beginner scuba experience because I am not yet certified and we all wanted to dive together. I would like to clarify that I have been diving before, I just haven't gotten the money or time together to get certified.
At any beginner scuba dive excursion, you have to do a little intro class. It's very simple and easy to pass, the on land part only last about 20 minutes they then have you demonstrate a few skills in the water before the dive; Clearing your mask, taking out your regulator and putting it back in, and letting your regulator loose and re-obtaining it. They go over basic hand signals that are very easy to remember and then they take you down. Shallow dives are easy, clearing is simple and provided you have no medical problems you shouldn't have any issues with shallow dives.
We booked through the cruise line with a place called Cabo Adventures, the instructors were knowledgeable and helpful. The dive photographer took great photos and I got to swim in the middle of full schools of fish, it was beautiful.
For the downsides, it was extremely cold. The dive provided shorty skins, which going on any dive you should have full skins. Basically, if you know what you're doing, bring your own equipment, my dad was stuck with a mask that was to big and had it half filled with water the entire time. Mom couldn't fully clear hers, and I was just freezing the whole time (and I have arthritis so that was really a problem later). The water wasn't very clear, luckily the fish were nice and close. We had to be in a shallow spot because it was a beginner dive, we only went down to 40 feet. The problem with the particular spot we were in was that there were snorkelers, swimmers, and boats above us, scaring fish and impeding the general experience.
These places generally squeeze every cent they can out of you for things like pictures and videos, however our photographer was kind of awesome. He offered up the ability to airdrop them for free or transfer everything digitally for $50 (speaking as a photographer, that is INSANELY generous). The pictures were super cute, and hopefully they were of my last amateur dive.
It was overall a good experience, but if your someone who wants to dive on every vacation, just get certified. The dives are longer, deeper and in much better spots.
My siblings took a $12 boat ride to the arch (which quite honestly they could have negotiated for cheaper had they tried) and they of course got tanked. They all just turned 21 this year, so being able to buy their own booze is still new and fun for them. They had fun and so did I, it was overall a good first stop on our Mexican Christmas.
Reader insights
Be the first to share your insights about this piece.
Add your insights