Becoming A Digital Nomad During A Pandemic
Yay Or Nay?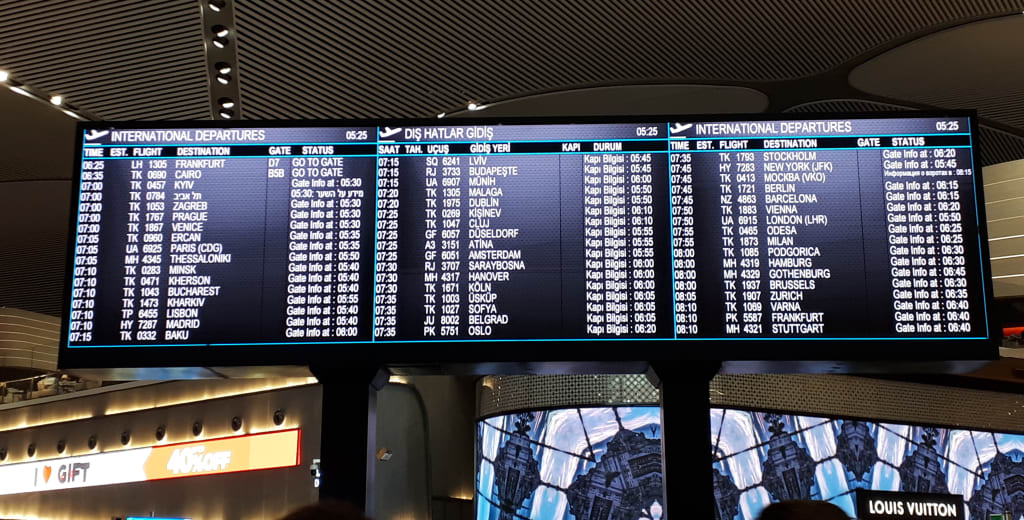 The flight board in Istanbul Airport. Photo by author.
Becoming a digital nomad during a pandemic was not one of my greatest ideas!
To be fair, I didn't set out to become a digital nomad, it morphed out of the sheer necessity to survive.
In late 2019, I headed to Canada to apply for a visa to return to the US to live with my partner at the time, but the relationship ran its course and during the process, I realized how amazing Canada was. I began having these great visions about a future in the Great White North; getting a good job replete with work visa and a cozy little apartment where I could start rebuilding my broken life, but it didn't go quite according to plan and I found myself in a unique set of circumstances.
As we entered 2020 a global pandemic had started to rage, I was working solely online for the first time in my life, and the 180 days allowed on my visitor's visa was counting down rapidly. I extended my visa to the end of the year and continued teaching English as a Second Language online — a classic digital nomad job — until I could figure out what was next.
As my visa extension expiry loomed ever closer, I found myself at a crossroads — do I extend again or take the opportunity to return to South Africa to visit my parents who I hadn't seen in four years?
I made the decision to return to my country of birth, boxed up all of my belongings and left them in a friend's basement, jumped through all the Covid restriction hoops, and headed off to Cape Town International airport for what I had anticipated would be a three month visit to my parents.
The pandemic dragged on and Canada's borders remained firmly shut, and as a digital nomad, I couldn't get back in without a work or study visa.
Three months dragged into seven and I found myself going stir crazy without my social circle and my own space. My parents are both over the age of 70 and I was worried about bringing the virus into their home, so taking off to other cities to catch up with friends or do much of anything was not possible and I slowly drifted into a depressive state, longing for the connections I had built in North America.
I began to create content in a desperate attempt to build a strong platform that would allow me more freedom and the opportunity to earn more than the pitiful income that teaching ESL brings. I recorded two seasons of a podcast which didn't do particularly well and, demotivated, I slowly formulated a plan to get myself out of the funk that I had sunk into.
After some searching, I decided that Mexico was my best interim option before heading back to Canada.
I did entertain thoughts of hanging out in Turkey with friends for a few months but that door slammed shut as Turkey closed their borders to anyone travelling from South Africa, as did the rest of the world. Mexico, however, remained open to anyone with a passport due the country's heavy reliance on tourism, and so I booked a ticket and some accommodation and headed out after a sad goodbye to my family.
I planned on spending a few months in Cancún to get vaccinated as I waited for the world to start opening up again. The expats in the tourist city, however, were staying behind closed doors, nervous to venture out into the world of Covid and the loneliness forced me to search for other alternatives.
I used the time to release my first book online and then headed down to Playa Del Carmen where I managed to get both the first vaccine, and Covid-19 within days of each other! Two weeks after my second vaccine I headed back to the Great White North, feeling euphoric at finally reaching my "forever" destination after eleven months of a nomadic lifestyle.
Upon returning to my beloved Canada, I found myself even more isolated than I'd been anywhere else.
My closest friends had returned to the US, unable to find a support network or the freedom to explore the country due to the ongoing restrictions. Omicron was ripping through the world and my Canadian friends were deeply concerned about protecting themselves and their families, thus not prepared to venture out either. The past year had been an incredibly challenging time and whilst I do love my own company, I desperately needed the support of my small friendship group and the unbearable isolation ripped through me with a vengeance I had never experience before.
Whilst borders are opening up again around the world, travel is still challenging with vaccination certificates required to be translated into destination languages, covid tests needing to be aligned with departure and arrival times, and the additional costs of flights and accommodation as airlines and hotels try to recoup their losses due to the pandemic. I would have to say that being a digital nomad in this time is not ideal to say the least.
The "visa clocks" start ticking whenever I land in a new country, and whilst travellers half my age might find it exhilarating, at almost fifty, I have found it exhausting.
I now long to settle, to grow some roots, and give myself the stability that my weary body and mind so desperately need, but it is still proving to be an uphill battle. 2021 almost broke me, and whilst the difficulty of the year forced me to open my mind and chase a future I had never once dreamed of, it also took a piece of me that I wonder whether I will ever get back.
This digital nomad would like to lay her passports down and rejoin society as I crave connection more than I ever have before.
My nomadic journey, however, is not quite over. After exploring Turkey, the Netherlands, and Germany this year, 2023 is set to be a Central and South American extravaganza. Arriba, arriba!
female travel
About the author
Writer, teacher, and current digital nomad. I have lived in seven countries around the world, five of them with a cat. At forty-nine, my life has become a series of visas whilst trying to find a place to settle and grow roots again.
Reader insights
Be the first to share your insights about this piece.
Add your insights