A Millennial's Trip To:
BUDAPEST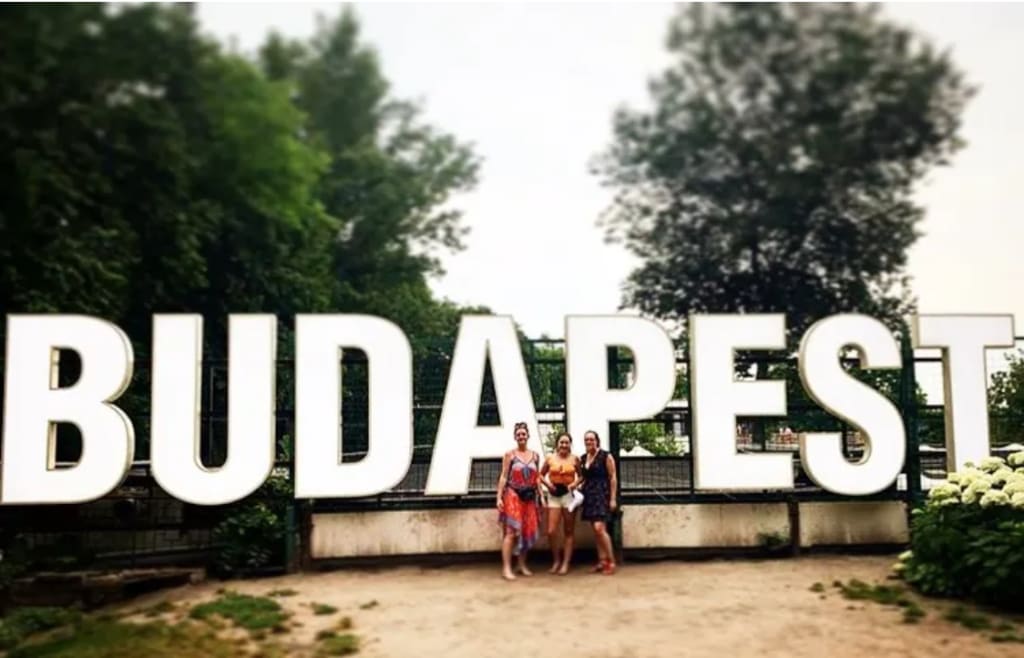 An underestimated city, full of beautiful buildings, bustling bars and eateries galore. I must admit, when my excitable friend threw out the suggestion to have a holiday in Budapest, I was sceptical; is Budapest really the place for a girl's holiday?
With the magnificent Jewish Quarter providing an intoxicating bohemian vibe, plenty of laughably cheap beers and plenty of inspiration for your next meal; after four days, the thought of leaving the cosmopolitan metropolis left me feeling sombre. When you get two cities for the price of one, it's hard to go back to the hum-drum country life.
So, let's get started:
E A T
Street Food Karavan—Nestled into one of the Jewish Quarter's many side streets, Street Food Karavan has something for everyone. Eleven food trucks with one hundred different dishes on offer, it is the perfect place to stop off on your way to the next bar or to spend a bit longer—eating, drinking, laughing with strangers who've gathered around the same high table to comfortably polish off the remains of their smokey BBQ pulled pork or their avocado burger. The beauty of this unique—practically hidden (we only came across it by chance)—gem is how oddly safe and comfortable you feel, despite being completely exposed in a city of 1.7 million people.
Hippie Island—Standing colourfully on the South-East side of Margaret Island, Hippie Island is the perfect place to stop for a bite to eat, a cheeky cocktail and a relax before carrying into the evening. With a menu that has as much to offer as you could imagine wanting on a hot afternoon spent exploring the city. This open-air restaurant is a cheerful and cheap place to end—or spend—a day on the island in the middle of the Danube.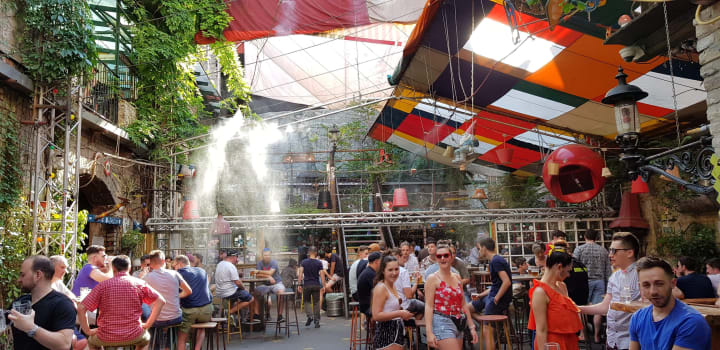 D R I N K
Szimpla Kert—To visit Budapest without a visit to one of the city's famous Ruin pubs means that you have not been to Budapest at all. Szimpla Kert is the Budapest's first Ruin Pub—although it did have a different original location.

Given the (obviously) foreign names of each of the bars, you'll find yourself referring to each of these pubs as "The One With The Something." The only problem with this is that, the longer you sit, the more you find to identify the pub with (the one that stuck in my mind for this particular venue is "The One With the Gnome," but it could easily have been just about anything else.

Instant—A nightclub that has been condensed (for certain want of a better word) into what I believe to be two blocks of flats. Walk right in and straight up, making sure to have a quick glance at the map—yes, map—and then get lost anyway because where is the fun in knowing exactly where you are? Stumbling around in the dimly lit rooms, being bombarded with the rhythmic strobe-lights after one too many shots of a foreign spirit the barman managed to "convince" you to try instead of the normal shot of whatever.
Akvarium Klub—A bar with an undeniable community feel. From the moment you round the corner and find yourself looking down on the cascading tables that fill the large steps that lead down to the bar. Somehow, even when very few people are around, it manages to feel full. If the communal stairs aren't for you, then you've got the other option of the communal pool that gives this bar its name. This unique aspect makes this the perfect place to sit on a sunny day with a cocktail or a pint and bathe in the sun while you dip your feet to stay cool.
S T A Y
During our far-too-brief stay, my friends and I stayed in Happy Homes Blue—a fantastic little apartment in the Jewish Quarter. Optimal position for just about everything, the quaint apartment hit us with the perfect city feel you want from such a holiday.
My only issue: I used the word little for a reason. The booking information described it as a six-man apartment. Fairly enough, this is not untrue—there were two double beds and a double pull-out sofa bed. The problem, the ceiling is too low for an upstairs and the ground floor was enough for a bathroom and a living room/kitchenette. This might sound like enough for you for a four-day visit, but I like my space. I'd have killed someone if there was any more with us.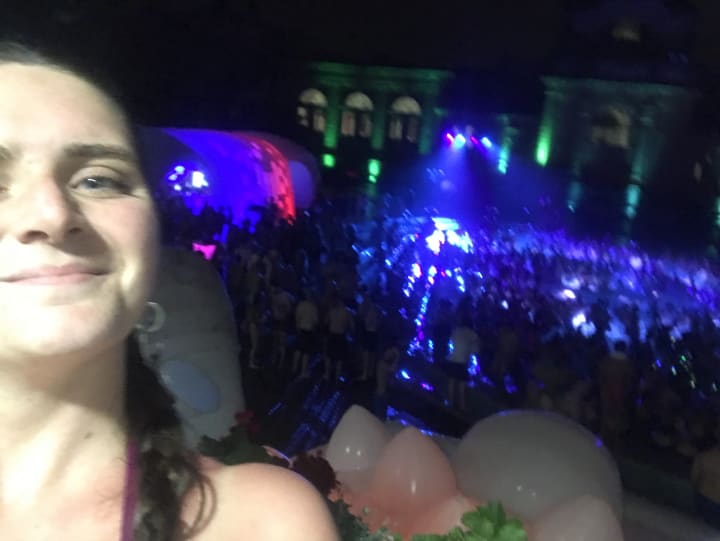 D O
Szechenyi Thermal Baths: SPARTY—The ultimate clubbing experience: SPARTY. Arguably the only way to spend a Saturday night in this unique city and, once you manage to roll yourself out of bed on Sunday morning, the perfect place to relax and nurse your inevitable hangover.

(Not a great photo, but I was preoccupied, a little bit wavy).
During the day, the 106-year-old palace-like structure is an idyllic picture, but by 10 o'clock on Saturday night, it is transformed into a nightclub with a difference. The open-air baths, even when raining (as long as it isn't of biblical proportions) have put on the party of the week. A Saturday in Budapest that isn't spent at Sparty isn't a Saturday spent well.

Margaret Island—Hire a bike and explore. There is everything from a running track that circles the island to a water park and a dancing fountain. Almost an entire day could be spent on the little island in the Danube—eating, drinking, and trying to see everything there is to offer.

We found ourselves making an unexpected second trip after a night of serious drinking and, even though the last thing I ever want to do is exercise, the leisurely ride in the warm, fresh air did wonders for my turning stomach... and the other few pints I decided to consume soon helped me forget about the feeling anyway.
There are also plenty of places for photo opportunities if that is important to you. (See the first photo next to the Budapest sign).

Hop On Hop Off City Tours—A two day bus and boat ticket is a quick and easy way to see the city while seeing all of the best sites. Having the ability to be able to get to any part of the city at any time makes sightseeing a joy instead of it feeling like an obligation that soon becomes a chore.
T I P S
Best time to visit: August
Most popular for: Architecture, museums, landmarks, nature.
Currency: Forint (£10 = 3,570.70 Forint)