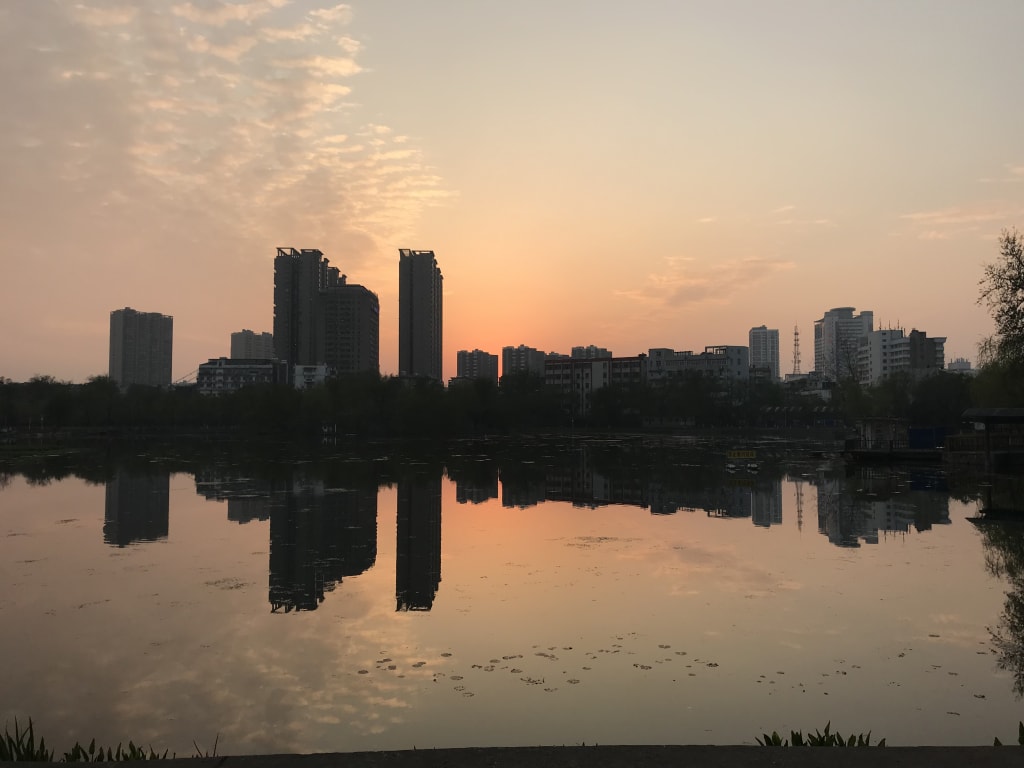 When I lived in Wuhan, I used to spend a lot of time at this park near my the primary school where I worked. It was called Ziyang park, and I hated walking there. It was on a road which was in a state of constant upheaval due to construction. Since the sidewalk had been torn up, pedestrians and cyclists had to share a narrow sliver of fenced off street, and with no clear rules about which direction people were meant to be traveling in, everybody just smashed into each other in whatever way they wanted. Sometimes, breathing in motorcycle fumes and listening to the cacophony of car horns, I wondered if the walk was worth the destination. Even so, I knew that the stress of getting there was part of what made the destination special. The hustle and crush of bodies and vehicles outside provided a contrast which made Ziyang Park feel like a beacon of calm.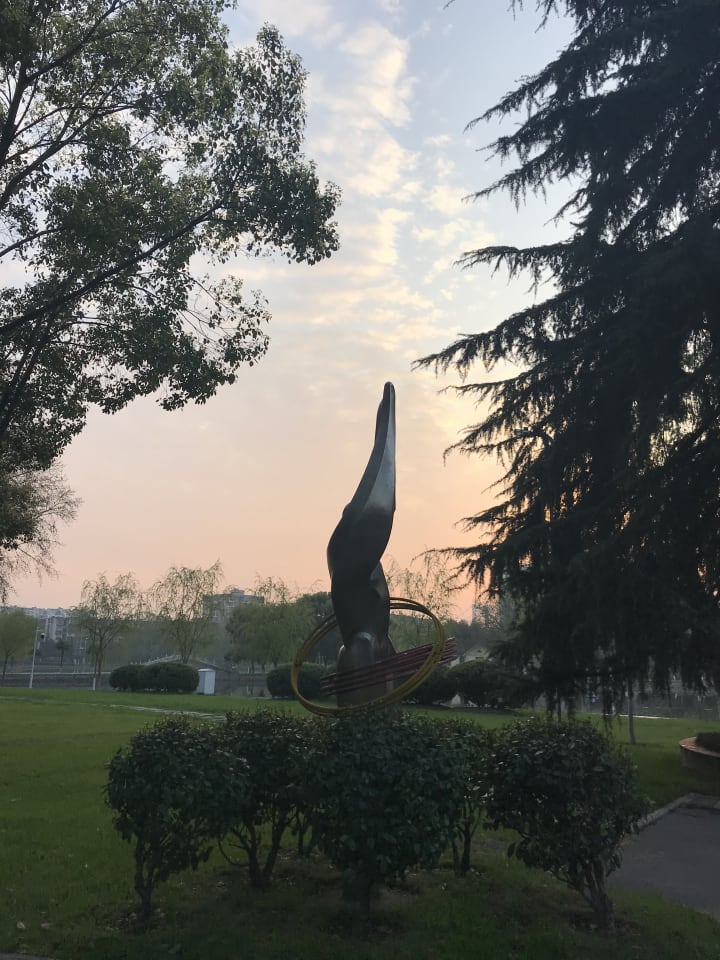 People went to Ziyang Park when they needed space. The gate opened into an oasis of green. There was a lake at the center of the park, with a walking path around it. Trees stretched into the sky and flowers bloomed below. Sometimes I'd stop to listen to the kids practicing the violin the the gazebos near the lake. Other times, I'd watch the old men who circled the park, carrying wooden cages with ravens or parrots inside of them.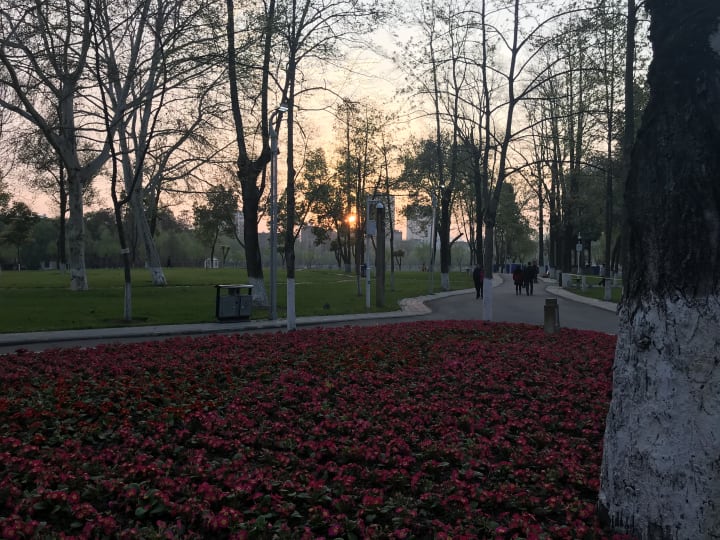 At sunset, the lake would become mirror-like, reflecting the outlines of Remnin Hospital, China Postal Savings Bank, and countless other surrounding buildings, the orange clouds lending beauty to the city beyond the oasis. Spring was especially beautiful, because for a few short days each year, cherry blossom trees would grow in clusters near the lake. The benches beneath those trees were made out of a kind of stone that always felt cool to touch, even in the Wuhan heat.
The city motto of Wuhan is "Different Every Day". Over the years, I became used to seeing those words plastered on propaganda posters during the day and written in bright, color-changing lights by night. Ziyang park was a prime example of Wuhan's rapid changes. During my first several years in the city, it was home to a squalid outdoor pet market, in which puppies and kittens lived in crowded cages besides more unusual animals, like sugar gliders and squirrels. By 2017, the market had been boarded up. There were also once swan boats on the lake, along with a bizarre inflatable contraption that looked like a human hamster ball. Those also disappeared with time, and I still regret not trying to hamster wheel.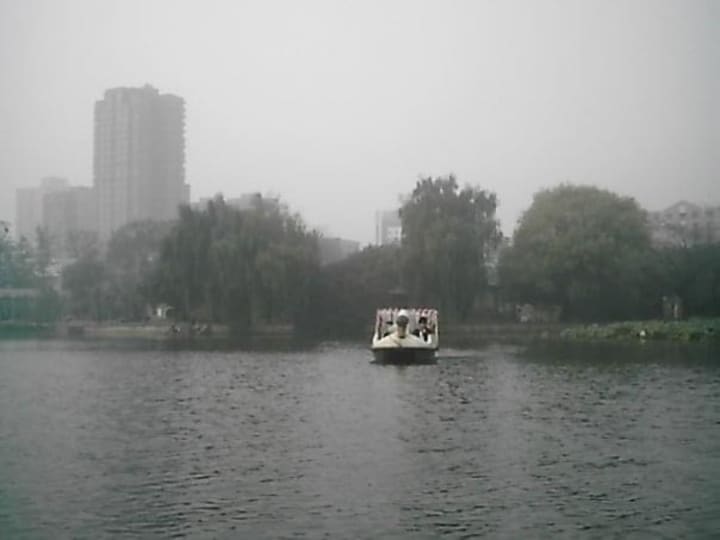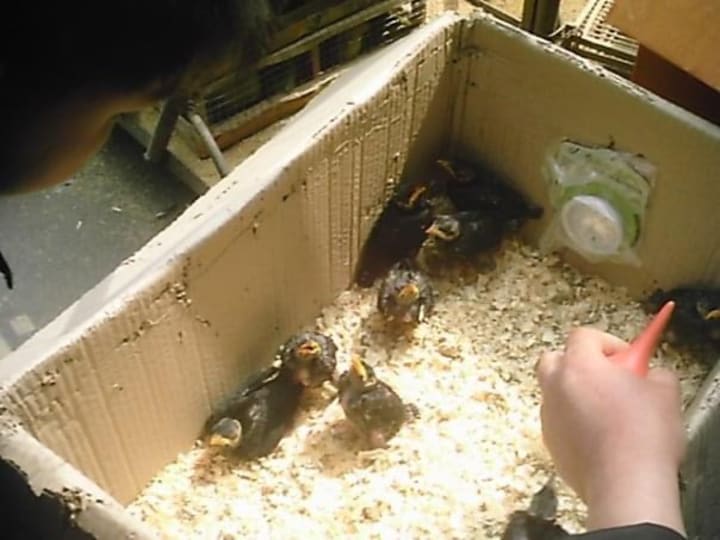 On the far side of the park, there was an assortment of abandoned kiddie rides— a small rollercoaster growing moss, a rusty merry-go-round with paint chipping off the horses, and an overturned train ride. This area was also eventually closed off.
One thing that never changed about the park was the adult playground. Adult playgrounds are a common sight around China. They're provided by the government as a kind of free gym membership. They're usually made of blue and yellow metal, and consist of climbing bars, see-saws, and weighted steering wheels, among other things. Most of the people who use them are extremely old. One time, as I was walking by the playground, a woman with a puffy coat and deep wrinkles etched into her face pulled on my sleeve to stop me. She told me that she was learning English, that she was ninety years old, and that he teacher was ninety-six! She impressed me as somebody who was working hard to maintain both her mind and body, even at her advanced age.
I haven't been to Ziyang Park since I left Wuhan in July of 2019. I wonder if that woman is still learning English, and what the park looks like today.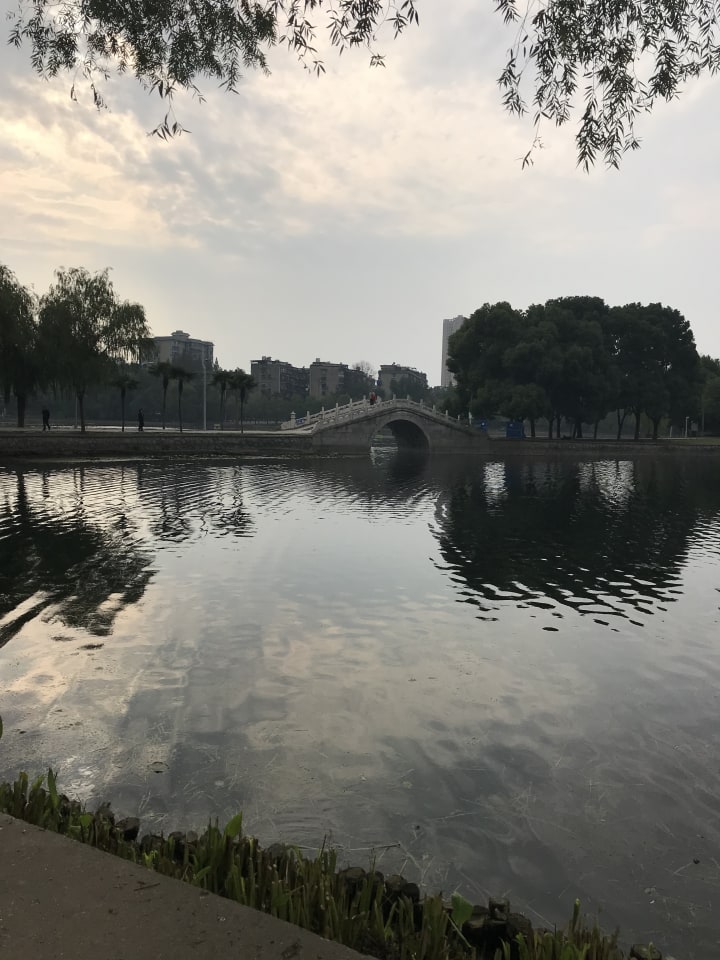 asia
I'm an English as a foreign language teacher who writes as a hobby.
Contact - [email protected]
twitter - @S_Rose_Vocal