A Food Lover's Guide to Sydney's Harbour Dinner Cruises
Are you short of dinner ideas? If yes, go through this guide that explores the unique taste of Sydney Harbour cruises…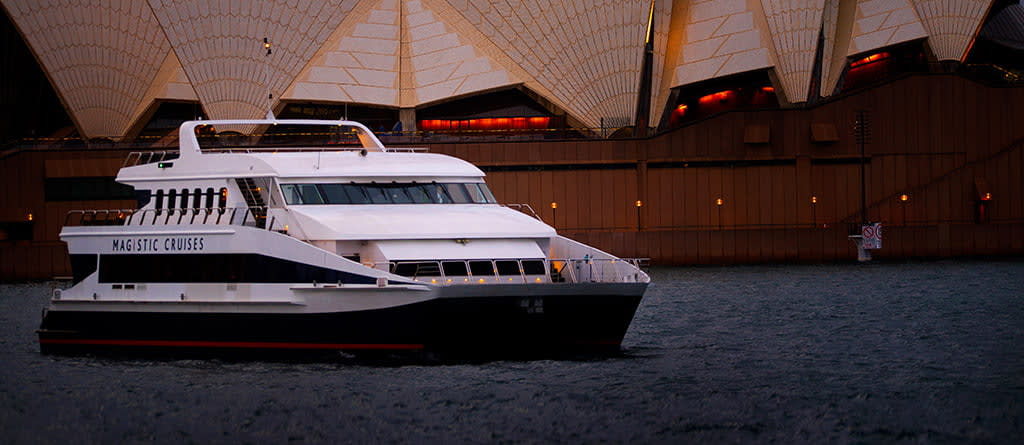 Sydney Harbour dinner cruises
Sydney Harbour dinner cruises offer a unique and romantic experience, allowing guests to enjoy the stunning views and atmosphere of national attractions such as the Opera House, Luna Park and plenty more, while feasting on delicious food. Here's a food lover's guide to Sydney's famous dinner cruises.
What to Expect from a Harbour Dinner Cruise
Most cruises serve three-course meals to their guests. On the other hand, many cruises offer a selection of entrees, main courses, and desserts, as well as appetisers and aperitifs. Depending on the cruise, you may be served a plated meal or buffet-style.
The meal is usually accompanied by a selection of wines and other beverages. The drinks may include champagne, beer, wine, sparkling and other alcoholic beverages. There may also be a selection of soft drinks and juices.
Depending on the cruise you choose, you may also have the opportunity to listen to live music, watch a show, or take part in an educational activity. There may also be a DJ playing music, or you may be able to take a leisurely stroll on the deck.
Popular Menu Items
The menu items served on a harbour dinner cruise vary depending on the cruise. However, some of the most popular dishes include:
Fresh seafood such as prawns, oysters, and fish
Grilled steaks, pork, and chicken
Vegetarian dishes such as lasagne, quiches, and salads
Roasts, soups, and stews
International dishes such as Japanese, Chinese, and Thai
There is usually a selection of desserts such as cakes, ice creams, and fruit tarts
Pairing Food with Wine
One of the great things about taking a harbour dinner cruise is the unique opportunity to pair food with wine in a waterfront setting. Most cruises offer a selection of red, white, and sparkling wines. The wine menu will usually include a range of wines from different regions.
When pairing food with wine, it's important to consider the weight and flavour of the dish. For example, if you are choosing a light, delicate dish such as a seafood dish, you would choose a light, crisp white wine. For heavier dishes such as steak or pork, a fuller-bodied red wine would be a better choice.
Healthier Options
If you're looking for a healthier option, there are plenty of dishes that are both nutritious and delicious. These dishes are usually lighter in calories and fat, while still full of flavour.
Some of the healthier options you can expect on a harbour dinner cruise include:
Grilled fish
Lean meats such as chicken and turkey
Vegetarian dishes such as quiches and salads
Soups and stews
Fresh fruits and vegetables
Tips for Choosing the Right Dinner Cruise
When choosing a harbour dinner cruise, it's important to consider the type of cuisine, the price, and the atmosphere.
If you're looking for a romantic evening, you may want to opt for a cruise with a more formal atmosphere and a selection of gourmet dishes. For a more relaxed evening, you may want to choose one of the dinner cruises on Sydney Harbour with a buffet-style meal and a more casual ambience.
It's also important to consider the price. Many cruises offer different packages, so you can choose one that suits your budget.
Special Occasions and Celebrations on Harbour Dinner Cruises
Harbour dinner cruises are ideal for special occasions and celebrations. Whether you're celebrating a birthday, an anniversary, or a promotion, a harbour dinner cruise is the perfect way to mark the occasion.
Most cruises offer special packages for special occasions. These packages usually include a selection of dishes, drinks, and decorations. Some cruises may also offer discounts or complimentary drinks.
Tips for Making the Most of Your Dinner Cruise
When taking a harbour dinner cruise, it's important to make the most of your experience. Here are some tips for making the most of your dinner cruise:
Arrive early so you can take in the views of the beautiful Sydney Harbour
Make sure to dress appropriately for the occasion
Bring a camera to capture the stunning views and scenery
Be sure to taste all of the dishes and try a limited quantity of the premium beverages onboard
Don't forget to take some time to relax and enjoy the ambience
Conclusion
A harbour dinner cruise is a fantastic way to experience all that Sydney has to offer. From the stunning views of the harbour icons to the delicious food and drinks, it's an experience that you'll never forget. So if you're looking for a relaxed evening out on Sydney Harbour, why not opt for a dinner cruise?
Reader insights
Be the first to share your insights about this piece.
Add your insights