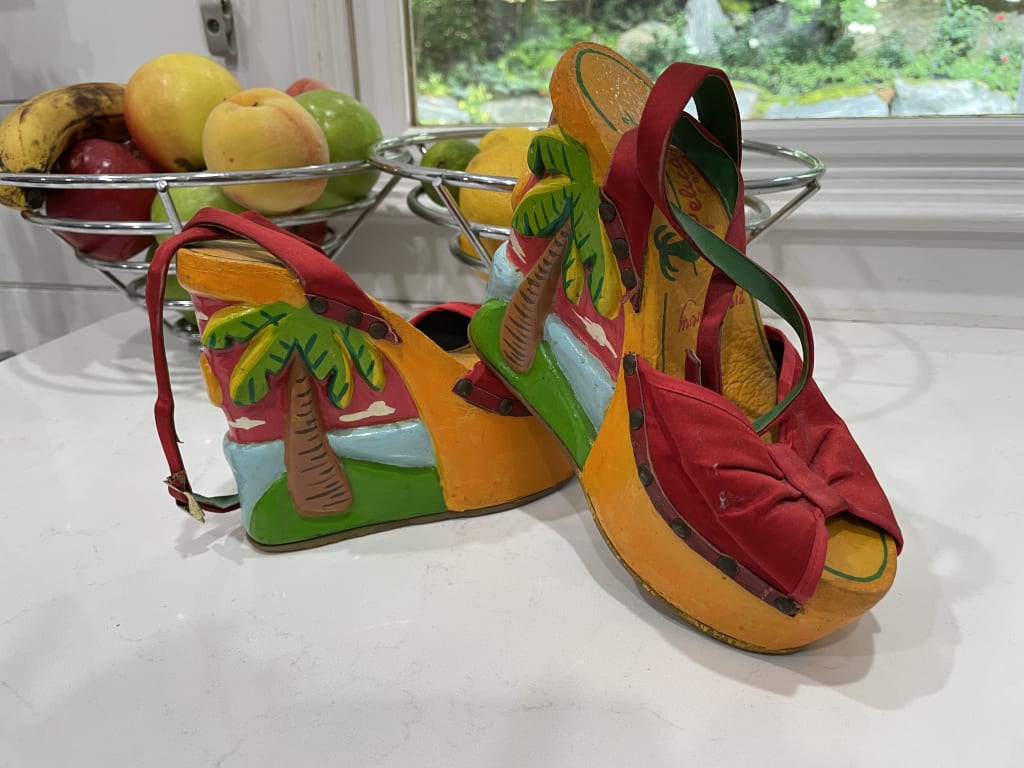 I wear black. My color or lack of color by choice. Black t-shirt, black jeans, black leggings - black good to go. It's not because of grieving or loss. It's because it's simple. People remark that I wear black. Why do you wear black? Do you always wear black? Anything in your closet besides black? What's with the black?
The answer is simple. Black is my uniform of choice. I don't have to compete with style or trends - I just am. It's an easy, no effort fashion look. I think I look interesting. Lends itself to giving me an artistic vent. Due to the black I'm constantly asked where I reside in Manhattan. That's cool. So to sum it up, I've been a black wearing fashionista for over twenty years and I don't see the end coming anytime soon. Why does it bother you that I dress in black? Is it offensive? Does black hurt your eyes? Does black make you nauseous? Is my black fashion look a distraction? Does black not go with rainbow colors on the runway to nowhere?
I'm most comfortable when I'm adorned in black fabrics. Denim, spandex, cotton, silk, rayon, polyester - vast choices. My t-shirts number in triple digits - all black. This can prove to be tricky. My closet lighting is kind of dim. Often, when searching for a particular T it becomes difficult. I am forced to hold up one at a time looking for the one with a pocket over the breast, no pocket, a boatneck, turtleneck, roundneck, v-neck - so many choices. Sometimes I want a short sleeve, ¾ sleeve, long sleeve, sleeveless, cap sleeve, puff sleeve - they're all within reach, just all black. I do have to contend with the folding and unfolding till I get the exact one I've been searching for - something I have learned to live with over the years.
I'm not a dull black dresser though. Why, you ask? Easy answer - I love accessories. Yes, I do. They are the highlight, the bright spot, the eye catching splashes of color that I have collected over the years. They are beads in wood, ceramic, glass, precious and semi precious stones - a vast grouping of stuff gathered from all over the world or right in my hometown backyard boutiques. I have pins and brooches that I place on my shoulder, the middle of my chest or over my heart. My favorites, refrigerator magnets of lobsters, zucchini, cherries, watermelon - I remove the magnet and super glue a pin on the back and wala a magical accessory.
Handbags in beads, leather, fabrics arranged like books in a library, on my closet shelves coordinate smashingly with my black outfits. I find it all orgasmically satisfying. I have clutches, crossbody, shoulder, wrist and handle styles. My fav is made by an artist who resides in Barcelona. Constructed of recycled materials with a signature seat belt closure on the over the shoulder strap. I bought my original on my travels to Spain - fifteen years later I order them and wait for them to arrive. I am crazy about a particular artist and always pick her designs. I do get concerned if I will age out of this look. Is it too young? Is it for the young? Am I too old to carry this look off? Screw it, I like it.
I have a secret passion, shoes. It's known that late into the night I internet shop footwear. I have platform sneakers, high heeled sandals, heels in all shapes and sizes. They are colorful leathers, fabrics, vinyl or rubber with buckles, straps around the heel, around the ankle or slip-ons. It has occurred, on numerous occasions, that in my foot gear shopping frenzy I have been shocked about what I ordered or when I ordered it. Nestled in my closet I have favorites too. There was the Kenny Loves Penny shoes that had pictures of shoes all over it. The sneakers with peace signs that could be worn in or out of the water. The boots, flats, just hundreds to delight any woman of footsie taste.
Yet, I must share the story of the intriguing box wrapped in brown butcher paper that showed up at my door one day - unexpectedly. It wasn't from Amazon, UPS or Fedex - it was delivered by my US Postal person Melvin. He and I go back over two decades - he knows my mail intimately. "Hey Miss Pam. This looks special. Don't see too many people take the time to double wrap a box in brown paper these days," he handed it to me as we stood in my doorway.
"Labor intensive, real effort. Not very heavy so it can't be a Ferrari, Lamborghini or Ford F150. Right?" I laughed.
"See ya tomorrow, same time, same place," he smiled and waved.
I stared at the return address. Hollywood, California Star Auctions on Melrose Avenue. I adore that shopping street. I ripped off the paper and read the card taped to the box. Here's To The Girl Who Wears Black and Loves Shoes From A Secret Admirer.
I lifted the lid and practically fainted. There in pink tissue paper was the most fabulosa pair of wooden 5" high heeled, wedge shoes. Open toed, wrap around ankle strap all across the toes was plush red suede. The lush design of palm trees, the sun and the ocean covered the body of the shoe - All embellished in rich painted hues. Wait, there's a signature sprawled across the heel - it reads Carmen Miranda - Written on the sole was Weekend in Havana, 1941. OMG Carmen these are unbelievable.
I slid them on. Just like Cinderella they fit perfectly. Imagine, my feet and hers are the same size, These were more than shoes - they were art. Beautiful, original art. A prized possession. A vibrant part of film history. They were mine. Sonos Latin tunes came on with the touch of a button. My feet began to move to the beat coming from my surround sound speakers. The room became a dance floor, the disco light spun around the ceiling. I and the music moved as one. Perfect posture, I transitioned from Salsa to cha-cha on to merengue and finally mambo . As if I was a machine of grace and glory the music played on. I was possessed, it was magic. I twirled, I dipped, I slinked across the floor. All I needed was a hot blooded man to move his hips to mine and hold me in his arms and pull me close. He would whisper in my ear, "You wear sexy shoes, mi amor, my love." I undid the buckles and slowly took them in my hands and hugged them to my chest. Then breathing heavily I took a deep breath and exhaled as I placed them like a rare sculpture on my kichen counter. Gazing, I stood back and took in the moment. Admiring them I wondered who sent them? How could I find out? Call the auction house? Check for fingerprints on the box? Hire a detective? Enjoy them?
Absolutely. That's it! I'll just dance away into the night. Besides, they'll look great with black. Don't you think?
Pamela Mayer took her first Miami breath on arrival at Jackson Memorial Hospital. Ms. Mayer's love for all things creative from theatre to art fuels her passion for writing that has led to her originative storytelling.
fashion
Pamela Mayer does all things creative — theatre, art, and writing. She is certain she will bump into her Prince Charming in the produce section of Trader Joe's, Miami Beach very soon.