Wild Women Arts
A review of The Wild Arts workshop from The Wild Women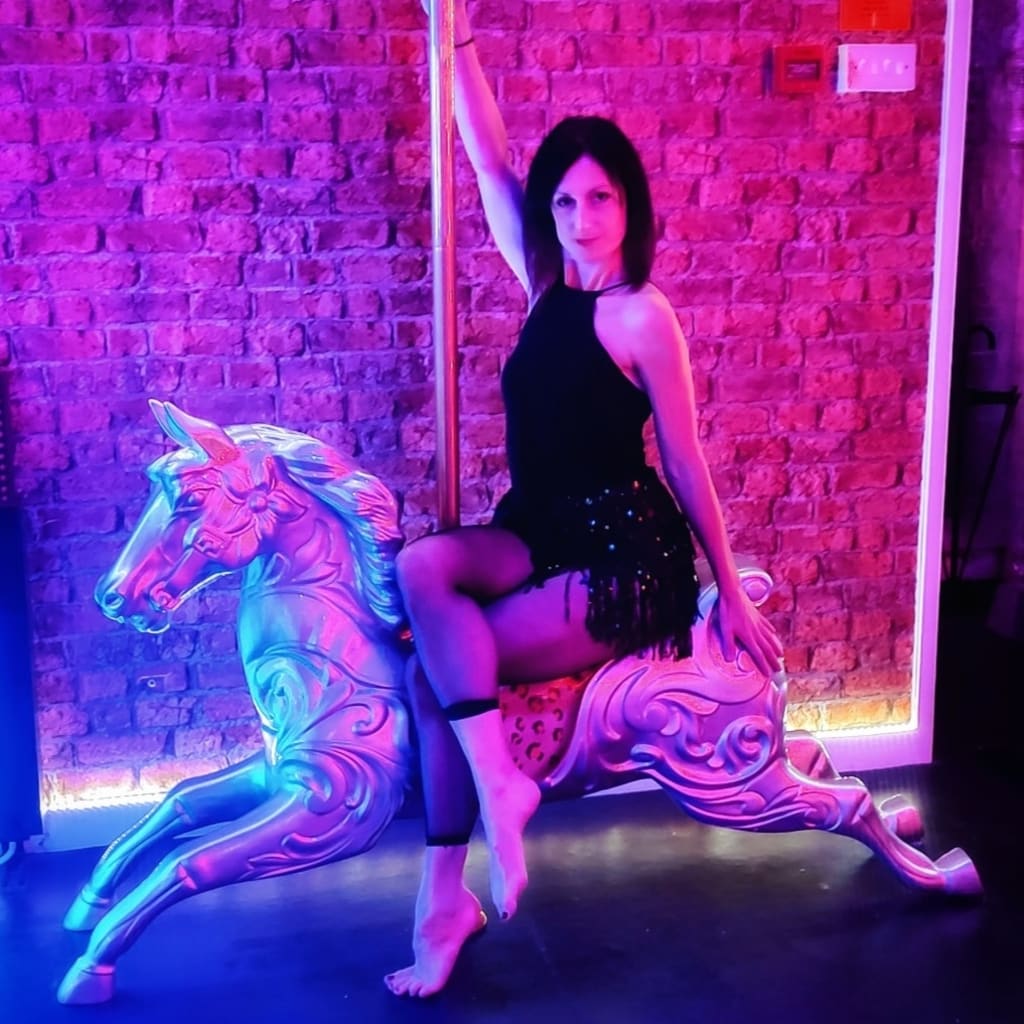 Wild Woman on a fairground horse
I am still revelling in the magic of this workshop and would recommend every woman to step into the world of The Wild Women
𝗬𝗼𝘂 𝘄𝗶𝗹𝗹 𝗳𝗲𝗲𝗹 𝗳𝗿𝗲𝗲, 𝘄𝗶𝗹𝗱 𝗮𝗻𝗱 𝘀𝗲𝘅𝘂𝗮𝗹. 𝗬𝗼𝘂 𝘄𝗶𝗹𝗹 𝗳𝗲𝗲𝗹 𝗮𝗹𝗶𝘃𝗲. 𝗬𝗼𝘂 𝘄𝗶𝗹𝗹 𝗳𝗲𝗲𝗹 𝗲𝗺𝗽𝗼𝘄𝗲𝗿𝗲𝗱. This is the manifesto of The Wild Arts workshop.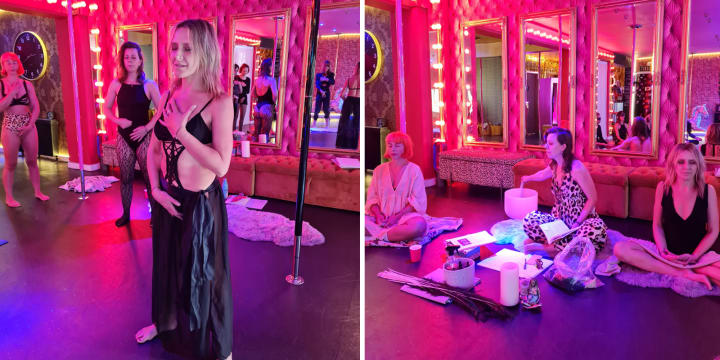 From the Saturday afternoon hubbub of the streets of Manchester's Northern Quarter, I am transported away,into a world of calm and serenity, and showered in the juicy neon glow of pinks and purples. Surrounded by mirrors and oversized bulbs, and I find myself pretending to be backstage in a dancers' dressing room. There's around 16 women on the Wild Arts workshop today, and I can feel a gentle excitement bubbling. A dozen poles, planted between floor and ceiling, silently call me to touch them, and I know this will unleash some kind of power today.
We sit in a circle and welcome in an intimate introduction from Joanna Barnes and Lisa Cormode - The Wild Women - who share their insight and personal reflection on being women and igniting our Shakti energy. They have a radiance and nurturing quality that enables us to trust and let down any barriers.
The circle channels a calmness and safe space to connect with each other, allowing ourselves to be fully open to the activities ahead. They explain sexual energy and how we can harness it to find a deeper power within and truly connect with our wild and higher selves.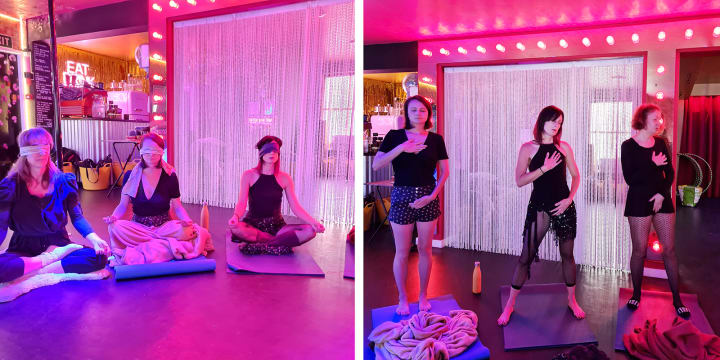 The workshop begins with a beautiful blindfolded meditation, breathwork and visualisation led by Joanna. Using the breath in a group meditation paves the way for a deep connection with the self and I start to embrace a feeling of flowing with an emerald wave, beating, rising, descending. Combined with slow physical movement, it releases an energy that tingles like gold dust being shaken in a snow globe.
Once we've loosened our mind, and some clothing, we each take a pole and learn a seductive dance routine by Lisa. This is an opportunity to sling on some fishnets and heels, and feel our way into the movement, complete with slutdrops and body rolls. Dancing with the pole is like handling a light saber; a sudden pulse of electric blue light firing up through my fingers that propels me to a higher level.
Lisa aka The Wild Calm DJ then powers the decks and encourages us to express ourselves through movement, and abandon ourselves to the flow and rhythm of the music. Now I am choreographing my own music video with the pure pleasure of being in the moment.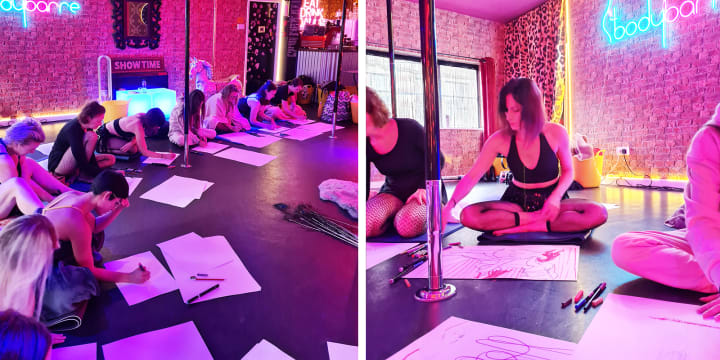 Erotic illustrator Kerry Draws invites us to be the subject and the artist in a fun and spicy life drawing class. The inner wild and newfound confidence is now in full power with the models taking on provocative poses and not being afraid of showing their bodies. Kerry's alluring essence coaxes us to be expressive, and as an artist, this is a gratifying exercise, to be bold and fluid, to glorify the feminine figure.
The workshop ends on an electric high, and there's a deep and moving transformation in everyone. The experience has been liberating and sensual, empowering and held in a space where we truly honoured ourselves. We awakened our divine feminine sexual energy, and fundamentally, we did it for no-one, except ourselves. The Wild Women offer you a safe place to be the real you.
Follow them for more empowering events:
www.the-wildwomen.com/
@_thewildwomen_ on Instagram
@kerrydraws_ on Instagram
About the Creator
Manchester-based artist, writer and musician.
INSTAGRAM
Plays synth with @swimthemusic
Connect @claremoondot / @moondotcreative
Reader insights
Be the first to share your insights about this piece.
Add your insights