We Celebrate the Birthday of Anne Frank
Anne Frank was Born June 12, 1929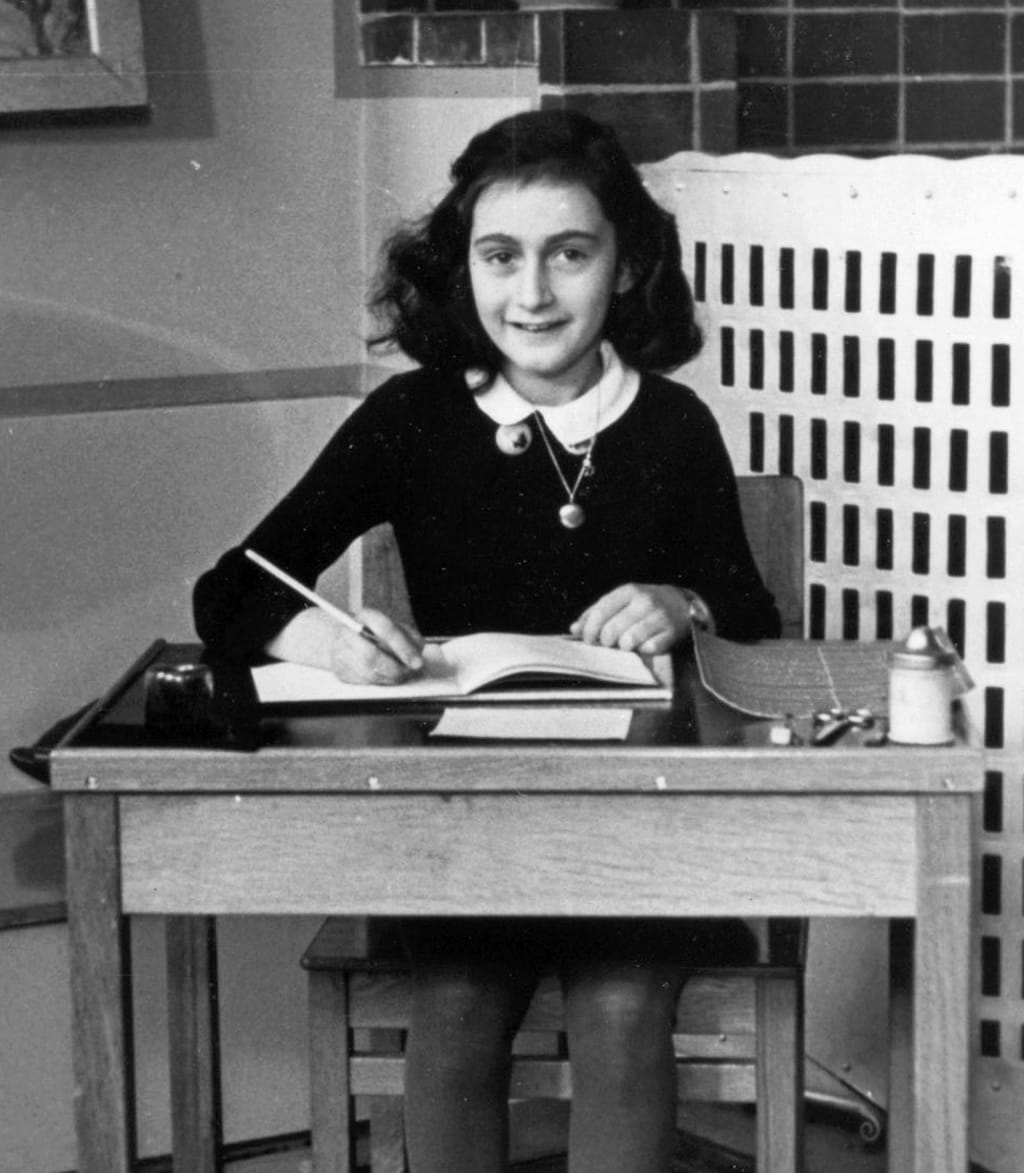 Picture: Anne Frank Stichting, Amsterdam, Public Domain, https://commons.wikimedia.org/w/index.php?curid=64781454
We Remember Anne Frank on June 12. Her Birthday.
ANNE FRANK was born June 12, 1929 in Germany. She died February/March 1945 at the age of 15 years. She dies in a Nazi Germany concentration camp after she and her sister Margot along with her parents were found to be hiding in concealed rooms behind a bookcase in the building where her father, Otto Frank worked. Anne and Margot's father Otto started a company, Pectacon, a wholesale distributer of spices, herbs and pickling salts. While in hiding from July 1942 until their capture in 1944 Anne kept a diary she had received for her 13th birthday in 1942.
Going into hiding had to be carefully planned in order for the entire family to suddenly disappear from Otto's business and their home. The initial date was planned for July 16, 1942. The date was quickly moved up to July 5th, 1942 when Margot, Anne's older sister, received an order to report for relocation to a work camp.
After the Germans invaded the Netherlands in 1940 Otto applied to immigrate to the United States but the application was not processed.
The hiding space behind the bookcases was a three story unit above and behind the business office. The space became know as the Secret Annex. The Franks purposely left their apartment in disarray as to imply they "left" in a hurry complete with a note that suggested they were going to Switzerland in hopes the Nazi's would not look for them in and around their home or workplace. They even left the family cat.
There were a small handful of employees who knew the Franks were hiding in the secret space. They risk their lives to help the Franks, getting them food and supplies.
Over the course of their two years in hiding the Franks were joined by a dentist, Dr. Pfeffer, and another family; Mr. and Mrs. Van Pels and their 16 year old son Peter. Anne Frank wrote in her diary that she experienced her first kiss while in hiding with Peter Van Pels. Anne also formed a close relationship with a young typist from the office that brought them supplies.
Assuming a future, Anne, Margot and Peter continued their studies while in hiding.
Anne's last diary entry was August 1, 1944.
On August 4, 1944 the German police raided the hiding space behind the bookcases. Everyone was taken into custody and interrogated overnight. The following day they were transported to the punishment barracks of Westerbork Transit Camp for hard labor.
Miep Gies, a secretary at the office was questions and released. When he returned to the offices he entered back into the hiding place where he found Anne's dairy along with family pictures and other personal items.
No one has ever been identified as the informant who told the German police of the hiding place.
Edith Franks, Anne's mother, died of starvation in the concentration camp. Anne and Margot are said to have died of a typhus epidemic that spread through the camp in 1945 just a month or so before liberation.
Anne's diary was published into a book, "The Diary of a Young Girl", in 1947 and translated and published in English in 1952 for the first time.
Her father, Otto, survived the holocaust and passed away in 1980.
Legacy:
• Anne Frank's name is among those listed at the Holocaust Memorial on Hampton Street in Columbia, South Carolina.
• A historical marker that includes Anne Frank's photo can be found on Fourth Street in Alexandra, Louisiana.
• The Anne Frank Tree is a memorial to Anne Frank in Manhattan, New York on Liberty Street.
• A statue of Anne Frank stands at the Human Rights Memorial on 8th Street in Boise, Idaho.
• In June of 1999 Time Magazine included Anne Frank as one of the most important people of the century.
• "The Diary of Anne Frank" has been published in over 60 languages, been made into plays and movies
The Anne Frank House is a museum that is open to visitors. The museum is located in Amsterdam. Anne Frank is buried at the Bergen-Belsen Concentration Camp, Bergen, Germany. Visit their web site at
Find information on where she is buried at: https://www.findagrave.com/memorial/6870415/anne-frank
By Paula C. Henderson
Check out my other articles here on Vocal by clicking my name below