Ways to Support the Women of Iran
Francesca Rome-Marie | FrancescaRomeMarie.net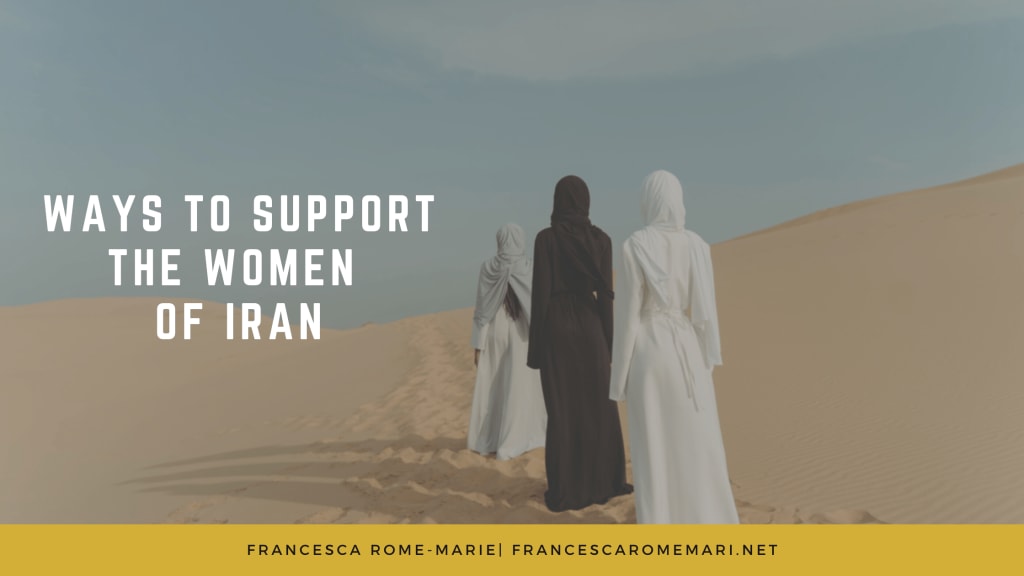 https://francescaromemarie.net/ways-to-support-the-women-of-iran/
Even though no woman should be killed or imprisoned for what she wears, this is true for many women in Iran under the ruling system's authority. Women in Iran have been subjected to abuse for decades and have taken their rights away due to the country's strict laws. Many have been victims of violence after losing their choice regarding whether or not they should wear a hijab, which is a head covering required in Islam.
Over the past couple of weeks, Iranian women have been taking to the streets to demand an end to the restrictions that they have been experiencing. Here are five ways that you can show your support for Iranian women.
1. Write the Government
It is up to us to support the people of Iran fighting against the government's human rights violations. One way we can do this is by writing to our members of Congress and senators and asking them to take a stand against the oppression in Iran. If the international community continues to criticize and take decisive action against the country's dictatorship, the political nature of the country can change.
2. Social Media Awareness
You can connect with people fighting against oppression in Iran through social media. You can also follow the accounts of individuals supporting women in the country. Some of these include Nazanin Boniadi, an actor and the UK Ambassador for Amnesty International, Masih Alinejad, a journalist, and Abdorrahman Boroumand, a human rights activist.
3. Reading
If you are interested in learning more about the history of women's rights in Iran, you should read Marjane Satrapi's The Complete Persepolis or Ava Homa's Reading Lolita in Tehran. You can also read the memoirs of a prodigal daughter by Azar Nafisi.
4. Attend Events
One of the best ways to learn about an issue is by talking to those affected by Iran's human rights violations. Various organizations organize meet-ups, panels, and workshops to give a voice to those the government oppresses. You can also check out the events happening in your area through social media.
5. Donate
Before the death of Mahsa Jina Amini, there were already several clubs and organizations in the world supporting the rights of Kurds, women, and minorities in Iran. If you want to keep these groups, you can check out their websites or contact them directly. Some organizations you can help with include the Center for Human Rights in Iran and the Abdorrahman Boroumand Center.
ABOUT FRANCESCA ROME-MARIE
Based in Rome, Italy, Francesca Rome-Marie is a compassionate and dedicated healthcare professional who has spent her life building a career in the service of others. She works in areas focused on health, humanitarian aid, and human development particularly focused on the nonprofit/not-for-profit sectors doing work in underserved and marginalized communities.
Throughout her career, Francesca Rome-Marie's work and experience have helped her to develop skills in multiple areas. Her experience includes family medicine, nursing, family nursing, primary care, community health, mental health, global health, medicine, research, reproductive health, preventative medicine, and family nursing. She is also skilled in areas that include human rights activism, crisis counselling, sexuality education, gender theory, gender studies, cross-cultural communication skills, humanitarian assistance and intervention, interpersonal communication, nonprofit organizations, and disaster response, recovery, and preparedness. Francesca Rome-Marie has developed a particular passion for work in areas regarding sexuality and gender as well as refugees, forced displacement, health, and rights.
As part of her work in mental health and gender studies, Francesca Rome-Marie understands just how deeply a role that respect for individual dignity and sovereignty plays when it comes to making decisions about one's own body and life. She has developed a commitment to viewing an individual's mental and physical health through the lens of not only gender, sexual, and reproductive rights but also gender-based violence.
About the Creator
A registered nurse with years of experience working in healthcare, Francesca Rome-Marie has quickly developed experience providing humanitarian aid in high-stress situations. Learn more at francescaromemarie.org!
Reader insights
Be the first to share your insights about this piece.
Add your insights