To My Younger Sisters: If You Need to Go Camping at Any Time, I'm Here For You
The New Women's Movement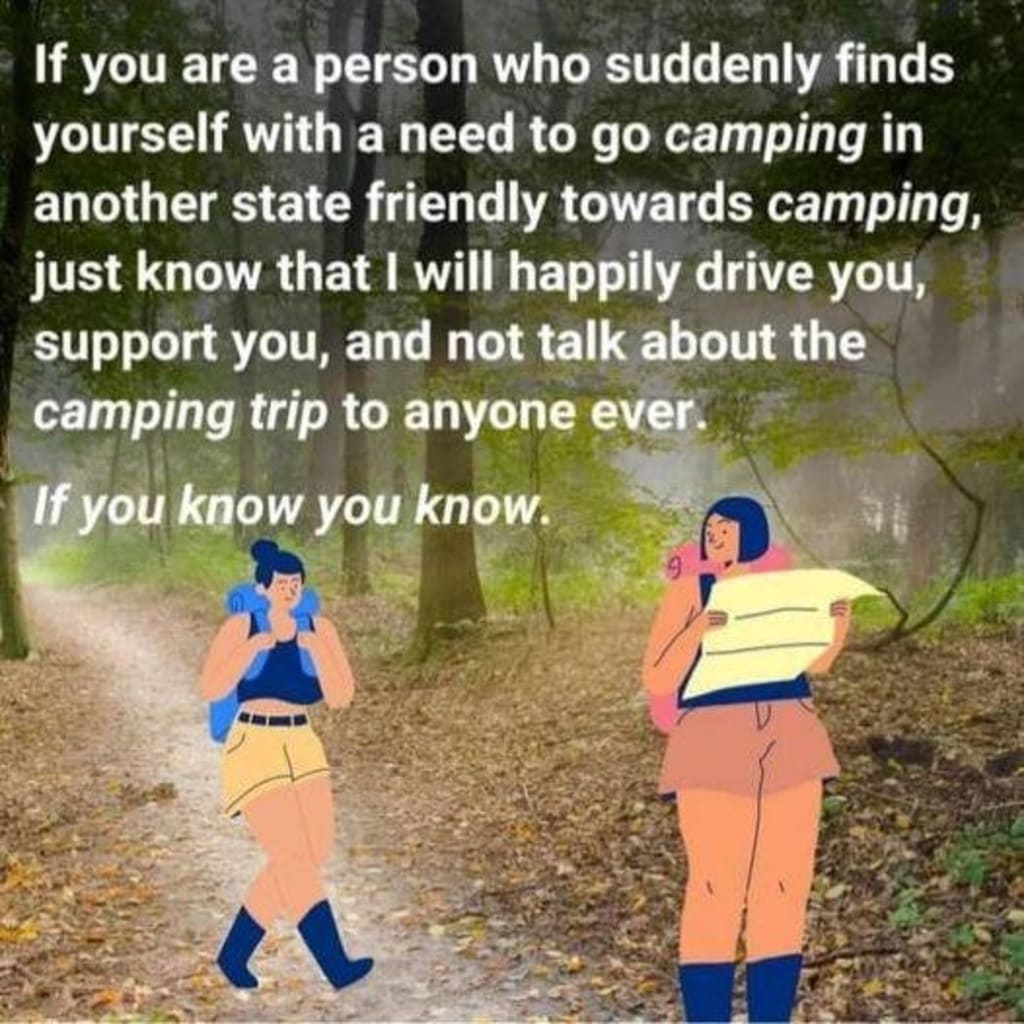 Unattributed Meme found on multiple Social Media sites June 2022
I have a brain, and a heart, and a soul.
I have a brain to reason with, to analyze facts and allow knowledge to grow.
I have a heart to feel with, to form empathy with other people, to express my compassion for others.
I have a soul to grow in light, to become a better, worthier, more responsible human.
Unfortunately, I must now admit that far too many other humans do not possess these basic attributes, or if they do, these things are stunted, twisted, and withered within them. Yes, I am speaking of the many individuals responsible for the decades-long effort to overturn Roe V. Wade, which to the enormous despair of the majority of women in the United States—and the men who love them—was cast into the trash bin of history on June 24, 2022.
I will leave it to others better-informed and educated in the legal system and Constitutional law to delve into this issue and to lead us into the future of women's reproductive rights. What I want to address here is the outpouring of concern and support in the present moment, especially as presented on social media.
Thankfully, I "live" in a community of writers, readers, teachers, and librarians on social media. With few exceptions, my bookish community, female and male alike, is in full support of a woman's right to determine what happens to her body. Many have shared stories of the very difficult decisions they made to obtain legal abortions when their health and lives were in danger. Memories of friends who were forced to seek out illegal abortions, and lost their lives or were left permanently scarred and infertile, were also shared. These stories are heartbreaking, to say the least.
I know that discretion is essential when involved in any covert effort to protect people who take action in opposition to an unjust law, but the memes and quotes have been coming fast and furious, so I don't feel that I am breaking any code by writing about one particular effort to help women and girls in dire need. We are not (yet!) living in a police state, although I fear that may be coming, ala The Handmaid's Tale. When that time comes, covert assistance will be necessary, to protect the lives and freedom of anyone involved. Until that time comes, however, I worry that Millennial women who walk in different circles, women of other cultures, and women disadvantaged in any way, may not "get the word."
"The Word" is this: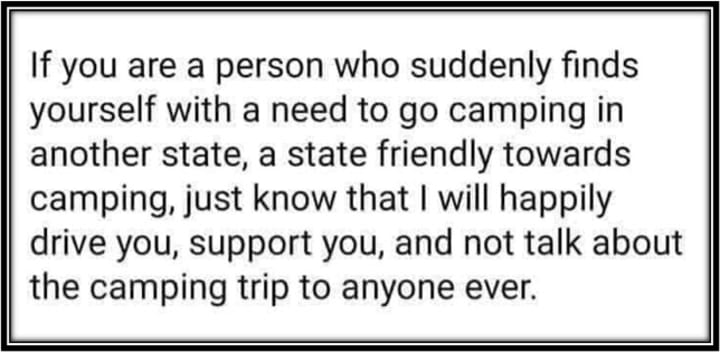 Dozens, if not hundreds, of variations on this statement have filled my friends' posts over the last few days, and I have shared them myself to spread The Word. Women across this country are standing by their friends, daughters, granddaughters, and complete strangers, to help them get the reproductive care they desperately need, no questions asked, no judgment given. They are offering money to fund needs. They are offering rides between states which are outlawing safe, legal abortion services and those where abortions remain protected under the law. They are offering to provide a safe, free place to stay in their own homes, to any girl or woman who cannot afford to access safe reproductive healthcare otherwise.
The following map shows (gray states) where women and girls are currently denied the right to make their own reproductive healthcare decisions, and (in green: please note that North Carolina is a green state at this time) the states where women will offer rides for someone in need to "go camping."
I am not arguing for or against abortion. It is not a decision that any woman makes lightly. But when it is the only choice—for whatever reasons a woman has—I believe it is essential for a woman to have the choice to decide what happens to her body.
***
I was lucky. Very, very lucky. I never had a failure of birth control. I never had to face the choice to carry a child to term or not. Although I will say that as an autistic woman, I never married or had children, and was barely able to provide for my own life. (This is my personal case. Many autistic women are amazing mothers!) I could not have had a child, with no ability to pay for medical care. I could not have supported a child. I could not live with another person, either a husband or a boyfriend, or a child. It simply wasn't in my wheelhouse to do that successfully. And I know how extremely lucky I was not to have to make the decision to get an abortion or give up a child to the foster care and adoption system.
My mother was not so lucky. She had an ectopic pregnancy when I was six or eight years old and had to have a D&C procedure to remove that pregnancy before it killed her. If she hadn't had the option of having a safe, medical abortion, I would have been left motherless at a very young age, along with my brother and sisters.
Many other women were not lucky as I was, or as my mother was, and were forced to make a devastating decision that colored the rest of their lives. Prior to Roe v. Wade, many women were not lucky, and had to choose between illegal abortion or the uncertainty and poverty that raising a child they couldn't provide for entailed.
***
I have a brain, and a heart, and a soul. And I am here to help women and girls in whatever way they need. I will drive to Texas or South Carolina or Oklahoma and pick up a woman who needs to go camping in a nearby state, where women's reproductive rights remain intact. I will donate to Planned Parenthood and other nonprofits that assist women and girls in paying for their healthcare and family planning choices. I will help a woman or girl to access a safe "campsite" to stay in, and I will drive them home afterward.
"Camping" isn't anyone's first choice for reproductive healthcare. "Camping" isn't fun or easy or comfortable. But sometimes "camping" is the only choice a woman or girl has, and I will help them do it. If you, or someone you know, needs to go "camping," I am here for you.
Have tent, will travel.
***
More information on options available now can be found online. Here is just one source:
Thank you for reading! Likes, comments, shares, follows, and pledges are always cherished.
activism
About the author
Hillora Lang feared running out of stuff to read, so she began writing just in case...
While her major loves are fantasy and history, Hillora will write just about anything, if inspiration strikes. If it doesn't strike, she'll nap, instead.
Reader insights
Be the first to share your insights about this piece.
Add your insights