They Wore Black
Are Hollywood women doing the rest of us really a favour?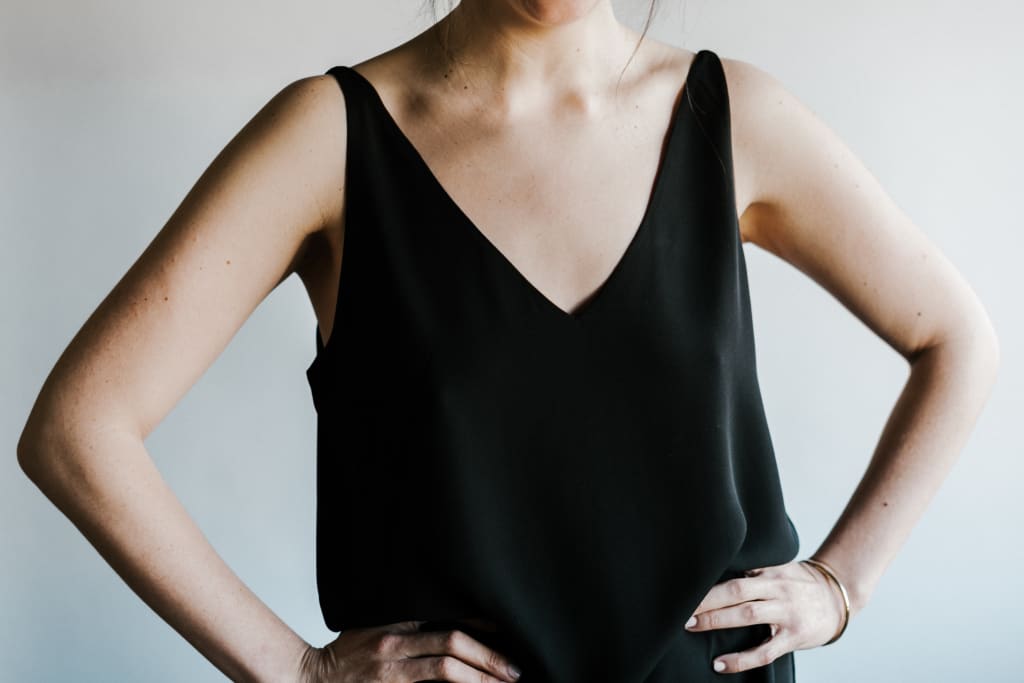 Photo by Alexa Mazzarello on Unsplash
Maybe I have grown cynical, bitter and hopeless at the age of 33.
This was my first thought whilst looking at my Facebook and Twitter feeds and glancing at the television set and seeing reports and posts about last night's Golden Globes awards.
In the weeks and days preceding the awards show, Instagram was full of posts by celebrities, both male and female, about a brewing movement, it seemed. The hashtags #TimesUp and #WeWearBlack were beginning to gain momentum across the major social media sites. They were all about actresses such as Reese Witherspoon, Mindy Kaling, Gabrielle Union and many, many more raising awareness about sexual harassment and assault in all industries and also raising funds that would help victims with court cases. It was also about preparing a coup to "silently" protest Hollywood culture by deciding to wear black clothes during the awards show.
The movement was most probably prompted by the recent events surrounding the allegations against Harvey Weinstein and other Hollywood big wigs. Pundits have described the weeks after the Ronan Farrow article came out in the New Yorker as a watershed moment, a crossroad, a defining moment, a crossroad for everybody; a time to break the silence.
As I scroll half-attentively through my Insta feed this morning I noticed how I was not feeling enthusiastic about the posts with the hashtags mentioned above and how I was not liking much of them. A part of me scolded me for that. I should be enthusiastic. I should be posting, supporting, showing solidarity and celebrating this moment of (mostly) unity amongst women. But I found myself apathetically, scrolling faster and liking the dog pictures instead. A little voice then exasperatedly accused me of being a bad feminist. I half-agreed.
I then gave this lack of enthusiasm a bit more thought as it was nagging at me. I watched Oprah's fiery speech as she accepted last night's Cecil B DeMille award and I think I figure out why I was not "feeling" the Globes last night.
Oprah's message was pure elegance, sincerity, fire and inspiration. I give her that. The passion and enthusiasm of the actresses I follow on social media should be equally inspiring. However, I cannot help but think how Hollywood is, again, setting the whole women's movement back. Especially in the US, Hollywood is traditionally known as a liberal and progressive bubble in an even bigger bubble of California. Anybody who does not identify as both liberal, as a Democrat, as a feminist, as a socialist would automatically feel like they do not belong, like their views do not matter to those who are in Hollywood or those who share the same political leanings of Hollywood. And this is where the problem really starts.
The conservatives might view this banding together of Hollywood actresses as another attempt of "the left" to shove their beliefs down the former's throats. What makes it worse for conservatives is the fact that Hollywood has such a powerful platform. It is everywhere and it can provide maximum information dissemination so quickly that anybody who might have slightly different beliefs will feel intimidated, marginalised, ostracised and even mocked almost automatically. Some already feel irked by the fact that all of these celebrities have decided to wear black and to have this movement broadcast all over the world just magnifies the feeling I have described above. Sure, I am also talking about conservative snowflakes who cannot stand anything left-leaning no matter how benevolent a movement/project/idea is. I am, mostly, talking however about your average moderately-interested-in-politics, probably conservative woman with a low/high paying job, a history of sexual abuse in the family (or not) who is watching all these actresses living their privileged lives (despite maybe having a brush/experience with sexual assault and harassment in the past), hashtagging away, wearing their black Zac Posen and Lhuillier gowns on the red carpet and who STILL have a feeling of disconnection! Why?
I will tell you why they might be feeling that way because I felt this disconnection and I am as left as they get! I have felt suspicion and disconnect with Hollywood-driven campaigns ever since it came out that Matt Damon and Ben Affleck knew about Weinstein. I have felt the suspicion and disconnect when it came out that so many women had experienced sexual harassment and assault in the hands of powerful individuals in Hollywood and still they did not say anything. And yet I know why they decided to stay silent because...#metoo!
Every time the camera panned over to the attentive faces of different celebrities during Oprah's seemingly presidential speech last night, I could not help but think: "Did he know? Did he harass or assault somebody? Did she know? Did she harass or assault somebody?"
It does not help that people like William H Macy gave a quick soundbite on the red carpet that sounded so insincere and fake that it gives "paying lip service" a whole new dimension of definition. Neither does it help that Justin Timberlake, an artist I admire and still admired despite his problems with cultural appropriation, posted a picture on Instagram with the hashtag #TimesUp and somehow forgot that he was in a Woody Allen movie. Woody Allen! The same goes for when I looked at Emma Stone who worked with Woody Allen. Twice. It also does not help that loud and proud "feminist" Lena Dunham posted a #TimesUp photo on Instagram weeks after it came out that a young actress on the set of the show Girls had accused Dunham's friend, a writer of the show, of rape. Dunham issued a statement, saying that she believes that the actress's accusation is part of the three percent of misreported cases because she has "insider knowledge" of the accused rapist. I am sorry, what? The list goes on. The hypocrisy and the resulting divisiveness are both very real.
Admittedly, when it comes to these causes and campaigns there is always some level of hypocrisy as we are all human beings; we falter, we are stupid, we make mistakes and we can and will never be perfect despite having our hearts in the right spot. But the Hollywood hypocrisy is heavier, more in-your-face, louder, more arrogant and meaner. Why? Because Hollywood (by association, California) mostly finds itself at the forefront of everything what most would call "the right side of history" and likes to shout it from the rooftop when they realise that they are onto something good. Star Trek was innovative in showing one of the first interracial relationships on the small and big screen. The 1895 movie The Dickson Experimental Sound Film is the earliest movie in history to have portrayed what we could easily interpret as a homosexual character. Hollywood, movies, art, music, theatre (*think RENT) have always pushed the envelope in challenging old beliefs and encouraging its viewers to see beyond dogma and orthodoxy.
However, it is not without its flaws; skeletons in the closet, misogyny, racism, discrimination, murder, fraud etc. Horrible things happen in the background and the very sad and infuriating part of this all is the fact that some people are completely fine with keeping silent whilst donating to all sorts of causes and going on about life until someone somewhere exposes them. Why do they do it? Guilt, remorse, to keep up appearances, to divert attention? Your guess is as good as mine. Therefore, when Hollywood falters—whilst ostensibly being on the right side of history—because of its own hypocrisy, it creates a huge ripple that tears apart the good reputation of a lot of liberal and progressive campaigners of all sorts of causes.
Furthermore, the metaphorical shouting from the rooftop in form of social media posts, discussions on late night shows/interviews on Ellen/PSA on all media platforms is irritating because of this hypocrisy. It ultimately, slowly but surely, delegitimizes the plight of the people suffering from discrimination, sexual harassment/assault and all the bad things that the Hollywood elite wants to fight with their prominent voices. It turns people off from supporting the causes because Hollywood elite and their hypocrisy have become the face of the campaign.
I do not, for a minute, doubt that a lot of the lovely actresses who campaigned so hard to raise awareness in the last few weeks have their hearts in the right place. Looking at their public lives, they seem consistent in the kind of causes they support and most of them walk the talk. However, they are mostly preaching to the choir, shouting into our own comfy progressive bubble. They need to do more than that. We need to do more than that. We need to proverbially reach across the aisle, talk to the women who normally fall into the conservative political spectrum: Trump/Brexit/Tory voters, Fox News viewers, religious ones, the ones who might argue with us because they think we will argue with them, the ones who do not think much of feminism but might be willing to find common ground on some issues; those are the ones that the Hollywood elite should be sending their message to. Those are the ones we should be talking to because if there is any way we can have a shot at having social justice, equality or just less evil in this world, it can only be done by getting out of our comfort zones and having a dialogue until we find something that we can all fight for in this very moment. It is not enough to wear black. It is not enough to donate. It is not enough to post on Instagram and Twitter. It is not enough to look serious or to pay lip service whilst looking a million dollars in a Versace dress on the red carpet. It is not enough.
activism
Trainee lawyer, plus-size lady, wannabe yogi, red wine lover, dog admirer, halloumi connoisseur, traveller & overall expert in hot-button topics such as sparkling water vs still water, burgers vs wraps and Majorca vs Menorca!