The Post Office and Women
Early Employer of Women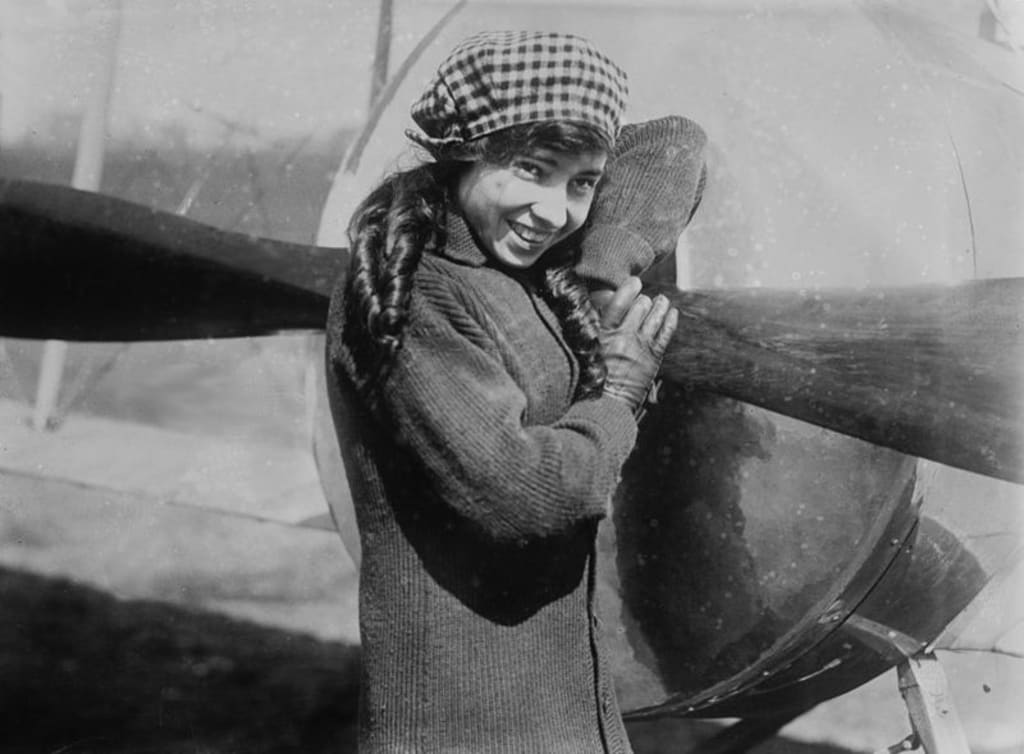 Katherine Stinson, 1913 Public Domain LOC/6830320279
The Post Office: An Early Employer of Women
Sarah Goddard and Mary Katherine Goddard were known female Postmasters in the 1700s. The post office archives goes on to mention Ann Clay, postmaster in New Castle, Delaware. Elizabeth Creswell postmaster in Charlestown, Maryland and in 1792 postmaster Sarah DeCrow in Hertford, North Carolina.
As we moved into the 1800s the number of women applying for postal jobs decreased, citing the low pay. The number of women employed by the post office and their pay scale seemed dependent on the man at the helm as Postmaster General and his personal views.
Benjamin Franklin held the job only until 1789 when he was replaced with Samuel Osgood followed by Postmaster General Gideon Granger in 1814. P.M.G. Granger questioned the legality of appointing women in these jobs at all. The rise and fall of the number of women in postal jobs would also fluctuate during war time.
But women persisted and continued to break through the barriers.
Ann Moore, who was appointed postmaster in 1809, according to the post office web site was postmaster for more than forty years in Pennsylvania.
The first known woman to be appointed as a mail carrier was SARAH BLACK in April of 1845. She lived in Charleston, Maryland and her annual salary was $48 per year. Mail carrier was generally considered more dangerous and given to men only.
In 1849 Maria E. Hornbeck was named postmaster of Allentown, Pennsylvania.
In 1862 the United States Post Office recorded five women who had been appointed postmasters directly by the President of the United States (not an uncommon practice at that time).
They were
Ann Gentry PM of Columbia, Missouri
Maria Hornbeck of Allentown, Pennsylvania
Ann L. Ruthrauff PM at Lebanon, Pennsylvania
Mary Berard PM at West Point, New York
Margaret Sillyman, Pottsville, Pennsylvania.
It was especially challenging for black women to find jobs with the post office. In the free north before Emancipation and even after Emancipation. Postmaster General Joseph Habersham was apparently working toward being a more equal opportunity employer. On the USPS web site [about.usps.com/who-we-are/postal-history/african-american-workers-19thc.pdf] I found this quote from Postmaster General Habersham:
"Slaves in general are more trustworthy than that class of white men who will carry the mail" ~PMG Habersham, 1801
This was followed by a swift reply from men in government who did not agree with him and in 1802 Congress actually banned African Americans as mail carriers due to an unfounded fear that the slaves may be planning a rebellion.
The Ban in 1802 read:
"…after the 1st day of November next, no other than a free white person shall be employed in carrying the mail of the United States, on any of the post roads, either as a post rider or driver of a carriage carrying the mail."
Finally, in March of 1865, after the end of the Civil War and after Emancipation, Congress passed legislation that read:
"no person, by reason of color, shall be disqualified from employment in carrying the mails", [13 Stat. 515]"
The first black, female mail carrier was MARY FIELDS. Her nickname was Stagecoach Mary. Mary Fields was born a slave in 1832 Hickman, Tennessee. Freed in 1865 as a result of Lincoln's Emancipation and the Civil War. At the age of 63 she became a mail carrier for eight years in Montana. Mary was honored when an asteroid, discovered in 1992, was named after her, calling it Asteroid 7091 Maryfields.
Mary was known in her community to be fearless but generous and kind. Mary Fields passed away in 1914 and her friends and neighbors raised the money to give her a funeral and have her buried along one of the routes she so frequently traveled.
In 1872 Josephine Owen had been appointed Postmaster at the Randolph, New York post office. A widow, she was faced with losing her job in 1883 when a congressman from her state requested she be removed so that the job could go to one of his male relatives. The Chief Postal Inspector, David Parker, stepped in on her behalf advising that she is a soldier's widow. By all accounts served her position well and should remain in said position. The 'relative' suggested by the congressman, according to the Chief Postal Inspector, had not served in the war and had not even been a respectable citizen in his community. President Chester Arthur agreed and dismissing the congressman's request, Josephine Owen retained her position as Postmaster.
Another win for the women in 1872 was the appointment of the first black woman as Postmaster. She was Anna M. Dumas, Covington, Louisiana.
In 1877 Mary H. Sumner Long was appointed Postmaster of the Charlottesville, Virginia post office.
The exceptionally long career of one Mary W, Stewart also began that same year in 1877 at the post office in Oxford, Maryland when Mary 'Mollie" Stewart was named postmaster. She served until 1940; sixty-three years. She was 82 years old when she retired. She too was almost removed from her job in 1901 to 'give' the job to a Republican politician. This move failed.
In 1889 Frances Jennie Fletcher, a black woman, was appointed Postmaster of Nicodemus, Kansas. She also served as the town's first school teacher.
In 1891, the second known black woman was appointed postmaster. She was Miss Minnie Cox, Indianola, Mississippi. You will read an update on Mrs. Cox, Postmaster in 1903.
By 1892 about 10 percent of the postmaster positions were filled by women. That is about 6300 women. As you can see, women across the country were holding the position of Postmaster at their respective local post office locations and even with a charge of mis-conduct Eva Beem's community rallied behind her:
"Assistant Postmaster, EVA BEEM, at the Hutchinson, Kansas post office was charged with embezzling $1800 from the post office. Ms. Beem was ultimately acquitted of all charges. When she returned home to Hutchinson, after the acquittal she was met with a crowd of people that supported her and a military band in the street that escorted her to her home."
(1903) You will remember Minnie Cox from 1891. Apparently a few white people objected to Mrs. Cox being the Postmaster of their post office in Indianola. Knowing this, Mrs. Cox resigned the position. However the President, yes, President Theodore Roosevelt refused to accept her resignation for such reasons and instead chose to close the post office rather than appoint a white man to replace her. Learning of the President's support, Mrs. Cox ultimately decided to return to her job and the post office was reopened.
NETTIE RHODES: Most of the female employees of the post office were not given a full uniform like the men. The women were merely given a pin to wear as an identification and maybe a hat. This is all changing now with Nettie Rhodes. Initially, when new uniforms were ordered, they were only ordered for the men. So Mrs. Rhodes ask why she can't have one? That's all it took! The postmaster obliged. They added one more uniform to the order for the 'woman letter carrier'.
In 1911 Miss Matilda Moisant, airplane pilot, was the first to be hired to fly the mail from Brooklyn Post Office to Mineola, New York.
It was in 1913 that a woman, Katherine Stinson, (pictured at the top; circa 1913) began to carry mail by plane herself. Katherine Stinson was born in 1891 in Fort Payne, Alabama and made her first flight in 1911 at the age of 20. She was just the fourth woman in the U.S. to obtain a pilot's license. She became popular in exhibition flying and was known as the "flying schoolgirl". She was the first woman to perform a 'loop' and did so more than 500 times without an accident. Katherine set a record when she flew non-stop from San Diego to San Francisco in 1917. She was quite the celebrity at the time appearing all over the country and many a newspaper clambering for her picture and an interview.
I found an article printed in The San Francisco Call, dated February 2, 1913 in response to the female mail pilots that I found particularly amusing:
[headline] WEAKER SEX CROWDING MEN IN HAZARDOUS EMPLOYMENTS AND SPORTS
[excerpt]…"the percentage of women engaged in these vocations and their willingness to take all chances to make good in their chosen lines shatters the belief that men have a corner on determination, courage and recklessness." [end]
Mrs. Helen Hamilton Gardener single handedly made a positive change in the post office's policy in 1922 on female postal workers who marry. Under the original policy, if a female worker gets married she loses her status, must re-apply for a job completely as a new employee meaning she also had to re-take the civil service exam. Single male employees who married did not have to do this. Helen's fight was not in vein. She won, not just for herself but all of the women in the employ of the post office.
The number of women working for the postal service doubled during World War II.
We did not see our first female appointed Postmaster General until the year 2015!
Megan J. Brennan was appointed under President Barack Obama. Born in Pennsylvania in 1961 and began her career with the post office as a letter carrier in 1986.
This was just a small excerpt from the book "In Her Likeness". The book includes many, many pictures along with the history of women working for the post office. It also includes post office trivia and a profile of the 178 women who have been honored "with her likeness" on a United States Postage Stamp. Do you know who the 178 women who have been honored and why?
You can order the kindle or paperback edition of "In Her Likeness" at Amazon: amazon.com/InHerLikeness
575 pages, most pictures in color!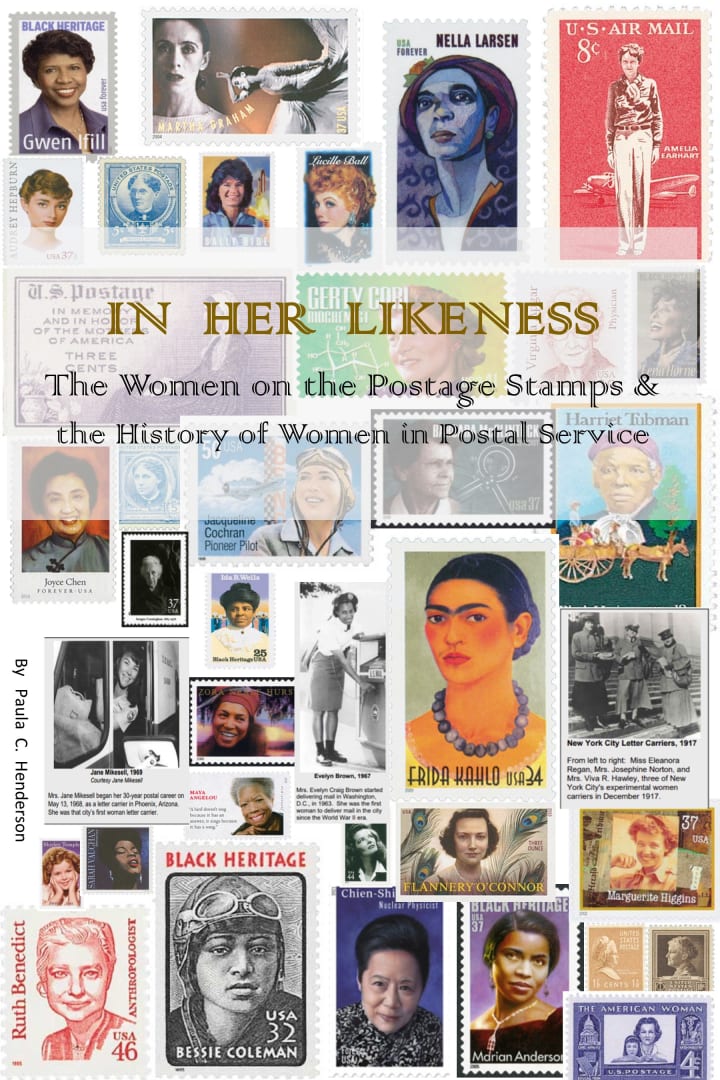 By Paula C. Henderson