The Perkie Journey
A long-winded process to creating an innovative bra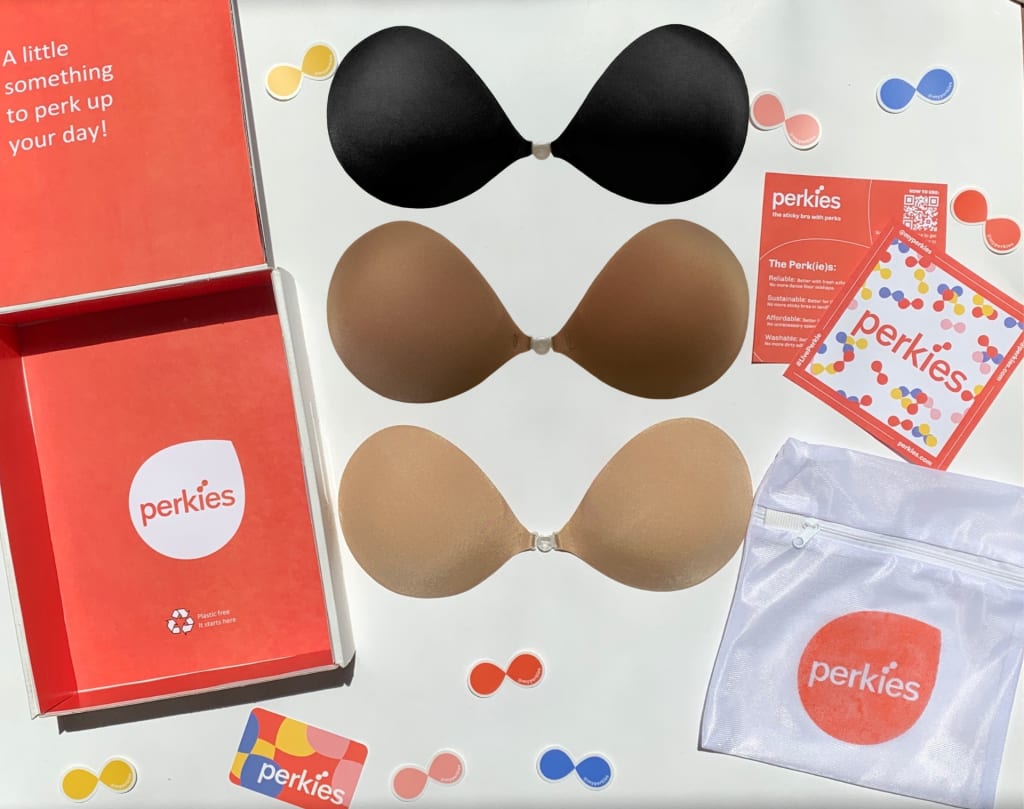 The Perkies Sticky Bra
It all started when I was out with friends, and my stick-on bra started to fall off. What does one do? Put it in their purse? Run to the bathroom and put the bra under the hand dryer? SOS! This is not just a "me problem", but a problem countless women have experienced and run into regularly.
For those who are unfamiliar with this product, I'll give you some context. When women want to wear a backless/strapless/halter/off the shoulder etc. type of outfit, they are left with few options. Women do not want their bra straps to show but they still want coverage, shape and some support. This is where a sticky bra comes in. A sticky bra is a backless/strapless bra that sticks directly to a woman's breasts, however current sticky bras are ineffective. After the user wears them a few times they begin to lose adhesion. They also fall off when the user sweats. The inner shells can get very dirty (hair and dust collect) and they are difficult to clean and care for. These bras are also expensive to replace which is not worth it when the user can only get a few good wears out of it.
After years of personal struggles with sticky bras, and knowing that my sisters, girl friends, and mom had struggled as well, I thought: Why isn't there a sticky bra with removable and replaceable adhesives? It wasn't until my junior year of college when this idea resurfaced. I took a class, "The Entrepreneurial Process", at Brown University. As part of this class, students had to come up with an idea—a product or a service, to solve a customer pain point, and then create a business plan for the product. My group of 5 focused our time and energy into a business plan on my sticky bra idea— all aspects of it. We soon realized that this idea had some traction. I decided to work on it a bit my senior year after receiving feedback all summer from my friends telling me I had to make this happen and bring this product to market. I have been a finalist in a few competitions, placing in a couple of them, and winning the "audience vote" award at the Get Started RI Pitch Competition (2018). I also spent that summer at Brown's 8-week intensive accelerator program called B-lab, and decided to pursue this post graduation. The company name is Perkies and it's been one of the more exciting, exhaustive, and learning experiences of my life!
After struggling to raise money and dealing with significant delays I am finally ready to sell - however a lot of manual labor was put into this. The bras are made in China which made every tweak a month long process. Covid did not help. The bras are tricky, but the adhesives are a different animal. Given the limited funding I had, I couldn't purchase the $25k machinery necessary to laminate and cut the adhesives in the specific shapes that fit into each bra. This has led me to spend the last several weeks working from 8am-11pm layering, cutting, creating pull tabs, layering again, trimming, and placing these cuts into bras. I have 200 pre-orders to fulfill and I need to get them to the ladies who pre-ordered before summer really kicks off!
They say "there's beauty in the struggle" and I do think the grit necessary for this goes a long way. It makes me feel more accomplished with every order I fulfill and every sale I make!