Suit Up!
Want a bikini body? Put the damned thing on.

Since January my inbox has been bombarded with well-meaning e-blasts about swimsuits. Because, y'know, it is just so easy to forget that sweltering period of time between May and September when the whole of the South feels like they've smeared themselves in Vaseline then bundled up in Saran wrap. "Oh, it's only 97 degrees with 110% humidity? Silly me and here I was planning to wear my black trash bag!" said no one, ever.
How I got onto the "full figured", "DD+", and "I know we've sent 20 emails about this but THIS one'll make ya smile" lists I have no idea. I am exactly none of those things. I am, however, happy and healthy, and shop for sizes 12 – 14 to prevent said Saran wrap situations.
And currently, I am pissed off. With the exception of Real Simple (who did a thoughtful editorial on swimsuits for bigger bodies) and ModCloth (who did a photoshoot with their staffers of all sizes) most of what's inside that list, and hundreds of others, are "suggestions" and "recommendations" that are more worn out and sagging than the rear of that black one-piece we all keep, just in case.
A few particularly "insightful" statements were:
• Don't wear a two-piece — sleek lines are more slimming
Hrmph. If it fits, I sits on my behind wearing it.
• Don't wear boy shorts — it draws attention to the thighs
They may not be the most flattering cut but I'd much rather "draw attention to my thighs" than to that piece of neon dental floss digging its way to China by way of the butt crack.
• Don't wear patterns — big patterns make you look bigger
Bullshit. The only thing that makes you "look bigger" is squeezing into something that ain't big enough. Just like diamonds, it's the cut and color that count.
• Don't wear ruffles or embellishments — simplicity works best to minimize assets
Because I like to swim and body surf, I don't go for suits with dangly bits, but if you want to hit the beach wearing Dolly Parton's personal collection of fishing lures with all the fringe, ruffles, and sequins there ever was, do it!
And Lord help if I see one more blasted article about "Quick Tricks to Get a Bikini Body". You wanna know how to get a bikini body?
You put the damned thing on.
Look: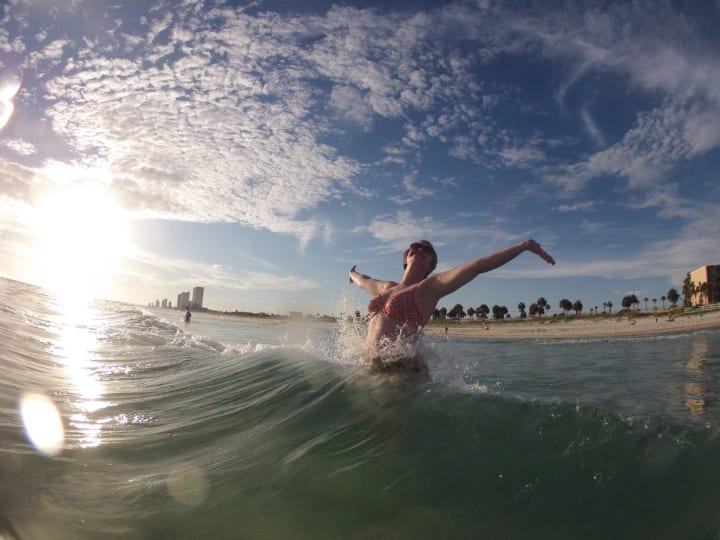 That picture was pure happenstance. Our GoPro floated away on auto-shoot and caught me actin' a fool, doing my best "Hey Mama!", because I was having fun. This picture happens to be a favorite of mine, and it would never have been shot if I was ducked under the water trying to hide my happy, healthy body from the sun and other beach-goers who are just as self-conscious as I.
Now don't let me lie to you, I went on that trip with 3 one-pieces and only took that bikini because I thought it could look cute with white pants and a chambray shirt tied at the waist (which it did) and sometimes it's just too hot to bother with drawers. But I never intended to haul it, nor me in it, out into the ocean in broad daylight.
Day 1: I slipped into my favorite ruched, floral number (a one-piece) and hid under our big ol' umbrella because I am hopelessly lacking in the skin pigment department and have do this sun thing in small doses.
Day 2: Repeat, with one exception. I started to notice the pretty people around me and, wouldyaknow, those who caught my eye weren't the toned and tanned folks in forgettable get-ups but those guys and gals who wore big ol' smiles and wham-bam suits that flaunted their figures.
Day 3: I'm still self-conscious but I took notice of my shape when I had on my one-piece and realized "How stupid am I?", fixating on something that no one but me sees. I dug out the bikini, wrapped my towel like a skirt (because Mama always insisted I have a cover up unless I was actually in the water) and prissed myself down to the beach.
Lesson learned? Confidence is the key to a killer swimsuit. (And some bright lipstick never hurts, either.)
So suit up, y'all! It's time we did Summer with style.
fashion
I'm a copywriter by day; a Kindle junkie by night. I love Indian food, MacGyver reruns, and my tattoo of falling into a really great book. Low-key, loosely planned, memory-making days are my style (but there's always time for a nap!)
Receive stories by Alyson Kate Long in

your feed