Shades of Skin|3 Black Women Who Changed The Beauty World
Women's History Month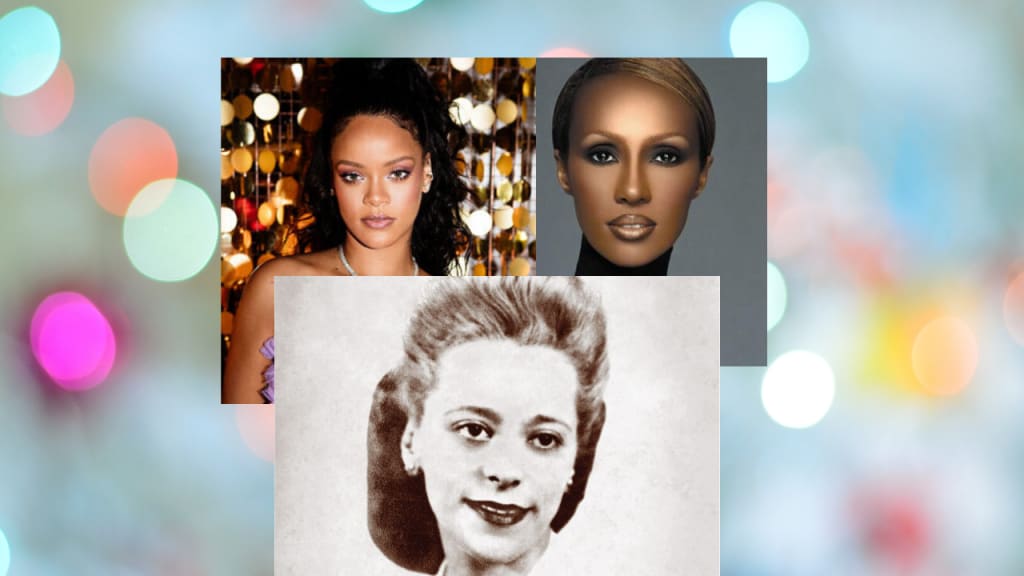 Several makeup brands have misrepresented women of color for years. Personally, I do not wear a lot of make up. I'm a simple kind of gal who only beats her face for the occasion. I like to experiment with a little bit of concealer and foundation. Also, I crave lip-gloss and mascara. Unfortunately, when I shop for makeup it's hard to find my shade. Usually, I have to mix (experiment) with colors to find the match for my skin. I should have more options as a woman of color.
The unique skin tones of black women are not recognized by most beauty brands. These brands have avoided diverse beauty altogether. Thankfully, the women on this list set out to change the beauty world for women like me.
Rihanna
The Barbadian superstar's makeup brand, Fenty Beauty is dynamic. The company launched in September of 2017. The brand gained attention for it's Pro Filt'r Soft Matte Longwear Foundation. At the time, the ground breaking foundation came in a variety of 40 (now 50) shades of colors. The liquid went on to win the 2018 Allure Best of Beauty Breakthrough Award!
Rihanna started the brand to change the void of diverse, beauty products for all shades of skin.
"Foundation is one of those areas in the beauty industry that has a big void for people at extreme ends of the shade spectrum. There's this middle ground that's covered really, really well. But then if you're very pale or if you're very dark, there aren't a lot of options. And so, I wanted to make sure that women of all skin tones were covered so they could be included in what I created." - Rihanna
I love how Rihanna uses her cosmetic line to celebrate the beauty in all women. All women deserve to see their unique beauty in the media appreciated. I feel like the singer's beauty brand represents that idea well. Also, Ms.RiRi's success as an entrepreneur has inspired me to continue with my business. (I will be covering my business on this blog soon).
Iman
Perhaps, supermodel Iman is best known for her work on the runway. Iman's black radiance broke barriers in the modeling industry. Iman started her career when the modeling industry lacked diversity. Iman realized there wasn't much diversity in the beauty industry too. In an interview, Iman remembered that a makeup artist had to mix colors of foundation to match her skin. The makeup the artist used did not have Iman's color shade.
Finally, Iman was fed up with the lack of beauty products for women of color. In 1994, Iman launched IMAN Cosmetics. According to the company's website, the brand was the first to cater to women of color. Changing the beauty world forever, the brand produced 16 foundation colors.
Above: Viola's Desmond's image on the Canadian $10 dollar bill. Desmond was the first non-royal woman and the first black person to appear on a Canadian bill.
Viola Desmond
Canadian's call Viola Desmond the Rosa Parks of Canada for her work as a civil rights activist. In 1946, authorities put Desmond in jail for refusing to give up her seat in a segregated movie theater. During the time of this incident, Desmond was on a business trip. A beautician and businesswoman, Desmond owned a beauty cosmetics line. The company sold products particularly made for black women.
Desmond's contributions to beauty do not end there. Desmond owned a salon and opened a beauty school for black women too. Desmond hoped her efforts would increase the employment of black women in beauty. Desmond was inspired by a black entrepreneur, Madame C. J. Walker. Walker is alleged to have been the first black female millionaire in America.
Viola Desmond's work in the beauty world as a black woman was amazing for that time. The late activist was a trailblazer who left behind a brilliant, heroic legacy.
Conclusion
Now, I definitely have to try Fenty Beauty or IMAN Cosmetics. I am destined to find my color match with those two brands.
If you enjoyed reading about these amazing women, like this article. Also, follow me on Instagram @zarilove9619. Subscribe to my YouTube Channel too.
beauty
About the author
Hey everyone! I'm Zari welcome to my diary! I started this blog to express and discuss my passion for writing, crochet, art, singing, dance, and poetry! Yes! I'm very talented! Follow me as I create!
Reader insights
Be the first to share your insights about this piece.
Add your insights