Sexual Misconduct Within the Film Industry
Harvey Weinstein And the Multiple Lives He Has Impacted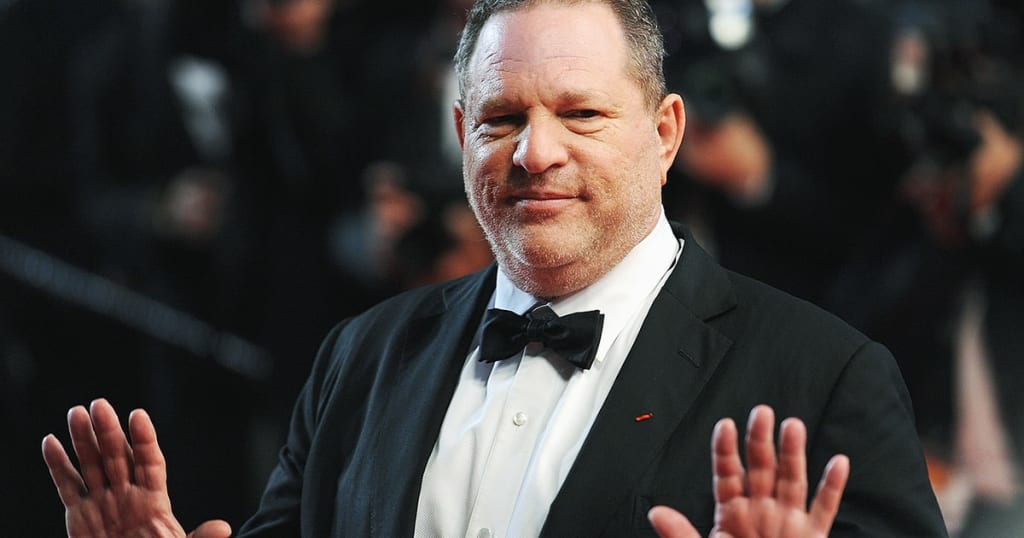 Rape within the film industry is prevalent now more than ever. Whether that be the sexual violence integrated within the plot lines of upcoming films or the illicit sexual assaults that take place behind the scenes.
One of the most iconic figures within the media at the moment is Film Producer, Harvey Weinstein, known for producing iconic films such as Shakespeare in Love (1998), Gangs of New York (2002), the Kill Bill trilogy and Pulp Fiction (1994.) Weinstein is prestigious within the film industry and has worked with an elite line-up of actors and directors. In 2004, Weinstein obtained a Commander of the Order of the British Empire award in the Queen's Honors List of 2004 for his contributions to the film industry. His high ranking status insinuates that Weinstein is a man to be respected and to be intimidated by. An important figure like Harvey Weinstein is practically untouchable within the film industry with his strong allies and his presence within Hollywood.
On October 5th 2017, The New York Times revealed that there are multiple sexual assault claims towards Weinstein, that date back to the 90's. This was the momentum that multiple women needed to expose Weinstein for what he really is. After this multiple actresses, dancers and crew members came forward and claimed that they had suffered sexual abuse at the hands of Harvey Weinstein. Further developments evolved as more women came forward with claims, it was revealed that the beginning of his abuse actually dated back to the 70's. The New York Times stated:
"The accounts provide a widening tally of alleged abuses, and illustrate the toll on women who say they felt ashamed and isolated as they watched the Hollywood producer walk red carpets, pile up Oscars and showcase his ties to prominent figures."
The producer is being investigated for over 30 counts of rape and sexual violence against women, some including Angelina Jolie, Gwyneth Paltrow, Cara Delevigne and Lupita Nyong'o.This blatant disregard for women and the law, accentuates the power Weinstein has within the film industry. He was not only the male figure that raped and sexually abused multiple women but has the entitlement to escape responsibility due to his high status, his role within Hollywood and how much of a respected producer his is in the film industry.
One of the first victims to state her claim against Weinstein was Rose McGowan. On October 12th 2017, McGowan revealed that she had been raped by Weinstein in 1997 through a series of tweets. It is reported that Amazon studios ignored her plea, she stated:
"I told the head of your studio that HW raped me. Over & over I said it. He said it hadn't been proven. I said I was the proof."
The ignorance of Amazon studios was fueled by the fact that they have partnerships with The Weinstein Co. and Harvey Weinstein was a well-respected ally. A rape scandal towards an influential man like Weinstein was seen is an inconvenience that didn't need to be addressed, because of the status of the accused. McGowan further stated: "Amazon had 'won a dirty Oscar' while 'funding rapists'." The tone of this statement is heavily fueled with anger and discontent. A 'dirty Oscar' is nothing to be proud of. The levels of power and masculinity prevail within this instance. McGowan was virtually helpless against the power Weinstein possessed within the industry. Her very public announcements caused uproar in the film industry. News reports where later released alluding that McGowan was an unreliable source of information and headlines mainly explored her drug bust rather than her rape encounter with Weinstein. The actress denies any charges of the alleged drugs found on her personal belongings, upon leaving a flight at Washington Dulles International airport. McGowan left her bag containing the wallet, which the drugs where found in, unattended on the flight and later filed a lost luggage claim when she noticed it didn't appear at the baggage claim. The actress suggested that the warrant for her arrest was Mr. Weinstein and his spies attempt to "silence," after previously paying McGowan $100,000 in "hush money" after their alleged sexual encounter. Within this instance Weinstein expressed his self entitlement and his privilege as a powerful male influence to oppress this woman and the several over women that he has personally victimized.
Rose McGowan was the woman who ignited the fire under Harvey Weinstein, inspiring several other women to come forward and open up about their nonconsensual sexual experiences with Weinstein. In 2012, Weinstein had been listed as one of the "100 Most Influential People in the World" by Time Magazine. Weinstein is a man of great power and influence, who has a strong hold on the film industry within Hollywood, his connections are weaved deeply within the industry due to the vast amount of work he has contributed to film. Ironically, in 2017's Time Magazine, it is the "Silence Breakers" who have won people of the year, for their great bravery in opening up about their trauma and uniting as females against male orientated environments.
After the unearthing of Weinstein's scandal, it caused somewhat of an avalanche effect that ripped through the film industry. Numerous influential male figures within Hollywood where being outed for their predatory sexual misconduct. Women no longer felt condemned to be silent, now they had a voice and could bring to light the social injustices forced upon them.
In October 2017, the hashtag #MeToo went viral on all social media formats. Sexual harassment victims from around the globe, both male and female, shared their stories using the hashtag. This was a movement originally created by Tarana Burke, a social activist, in 2006. This was part of a campaign that helped women be "empowered through empathy." Burke is currently a Senior Director of Programs at the group Girls for Gender Equity, an inter-generational organization that creates opportunities for young women in central Brooklyn. Burke created the inclusive term "Me Too" in order to promote awareness of the illicit abuse that happens within societies. Although, originally the term was used specifically among women of colour living in disadvantaged areas who have experienced sexual abuse. The term was then popularized and globalized by actress and sexual assault victim Alyssa Milano. Milano encouraged all women to publicize their personal experiences of trauma to demonstrate the levels of misogyny that are engrained into our societies. By October 16th, the term had been tweeted more than 500,000 and 4.7 million people posted the term over 12 million times on Facebook, within 24 hours . Social media acts as platform for individuals to speak their own truth. Living in a society that is constantly connected to Internet is beneficial when movements like this occur. The widespread notion of the movement reached multiple different people all over the world, allowing strangers to speak of their shared traumas and receive some kind of solace.
Asia Argento, one of the first women to publicly expose Weinstein (along with McGowan), conducted a speech at the closing ceremony of the 2018 Cannes Film Festival. Her words showed the importance of a victims voice and how they possess the right to be heard. The Weinstein misconduct has been quiet now for a few months, but this speech showed how his actions will never be forgotten. She opens the speech stating how "In 1997, I was raped by Harvey Weinstein here at Cannes. I was 21 years old. This festival was his hunting ground." It is apparent that Weinstein prayed on the young actresses who awaited their big break into the industry. The women where sexually extorted, under the illusion that Weinstein could provide them with these opportunities. But Weinstein didn't respect their boundaries and the word "No."
She continued her minute long speech stating how Weinstein will never be welcome here again and how his actions have made him a social pariah amongst the film industry. Following this she adds "And even tonight, sitting among you, there are those that need to be held accountable for their conduct against women for behavior that does not belong in this industry, does not belong in any industry or workplace," Argento added. "You know who you are. But most importantly, we know who you are, and we're not going to allow you to get away with it any longer." For years, women and in some cases men, have suffered at the hands of powerful, oppressive, individuals. They are forced to exist in fear amongst the powerful and the rich. The oppressor's believe that they are within their rights to abuse and victimise those who are beneath them. But, times are changing. We are a progressive generation who will no longer tolerate inequity between individuals, nor the sexual misconducts that infiltrate our societies. The bravery and fearless speech conducted by Argento shows that victims have voices and the right to be heard.
With the shocking revelations being unearthed in Hollywood and the film industry, college campus rape and sexual assault statistics rising each year, and the concept that your rapist will most likely not be a stranger but someone you know; rape and sexual violence is rife within each and every element of life. Rape and sexual assaults are non-discriminatory. Anyone has the potential to be raped and that is a terrifying acknowledgement. But now, in a time where rape and sexual assault are more potent than ever, the oppressed have the chance to feel liberated and able to speak of a time of trauma, can potentially attain the justice they deserve. I have hopes that one day, the true horrors hid behind the closed doors of Hollywood will be unearthed and that the victims can have the closure and the life that they deserve.
Reader insights
Be the first to share your insights about this piece.
Add your insights