Reflections of a Sauna Sisterhood
Women's HERstory Month - Pandemic Ponderings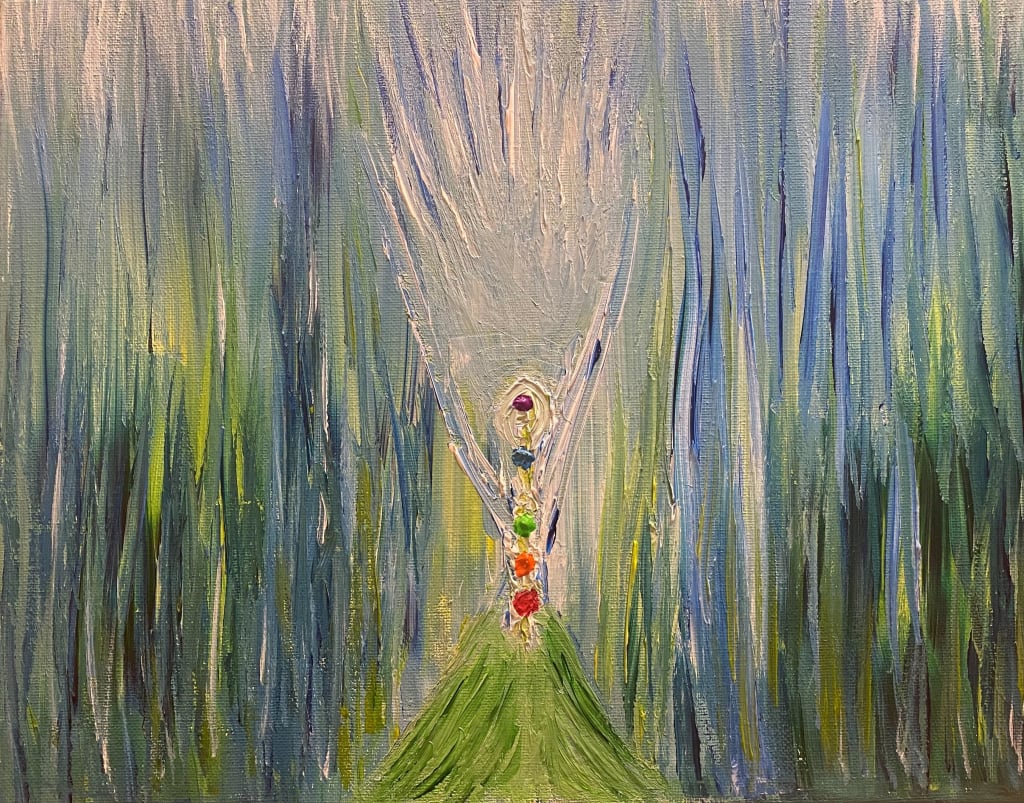 Reflections of a Sauna Sisterhood
By: Paris Perrault
Written as Covid Pandemic Lock Down Began March 2020
Something mystical occurs while sitting in a darkened, cedar planked sauna with fatigued, perspiring women. It is empowering and uplifting. It is sensual and invigorating. It is during this experience of sweat-equity, where magically, any woman of this sisterhood, is free to dream, re-define, clarify and reinvent herself, while simultaneously exuding a natural glow that one cannot buy in any retail market.
Upon crossing the threshold, through the heavy, clandestine door, the world as we know it, is left behind outside, soundless and meaningless for a brief moment in time. With the creaking and shutting of the door, entry is confirmed; membership is granted. Lucid dreams and daydreams begin to swirl and expand. Closing of the door seals in the penetrating heat of our soul-fire and inner vision. We become a tribe. We are Warriors. Experts in exercising skills of endurance, relaxation and preparation for the next battle that may cross our paths.
In this ten by twelve measure of double tiered bench space, faint aromatics of soothing and lingering eucalyptus, lavender and sandalwood cocoon one's bare limbs in safety and warmth. The scent in our nostrils instantly soothes an anxious timbre in one's soul, and yet, awakens the female oneness that we share. Dimensions of time and space appear suspended as we become one within ourselves and the feminine other. Our dreams deepen, on cue with our favorite vibrational therapy, streaming melodically through our earbuds . We wander and muse in our secret thoughts and dreams. We dwell simultaneously in this physical detoxifying space; a safe-haven of freedom to BE - just who we are.
Some in this sisterhood bear scars on their external shells, while the feminine contours of others appear smooth, sleek and untouched by the complexities of life. Is this a true indication that the latter have seen no battles? Are the scars of the former the evidence they were either victorious or defeated? Absolutely Not! One's external scars may prove healing has occurred, while another's hidden internal markings continue to torture the sacred spirit. What is the consoling proof point? It is this: We are here, present, alive in this moment, in the warmth of this finite space. Together. We have learned from our agonizing defeats, as deeply as we have conquered and claimed our own victories.
Inhaling and exhaling in this collective dimension of being, thoughts are free to seek and question; dream and reflect. Or silently find a space of simple sweet nothingness; a place where we can hear the small inner voice speak, while the mind is absent of thought, and void of doing. Within the confines of this geometric designed box, is sacred space where we can openly dare to dream "outside the box." Free to explore, fortify, detox, relax or recover for the next round of whatever life serves at full speed.
I watch in amazement and wonder as purged, hydrated toxins transform into glistening beads of saline that become heavy; waiting for the moment to fall as gravity beckons. Each bead, like each of us, ripe with full potential, drops and falls from its pore of origin; droplets that become the stream, to find and seek external pathways, gently caressing curved contours to remind us of our female being-ness. We are Superb Sapien-Structures infused with Spiritually- Sourced energy.
We are strengthened by the taste of salt as a glistening bead drips from the corner of gently closed eyes to the tips of Anglo-African infused noses, and swirls to tease soft languor lips. Here, the burning taste of caloric efforts reflect the efforts of our daily reality. In that moment…we let go. we release. We choose to let it flow. I am free. I can see. Soul. Fate. Free. In this moment, is the "surrender and catch" of the next step of each personal journey.
Our collective energy in a sauna box moves us to stretch, sit taller, lean forward, push in, lay back, open up, be better. We are meant to shine meta and physically. Engulfed in 150-degree heat, others may view this ritual as "captives of war" trapped in a pre- fabricated hell. For members of the sauna sisterhood, we experience a journey to nirvana heaven in prescribed timed intervals within this sacred space to Just Be and release all toxins preventing freedom.
Caramel, vanilla, deep chocolate and honey hued tones are disguised in the shadows of sepia darkness and revealed as soft silhouettes of unique female joy. Sapien-Sisters. There are no mirrors and no external lights. The reflections I see are of myself, within the glowing bodies; sitting or laying, thigh to thigh in the depth of solidarity which surrounds me. The kindred soul of woman holds space here. In the sisterhood I feel renewed, connected, revered and more beautiful than I can imagine myself to be individually. In this space, beauty is multiplied exponentially. My awareness of individual self and collective oneness are heightened by each trip to this natural cedar wood bunker. We simply and consciously inhale and exhale repeatedly, as we pass through this mesmerizing vortex of our collective reality.
For every exhale of good intention, every revealed dream or meditative desire, my wish is for it to rise and permeate through the heated wooden planks and escape to the cosmos as our messenger. The messages, through exhaled breaths and excreted beads of sweat, full of tension and stress, are carried up, outward and released freely to the universe seeking answers.
Each inhaled breath returned, is as a gift of fresh, new oxygen aligned with infinite possibilities; creating strength to seek victory on another day of a purpose-filled life.
One by one, reminiscent of a secret getaway in an old black and white suspense movie, or the poignant closure of an Ocean's 11 debut, each member of our sauna sisterhood quietly and gently peels away to follow the path of her chosen intention. With a deeper knowing settling within this sisterhood, we have bonded with each exchanged breath on this journey. Through the altered dimension of time, we become a community of sauna-sisters, dreamers, coaches, up-lifters, supporters, prayer warriors, to each other and for the world. We are the Empowered female collective. In this Sauna of Sisterhood, we continue the journey to SELF; seeking answers and instructions to our truth. We are soul's connected. We are fate's entwined. We are free to be you and me.
I smile with gratitude for each of you, and hold onto my joy of unique and infinite possibility. See you next time, Ladies. ️#lightworkers #frontlinedailywarriors #womenshealth #womensHERstorymonth2021
** This document may not be forwarded or shared or reproduced without the permission of the author, please contact [email protected] for inquiries** PP