RBG: 'Notorious' Was More Than a Moniker
At 5'1", she was a giant amongst men.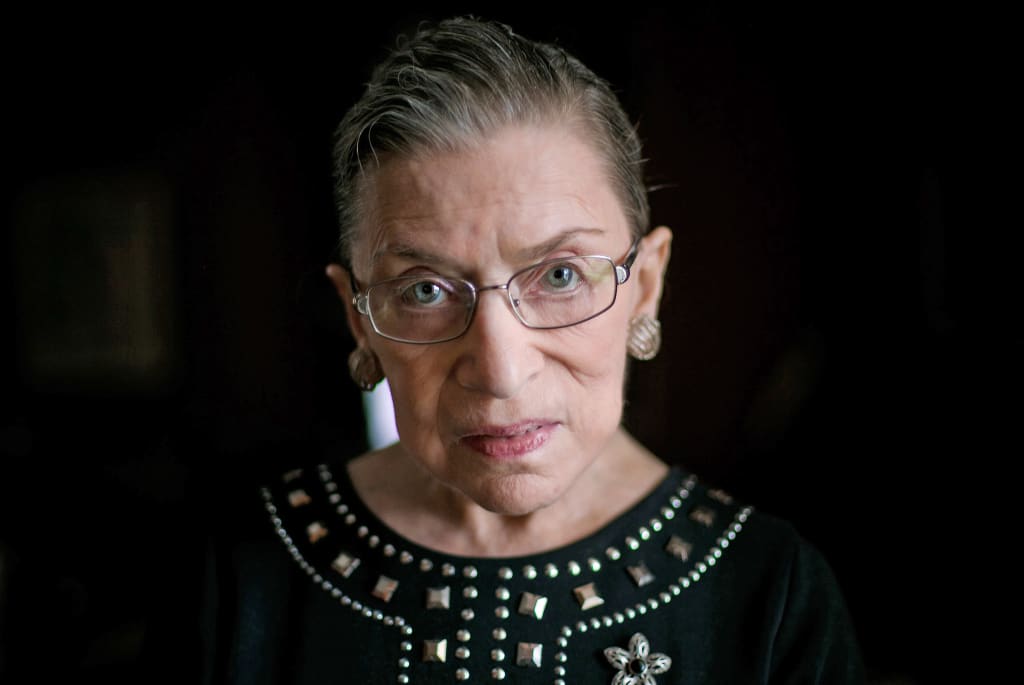 Photo Credit: The New York Times
Random outbursts of applause erupted from the steps of the Supreme Court building last night. Parents carried their children, many already in their pajamas, in one arm, and held up phones, candles, and makeshift beacons in the other — beacons in remembrance of someone who, for so many, was just that.
Light, and hope.
A Giant Amongst Men
Ruth Bader Ginsburg stood just 5'1", but she was a giant amongst men. Serving 27 years on the Supreme Court, she became its most prominent member through groundbreaking dissents that spurned the advances of inequality toward women and the LGBTQ community.
Those who were underrepresented found their representative.
RBG became a pop culture icon for good reason. She is a hero to women because she lived a life that represents the struggles women face in America. In 1963, she hid her pregnancy by wearing her mother-in-law's clothes, in order to keep a job at Rutgers. While an advocate for all those facing prejudice in regard to their sex, orientation, and identity, Ginsburg never wavered in her core belief: "Women should be in all seats where decisions are being made."
"Tough As Nails"
A colleague once described RBG as "tough as nails," and the description stuck, although perhaps not to the same degree that another moniker would:
Notorious. She was "the Notorious RBG."
But she was so much more than a moniker, because no adjective, however relevant (this nickname made her the namesake of fellow Brooklynite and iconic rapper the Notorious BIG) could describe a figure who loomed so large.
From her very beginning as a law student surrounded by hundreds of men, RBG was notorious for championing a relentless bend toward equal rights. As early as 1996, she wrote the Supreme Court's 7-1 decision that the Virginia Military Institute would no longer remain an all-male collective.
She had a soft voice and big glasses, and some described her as shy and diminutive in her early years, but RBG never hid who she really was: a tough hero for justice.
Irreplaceable
One of the most powerful seats in the country now sits empty. The time for mourning will be far briefer than human decency alone would dictate, but such is the evil of politics.
A much-debated tweet from last night reflected this fact:
Marion's tweet sparked controversy, as her words were attacked for the very reason they were shared: the calamitous timing of RBG's passing creates a crack in the wall she built, which may dissuade one from mourning in favor of a more actionable cause. I disagree with Marion only in this: the defense stands, but it calls for reinforcement.
There will be more time to mourn. We will make sure of that. But let us not allow mourning and defense to become mutually exclusive, here at a moment when defense is needed, at a time it would be called for the loudest by the legend whom we mourn.
To RBG, we say: may your memory be a revolution, and may you rest now alongside Marty. Oh, how you've earned that rest.
To everyone else: nobody has the right to tell you how to mourn. Nobody has the right to tell you how to feel. Some will mourn; some will celebrate the accomplishments; but all should take action, because that's what She would have wanted.
---
Joshua Luke Johnson is a senior content manager at Creatd and head of Content Moderation and Curation at Vocal.