The Bachelor: Three Women Take the Stage in an Explosive Final Episode
ABC handed us the final rose, but should we accept it?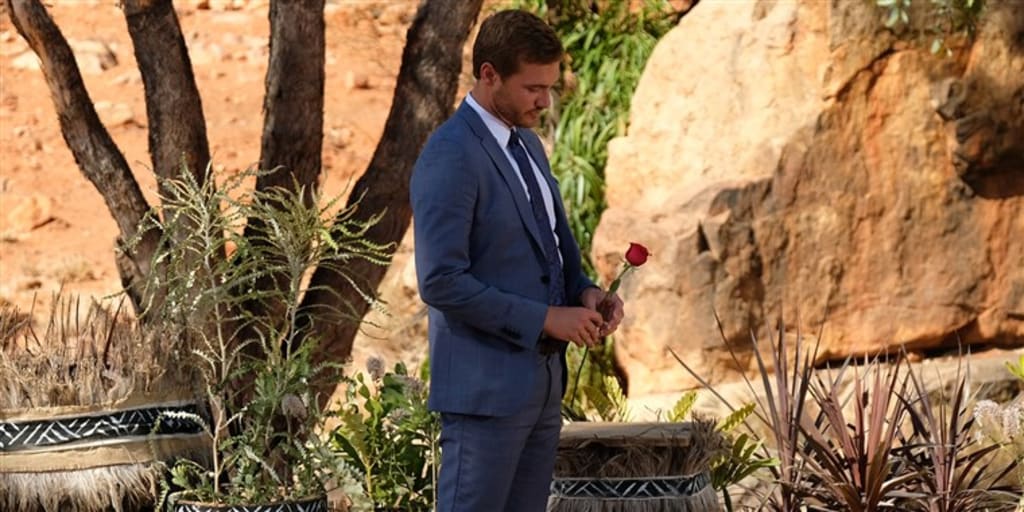 Peter Weber's "journey to find love," as Bachelor producer Chris Harrison has referred to the last three months of reality TV on ABC, finally came to a close last night.
We laughed. We cried. Then we logged onto Twitter, and we laughed some more. Actually, we laughed a lot more, because the funniest people live on Twitter and they're probably bots but we stan them nonetheless.
Nearly 24 hours later, we are still processing how a licensed pilot could lose control of the aircraft so spectacularly. Let's look back at how that plane went down. Three women took the stage last night — two that won Peter's heart, and one that has apparently controlled him his whole life.
Hannah Ann
"Words are powerful, Peter. Either you don't mean what you say or you don't understand the weight of your words and how they impact people. So which one is it."
While Madison has been lauded for her strong morals this season, Hannah Ann is no less deserving of similar praise. The ring came off and the walls came up when it was clear that Peter was no longer invested in their engagement. "We're through," she said, "and I mean that."
And when Bachelor Nation found out that Peter not only broke off his engagement, but that he reached out to former Bachelorette Hannah Brown to "find closure," it was almost too much. The turbulence was intensifying, and the pilot was sweating.
"You took my first engagement from me," Hannah Ann told Peter in what may have been the most heartfelt exchange of the night.
Madison
It's been clear that Madi would play a role in the season finale for awhile — Chris Harrison made us painfully aware of that in last week's episode.
Madison famously laid down an ultimatum several weeks ago, and said that if Peter slept with the other contestants, he would be putting their relationship at risk.
There are a myriad of problems with the idea that the Bachelor is a place for couples to find love, but the most glaring of these can be seen in Madi's attempt to bring chastity to reality television.
Sexual chemistry is something we knew would be important to Peter (nobody's forgotten the windmill), and his brother Jack reiterated this point in last week's episode. To ask the bachelor to forego intimacy in the final stages was asking him to disbelieve in the pseudo-reality that has been his reality since week 1 of the Bachelorette last year. Likewise, to accept a proposal from a man who has slept with three girlfriends in a week is a hypothetical so far removed from real reality that it leaves us wondering what is actually okay to do and not do in these faux-relationships.
So, Madi left.
For half an episode.
Then she came back, wearing a bright pink dress that made my girlfriend say "ew" out loud.
While many have praised Madi for being the show's true heroine, for creating boundaries, for standing up for what she believes in, and for ultimately giving love a chance to conquer all, the exchanges between her and Peter last night were tense, unconvincing, and lacking any semblance of romance.
It's safe to say this is not the happily-ever-after that we, nor Peter, hoped for when we signed up back in January.
Barb
While the heat between Peter and Madi was lacking, Peter's mom Barb was there to turn up the thermostat.
Barb was wholly unreserved in her disparagement of Madison, unrestrained in her praise for Hannah Ann, and seemingly uninterested in anything that Peter said, thought, or felt. While ABC was clearly determined to set up a Peter + Madison happy ending with this "live on stage" reveal, the likelihood of the two families building a mutual life upon such a lithic foundation seems doubtful at best.
"He's gonna have to fail to succeed," Barb said. "That's it. All his friends, his family, everyone that knows him knows that it's not going to work. We've been trying to tell him."
The Final Rose
Pilot Peter was a hopeless romantic, and on paper he was the perfect choice to be the Bachelor. But in reality, and on reality TV, he crashed. Thankfully nobody was hurt, not yet anyway, but if Barb doesn't cool off soon, there's no telling what might happen.
tv
About the author
Reader insights
Be the first to share your insights about this piece.
Add your insights