PLEASURE IS WOMAN - THE VOLUME "A WOMAN'S RIGHT TO PLEASURE" IS OUT
270 PAGES CONTAINING MORE THAN 60 WRITINGS, DIALOGUES AND WORKS OF THE MAJOR ARTISTS, WRITERS, ACTIVISTS, AND CREATIVES, COMMITTED TO EXPLORING THE IDEA OF PLEASURE A WOMAN'S VIEW - THE BOOK STARTS FROM AN ASSUMPTION: IN HISTORY, THE FEMALE EXPERIENCE HAS BEEN EXPLORED THROUGH THE VOICES, VIEWS AND LAWS OF MEN. BUT NOW…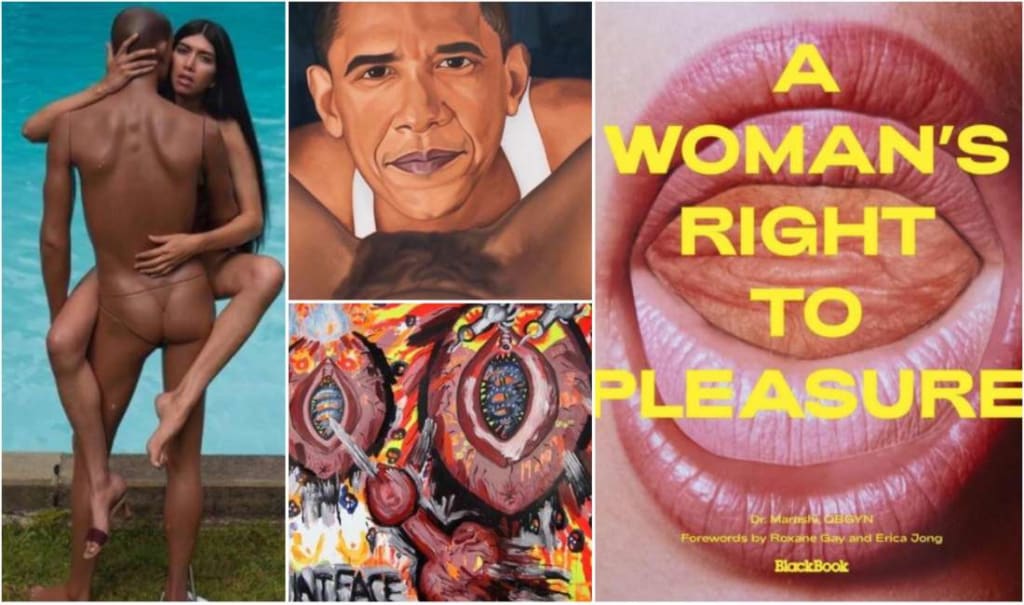 A volume that will cause discussion, starting with the commercial partner who supported it. We are talking about LELO, world leader in the design of sex toys, also called "the ultimate hi tech for intimacy".
But beyond the form, the substance of A Woman's Right to Pleasure is perhaps what will allow it to remain in time and create a debate on a global level. It consists of 270 pages containing more than 60 writings, dialogues and works by the major artists, writers, activists, creatives or simply thinkers of our age, all committed to exploring the idea of ​​pleasure from the point of view of women.
The book starts from an unequivocal assumption: in history, the female experience has been presented and explored through the voices, points of view and laws of men. Whether it was John Cleland or Alfred Kinsey who wrote it, Gustave Courbet who painted it, or politicians who passed laws about it, the female body has often been controlled and censored by everyone except women. This has finally started to change, with the echo of conversations and debates on various previously taboo topics, such as masturbation or the discrimination raised by #MeToo.
BlackBook creatives worked with Dr. Marashi on this project due to the dedication to women shown through his work. The New York City obstetric and vaginal surgeon can in fact boast an activity that over time has become revolutionary in helping victims of genital mutilation.
In addition, the partner LELO was involved thanks to the brand's philosophy that sees female pleasure as a human right that should be celebrated. Indeed, the company has always aimed to empower women by normalizing conversations about sex and pleasure and bringing these dialogues to a mainstream audience.
"When it comes to human sexuality, there is no room for division or shame, just for pleasure," said Sara Kranjcec Jukic, LELO's Global Brand Manager.
The Swedish brand manufacturer LELO dares to enter the book market together with the publisher BlackBook. The book "A Woman's Right to Pleasure" shows on 270 pages in oversized format works and contributions by over 60 authors and artists who deal with the desire and self-realization of women.
According to the publisher, LELO was chosen as a partner for the book because the company has stood for the merging of lust, design, lifestyle and female sexuality like no other for over a decade.
Sara Kranjec Juki is Global Brand Manager at LELO and says about the book: "When it comes to human sexuality, there is no place for shame, only lust. This has been the principle that has guided our company since it was founded, and we are honored to be able to continue to support this mission with 'A Woman's Right to Pleasure'. "
The book is to be advertised in cooperation with the Artsy platform through a special exhibition with auction. 10 percent of the proceeds go to the non-profit organization Girls Inc., which campaigns for women's rights. As a further creative replacement for the readings and book presentations that usually accompany book publications, the team on the AWomansRightToPleasure.com website has thought about several video talks with the band's contributors. LELO products are also to be advertised there.
In addition, a podcast was started that presented the topics and contributors to the book and explored them further.
The band's contributors include artists as diverse as Georgia O'Keeffe and legendary photographers like Nan Goldin and Cindy Sherman, as well as star authors like Kathy Acker, Erica Jong and Roxane Gay to texts by porn icons Erika Lust and Stoya.
Reader insights
Be the first to share your insights about this piece.
Add your insights