Body Talk
Petite Curve Matters, Pt. 2
A Movement of Inclusion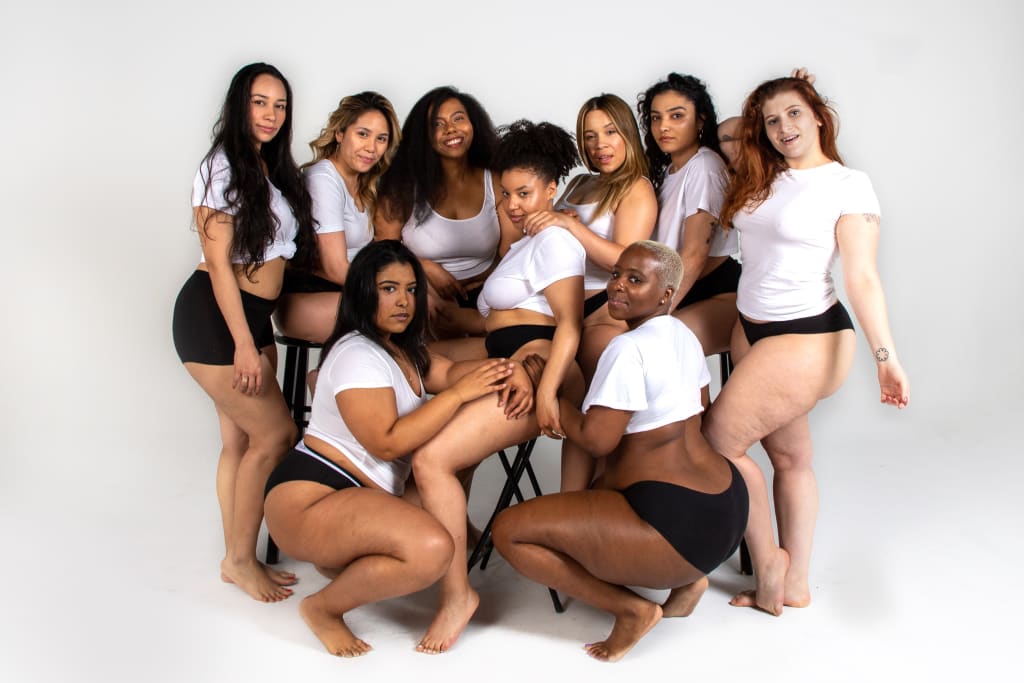 "I'm not a model."
You don't have to be.
"I have never done this before."
That's perfectly okay, there's a first for everything. We are all here to help guide you.
"I have never shown this much skin in front of other people, especially people I don't know."
We are all the same and we are all different, no one is here to judge you, on the contrary, we're here to celebrate you.
"I have sisters who are pretty, but with me, it was always, 'Oh you're smart.' Why aren't I pretty too? Because I'm not slim?"
You're beautiful too.
"I'm comfortable being naked around people, and having worked in the industry for years, people need to GET IT! We exist and ain't going anywhere."
Heard you!
Eight women whom didn't know one another, gathered around for an experience for the greater good. A photoshoot that would not only alter the way they felt and thought about themselves, but influence one another to feel and view themselves in a positive light, enlighten each other on what supporting inclusive businesses means for us, and celebrate our bodies in a way that forces us to look deeply within ourselves, reflect on our insecurities, and spread awareness on the strength we find when we come together on the basis of love.
Each woman partnered with someone of their choice, and was given the task to find something they liked about their partner's physique, and tell them while their partner had to repeat it in first person over and over again for a few minutes. Organically, these women found something the other was struggling with or was insecure about. Imagine getting undressed to your underwear and sharing your vulnerable insecurities with strangers in front of other women as a camera is photographing you. It's not necessarily an easy thing for many, but the process allowed one another to open up and feel more comfortable with each other, in a way to trust one another. The repetitive allowed affirmations to turn from negative to positive in minutes, and it was a beautiful thing to watch.
Following the experience, the women huddled and cuddled for their official first pose, lying down on top of one another, and it was heart warming. There was an immense flow of energy from supportive to nurturing during the experience, and the images turned out beautiful. Some women felt empowered, enlightened, strong and comfortable. Following this pose, the women changed into black and white for a strong and sexy statement, unified and trailblazing, all standing at 5'4" and under, claiming their place in the world to be seen. I wanted to include the height marker behind them to emphasize our size, that we make up just a small percentage of the many women out there who are shorter than the US average height, and we aren't all a size 00-2.
People come in different sizes, and all curves should definitely be celebrated, but this is beyond that. Designers don't see us or care about our demographic enough to make clothes catered to different body types like ours, causing the difficulty of shopping for our bodies. We struggle with having to cut and hem pants, skirts, dresses to fit our height, take in waistlines so jeans fit our bottoms, etc. One of the women can't even remember the last time she bought a pair of jeans, and wears leggings most of the time.
Not only is shopping such a hassle, but not seeing ourselves represented in the media or in a positive light also impacts us. The direct correlation of all these things to our self image, confidence, mental health, and self esteem is detrimental, but no one sees that, no one understands. It wasn't until I realized how hard I have worked and succeeded at landing campaigns as a freelancer, but consistently never found a place in the modeling industry due to my body type, where I realized how bullsh*t the industry is. But as consumers, we have the power to truly change things.
Look at Victoria's Secret. They are closing 53 stores, because women are taking a stand to support body positivity. If your brand does not cater to our bodies, showcase our bodies in your marketing, and you truly don't believe or care about us, we don't need to shop there. It was a discussion that we had on set briefly that was eye opening for some. And I can't stress this enough, stop supporting businesses that don't support you and your community. Be more aware of where your coins go to, there are truly a few inclusive brands out there.
This was the first time I ever fully directed and produced a photoshoot with other women, and not just for myself—and it was truly a wonderful experience. This wasn't just a shoot, it was an introductory experience for many, and an eye opener for the brands and media watching, I would hope. I was also excited to have young filmmaker Chloe Raymod-Lebel come in from Canada to interview myself and some of the women about their journeys surrounding body positivity for her documentary I Want to Look Like That, coming in 2020. You can find brief excerpts on the Petite Curve Matters playlist on YouTube, also inserted above.
So what do we want? Some of us want to see clothes made for our body types that actually fit. Some want to see mannequins made and used in our body types. Some want to influence our children to see their mother take a rightful stand to owning her beauty, her post baby body, and celebrate the differences in her body. And all of us want to see more conversations happening around this topic, enough to influence the industry to truly see and celebrate us just as we are. We want more representation. Body positivity is not just about plus sized women. It's about all bodies, shapes, and sizes, and while this particular experience was catered to women, let's not forget that men and gender fluid bodies also matter, and are are rarely seen.
Hopefully people will get it. Until they do, we continue to work on ourselves, our bodies, our mental health and self esteem, and we support one another by spreading love, compassion, and acceptance.
Petite Curve Matters.