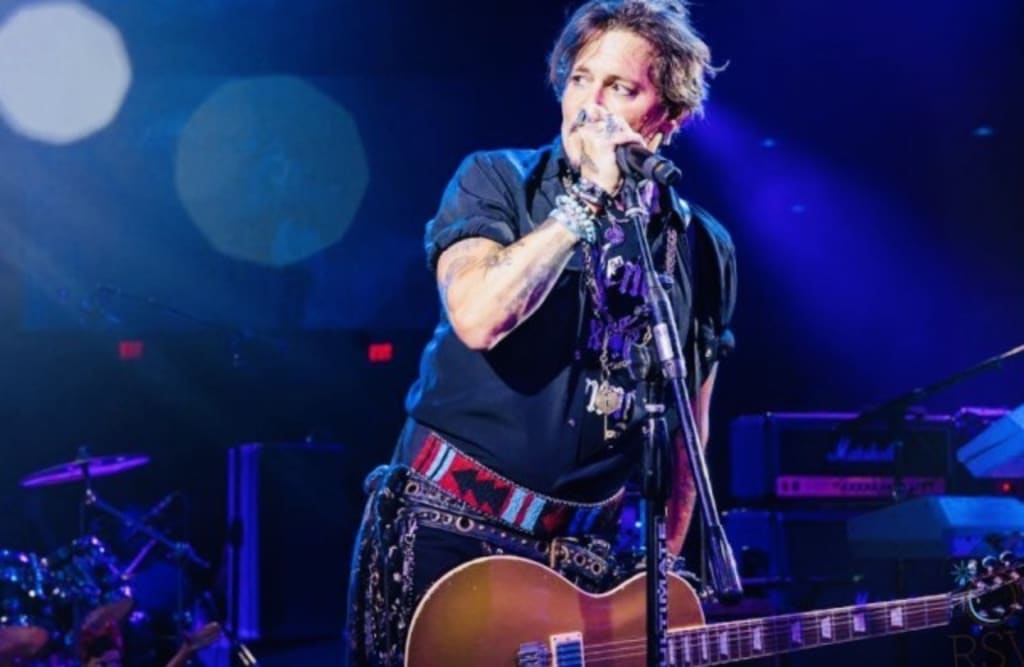 If you've been following the Johnny Depp and Amber Heard drama since it started back in 2016, you might have noticed the mass of conflicting stories that have been circulating. It really has become a he said/she said situation and quite frankly, it isn't looking good for Heard. Now if you're sitting there thinking "wait, what happened?" That's why I'm here cause apparently, news outlets just don't seem to care when it's a man who is abused.
First off, if you're not caught up on all the latest details surrounding Johnny Depp's defamation case against Heard, or the evidence he has brought forward, you can read all about it in my previous story: "People Need to Start Taking Johnny Depp's Allegations Against Amber Heard Seriously". But let's have a quick recap anyway.
Back in 2016 Amber Heard accused Johnny Depp of domestic violence. Claims that would eventually not only tarnish the actor's reputation in the public eye but also cost him his role as Captain Jack Sparrow in Disney's Pirates of the Caribbean franchise. The actor has endured four years of media scrutiny and a barrage of online abuse by twitter trolls, who evidently have nothing better to do.
But since then, new evidence has been brought forth, proving that Amber Heard may have fabricated the entire thing and was actually the abuser in the marriage. Having struck Depp multiple times, threw glass at him, severed his finger and verbally abused him (even in front of his children no less), CCTV footage showing no bruising on her the day after she claims he struck her... this is evidence that countless eyewitnesses including staff and friends had witnessed throughout their messy marriage and have testified to under oath. And while that evidence was already damning enough, new text messages exchanged between Johnny and Amber's parents have come out that may prove Amber Heard made up abuse claims and used the Me Too Movement for publicity.
In the text messages which came to light last month, we see Amber's parents try to convince Johnny to not give up on their daughter. They attempt to convince the actor that she never wanted to file a restraining order against him but was advised to by her lawyer, if she didn't want to get kicked out of their shared penthouse.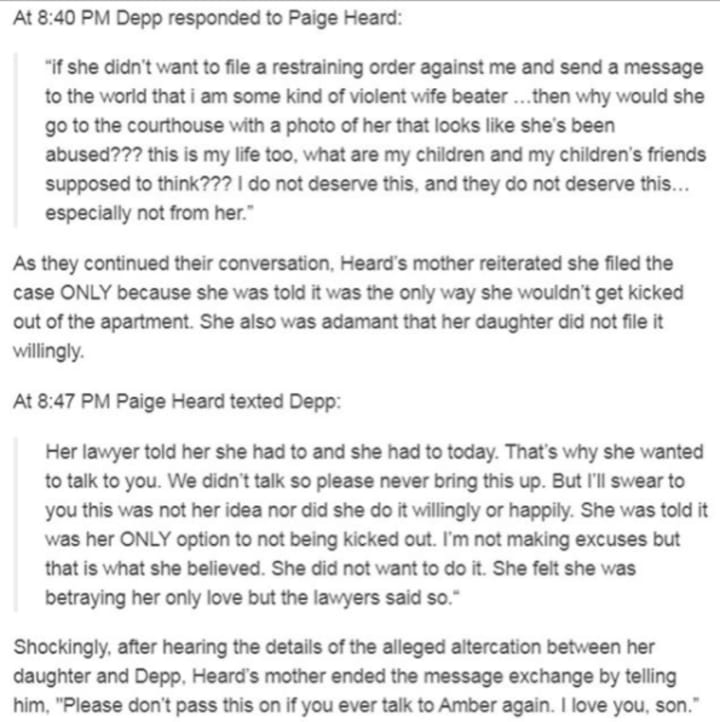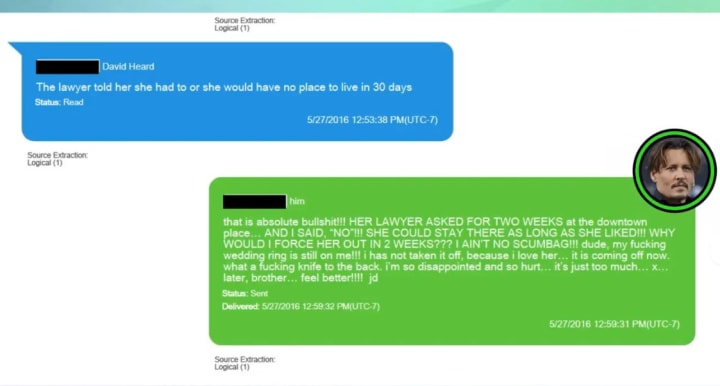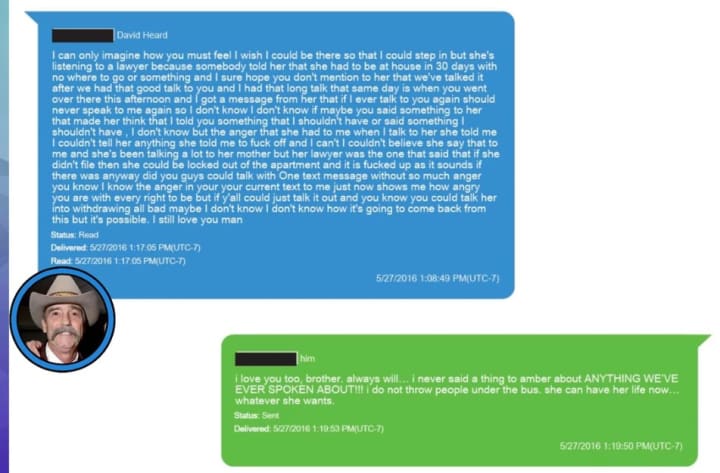 Now here's my question: If your daughter was in fact being abused by her husband, why would you then reach out to him and plead with him to not leave her?
The texts also seem to hint to the fact that Amber did in fact abuse him as her parents never once, deny Johnny's claims that he was attacked by her. Keep in mind that Amber Heard does have a history of domestic violence, having been arrested and plead guilty for abusing her 2009 girlfriend Tasya van Ree. So, if she was abusive to Johnny, it's surely behaviour that her parents are familiar with.
It's also very important to remember that, while Johnny has denied ever abusing his ex-wife, Amber has admitted to abusing him while under oath, along with there being audio of her apologising for intentionally punching him in the jaw.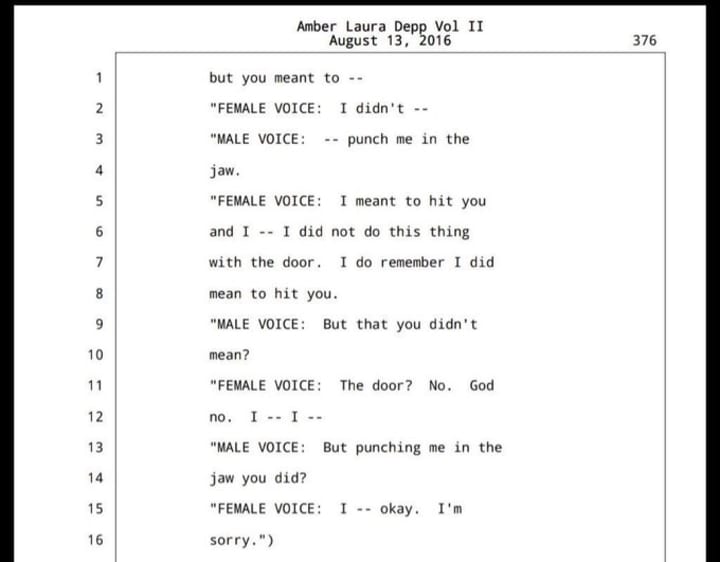 "But why haven't I heard about any of this?" you're probably asking yourself. Well the short of it is, media isn't covering any of the new information that has come out against Amber Heard for reasons which I can only presume to be because they don't want to be caught running with their tail between their legs. And most likely because they don't want to apologise to Johnny for the abusive articles they've been publishing since 2016.
Although a crappy thought to process, media does not cover male victims of abuse the same way they do women. The hypocrisy that surrounds media has always been around, that much is true but in this new age of the Me Too movement, it has become deafening. Just look at the little coverage Brendan Fraser and Terry Crews received after telling their stories. While popular media likes to act "woke", the fact is, they write what gets clicks and sadly, what has been giving them clicks, are abusive stories against Johnny Depp – even when they have proof that he, more than likely, was the real victim of abuse, turned villain by his abuser.
I'm not here to tell you what to believe, but what I will say is if you can believe one side, why can't you believe the other? Johnny obviously endured many injuries during their marriage (re: my previous article) so why is it so hard to believe he was abused, especially when his ex has a record for past abuse?
Regardless of gender, every victim of abuse should be heard and listened to. Johnny Depp is no different.
Reader insights
Be the first to share your insights about this piece.
Add your insights