Misogyny in Makeup?!
Green Makeup Chit Chat, Get Ready with Me - Exploring Some Beauty Biz Stats
Hello Friends!
When it comes to makeup, there's a bit of an assumption that, outside of boys in beauty, it's a bit of a lady tribe. After all, with pioneers such as Madame CJ Walker, Estee Lauder, and Elizabeth Arden there should be a plethora of women killing it in the beauty biz. However, the state of women in positions of power, even in a female-focused industry, might leave lip kits dropped and acrylic fingers raised, as we explore the topic of misogyny in makeup while donning an electric yellow wing.
Join me while I play with some green makeup, dismantle the patriarchy, and drink way too much coffee. Maybe you'll learn a tip or two, maybe you won't be all that surprised, but maybe we'll think about where we spend our dolla dolla bills a little more critically.
PSSST... and here's a secret... the issues don't rectify themselves when going from big business (like L'Oreal) to small indie start-ups. It becomes more painfully apparent that where we spend our money matters. If we want to see more women in positions of power we must financially support the companies that put women in positions of power (and yes, this is generalizing companies as male, yes I also threw up in my mouth a little).
I hope you find today's video interesting as it has been a topic close to my heart for a long time now. I suppose if you're not into the girl power feminist ranting, but love yourself a good green halo smokey eye you could just watch the video on mute... BUT! If you want to see more "makeup and mindset" be sure to find me on Instagram and on BackPorchPoet.com!
Products Mentioned:
ABH Brow Wiz
Tarte Shape Tape Fair
Tarte Pro Glow Palette
NYX Total Control Drop Foundation Nude
Pinky Rose Obsessed Palette & Exotic Palette
L'yne Loose Highlighter Daunting
Shop Miss A Fat Lash Mascara
Shop Miss A Faux Mink Lashes Briana
Jouer Light Medium Bronzer
Jouer Adore Blush Duo
Jouer Nude Lip Pencil
Alexa Persico Cosmetics Lip Velour Gloss Candy Kiss
SUVA Beauty Hydra Liner
Images of Final Look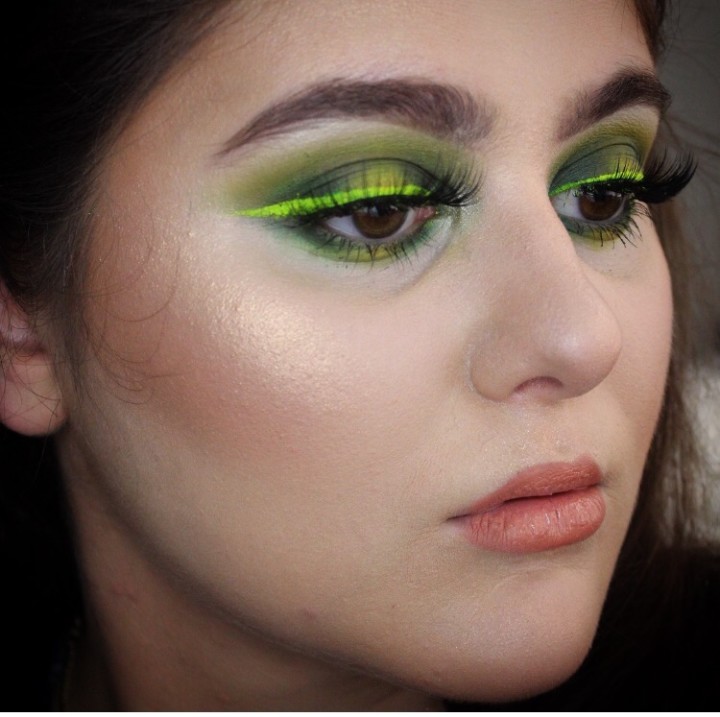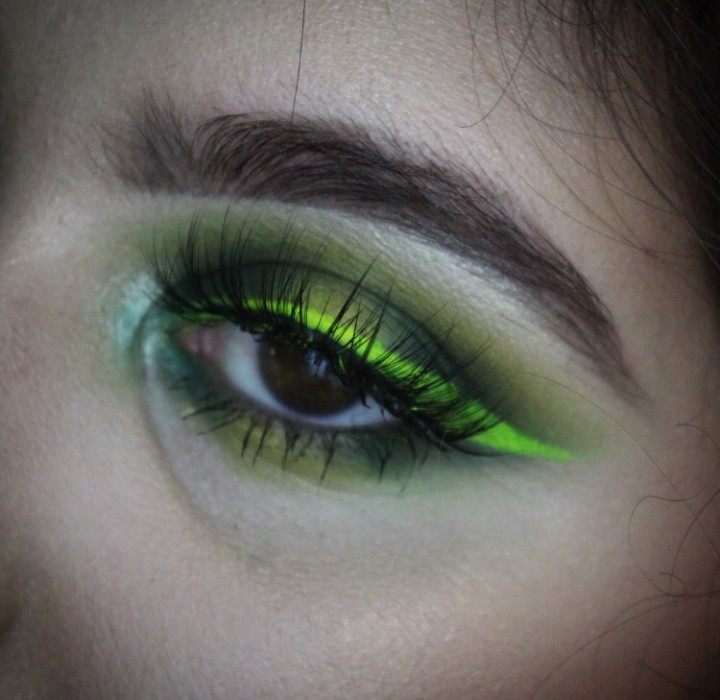 DISCLAIMER: I am in no ways a perfect human, who always uses ethically produced products that ascribe to my social and political beliefs. I do my best to showcase women-owned brands of varying backgrounds but, alas, I am a person. Sometimes, the glittery glow of a beautifully packaged and performing highlighter will pull at my heart and take me away to makeup never land, where I forget the woes and troubles of a forlorn reality. Sometimes, I'm just too lazy to research the company that in depth.
If you see me using a product that is not founded by a woman or has had a problematic past that is not be shirking off my beliefs, but rather being pulled into a beautiful product I'm not in the mood to waste by blindly chucking it in the trash. Though I do not believe moral standing and product review can truly ever be separated, I do think there is a touch too much hot button rage thrust at companies that do less than their best.
Granted, there are some so blatantly against what I deem appropriate that I'm not at all worried about ever owning one of those products. Yet, in the spirit of keeping makeup fun and silly, I'd rather call out the brands kicking butt in place of the ones that "need improvement." There may be times when my opinion will be unpopular. There could be moments where my opinion will change. Maybe I'll let a product or two slide... but let's not use this as an excuse to not have a respectful conversation. I would love to hear what you all have to say!
activism