I really wanted to thank my feminist ladies for coining the word Galentine's which is the day before Valentine's day (February 13th) but to my surprise, all thanks go to Parks and Rec? Yeah, if you don't believe me reference the article below, Cosmo knows and tells all. (and I quote) The best thing about Galentine's Day is that it was created by a fictional character: Leslie Knope of Parks and Recreation. In 2010, the second season of Parks and Rec included an episode called "Galentine's Day," in which Leslie gathers a group of her closest gal pals for a brunch of waffles and love. "Every February 13, my lady friends and I leave our husbands and our boyfriends at home and we just come and kick it, breakfast-style," Leslie says in the episode. "Ladies celebrating ladies." And thus, Galentine's Day was unofficially added to everyone's calendar. No, seriously: According to The Atlantic, it's such a widely recognized fake holiday that some companies now run Galentine's Day promotions. What could be more real than that?
According to Cosmo, 2010 is when Galentine's became a thing. I remember when I first heard the word, my sister (friend who feels like family) gifted me $40 and wished me a happy Galentine's Day. She was in NYC and I was in LA. I didn't give it all that much thought honestly, it can be likened to Friendsgiving instead of Thanksgiving, although that has religious connotations to adhere to. Speaking of religion, who would've ever thought that Valentine's was a Roman Catholic observation? What rock have I been living under? Oh yeah, I wasn't raised celebrating any holidays, see my article, "I do... Celebrate Christmas."
I like this originator story better: Valentine's Day As a Roman Festival (see above article for both stories)
(and I quote) According to the first story, the Romans invented Valentine's Day in the 3rd century AD. It was a pastoral holiday in honor of the god Lupercus. Every year in February they held a festival called Lupercalia to secure the god's continued favor. Hardly suggests why this would make the Romans the inventors of Valentine's Day! But a curious detail about the Lupercalia is telling: During the same festival, girls would put their names in a box and boys would draw lots to see who gets paired with whom. The partners would be a couple for the whole year that followed. This practice was held to honor the goddess Juno. (end of excerpt) Wow! Either way, a god is involved in observing Valentine's day. Sounds like arranged courtships to me! Funny enough the couple only had to stay with the person they were paired with for a year. Drawing names out of a box kind of sounds like virtual speed-dating in our day, maybe? Oh, how the times have changed!
One's thing for certain, I will be celebrating both Galentine's and Valentine's days because I want to give and receive all the love I can give or get! I don't have a significant other and I'm practicing abstinence. From as far back as I can remember, I don't recall ever celebrating Valentine's day while in a relationship. It was always boys at school handing out roses to their gang of girls or guys at work giving chocolates out to their favorite ladies. Have I ever given a Valentine's day gift? Gosh... I'm gonna have to take a trip down memory lane to figure it out, on my time, not yours. I'm gonna have to be intentional about celebrating both holidays this month and get creative with it. Wine and champagne have become the norm for me so we'll see if that makes it into the celebration. I'll probably do a giveaway on my Instagram. I have one gift left from Christmas that needs a home. Do girls typically give guys gifts on Valentine's Day? Not that I'm planning to... Funny story, I broke up with a guy before he made dinner reservations for Valentine's Day a couple years ago. He later showed up to my job with a dozen orange, tulips. I made the right decision.
Here's my first gift to you, yes, you! I want you to show yourself as much love, comfort and joy as you possibly can on the 13th and 14th this year. Make a concerted effort. I will definitely be getting myself some new candles for the occasion and maybe some flowers! I'm a Mantraband Ambassador, and my discount code to shop this amazing, inspirational jewelry is: SELFLOVEBEFORESHAREDLOVE (enter it before checkout for an extra 10% off the already running 20% off sale!) Both my shipments arrived within 7 days but I am local to California and so is Mantraband, either way, it will ship in time for Galentine's and Valentine's day if you order it now.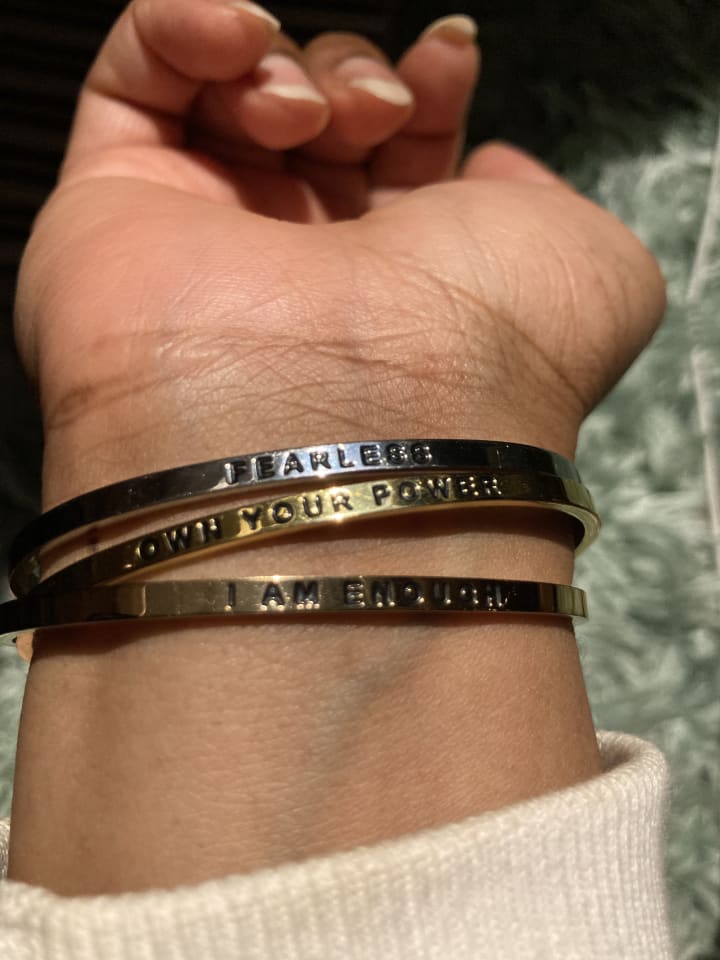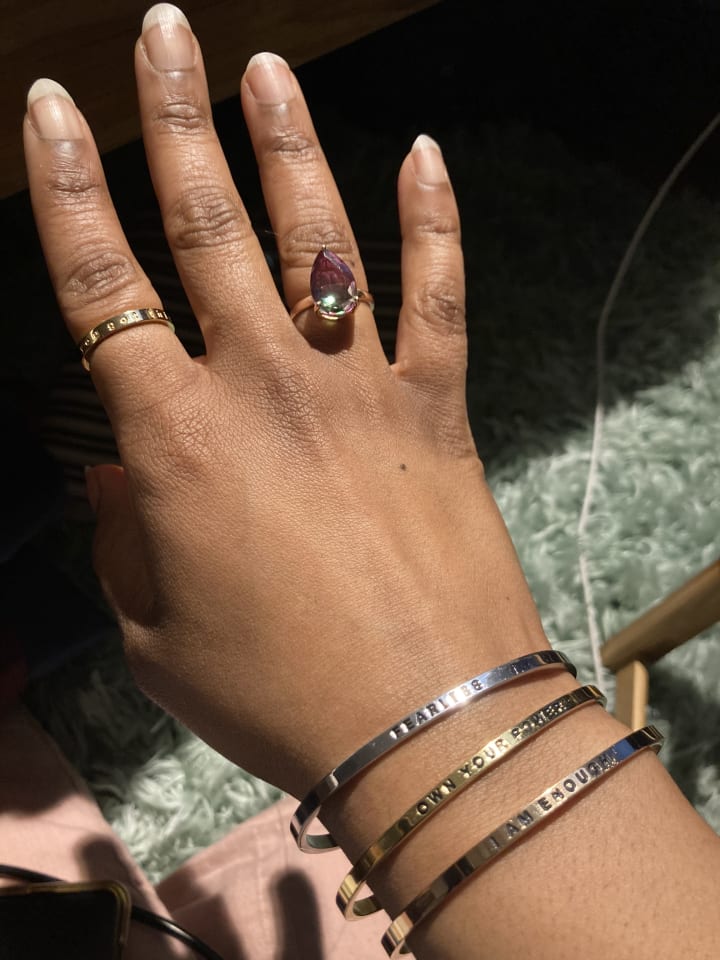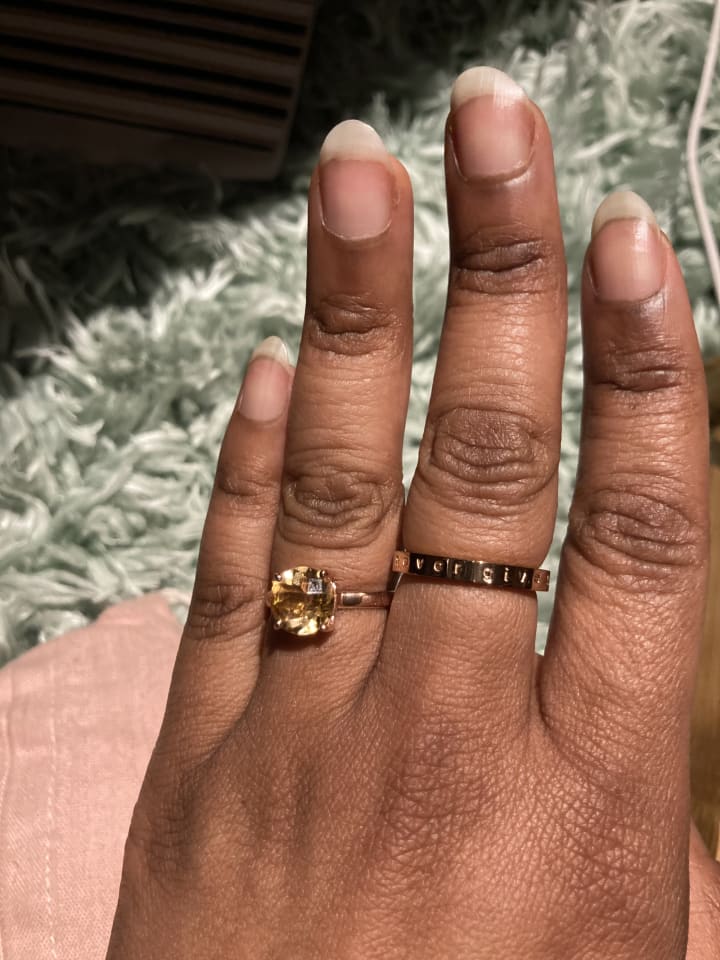 Funny enough, I have not worn any jewelry for the past 3 years. Well, I wore a watch for a year and change until it stopped telling time. I can't wear most jewelry due to allergies to metals maybe? (Allergic to the FAKE) Earrings are out of the question. This year however, I've been slightly obsessed with rings! I ordered both rings on my ring fingers from an Indian Etsy store. They took 1 month to get to me and I'm completely in love with them. I got the Citrine solitaire ring on my left hand and the Tourmaline stone with both green and purple amethyst colors. I've written 2 articles about rings, one was a poem.
Tourmaline has many positive attributes in the spiritual realm. It is thought to bring healing powers to a shaman or medicine man. It is what is called a "receptive stone," which means it is soothing, calming, inward, and magnetic, promoting meditation, spirituality, wisdom and mysticism. It creates peace and promotes communication between the conscious and unconscious minds, allowing psychic awareness to blossom. Tourmaline has been said to be a stone of reconciliation, a stone that fosters compassion and cool headedness, radiates the energy that attracts money, healing and friendship, and is used for grounding purposes, to stabilize, and reaffirm our Earth roots. It also creates a commitment towards the completion of one's goals and is said to protect the wearer against dangers.
Citrine draws off stress and negativity from your body and brings in a quiet, refreshing peace. It helps you overcomes fear of responsibility and stops anger and destructive tendencies. It has also been said that the stone acts as an early warning system so that action can be taken to protect oneself. Citrine is warming, energizing, and highly creative, and imparts a flexibility and openness to new experiences. It energizes every level of your life and is a powerful attractor of helpful friends and mentors. It has the power to impart joy to all who behold it and instills a positive attitude. Gloom and negativity do not exist around the citrine. Citrine supports generosity, yet at the same time, helps you hold onto your wealth. It is said that the stone will draw all the good things in life to you.
I love gemstones and crystals and I plan on adding more to my space! (not just jewelry) I want you to experience the same. Here's another link to the Indian Etsy store. I'm not a brand affiliate but I completely recommend Bani Thani's jewelry.
Would I marry me? If you haven't asked yourself this question, today is the perfect day to start! To all the girlfriends who are hoping to become fiance's this Valentine's Day, I hope that your dreams of happiness and togetherness forever come true. I'm working on a visualization board because I was never the girl who planned her wedding or wedding dress from infancy but now that I'm being more intentional, it's time for me to go there. Who is my ideal partner? What does he/she look like? Where do they live? What are their interests and passion pursuits? I'm totally looking forward to the visualization process. Jewelry is great and it makes me feel quite marvelous, it's like wearing love! I can wear these rings and my mantraband bracelets all day, every day. Happy Loving Season!