Created with FOREO
I Tested the FOREO UFO—And It Gave Me Skin That's Out of This World!
The FOREO UFO is the world's first smart technology mask kit. Here's what happened when I tried it out.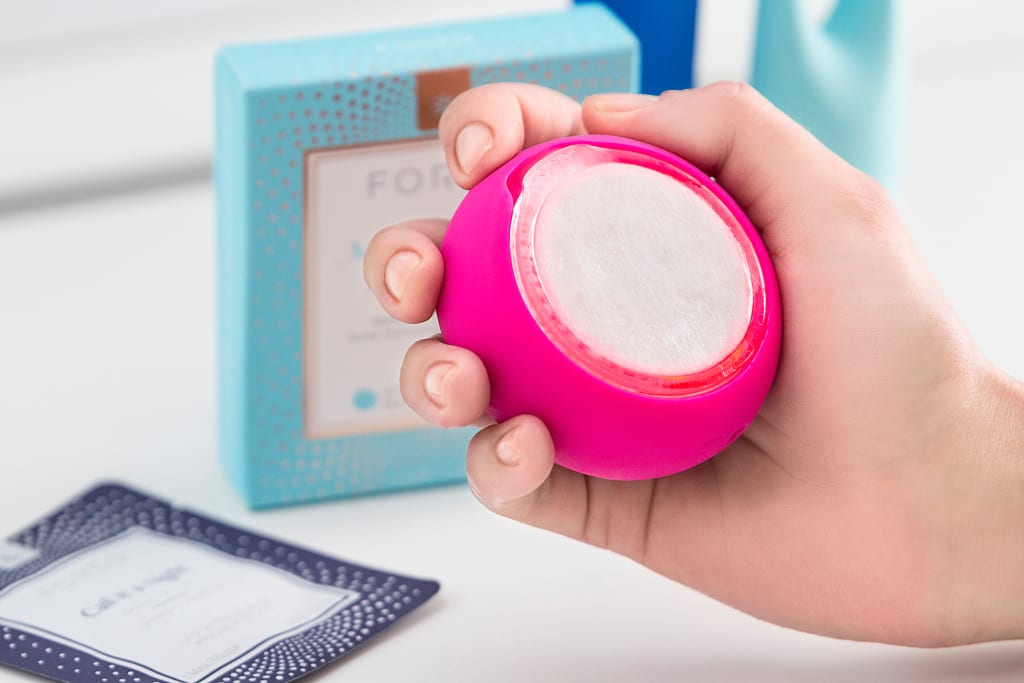 FOREO is a relatively new brand that became known for technology-oriented skincare featuring gentle silicone tools and awesome results. Some of their hit products include the LUNA 2, the ISSA, and the ESPADA blue light acne treatment. If you're as curious as I was about their FOREO UFO product, you definitely have to read this review.
A lot of my friends are into beauty and skincare on a professional level, and they're the ones that referred me to FOREO. From what they told me, FOREO is the "Albert Einstein" brand of skincare. It uses cutting-edge tech and Korean skincare to give great results.
I needed to find out if the buzz about this brand was for real, and their newest product, the FOREO UFO, seemed like a perfect way to put them to the test. Here's the scoop on my FOREO UFO review, and what happened when I gave the new smart mask a try:
The FOREO UFO isn't your typical facial mask. This currently remains the only mask that is activated through a device connected to your smartphone. It comes with a special tool that releases light and produces custom-tailored skincare massages based on the information that you enter in the app.
The idea of a mask that works differently based on your complexion is really revolutionary for someone like me. Thanks to its unique Hyper-Infusion Technology, you can never overuse the mask and the formulas get absorbed in the best way possible for your skin type.
FOREO's Hyper-Infusion Technology uses your skin's natural reaction to LED light, heat, cold, and vibration to help the ingredients sink in. Best of all, the mask formulas are based on K-beauty favorites. Those who are "in the know" about the beauty scene will tell you that means great stuff for your skin.
Start off with the Make My Day and Call It A Night Mask – or try the countless others!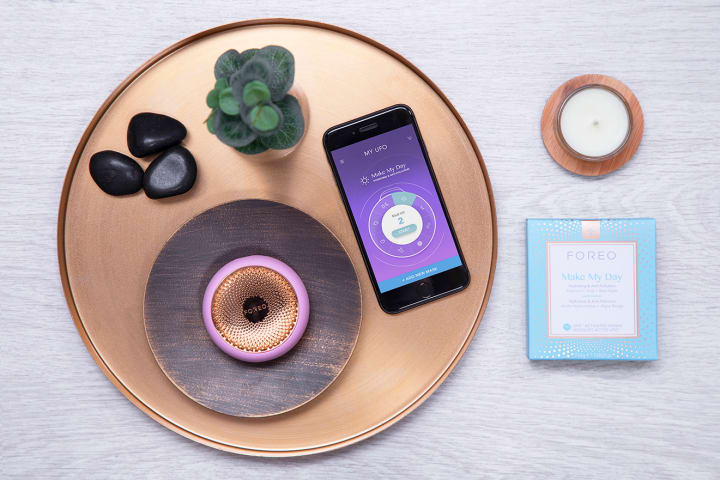 As you can tell, the FOREO UFO mask I reviewed has a "day and night" theme. Make My Day is a nourishing mask that has hydrating anti-pollution properties thanks to Hyaluronic Acid and Red Algae. Call It A Night is a smoothing and replenishing mask that features olive oil and ginseng.
Both masks work with all skin types, thanks to the FOREO's unique lightwave, heat, and pulsating technology. Each mask is meant to be used on your face for a total of 90 seconds—and yes, the UFO device times it through your app. (It's an easy way to squeeze quality skincare in a busy day.)There are a ton of other masks you can try out as well! If you're like me and can't wait to try them out, check out the full mask collection.
Why did I choose FOREO?
My skin has always been a pain point of mine, especially when it comes to keeping things evenly toned. Needless to say, I've tried my fair share of different skincare routines in the past couple of decades. All the department store brands I've tried just didn't seem to cut it. Knowing my luck, it'd take high tech gadgetry to save my skin.
My ability to keep masks on for the right amount of time isn't too grand. I often forget when to take masks off, or end up somehow choosing the wrong mask for myself. I needed something that's foolproof and effective at the same time. That's where FOREO comes into play.
What does the FOREO UFO look like?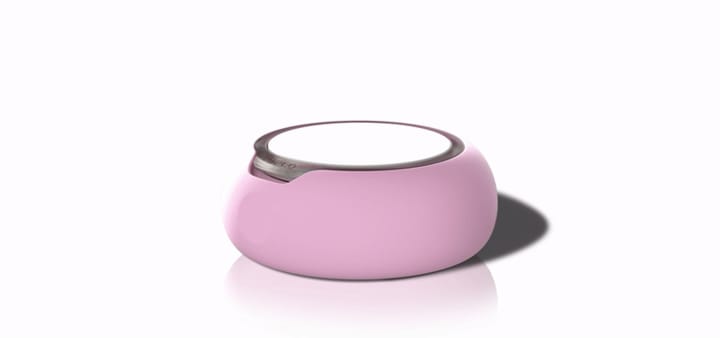 The FOREO UFO doesn't look anything like a typical face mask. The first thing that you'll notice is the fact that it comes with a pretty silicone device, and that the masks themselves appear to be pretty tiny little rings.
The UFO disc itself is about the size of a powder puff, and is made of waterproof material. It comes with a small plastic ring that fits around the inside center of UFO and a small cable that charges the device. (I charged mine for 10 minutes and placed it in the stand that it comes with.)
Admittedly, I didn't read the directions in their entirety. However, it was still easy to figure out how to use it. I downloaded the FOREO app on my Samsung, signed up, and filled out the questionnaire. The app shows you how to connect your FOREO UFO to your phone, and then instructs you on how to add the mask.
To get the mask treatment started, you will need to scan a barcode on the mask packet. This sends information about the treatment you chose for the UFO, which in turn, alters its light and vibration to tailor your needs.
My first impressions of the mask were pretty cool.
I opened up a Make My Day packet, and noticed that the mask pad was pretty petite—but chock-full of gel. Putting it on the UFO device and securing it was a cinch. That was pretty surprising, since I'm very clumsy and tend to fumble with masks whenever I use them.
I started the treatment.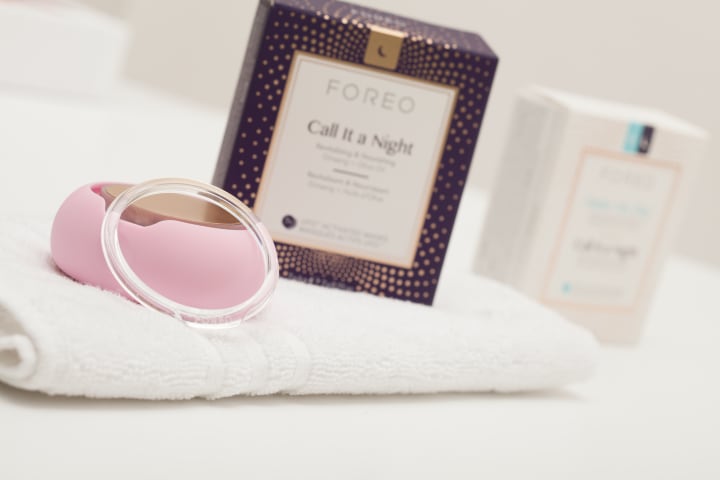 With the mask secured in, the app up, and the everything set to go, I was ready. I used the app and the UFO to get things started. The app instructed me to move the UFO in circular motions around my face as it got started.
The first thing I noticed was how effortlessly the mask glided onto my face...and then I noticed a change in temperature. My skin felt warm, but not uncomfortable. Rather, it was soothing. Then a little pulsation started to happen. It felt so good, I really didn't want to stop.
Once the treatment was done, I ran the UFO underwater. Cleaning it couldn't have been easier if I tried, and considering that these things have 10-year warranties, it's good to know that a regular cleaning won't take too much time or effort.
Then, woah.
Before I even knew it, the 90-second mask session was over. I put my hand on my face and to my surprise, my skin felt dewy with minimal residue. There was no need to rinse my skin; the majority of the mask's gel had already gotten absorbed into my skin. My skin felt better than good; it felt amazing.
I looked in the mirror, and my skin had a fresh, rosy glow. It looked like I had applied a little bit of foundation to my skin. Cliché as it may sound, I couldn't believe my eyes. I decided to wear it out for the day and see if my skin kept its glow.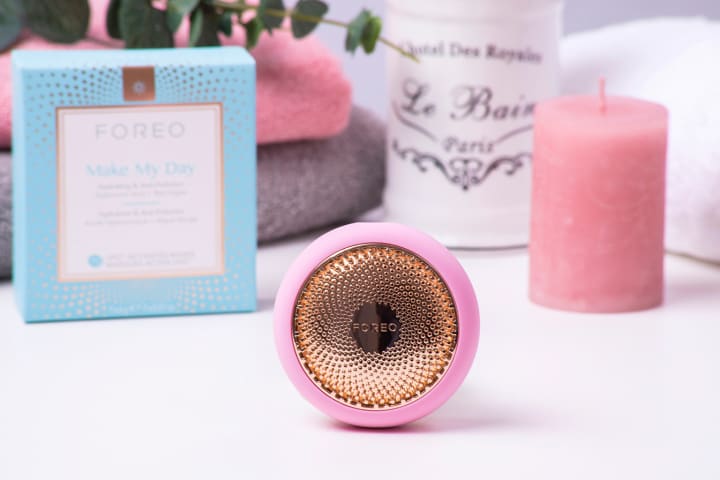 Here's what happened during the day.
My skin has always been very sensitive to light, pollution, and the environment around me. The day of using the Make My Day mask, I had decided to take a look at how my skin fared with only sunscreen on my face. The end result was a natural glow that looks like I had just walked fresh out of the spa.
I decided to finish off the day with a Call It A Night mask. Just like with the Make My Day mask, the 90-second experience featured light, a gentle facial massage, and enjoyable temperature-based sensations. Just like last time, my skin absorbed most of the mask.
After my sleeping mask, I decided to take a look at my skin in the morning.
Sleeping masks tend to have a weird way of being too greasy or too drying on my skin, so naturally, the first thing I did was feel my face. It felt soft—not greasy, not slimy, not dry. Just soft. I looked in the mirror, and the best word to describe it was "radiant."
At this point, I was stunned. FOREO's technology has managed to do the impossible. My skin looked great.
My verdict? I'm a believer in UFOs.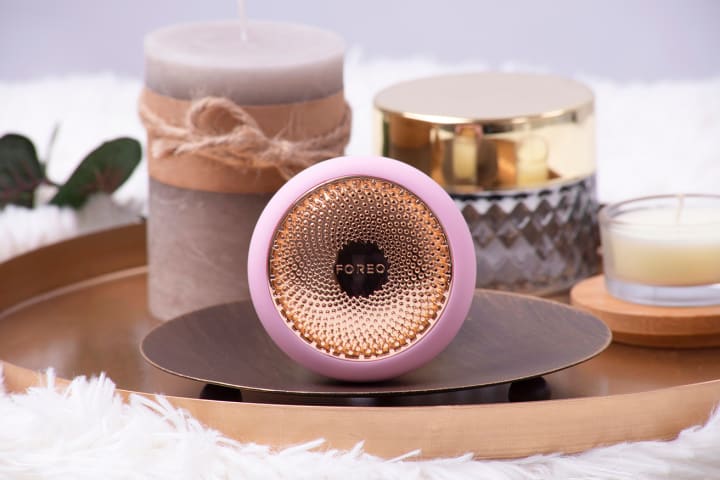 Though I never would have thought I'd say this, it seems like the solution to my skin problems could be found in a UFO—just not the flying saucer type. FOREO has managed to create a mask that works with every type of person out there, including people who have problematic, sensitive skin like myself.
The masks are a wonderful experience—they keep your skin fresh and are incredibly easy to use. Since I started using them regularly, my skin looks noticeably better. It's like having a tiny dermatologist in your home!
It's available online on FOREO's website.
product review
About the author
Ossiana Tepfenhart is a writer based out of New Jersey. This is her work account. She loves gifts and tips, so if you like something, tip her!
Reader insights
Be the first to share your insights about this piece.
Add your insights