Don't Blame Me For Being A Loner
I'm not lucky with friends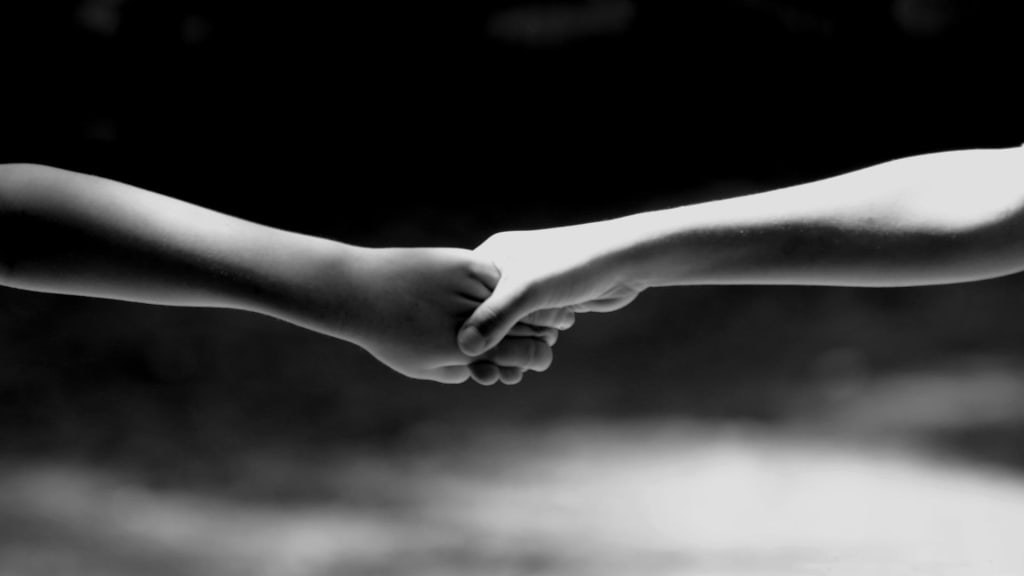 Friends like siblings
At this juncture, I accept that this could be my fate - being alone. My name is Uche. This name when translated to English word means: thought, will, mind,commitment. I was born and brought up in Nigeria, West Africa. Yeah. You read that right. My dad died way back in 1991, then I was still a little boy.
"Who the hell is this guy and why would i waste my time reading about his reason for being a loner?". If I read your mind correctly, ypu are right about that question. But,hold on. This is not about me but about a sweet soul I nicknamed Lady Lisa. This was a white woman I met on Telegram in the month of December,2018.
I'm from a family where the man had many wives and children. And I am the 7th of my mum's eight children. I was not old enough to ask my dad some questions which are still begging for answers today. Little wonder why I still miss him at this moment. He was not a wealthy man but was influential in my community. May his soul keep resting in peace.
Well, after the death of my father, life was never the same. I had to learn how to survive by fishing, setting traps for animals, and selling of fruits. I was doing this while in elementary school. Then my big brothers were far away from home working hard to build a family of affluence. I later joined them after elementary school.
Why do I have to bother you with my life experiences? Again you are right about asking this question. I did this for you to know that I have been through a lot of pains, hardship, hunger , and have been through all sorts of adversities but that did not change who I am - being nice and kind to people.
Now I am a man of 38 and have had so many friends in life - both males and females. Whenever I accept them into my life, I shoulder their responsibilities. This attitude of mine is not because I have a lot to share with them. It's just because I always imagine myself in their shoes. Don't forget that I have survived too many adversities, therefore I know how it feels to be seriously in need of money or food.
I housed some people in the past for complete one year without them contributing to my bills. They did not contribute to house rent or other bills. I have given money to friends and we have had time to cook and eat together in my place. That was when the going was good. Most of the money I spent was given to me by my big brothers because back then I was still a student. I have this good feeling whenever I give to someone.
Again, my act of giving is not because I have a lot. As I write, I don't even have money in my bank account - this information is supposed to be private, I know.
Of all these friends I have had in the past, none has called or replied to my chats on social media to ask about how life has been treating me. And I had to accept this as my fate at a particular point in my life. Givers are not receivers
To console me, nature sent this lady full of life my way in the month of December, 2018. Wait a moment! It's not what you think. We were not lovers. She was married with 5 kids- some were already married. Then she was seriously in a marital crisis that even took them to court.
How did I get involved? Yes. I was in a telegram group of a particular cryptocurrency project. My purpose for joining was to participate in the project's airdrop. There was a lady who was a group member with questions that no one was willing to give answers to. Due to how enthusiastic and passionate she was, I started giving answers to her numerous questions. At a point, we left the group chat and went about chatting privately. This way, we got to know more about each other.
Her name was Lisa(other name withheld). I had to nickname her Lady Lisa and she liked it. Being someone who is averse to divorce, I made sure I told her a lot of things I don't like about divorce. I worked a lot on her psychology and at a point, she started seeing reasons with me. I gave reasons her younger kids needed to grow in the presence of both parents to enable them to become better adults.
While acting as a marriage counselor, I didn't forget to tell her about my financial crisis too - to this she sent $20 worth of bitcoin to me. This money meant a lot to me. I had never been fortunate enough to receive a gift from someone outside my home. When I said it meant a lot to me, truly, it meant a lot to me. While sending that $20 bitcoin on the 28th day of January, 2019, Lady Lisa also told me not to forget that life was hard even for her. She told me a lot about what life had sent her way - both beautiful and ugly.
Within a period of one year, I and Lady Lisa had become best of friends. How she had come to know me much just through interacting with her on the phone and chatting with her on Facebook and Telegram is beyond my explanation. On several occasions when she made bad investment decisions, I told her not to do it. I actually succeeded in saving her a lot of money because most of the businesses were truly online scams. This again endeared me to her. At a point, she wished I was in the USA so we would hang out together and have more business discussions. But, I was and still in far away Nigeria.
I already knew all her kids by name and pictures. In fact, she was like my big sister living in the USA. Yes. Her family was like my other family in the USA. Occasionally, while chatting with her, she would send Western Union Money Transfer code to me, unexpectedly - $50, $100. Though, I never for once asked her for money.
This sweet soul whom I felt was a sister from another mom, despite having financial challenges, would still have the heart to share the little she had not only with me but with charity organizations. She was making monthly donations for charity. Her reason for doing that? She was from a family that found it very difficult to eat when hungry. She knew and understood what it means to be poor.
There is no way it will take a few paragraphs of a blog post to exhaust five years of interactions and friendship with Lady Lisa. She had promised to write a book about us. But...
A strong woman, always complaining of regular pains in her legs and body. Frequently, she was going for check-ups at the hospital but never disclosed her ailment to me. I only sent soothing messages to her.
Our chats most of the time revolved around cryptocurrency and the right coins to buy for long term investment. All I could do was guide her on what coins to invest in because I had no money to invest after being scammed of my bitcoin. She had bought a coin without my knowledge and she had a lot of it. Due to financial pressure from her son, she told me it was time to sell the coins. I felt so bad about it and suggested she loan money from somewhere else and leave the coins alone.
The news about the coin had started trending and within a period of two weeks, the price went off the rooftop. Meanwhile, she already sold hers to solve her son's court case. This was in the year, 2020. After the experience, she made jokes about herself not being a lucky investor in cryptocurrency. That prices had always risen shortly after she sold.
A hard-working woman, despite all her health issues, marital crisis that rare their ugly heads from time to time, she was determined and I in return did not fail in my part of advising and encouraging her.
Our effort finally paid off in the year 2021 when she watched her little investment grow from a few hundred dollars to tens of thousands of dollars. Meanwhile, she would occasionally reflect on how she was involved with someone who scammed her of twelve bitcoin in the past when the price was around $3000. She wished she had those coins with her when the price had sky-rocketed. It had all become wishful thinking. Online love scam is a lucrative business to the scammers but who would explain to them that their act has sent a lot of people on a suicide mission?
My good lady friend had become lucky as she saw a lot of money in her wallet balance. Then being elated by this, the next plan was to arrange travel documents and visas for me to move to the USA. A lot of plans were on the ground to change my life for good - starting from 2022. I kept this a secret. I never discussed it with anyone. Though, I spent most of my time alone. There was no way I would let another ear hear it. She had sent a $100 Western Union Money Transfer code to me in November 2021. This took care of my house rent for six months. Yeah. I still had some change after that. Not forgetting that I live in an area where there are no skyscrapers.
The next plan was to give me a new lease on life but the narrative changed in the month of December 2021. It had been her way of life to stay away from social media during the yuletide season. I sent several messages, no response. I tried calling her phone line, but it was not reachable. "Maybe she had gone on vacation with her family as she promised to", I concluded.
Then, on the 15th of December, 2021, surprisingly, I got a reply from her after sending a text message to her phone. She was in the hospital for checkups as usual. Hearing from her calmed my nerves. She sent a message that she had some image scanning done and was safe in the good hands of experienced doctors.
I sent Christmas greetings to her on the 24th of December, 2021. A few moments later, I got a message," I'm sorry, ...but my mum passed away. This is her first daughter". I could not process the message. To me,this was Lady Lisa informing me about her own mum passing away. Yes. She was her mum's first daughter and her mum was still alive. I then sent my condolences to her, telling her to take heart that death is a debt we all must pay. I did not stop. I sent her messages wishing her and her family a happy new year ahead.
Logging into my Facebook account in the month of January 2022, the news hit me. I was dizzy for a moment. I had sent several messages with no response and here I was hit hard by this news of "I'm sorry, this is coming a little too late but my mum...". This was shared on Lady Lisa's timeline by a Facebook account I got to know for the first time. And that was her first daughter. It then became clear that Lady Lisa could not make it out of the hospital the last time she replied to my text message. She had bid the cruel world goodbye the last time we communicated. And she was just 46 at the time.
This gentle and nice soul had a lot of good things to offer the world but unfortunately, the cold hands of death took her away when we least expected it. Though I have been informed about her funeral service coming up in a few months' time, I still can't believe she's gone forever.
Lady Lisa, you were a true friend and a big sister whose memory will be with me for the rest of my life. And you once said to me," I know you too well. If you had a million dollars, people would be feasting at your place on a daily". Who knew me this much like my great friend and big sister, Lady Lisa? Another person that comes close is my sister-in-law.
You were a friend like no other but death is inevitable. I promise to always be in contact with your family and be to them the uncle they never had as you always said if only they will understand me just the way you did. May your gentle soul find peace wherever you are right now, my best friend as I find a way to get your name out there. May the world find more of your likes as we make it a better place for all. Rest on, my dear friend, till we meet again.
Omeri Sylvester