Curve Appreciation
Ladies... Be proud of your curves!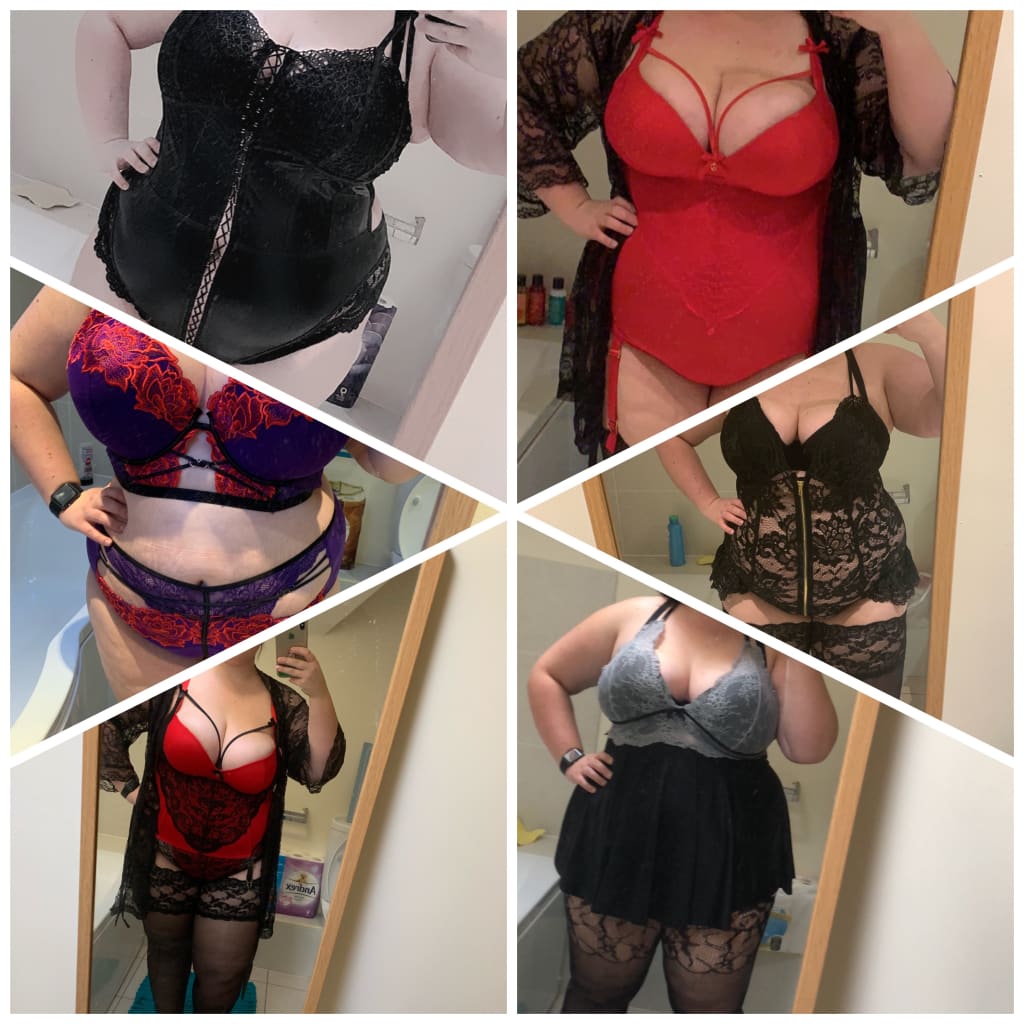 These are all me
A bit more of a personal post from me…
It took me a long time to become comfortable with who I am—yes I'm still trying to lose weight, and it's going very slowly. However, in the meantime, I've become comfortable with how I look and I've just learnt how to make myself feel sexy and what type of outfit works for me.
I suppose I've become good at what I do sexually over the past six to seven years. An old friend taught me a lot and really brought out and inspired my naughty side, or maybe he was just a bad influence. (P.S. really hope he reads this someday). However, my confidence only really increased once I started swinging. Specifically, over the last 18 months, I've been going to swingers clubs. It's amazing how much it has changed how I see myself. I'm a size 18-20, large breasts, hourglass figure (when you can see it) and I'm not very very tall… 5 foot 3 and a fag end as my dad would say (P.S. really hope my dad never reads this haha).
The first time I went to a club, I wore a short black dress and thick black tights to make my legs look smaller. I thought I looked nice, but was nervous about being the biggest person at the club. Also, as it was my first time, I didn't really know what to wear. I didn't know if people started off in normal evening/club wear then dressed down, or if people wore lingerie the whole night, so I just played it safe. I did take a burgundy babydoll with me which I felt comfortable to put on half way through the night. I quickly realised that I wasn't the biggest person there, and that everybody had their own take on what to wear. Lots of ladies were wearing sexy lacy outfits and baby dolls, people wearing just their towels, one absolutely stunning lady walking round completely naked and with confidence, too. This all helped me to realise it didn't really matter about my size, but I should do what I feel comfortable doing, and that is the same for everyone.
Be comfortable in your own skin.
From then on my outfits have become more daring. I now own lots of babydolls, body stockings, corsets, lace outfits, wet look dresses, even a sheer lace jumpsuit. I get lots of comments that I look amazing and it makes me feel good. Because of my increased confidence with my curves, I've now been to a naturist swingers club and actually enjoy not having to wear clothes. I know this is probably a weird concept for some people, but I hate wearing clothes, always have, and I've always happily been naked when I'm at home alone. However, having the confidence to be naked in front of strangers is actually really empowering.
One way to find your confidence is to have a photoshoot. This might also sound like an odd concept. To explain, a good photographer will be able to position you in a way that you look stunning. They will make you feel at ease and will also be able to create those natural shots that look amazing. I've had about four photoshoots now. I have a friend who does erotic shoots, amongst other things. We have done a lot of shots with different poses and outfits. I currently have one more shoot in the pipeline which is going to be a lot more daring than the previous ones. I was nervous for my first one, but I actually quite enjoy doing it now.
In summary, everyone should learn to love their body. It doesn't matter what other people think, it's how you feel. If you hate something so much then only you have the power to change it, but you should never change for someone else. Also, there will always be someone who appreciates who you are. Don't settle for less.
Kink
x