Angelic Outcast, Lewd Heroine: Inspiration from the Wild West's Greatest Loose Woman
She's been compared to Queen Elizabeth and Catherine the Great. Just who was the real woman behind Calamity Jane?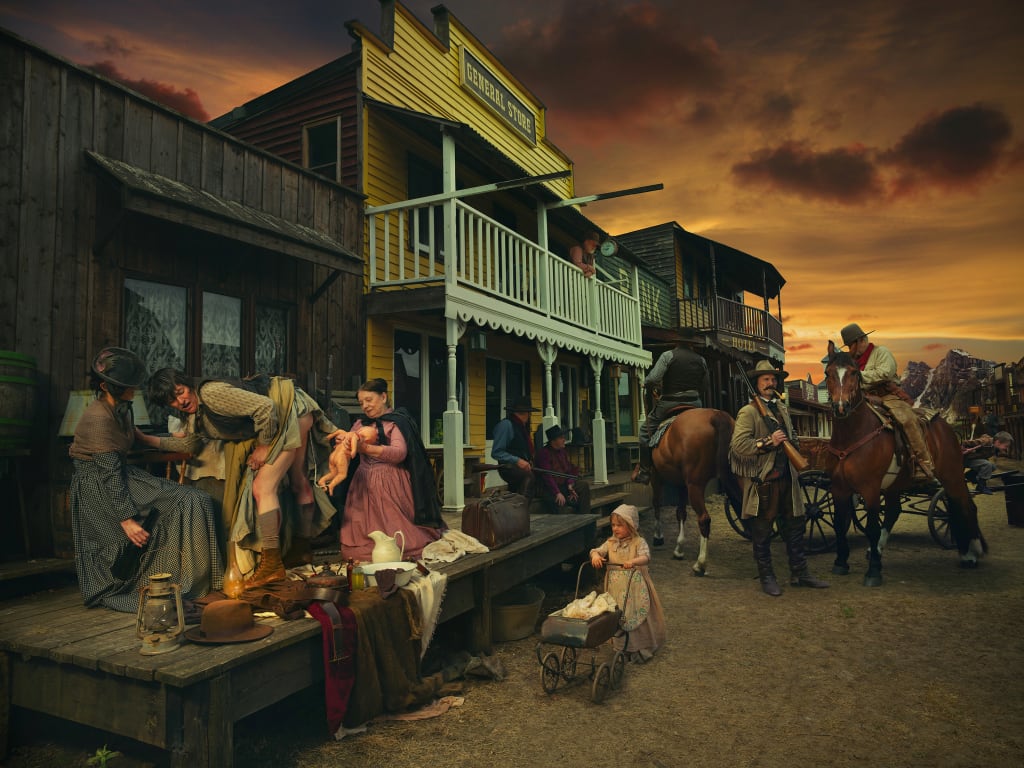 The American Wild West was a time of crisis and hard physical toil, and both men and women's lives surfed the crest of huge upheaval.
Why have I grown so fascinated by Martha Canary, the woman we know best as Calamity Jane?
Most of us know the brusque gun-touting menace behind the charismatic Doris Day bombshell. The real Martha Canary, aka Calamity Jane, was born around 1852 in Princeton, Missouri, and made an orphan by age of 12. She went on to live a wayward life filled with immoral and riotous behaviour: she was an alcoholic, a prostitute, went on drunken sprees, robberies, and spent much time in jail. She smoked cigarettes and drank whisky at a time when such things were a vice. Historians have hosted a slew of reasons why she earned her well-known nickname, and just as many doubts and discrepancies over every single fact about her life. She even wrote lies about herself, to the point where fact and fiction are inextricable.
"The veil of oblivion should be drawn over the career of that woman!"*
The colourful, controversial life and character of Calamity has certainly attracted no shortage of interest for her to become the most famous and notorious frontier woman in history, and greatest heroine of the American Wild West long figured in novels, plays and movies. 
Yet to trawl the history books is also to discover that there was another side of Calamity Jane brushed away by the masculine caricature. Writers who extol evidence of her virtues, her compassion and her compelling femininity. Many who knew her tended not to dwell on her sordid life but remember instead her "sunny disposition". Fond of children, she was watchful of her conduct in their presence, and when sober, "could do the part of a real lady".
"The West's Joan of Arc"
Martha infamously attended the sick and needy during a smallpox epidemic in Deadwood, South Dakota in 1878, risking her own life to nurse sick miners on a daily basis, raiding local stores to bring them food and medicine. As a result writers have evangelised her as the "Black Hills Florence Nightingale," and "Lady Robinhood".
She's even been compared to Queen Elizabeth I and Catherine the Great, whom William Elsey Connelley claimed "would have understood and liked plain Calamity Jane… for she was of their own type. Such women as these loom together in force and character against the backdrop of time!" She was said to be unimpressed by riches, fine clothes or society, and had a complete lack of pretence.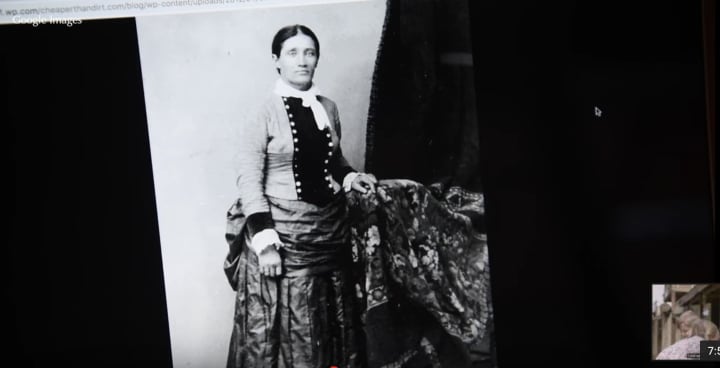 So who was the real Calamity Jane? To look upon rare images of Calamity in a dress, is to feel somewhat like we see her womanliness behind the image we have known.
For Calamity was also a mother, living in one of the most dangerous eras to give birth. Although the exact facts are shady, we know she had one son who died a few months old in infancy, and then at least two daughters who survived into adulthood. Calamity, who drank, smoke, slept around, spent time around smallpox victims, and ultimately died young in her 50s, in spite of that gave birth without it taking her life, nor that of her daughters.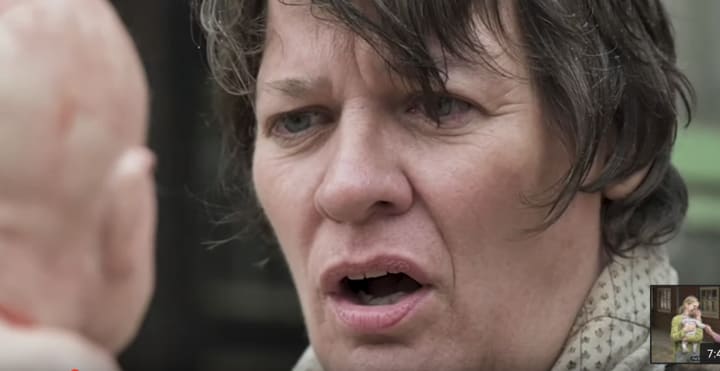 As an artist creating a series picturing female figures giving birth such as the Queen of England and even the Virgin Mary, learning about the Wild West inspired me to create a new chapter to celebrate the maternal figure of Calamity Jane - and expose the reality of gendered life in what was an explosive and tumultuous era.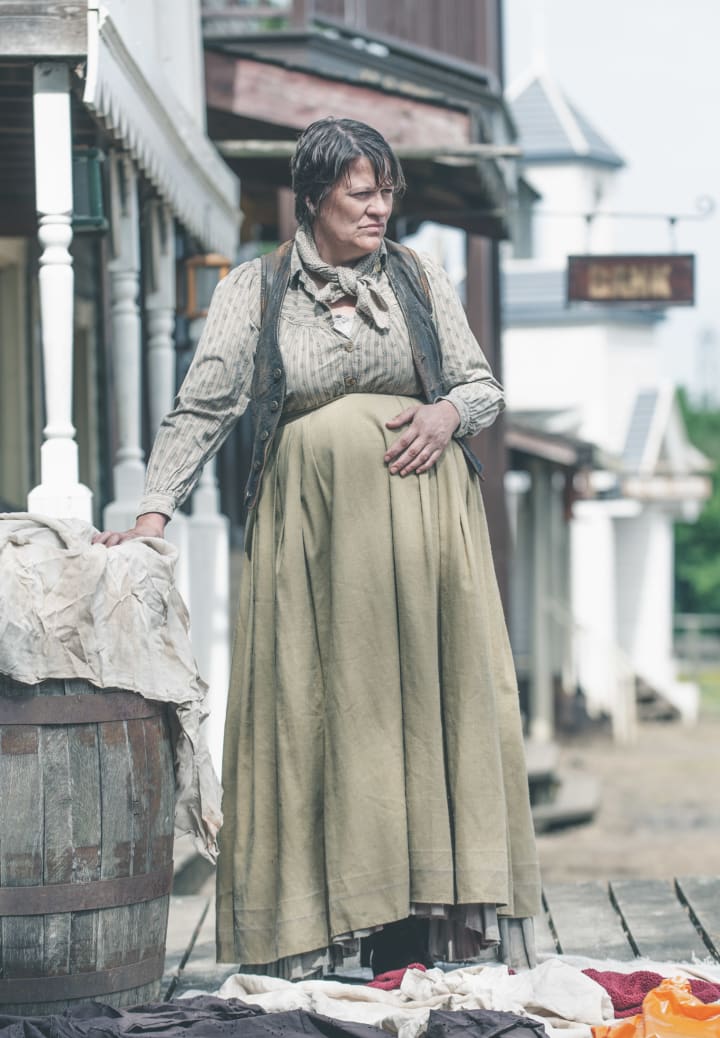 What might have it been like for Calamity Jane giving birth circa 1850? Although there is little dispute that the Wild West was a dangerous time to bear children, I wanted to visualise that birth could be just as normal as it was also problematic, and help a modern audience ask what were the mitigating factors that made childbirth endangered. We can look to the general health of society in the 19th century to answer that question.
Born of calamity...
Disease like cholera, smallpox and dysentery were rampant before the advent of sanitation and hygiene. Poverty, malnutrition, lack of contraception leading to close-spaced pregnancies and resultant ill health in both mother and baby; sexually transmitted diseases, and bad birth care leading to infection and fatal puerperal fever, are just some of the reasons it was harrowing to give birth in the Wild West.
I wanted to depict Calamity to show how she is an inspiration, that beyond the chaotic circus of her bullish legacy she was also a normal mother.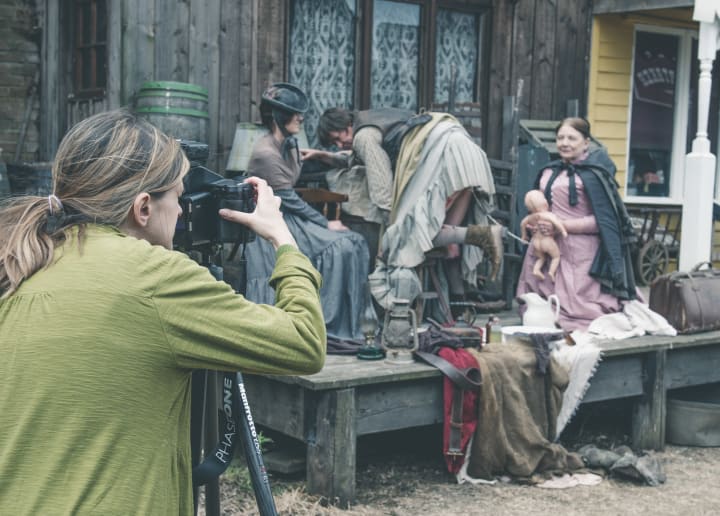 I found a model who would convey the real Calamity Jane, and together with a stylist from film and TV period dramas, we went to costume houses with historical reference images of Martha Canary to build a look for a pregnant Calamity Jane. We also designed a look for her male counterpart, Wild Bill Hickok, and a group of other characters who would fill out the image and video and make it come alive as an iconic Wild West scene. It was the most ambitious shoot I've done in 14 years, with vast detail and 12 characters in one frame.
I made an accompanying 8-min video (above), in which I wrote a script for Calamity, that combined quotes from history books, Wild West slang, and my own words of what she might say about birth - to bring alive my own version of this remarkable woman: "Calamity Jane in a delicate condition, as bold as brass!" Walking pregnant and smoking amongst gazing men, she labours whilst guzzling from a beer bottle! I used my own baby's first birth gurgles as part of the audio, and my family - dressed for the era - to help star in the final image.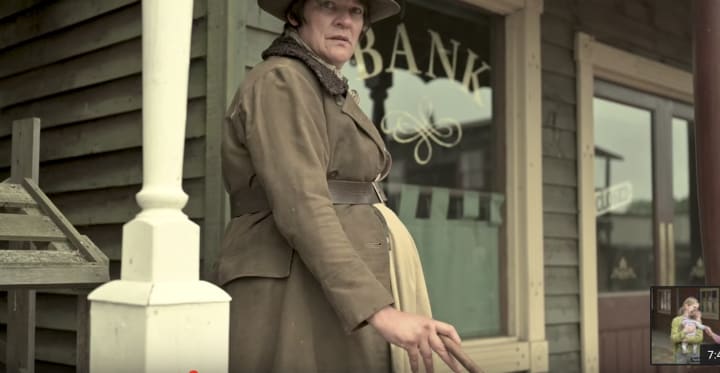 In the final photo image, Calamity Jane in skirt and leather waistcoat - with belt and hat strewn to one side - gives birth standing, leaning onto barrels on the veranda of a house. Her baby is caught fresh and bloody into the hands of an older lady midwife kneeling behind her. A younger woman on the other side is supporting her, holding a bottle. Around them are various props to evoke birth in the era: an oil burner, rags, kettle, various other bottles and bowls. A little girl is passing by, pushing a pram holding a girl doll, played by my daughter Lilith. On the other side of the image, against a sunset mountain landscape, cowboys on horses and sitting around gather, holding their guns aloft. The left side is the traditional feminine sphere, the right side is the outer masculine world, each world separate but co-existing amongst the flux of the era.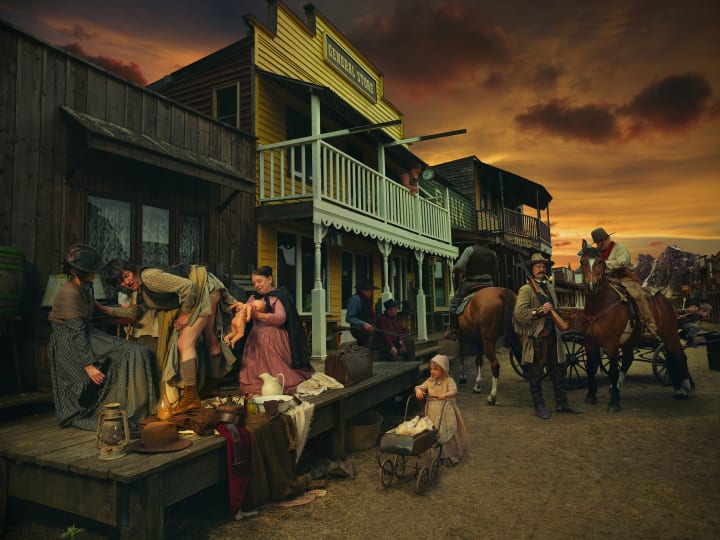 Inspired by the scourge of calamity
Remembering that one of history's greatest heroines lived in a time of turmoil, still reared children and lived life as normal, helps remind us of the maternal existence behind the paternal voice that dominated the narrative of the historic American West - and still does of many narratives today. Mothers lived, babies lived, families survived. In the scourge of great calamity, humanity was still capable, and the generations it bore are its legacy. To remember our human capability is as poignant now as ever.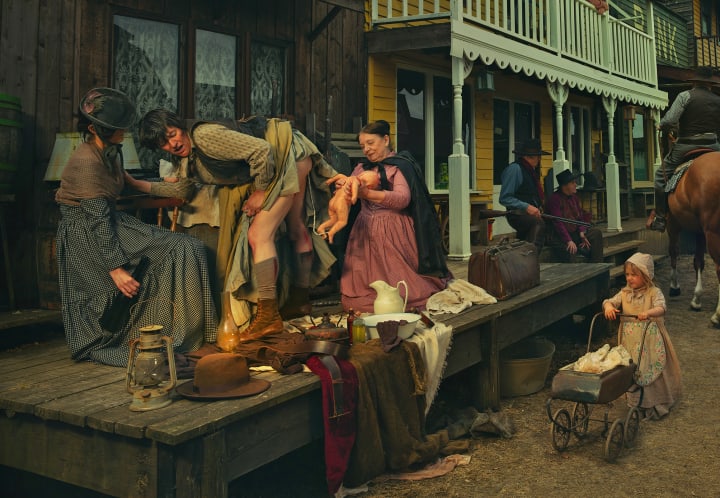 Bibliography:
*All quotes in this article, unless otherwise stated, are from: Calamity Jane, Roberta Beed Sollid (University of Nebraska Press, 1998)
Also cited: Calamity Jane's Letters to Her Daughter, Jane Canary Hickok (Shameless Hussy Press, 1976)
Screenshots and images from 'Born of Calamity', Birth Undisturbed by Natalie Lennard (birthundisturbed.com)
***
Thanks for reading! If you enjoyed this, please share.
About the Creator
I am a fine-art photographer and mother based in the UK, creating Birth Undisturbed, an award-winning series staging scenes of childbirth. (www.birthundisturbed.com). All proceeds from clicks and tips go toward the next in the series.
Reader insights
Be the first to share your insights about this piece.
Add your insights