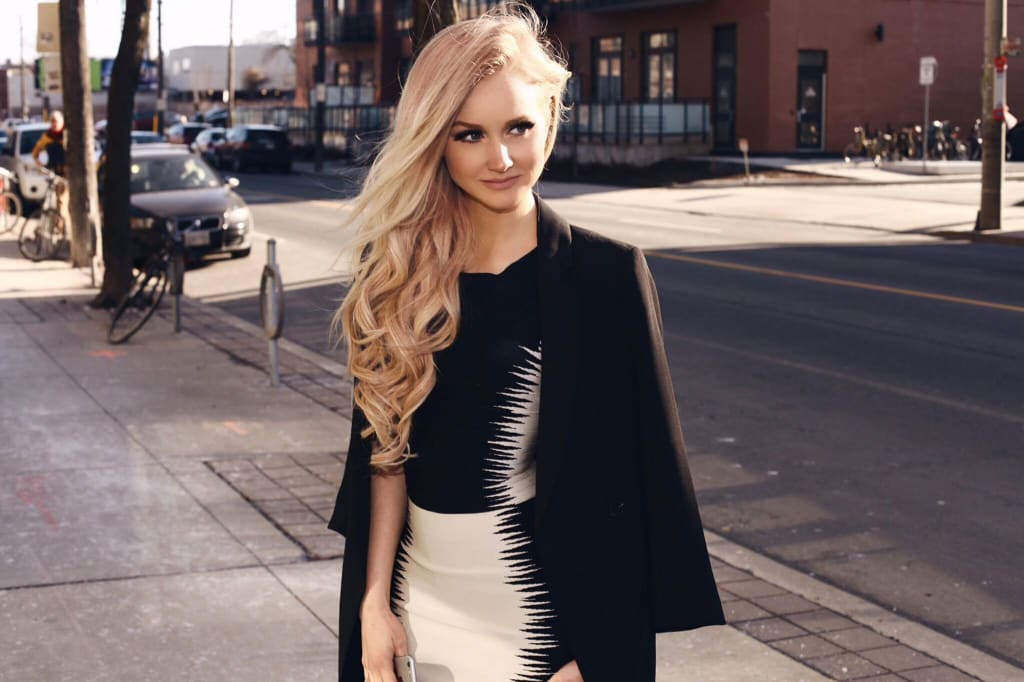 Emily Lyons is a top-notch lady entrepreneur filled with ambition and drive – and she's just getting started. She's rebellious, independent, and an MVP game-changer in her industry. In this exclusive interview with Spotlight, Emily walks us through it all. From leading the Femmepire to her biggest inspirations and aspirations, Emily Lyons is here to stay in the land of lady bosses.
Spotlight: What career and life aspirations did you have when you were a kid?
Emily Lyons: I've always loved animals. Animals are such a source of joy in life, so growing up I wanted to be a veterinarian. But then, when I got a little older, I realized that I'd also have to put animals down as a vet, so I quickly changed my mind on that.
As a kid, I couldn't have predicted that I'd become a successful entrepreneur—and this shows me that it's not always important to know exactly what you want to do when you're just growing up and exploring the world around you.
Have you always felt like an entrepreneur, or was it something that awakened within you?
I've always had that rebellious streak in me; always questioning the way things were; always asking "Why?" That kind of thinking. Challenging the reality that's been given to you is a basic building block of the entrepreneurial spirit, so I've always had an intrinsically entrepreneurial attitude, but it was a sleeping giant until it really woke up within me in my 20s.
How can we encourage other little girls so that they too can be successful and independent when they grow up?
Successful and independent role models go a long way in encouraging little girls to break free from the grip of sexism and its constant messaging that tells women what they should, should not, and cannot do. Role models show that it can be done, against all odds, and the more successful, female role models we have in all areas of society, the better.
So let's talk career. How did you get into the promotion business?
It really all started when I was in my very early 20s. I had recently gotten back from Australia after working briefly as a nanny there, and I needed income to support myself. So I worked a few jobs before becoming a promo model. This was a job I really enjoyed, and I channeled that passion and experience when creating my first company—the modeling and events agency, Femme Fatale Media.
Has being a woman affected your business journey? How have you risen above the challenges of being a female entrepreneur?
I think just about any woman trying to make it in business—and not just make it, but actually create an impact and disrupt entire industries—will face unique challenges, since business is very much a male-dominated activity.
In my case—as a young, female CEO—it was sometimes difficult to get the respect of male executives (who had no problem respecting men my age). So, early on, I made the decision to be absolutely excellent in everything I did and everything my company did, because if you're constantly creating amazing results, if you're very, very good at what you do, and you're a master of the craft, then people can't help but respect you.
Any mistakes along the way that you learned from?
At first, I was pretty shy about putting myself out there as my own brand. That takes a lot of self-confidence, an ability to stare down the haters, and you've got to be comfortable with vulnerability. But getting your personal brand out there can be a very powerful business strategy, and when I was struck with that realization, I really began plotting how to market myself as a brand.
Who are your biggest inspirations/role models?
My biggest inspiration is, without question, my sister Julia, who passed away in 2011 due to cystic fibrosis. She was such a remarkable, wonderful person—always spreading happiness and love despite everything she was going through—and always grateful. I've never known someone who's had as much of a deep, real understanding of what matters in life as Julia did. She taught me so many lessons about life that I'll never forget.
How do you balance work and personal life?
Call me a heretic, but I don't believe in having a distinction between work and personal life for myself. I can understand having that distinction if you're not excited about the work you do, but I love what I do with a passion. So, for me, there are no walls separating work from my personal life—instead, they are one and the same. My work is my personal life.
That's not to say I don't have time off—because I do—but I have no problem picking up my phone at any time of the day to send a message to a business contact, or keeping my brain running nonstop on new projects, ideas, and strategies.
So, what's next for you?
I'm always launching new endeavours. For example, one of my companies—True Glue—has just come out with an awesome collection of very safe, very long-lasting makeup products. This has never really been done before. Before, if you wanted to wear makeup that wouldn't smudge easily, you'd have to play Russian roulette with toxic chemicals (like formaldehyde, which can age your skin) that are found in big-brand beauty products. Now, True Glue is changing all of that.
Another one of my companies—Femme Fatale Media—has recently launched a PR wing specializing in personal branding for executives, entrepreneurs, and other high-achieving, driven people. I'm really excited about that!
And I've got a few other big projects under wraps, too, so keep an eye out for new moves on my entrepreneurial horizon.
Follow Emily on Instagram!
Learn more about Femme Fatale Media
here
.Find our more about and buy True Glue
here
.
Reader insights
Be the first to share your insights about this piece.
Add your insights