A Letter to a Black Man
The Eyes and Hearts of the Women Who Love You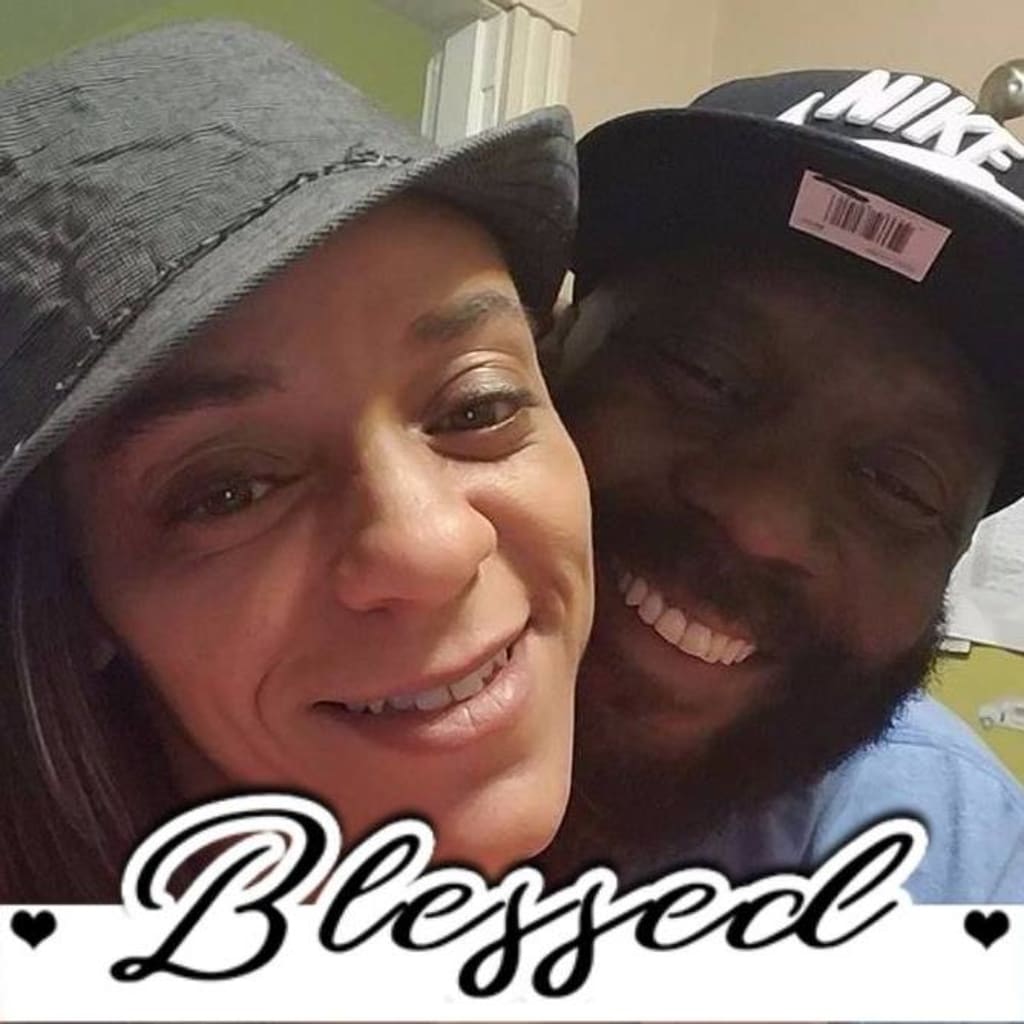 Love Conquers All
A Letter to A Black Man
To Whom It May Concern:
Although, I don't know where you are at in life of thought, I would like to say that I love you. And contrary to what may think about white society and who bares the actual burden, I would like to let you know how I feel.
First, I would like say don't be mad at me, because I want to be successful. Second, don't be angry with me because in the face of opposition I, "take a lickin' and keep on tickin'." Don't encourage me to achieve; and make a contradiction by turning around and resenting me for my achievements. And if I have come home from a long tedious day of an overworked brain because of an education I'm trying to obtain or a job I'm trying to hold down, so I can support a family I someday want to have, don't get made because I haven't cooked and cleaned for you.
Now you don't know what it's like to be a woman of color in the American Society, so I would like to tell you. I have to watch white men run everything, because you feel that you must let them, because they play these mental games with you, so you feel that you have to let them. They hand you grants, scholarships, and loans for school but you say, "I ain't wit dat cause they will continue to run America anyway." You've seen this for decades so you've settled, and come to accept it because you feel you have no choice.
You have fell victim to the game and they run that too, because they bring the drugs you sell into the United States. Then they pick you up for the drugs they've supplied with saying "it's against the law." I must watch and look into your furious eyes of anger through glass an inch thick with tears in my eyes, wishing that I could change this vicious cycle they play with you, but I can't. You must do it on your own. They hand you record deals and movie roles because they know you will continue to promote this behavior to future generations. The government calls this population control, because the more people that witness this behavior, the more people that will die, particularly our people.
I must let white women who are under qualified get a job that I am qualified to do and rarely do I hear that I am over qualified, and if I do I know to them it's only an excuse so they don't have to give me the job. I must let some white men say racist sexist things to me because nine times out of 10 they are my bosses, and I need the job. And I cannot share this with you because you are already angry and I fear what you might do.
Why is it that when I am shining you are trying to out shine me to prove that you are a man? Why is it that you claim to love me, but I am never good enough? Could this be because you are unhappy with yourself? So you feel the need to use power and pride to oppress me so that I will not leave you because you do not know what to do or say to keep me by your side.
We come from the same struggle, down the same inherited path of oppression. So why can you not communicate with me? I understand that the odds are against you and have been since the founding of this country, but then I have to ask how long will you allow this to happen?
And we are always wondering as young black people why there has not been a black president, because we as young black individuals won't or can't register to vote. I've been given the same opportunities as you in America. Why do you feel the need to submit to how things? Why are you scared of success? Now I've seen black women care for three children, work two jobs, and go to school. So don't tell me that you can't do it. You have to fail to reach success, and baby you've been failing too long. Is that you don't want to work for a white man? Well open your own business. Work hard and do the research for loans and grants they offer you for opening your own business. Get up and go get what you deserve, and stop letting people tell you can't do it. And when they try because they will you remember what I have said to you.
See, I've come to understand that you don't need a mother, encouraging mate, but don't smack me in the face with rebellion because I understand your struggle. I would walk through fire with you if only I can help you realize that you are worth more than you've been taught to think.
How can I embrace the long haul with a man who doesn't have enough self-confidence to go get what he truly wants out of life? Why is that in the face of racism, oppression, and sin am I expected to submit to you, when I know through experience that you, would not do the same for me? Why should lie, cry, die, steal, cheat, and kill for you, when you are handed the same for me? I should not been forced with the choice to participate in your rebellious behavior, nor should expected to. I am not here to judge you. I'm here to let you know as men take responsibility for your actions. Stop being scared change. Do think that if you do a 180-degree turn in life that you are less black because of that? That is not true because I have, and I am still truly a woman of color.
It is sad that you pack more county jails, penitentiaries, and halfway house than you do libraries, bookstores and colleges. And you ask why I am disappointed in you when are given the same opportunities as me. And it is sad that you are afraid to cry in front of me who understand your struggle. I am you help mate, soul mate, lover, friend, sister, and mother. It is sad that you can't express your love for me because according to other males that is sign of weakness or maybe it is because you are to numb to know how love is supposed to feel.
It is sad that you feel I can't be the only woman to satisfy you physically and mentally because you are a victim to your own lustful temptations and you blame that on me also. And you wonder why I have low self-esteem.
I'm sorry that things are the way they are, and you feel that you have the short end of the stick. But how can I help you if you refuse to help yourself. I'm sorry that your mother was on drugs or that your father was in jail your whole life. I'm sorry that you're expected to fail in the eyes of millions continuously. And I'm sorry that had to raise yourself, because your parents were too young to understand what birth control was. But I am your helpmate, soul mate, lover, friend, sister, and mother and I too have endured the same psychological conflicts in life as you. I am a woman of color.
I am sorry that when you were in jail the second time for a crime you had no business committing, I moved on with my life. Then I am called a hoe or tramp, a bitch, or a slut. And I've moved on with my life, because after you got out of jail the first time you continued to live the same way after you told me that you would stop.
I'm sorry that you are so competitive amongst each other. And why is that you can steal from your best friend but when he does it to you, you want to kill him? And if I start a relationship with one of your friends you get anger? Could it be because you know that he is no better than you are, and you think I deserve a better man than both of you?
And why if that when I am a woman with child do you get angry with me when I seek public assistants, because you refuse to help me care for a child that we have created? And why is it that I feel I can't need you for anything but sex? I can't need you marriage, because you run from that. I can't need you for support, and encouragement because you think that I am always wrong, and you resent when I can do something better than you can. I can't need you at all financially because you feel that I'm trying to use you. When in reality, I am trying to build with you. And I can't need you for help raising a family that once upon a time we discussed having. Why… because you won't let me need you. And I thank you for making me strong and independent as a woman of color, but am I ever going to be able to need you? It is that deep in heart you know you aren't living right and if so, why do you feel so helpless that you can not change?
Our grandmother and mothers have paved the wave for me to address you and not be scared to do so. And I am from my heart directly to yours. Now, why is that when all I am trying to do is teach you how to love yourself and love me do you talked to me anyway you want? And why is that I feel so compelled to smack you in the face after you talked to me so badly? Why is it then when all I am trying to do is teach you how to love yourself, so that you can love me do you smack me right back for verbal abuse that you inflicted on me?
Why is that you take my caring about you as verbal abuse and why is it that when I tell you that you can get more out of life than a casket, or altered mind state do you think I am berating you? And why is it when I let you know, I care about you mind, body, and soul do you take me for granted.
It is hard being a good woman when bad men and bad women who are blinded by the game they participate in surround you. And it is sad that when I know I am happy with the way I carry myself that a young black man can always find something wrong with me, because he is so unhappy with the way things are. It is sad that I know something I have said thus far has touched almost every black man in America somehow. It is sad overtime you hurt me, and that I have the impeccable urge to hurt you or the next man that I am with. And it is sad that once I have hurt you that next man you will in turn hurt another woman because of me. And I'm not angry being alone because I am happy spending time with myself, but how long do I a good woman have to wait for a good man to come to the light?
Why do you refuse to be my King and allow me to be your Queen? Why should I submit to King who doesn't care how I love, how I feel, and how I want him to love he and I? And how can I continue to defend a man who feels that selling drugs to someone mother, father, sister, and brother is the only career option that he has in life and that it is OK And how can I can I bear children to man who would raise foolish sons? I cannot because god does not like ugly. And I'm tired of seeing sons raised up by ugly older men. And god has told me that I'm not perfect, but he has given me the right to make choices. And my choice is to teach, love, and nature you from a distance to protect myself. See I don't take offense to the stereotypes, media, and statistics, because I control my own destiny with the help from my higher being and it's not the United States Government, BET, or the channel eleven news. So I've come to realize that the only way I can help you is to truly love and respect myself, so that you cannot treat me this way anymore.
So if you have approached me at the mall or downtown waiting for the bus, with some crazy pickup lines, and I seemed cold or stuck up, don't be angry with me, understand why and respect. I'm just tired that all you think it takes to get in my bed is cute smile, a nice line, dinner, and a movie. And the more I stay away from you, the more I have to say about the way you carry yourselves as young men. And I notice these things because I no longer carry and treat myself the same way. Why is it when I have taken the initiative to change, love, and respect myself do you get angry with me because of that?
Now we've been doing things your way for years and you still act as though your way is the right way. Why is it that I'm always wrong? And why is it when I tell you that you have a place in this world besides an eight by 10 cell, and that is to be the honest respectable King of our domain, do you tell me you'd rather be a Ghetto Price and rule over the streets instead of my world, our world. Why do you say that, "God has placed me here to struggle" when in fact it is not God who placed you here to struggle, it is the white man. But although you have been in America for years, and things are still a racial struggle, you still have the same opportunities as me. And the white man may have a hand in way things are because they run everything and you let them. And they may bring drugs into this country and put liquor stores and bars on every corner in the ghetto, but they stopped holding guns to your heads and putting nooses around your neck a long time ago. I'm not saying that they're right, and I'm not saying that they are not racist, because they are, but you do as black men have the power to make your own decisions in life.
Now if at any point something I have said to you does not pertain to you, do not take it personal. But in the same respect, if something I have said to you does pertain to you, take it very personal. These issues are not to be taken lightly. I am the hearts and the eyes of the women that love you very much. I watch you cloud your brains with weed and poison your systems with alcohol and cocaine and I may have tried these things with you occasionally. I may have tried them because I wanted to, because I wanted to understand you, or because I wanted your love and approval. I am you help mate, soul mate, lover, friend, sister, mother, and now I am your daughter.
I am watching young and innocent waste away before my eyes. You say you love me. Now I am older and I date a man just like you because all those years of watching you has led me to believe that this is what love is supposed to be like. Watching the man you love waste away because the American Society has him believing that he has no choice. And you are so numb that you can't see the pain you've cause me then as your daughter and now as you lover.
Now I am your son and I am identifying with you, because you are a man, and I am a boy. I look up to you for that because you are my father, my role model. I've seen you and mamma fighting and you've hit mamma before. Now I am older, and I am truly in love with a young lady who is everything that I want in a woman. And everytime, I get angry because she wants me to love myself, get a career, love her, and raise a family together, I take it out on her. I've hit her several times. And I cry long lonely nights because she has left me and I need her, but I can' go to her because I can't promise her that I will never do it again.
So you see my young black men, you are a crucial part of the African American Community and I am calling you on it because your children watch you and your action, and they learn to love you, and your actions. You are our lovers, fathers, uncles, brothers, and sons, and why should we look up to you when you refuse to show us a better way of doing things?
No, I am not mad at you. I love you and I need you. I am your help mate, soul mate, lover, friend, sister, mother, and now I am your child. We are not made at you daddy. We love you and we need you, we all need you.
Now how can I marry you, and raise a family together if your job requires that (1) you be ready to die, and (2) never to trust me, a woman of color. God has given me a degree in loving and nurturing, but how can I teach you if your friends are telling you not to trust me. The same friends that would shoot you in the back, try to sleep with me if you are not around, and leave you sit in jail with no letters or no money on your books. It is sad that all of you believe that this is what friendship is about. And these are the things that you want to show our sons and daughters. Why should I bear children with you if you're not going to help me raise them properly? It doesn't make you less of a man to love yourself, your family, or your companion. Don't be angry with me, because I'm concerned about the future generations, and that I need your help to make it better.
These are things that hurt my very soul as a woman of color. And if I have touched one young black man's life, then I have done my job as a Queen. And if I have touched one young black father's life, then I have done my job as a nurturing woman. And if I touched the heart of on young incarcerated black man's life, and brought a tear to his eye, then I have done my job as a spiritual teacher of love, and as a woman of color I would be truly satisfied.
Sincerely,
The Women of Color That Love You © 2001