25 Incredibly Useful Things to Keep in Your Bag
If you're always on the go and always need to look good, grab these incredibly useful things to keep in your bag before you head out the door.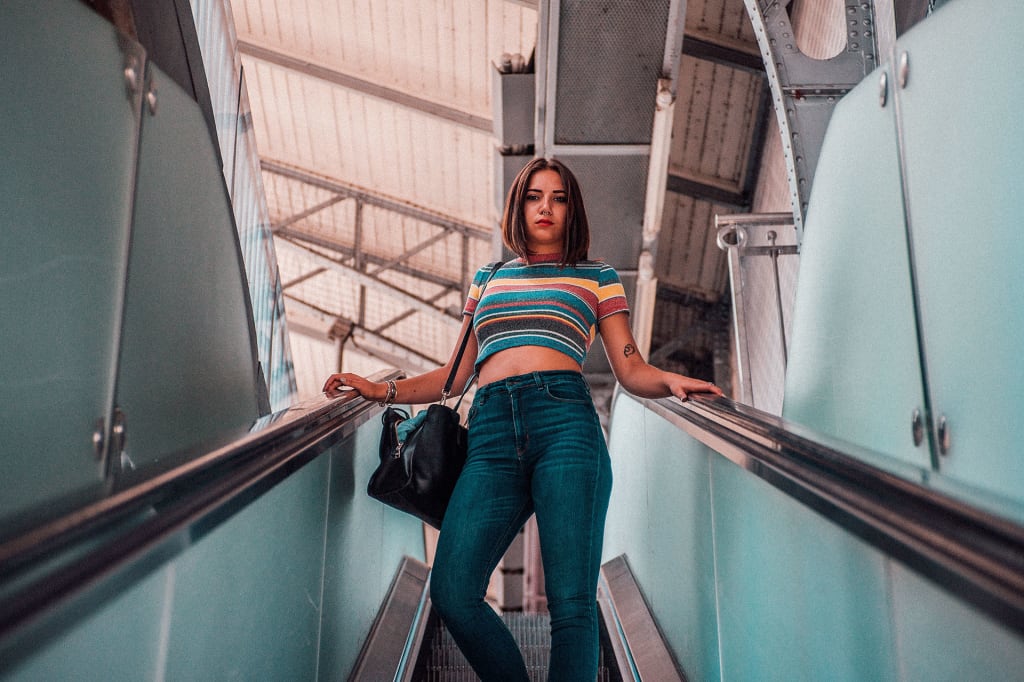 When it comes to traveling, it's incredibly difficult to pack a bag that will help you maintain your sanity. In order to actually look good on the go and adhere to the classic Boy Scout motto of "Be Prepared," you need to know how to get the most utility out of your bag packing.
Over the years, there have been many inventors who have made pretty useful things to keep in your bag. Here are the top picks for people who are always traveling, commuting, and going out everywhere.
Let's start with some clearly smart beauty products because they really are incredibly useful things to keep in your bag. EOS has made a superbly affordable lip balm that actually smooths out lips, gives a minty-vanilla taste to your mouth, and also looks pretty chic, too.
If you love having soft lips in winter, then this is one of the things you should always keep on your person.
Speaking as someone who does keep a portable charger of my own in my bag, I cannot even begin to say how many times this gadget has saved my rear end. For people who have 12-hour days and don't want to have to worry about their cell phones running out of battery, a portable charger is a must.
Kate Spade made a very stylish, lightweight charger that holds a charge and can help keep your iPhone alive during rush hour. As far as the most useful things to keep in your bag go, this one ranks pretty highly.
Aromatherapists agree that there's a very soothing quality to the scent of lavender. Organic cleansers often feature this calming plant's essence because of the fact that it smells so good.
Dr. Bronner's Hand Sanitizer has a fresh, all-natural formula that kills bacteria, smells great, and also keeps skin feeling moist. Best of all, their 2-ounce bottle fits perfectly in a small purse.
Whether you have long hair or not, elastic hair ties are some of the most incredibly useful things to keep in your bag. You can lend them to others, use them to tie together items, and even use them to keep pens in order when you're packing your bags.
These no-damage elastics are super-affordable and can be used in a bunch of different ways. Stuff a bunch of them in your gym bag or office backpack, and you're good to go.
Love books? Who doesn't? If you're a commuter who takes the train in, one of the most useful things to keep in your bag to while away the time is an E-Reader.
Amazon's Kindle E-Readers are amazing when it comes to downloading books and giving you the classic "book feel" without actually involving the bulky feeling of a 300-page novel in your bag.
Wireless headphones are brand new (sorta), and offer a huge improvement on a lot of different headset styles out there. In fact, they're one of the best gadget upgrades we've seen in a while.
Apple's Airpods instantly connect with your iPhone or iPad, allow for hours of play time, and also have zero cords to deal with. Overall, these are pretty useful things to keep in your bag, especially if you have a love for listening to Spotify on the train.
Blotting papers might not seem very useful, but to makeup mavericks, these are some of the most useful things to keep in your bag at all times. They can help reduce oiliness on super-humid days. They can wipe away greasy moisturizer residue in a second.
Oh, and they also are incredible for smoothing out concealer.
Say what you will about the notoriously hipster-approved hot sauce, but these keychains are really useful things to keep in your bag. Why? Well, aside from being able to contain sriracha sauce, they also can contain just about any other sauce or liquid you'd want to carry.
So, your favorite moisturizer? Stuff it in the keychain, and you're good to go. Your favorite sunscreen? Now travel-sized. You're welcome.
If you're female and have a monthly visitor by the name of Aunt Flo, then you already know that hauling around supplies is a hassle and a half. Having a discrete wristlet might be some folks' style, but honestly, it's about time that we're open and honest about life as a female.
This totally-not-discrete case is adorable and makes no guesswork out of what is inside. We can dig it.
If you want to look fresh-faced 24/7, then this facial spray is one of the most useful things to keep in your bag at all times. Skin care rockstar Mario Badescu made a carryable case that can awaken your skin, help clear off makeup gunk from yesterday, and also make your face smell incredible.
Go ahead. Nourish your skin, and watch as you get that perfectly healthy glow year-round!
Easily stained clothes? Wardrobe that isn't all black? Well, if you're aware of the commercials, then you already know what Shout does. It's a company that makes quality stain remover.
For people who always want to take great care of their clothes, these portable Shout Wipes are amazing. They're easy to use, strong on stains, and surprisingly gentle on clothes. These babies, therefore, are one of the most useful things to keep in your bag if you are a stain-prone person.
Once again, it's always a great idea to keep one or two high quality beauty products in your bag. For people who have problematic skin, sun-sensitivity, or just really uneven skin tones, Dermablend's Quick-Fix Concealers is one of the most incredibly useful things to keep in your bag.
Freshening up on the go has never been easier. It blends easily, goes on smooth, gives a natural finish, and also is capable of giving full coverage.
Hemingway, F. Scott Fitzgerald, and just about every great writer has owned a Moleskine Notebook at one point or another. Truthfully, even non-creatives can agree that notebooks are very useful things to keep in your bag, regardless of the industry you work in.
If you want to get stylish and write among the greats, though, a Moleskine book is the best way to do it.
Made from pure Australian papaws, Lucas Papaw Ointment is one of the most useful things to keep in your bag that you never heard about. It softens skin, helps heal abscesses and burns, and also has a nice fruity scent to it.
If you tend to get scraped, burned, or otherwise hurt while on the job, grabbing a tube of this can seriously help.
We've all had moments where our deodorants have failed us at the worst possible time, and the truth is that it's often one of those things that can sour a first impression fairly quickly. That's why deodorant is always one of the most useful things to keep in your bag.
As the name suggests, Primal Pit Paste is a product line of all-natural, healthy deodorants that can be placed in your favorite gym bag or purse for an "emergency" freshening. It's easy to use and carry, and their perfumed line smells great!
I'm going to be brutally honest, for a moment. This is not a glamorous product in the least bit. However, it's also one of the most useful things to keep in your bag if you go out to eat on a regular basis — or more importantly, if you go out drinking.
These chewable tablets can keep you from getting nauseous or dealing with the aftermath of a really bad outing at Applebee's. If it weren't for these babies, I probably wouldn't have been able to eat anything from some of the roadside chain restaurants I've gone to.
Listen to your dermatologists, folks! Sunscreen is, and always will be one of the most useful things to keep in your bag for work, your gym bag, and even your school backpack.
Of course, this sunscreen is also a moisturizer that protects you from all forms of daylight — all while nourishing the skin with important enzymes. Simply put, if you want to stay youthful for longer, this is the stuff you need to use every day.
Love perfumes? Who doesn't? Sadly, there are a lot of perfumes out there that don't come in roller ball size. If you want to keep your signature scent throughout the day, then the best way to do this is to add some of your favorite fragrance into a roller bottle for on-the-go carrying.
Among us perfume aficionados, this is one of the most useful things to keep in your bag — at least, if you can't afford to go without your scent for a while.
Bobby pins are very useful items, and not just for hair. They can help with a fashion malfunction, make a quick paperclip in a pinch, and also can be used as a lip gloss applicator in certain situations. That's why they're one of the most useful things to keep in your bag.
L. Erickson has managed to make a really nice set of bobby pins that also come in a handy carrying case. So, you don't have to worry about rooting around your purse for the right clip again. Overall, it's a smart product that everyone can use.
While it may not be useful in the event of a wardrobe malfunction, a small serving of Nutella can definitely brighten almost anyone's day. It also can turn a slice of bread into a pretty filling meal. So, if that's your shtick, then this is a pretty good go-to pack.
Desk toy, or useful phone stand? Why not both? This cute little dinosaur will allow you to rest your phone longitudinally or laterally — and therefore give your hands a break.
People who get tired of holding their phones will find this to be one of the more useful items to keep in your bag on this list... and one of the cuter ones, too.
Want to keep your feet from stinking up the gym? This foot deodorant cream will be one of the most useful things to keep in your bag, then. It has a cooling effect that helps stop perspiration and kills foot odor for as long as 7 days.
It's also suitable for delicate skin, and doesn't stop working regardless of how strenuous the exercise is.
Body Glide has been making a huge splash in the fashion community, primarily because it helps solve the problem of chafing during hot days. All you have to do to prevent chafing on your body is apply it wherever you expect clothing to rub.
It's safe to use, effective, and also works well with footwear, too.
Wooboo is a tech company that's known for making quirky but cool products. The Mini Cooli is one such product, and it works to keep you cool with a handheld, battery powered fan.
This super cool gadget is small, fits effortlessly into small purses, and makes traveling pretty easy — even if you're in the stinking hot subway in hundred-degree weather.
Antiperspirant, without a doubt, is one of the most useful things to keep in your bag — particularly if you walk a lot, are a gym rat, or just tend to be a bit sweatier than usual. SweatBlock realized this, and created special antiperspirant wipes that allow you to get clinical strength protection in a pinch.
For people who sweat way too much, these doctor-recommended wipes will keep things dry and also reduce odor, too.